Highlights from the Back to the 80s cruise with Cruiseco – a floating festival onboard Navigator of the Seas
It's not every week that I get to tick a festival, cruise and several new destinations off my wish list. But thanks to an invite to review Cruiseco's Back to the 80s festival at sea on Royal Caribbean's Navigator of the Seas I was able to put my big ticking pen to thoroughly good use.
The girls and I met up with Lisa from Travel Loving Family and her son in Southampton where we boarded Navigator of the Seas for a experience we'll remember for a long time.
Here's our highlights from a non-stop week reacquainting ourselves with a decade of music you can't help but love:
The Back to the 80s festival
I've been to a few festivals on land with stages spread out across acres of fields and huge crowds of people vying for the best views of their favourite acts. So, I was intrigued about how a festival at sea would work.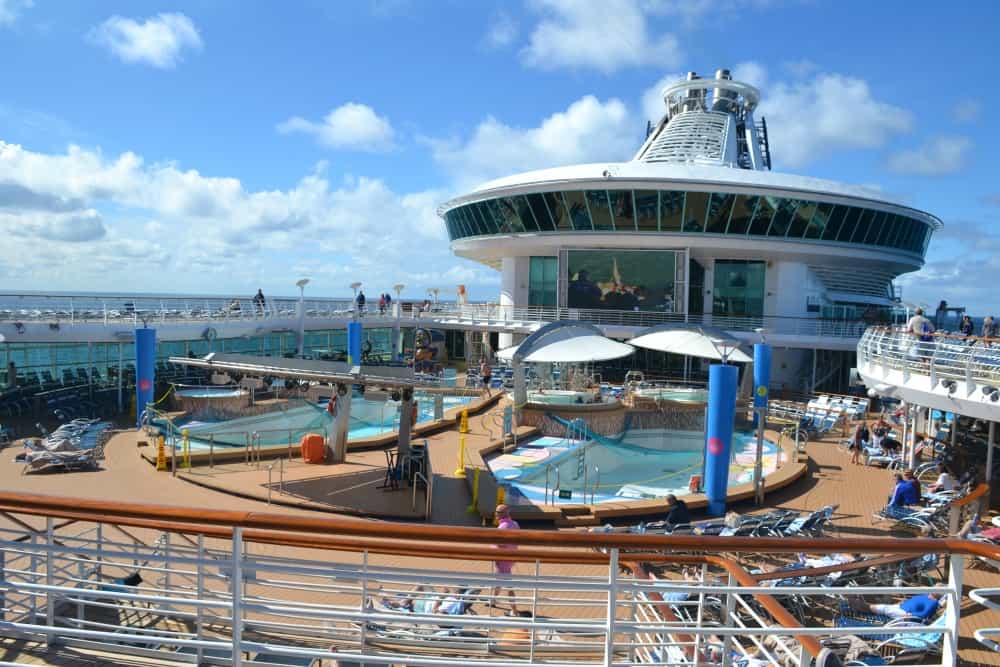 Cruiseco's Back to the 80s cruise was billed as the largest ever 80s festival at sea with 100 hours of live music and 32 acts packed into seven days.
The gigs were spread around Navigator of the Seas' theatre and bar venues, so we didn't experience any of the usual Royal Caribbean West End shows but there was a full programme of entertainment from mid-morning until mid-night nearly every day.
Each artist performed several sets across the week so that everyone had a fair chance of seeing the headliners like Tony Hadley, formerly of Spandau Ballet, ABC, Kim Wilde and Berlinda Carlisle.
Every passenger had a coloured pass and found out on the daily Cruise Compass – the festival and cruise itinerary – which headliner they could see that night. It was a system that worked really well and ensured we didn't miss out if two of our favourites were performing on different stages.
The only time we had to queue was when the artists did a signing session on one of the last sea days. It was worth it for a little souvenir of the experience.
Our favourite 80s stars
If you love 80s music then you couldn't help but be excited by the festival line up.
Tony Hadley stole the show with his incredible vocal, repartee with the audience, and general, all-round loveliness. He was brilliant with the kids when we met him in the artists' signing session. And we kept hearing from people all over the ship that he was a delight at the bars and in the guest lounges. I think we were the only passengers not to have a drink with him!
The multi-talented Mike Read was also charming and fascinating to listen to during a Q&A. There were some cracking stories about his time in the jungle for I'm a Celebrity…get me out of here and his experiences song writing with the likes of Andrew Lloyd-Webber and Cliff Richard.
Kim Wilde was another artist who wowed the crowd and had us warbling along to hits like You Keep Me Hanging On and Cambodia.
Lovable Radio 2 DJ Sara Cox also joined the ship to host two retro discos. Lisa and I caught this on the Royal Promenade where chart topping tune after tune had us shrieking with excitement.
The music of the 80s was feel-good to the max.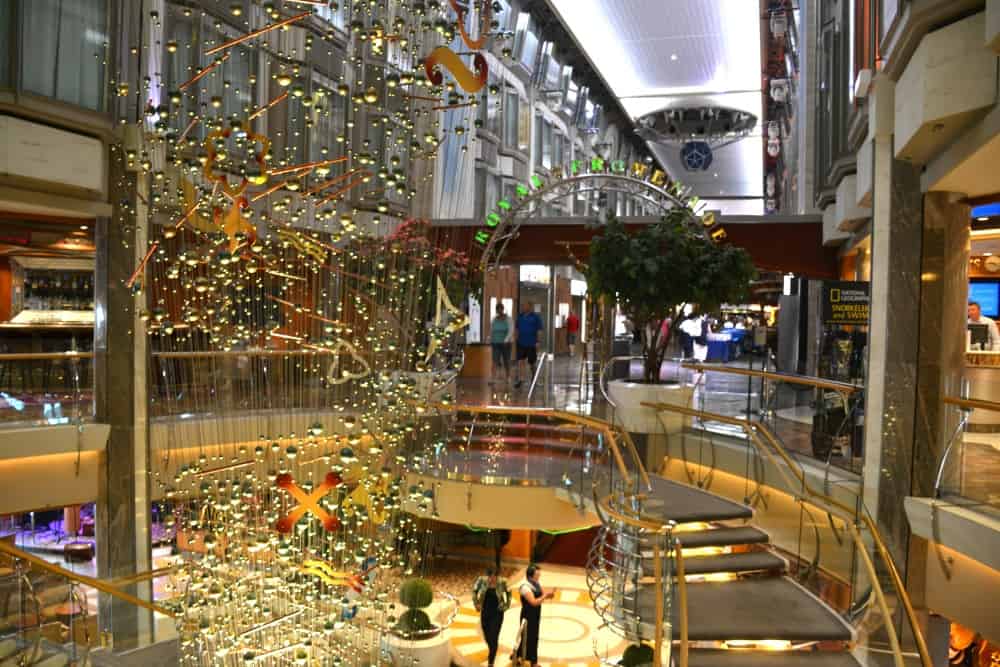 The festival boasted some extraordinary tribute acts as well, mostly hailing from Cruiseco's native Australia. Rebecca O'Connor played a brilliant Tina Turner – we loved her so much we saw her twice.
The Best of the Bee Gees performed a great set, reminding us of the band's best hits. And the kids loved dancing along to ABBADreaM who soldiered on brilliantly despite choppy seas and their backtrack skipping.
In fact, all the acts were good humoured about the roll of the ship – I'm not sure I would have pulled off singing, dancing and balancing quite as well.
The ports of call during the Back to the 80s cruise
I was very excited when I saw the ports of call for the cruise as there were all new destinations for us, including Lisbon in Portugal which I've been wanting to visit for a long time.
Bilbao, Spain
Unfortunately we didn't have the best weather for our first stop in Bilbao but things steadily improved as we travelled south.
From Bilbao's cruise terminal we were able to walk to the beach so the kids could play in the sand. If you wanted to explore further there was a shuttle from the ship costing 10 Euros each. This took you into the city centre where you could see the iconic Guggenheim Museum or wander the old town and view its gothic Cathedral of Santiago.
If you wanted to stay here, there are some unique Bilbao apartments for rent through local businesses such as Stay Líbere.
Vigo, Spain
The next day we arrived in Vigo where we were able to walk off the ship straight into the town. If you like to shop Vigo has plenty of options as well as shore excursions to local wineries, the Soutomaior Gardens or island of La Toja famed for its thermal waters. Our kids had their hearts set on the beach again.
A lovely lady at the tourist office, which is directly outside the cruise terminal, helped us call as taxi that would carry all five of us to Simel Beach, 15 minutes away.
It's a beautiful place and is packed out in the summer months, but we had it to ourselves on what was a bit of a blowy day. The kids took great delight in jumping waves and splashing about with some small rubber ducks they'd won in the ship's arcade.
Lisbon, Portugal
Our final port of call and my absolute favourite was Lisbon. We could again walk straight off the ship into the thick of things. There was sea of tuk tuks for hire and we flagged one down for a ride around the city. It was a good call as we saw so much more than we would have on foot with three children aged five and under.
Our driver took us through Lisbon's Old Quarter, Commerce Square and Lisbon Cathedral before stopping for photos at Sao Pedro de Alcantara Belvedere with hilltop views of downtown, Saint Georges Castle and the Tagus River.
By the end of our rollercoaster tour the kids were asking for ice cream. We found them some delicious gelato not far from the Port.
Lisbon is a truly family-friendly city with play equipment in open spaces and an urban beach across the road from Commerce Square and the statue of Dom José I. We spent a couple of hours making the most of the sunshine and listening to some of the warm up activities happening in the Eurovision Village behind us. The competition itself happened less than 48 hours after we sailed away.
Check out some ideas for things to do if you have more time to explore Lisbon with kids.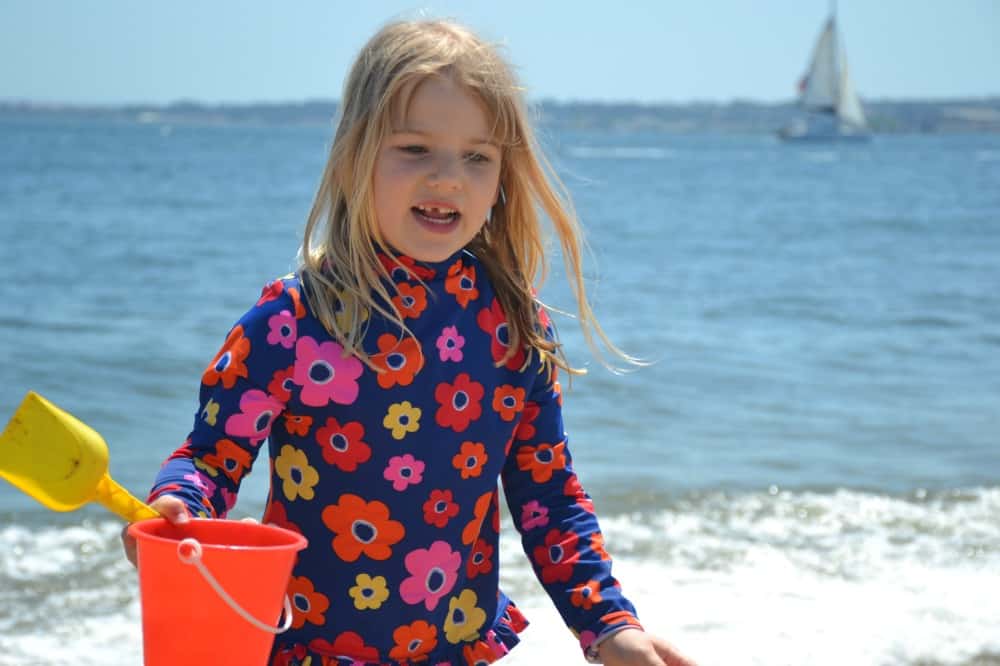 Can you do a themed cruise with kids?
From our fabulous experience of the Back to the 80s festival by Cruiseco, I'd say yes!
Everyone was friendly and loved seeing the kids bopping away on the dance floor during the day time sets. At night we popped them into the Navigator of the Seas kids club where they enjoyed their own pirate, birthday and space-themed parties, while Lisa and I got giddy singing along to the headline acts.
Three of the evenings allowed for 80s fancy dress too – not your usual cruise attire but great fun.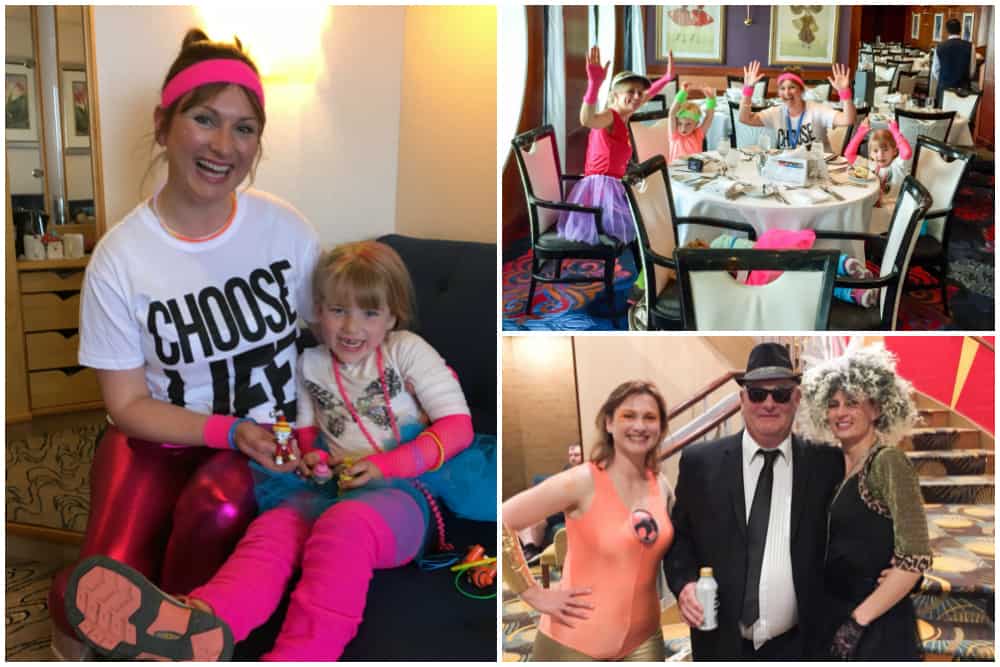 I think the fact it was a seven day cruise meant the clientele was a bit different to the hen and stag dos you might find on a themed weekend cruise, so this festival at sea was definitely do-able with kids.
Children were obviously not the primary audience because of the term-time sail date and there weren't kids activities happening outside the kids clubs. However, with the pool, arcade and port days we didn't struggle to find things to do on the cruise with our young kids.
Older children and teens could try out the Flowrider surf simulator, rock climbing wall and sports courts. The kids clubs also had activities for age specific groups from 12-month-olds through to late teens.
If you're interested to find out more about our experience of the ship then read my review of Navigator of the Seas with kids or take a look at our Navigator of the Seas video 2018:
In the meantime, you can read more about our Back to the 80s cruise on Cruising with Kids where Lisa and I have written daily diary posts:
If this review of Cruiseco's Back to the 80s themed cruise has whetted your appetite then take a look at the other music festivals at sea that they have on offer. Yep, they are all in Oz, but wouldn't it be great to combine a visit Down Under with a fun cruise?!
Disclosure: my girls and I had a complimentary cruise in exchange for an honest review. We paid for our own excursions. All opinions and images are my own.
Pin for later