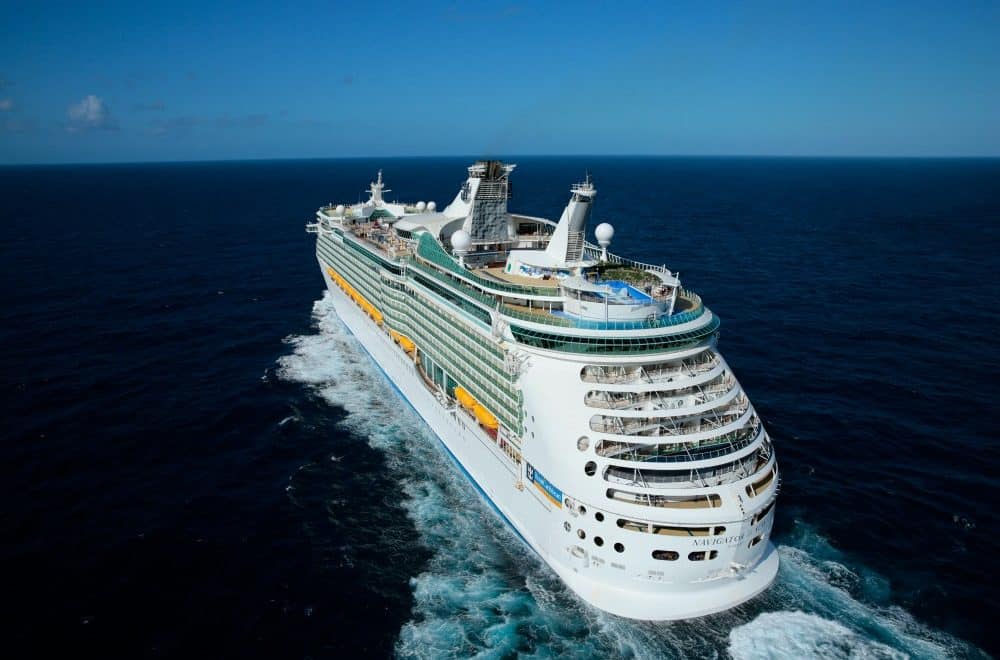 Don't miss the boat: sailing Back to the 80s onboard Navigator of the Seas
Exciting news! The Tin Box girls and I have added a cruise to our 2018 travel plans. We've been invited to sail from Southampton for seven nights onboard Royal Caribbean's Navigator of the Seas. Even more mind-blowing for me is that it's an 80s-themed festival cruise. The Back to the 80s Cruise is the first of its kind staged by Cruiseco and I can't wait to relive a bit of my youth at sea!
80s fun on a cruise ship
So, what makes this 80s cruise so special? For me it's going to be seeing icons of the decade performing hits that echoed through my teens and beyond. But let's not dwell on quite how long go my teens were!
Tony Hadley, the former lead singer of Spandau Ballet, is headlining the festival while other huge names on the programme include ABC, Kim Wilde and Go West. My personal must-see is going to be Belinda Carlisle. I make no apologies for some serious rocking out to Heaven Is A Place On Earth. All-in-all there are more than 100 performances over the week.
As well as the awesome live music, DJ Sara Cox will be hosting her 80's disco. I think I'm almost as excited to experience this as I am Belinda's set. Then there's going to be neon parties, 80s style pool side workouts, signings with the artists and plenty of leg warmer-inspired fancy dress.
The 80s cruise itinerary
A cruise wouldn't be a cruise without a few fabulous ports of call. Navigator of the Seas will be making stops in Bilbao and Vigo in Spain before heading to one of my bucket list destinations, Lisbon in Portugal. I'm over the moon to be ticking this one of my travel hit list in 2018. However, I have a feeling that a one-day visit won't be enough. Still, that's one of the things I love about cruising; you can get taster experiences of places and mark them up as somewhere to return for a longer break another time.
What's onboard Navigator of the Seas for kids?
I'd be in a dream world if I thought my two and five-year-old daughters were as excited about the Back to the 80s Cruise for the same reasons as me. They love a good bop but, sorry Tony, they don't have quite the same enthusiasm for Gold as I do.
What I know they are going to love is the award-winning Royal Caribbean kids club. Baby will be three-years-old when we board so she'll be able to join in the Aquanauts club for three to five-year-olds with her big sister. We'll be making plenty of use of these complimentary fun sessions on the sea days and maybe during the evenings so I can indulge in some 80s throwback fun with Lisa from Travel Loving Family who will also be onboard. There are also age-specific clubs for tots as young as six-months (there's a fee for under three-year-olds) through to teens.
Aside from the kids clubs families can indulge in some quality time enjoying the pools, ice skating, the sports courts, outdoor movies, the Flowrider surf simulator and a rock climbing wall over-hanging the sea. Sounds exhausting, right? I might have to plan in a visit to the Vitality Spa to recover!
When is the 80s cruise?
The Back to the 80s cruise sets sail from Southampton on Sunday 6 May 2018 returning a week later on Sunday 13 May 2018. Prices start at £649 per person* with all meals and entertainment included which, when compared to what you might pay for a weekend at some UK festivals, is a super bargain! Find out more and book your cabin now, but be quick or you might miss the boat!
So, do you fancy joining us to sail back to the 80s?
* Prices include all meals, activities, entertainment and gratuities (excluding drinks, specialty restaurants & duty-free shopping).
Disclosure: we are guests of Cruisco and are helping to promote the Back to the 80s Cruise in return for our free cruise.
Pin for later