Aaaa-chooo! Aside from a chorus of cows, peacocks, and thousands of birds chirping their hearts out around the valley, the odd thundering sneeze was the only disturbance of the peace during our weekend glamping in Cornwall. And we were hardly in the position to complain as it was Tin Box Grandpa's severe hay fever that was to blame. Luckily while we were staying at Western Meadows Glamping near Launceston the two other dog-friendly glamping tents were vacant.
Our lack of neighbours saved some embarrassment during what was a particularly pollen rich, but fabulous weekend in the west country with our hosts Classic Glamping.
This off shoot company of Classic Cottages had invited us to stay in one of their luxury, dog-friending camping sites in Cornwall. When we put the June date in the diary I knew that Mr Tin Box might not be able to join us because of work so I invited Tin Box Grandma and Grandpa along.
As avid campers and motorhomers they didn't take much persuading to try out a variation on one of their favourite pastimes.
If you've not tried luxury camping and fancy giving it a go here's a guide to glamping with kids.
So what makes a glamping experience luxury? Classic Glamping only offer glamping tents with ensuite bathrooms and private loos. We've tried a few types of glamping before, from pods to yurts and safari tents, but none were ensuite.
Before we even arrived I knew this would be a massive bonus with two young kids who often get up for wees in the night!
Here's a round up of our weekend plus a glamping tent tour:
Glamping in Cornwall – arriving at Western Meadows Glamping
If you're not used to roads with grass down the middle you might be bit concerned you've gone the wrong way when you leave the A30 just past Launceston. We've got a lot of experience in this territory so ploughed on using the directions posted to us by Classic Glamping a few weeks before our trip.
We got the warmest of welcomes from Mike the site owner who showed us to our safari glamping tent, Campion, which sits at the far end of the large sloping field (about 100m from the car park), opposite a small play area and trampoline.
The site is well established with lots of plants growing up around the tents, which are pitched facing north and down the hill.
Mike talked us through all the facilities in the tent and pointed out the wheel barrows for moving our things in, the wood store where we could stock up on as much fuel as we needed for our stove, and the well stocked honesty shop.
He also supplied us with a couple of torches and a bag of charcoal for our BBQ – both of which we'd left in the garage at home!
An extra wonderful welcome was a plate of fresh scones, jam and cream, and a pint of milk to make tea. We were all set to go for our Cornish glamping adventure!
Dog-friendly glamping in Cornwall at Western Meadows Glamping
Western Meadows Glamping offers dog-friendly glamping, with four-legged friends welcome to wander in the field under close supervision from their owners.
Tin Box Dog brought her own bed and bowl, and as long as she didn't venture near the human beds or seats was most welcome in our safari tent too.
All three glamping tents here are dog-friendly. After a quick sniff around, Tin Box Dog seemed quite happy with her new temporary home. Should we have needed dog-sitters the owners could recommend some for us.
Find more dog-friendly accommodation and holidays in the UK
Glamping tent facilities at Western Meadows Glamping in Cornwall
For us humans there was linen for the beds, towels, tea and coffee, plenty of kitchen utensils and crockery, kindling and lighters, glassware, hand wash, and toilet roll to get us started.
Much more than the basic gear on our glamping essentials list. You have the option of cooking on the wood burning stove, a gas stove on the veranda or BBQ – all supplied with your glamping tent.
We had brought most of our food supplies with us for a stir fry and a barbecue dinner. The honesty shop was there for anything we'd forgotten, from bacon and sausages to ice-creams and bubble wands, with prices that made us feel like we'd been transported back to the 80s.
It's obviously a facility that the owners lay on purely for the convenience of their guests; not to make a profit. If you did need anything extra it is just a short drive back into Launceston where there's a large Tescos.
The tent sleeps six people in a double bed, two singles and a double cabin bed which are offered some privacy by curtains that are held back by rope ties during the day. The beds were extremely comfy.
In fact I have stayed in worse hotel beds and much worse mobile home beds!
Something to be aware of is that you can't lock your glamping tent. So take your valuables with you or lock them in your car.
Our stay at Western Meadows Glamping in Cornwall
The field of long grass is intersected with mown paths leading from the safari tents down to the play area where there are picnic tables and logs circling a communal fire pit. The Tin Box girls would have been thrilled to have spent the entire weekend here on the swings and trampoline.
And from the veranda of Campion we could see them playing happily. It was so tempting to pour a glass of wine and let the hours roll by in this idyllic countryside setting. However, the name of research we decided to explore.
In all honesty, we didn't go far. Just 20m from the entrance of Western Meadows Glamping is New Mills Farm Park – a small farm park that entertained the girls for five whole hours with ride on toys, a zip wire, trampolines, ball games and animals.
In fact they didn't want to leave and requested to go back the next morning. It was a great value day out costing just £13.50 for myself, two OAPs, and two children. The food from the cafe – ranging from bacon sandwiches, to jacket potatoes, pasties and paninis – was also great value for satisfying portions.
During the evenings back at our glamping tent we sat out on the rattan seating past 9pm before moving to the sofa inside and stoking the range. This kept off the very minor chill.
We only lit it for the cosiness factor but it would have been well up to the job of warming the space at colder times of year. We also used the range for warming an apple pie – perfect camping comfort food!
There's no televisions at Western Meadows Glamping and the 4G signal is hit and miss, so if you're looking to unwind and disconnect this is a great location to do it. In the tent is a box of games, books and children's toys to provide good old-fashioned camping entertainment. And if you'd like to sit out later there's blankets to wrap around your legs.
Our verdict on the glamping tents at Western Meadows Glamping
When Sunday rolled around we were all agreed that we'd had a wonderfully relaxing weekend. Hay fever aside, we'd enjoyed the rural setting of our luxury glamping tent and the thoughtfulness that had gone into ensuring we had everything we might need for our short weekend glamping in Cornwall.
Not even a couple of rain showers during the weekend could dampen our spirits. Under the veranda we were dry and gently soothed by the pitter-patter on canvas. And, for a moment, the sneezing stopped too!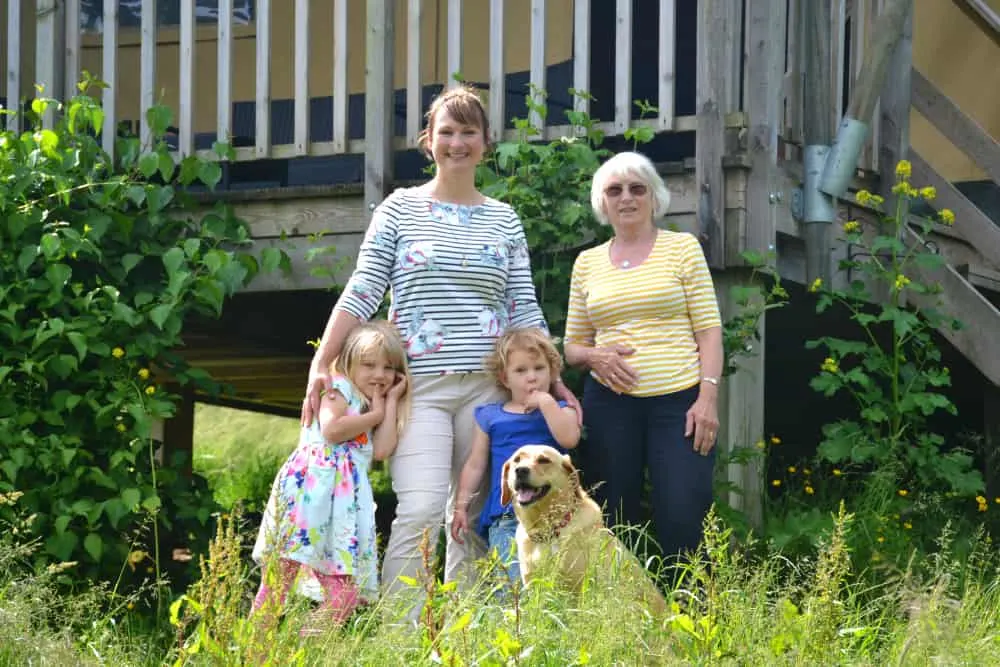 Our two night stay at Western Meadows Glamping would have cost £473.60 so it's not a cheap break but it lived up to its luxury glamping status. If you enjoy your creature comforts but want to experience all the fun aspects of camping then glamping in the style of Classic Glamping is for you.
Find out more about luxury camping and dog-friendly glamping in Cornwall.
Looking for more inspiration for things to do in Cornwall? Read our guide to family holidays in Cornwall. Or check out our recommended holiday parks in Cornwall, touring caravan sites in Cornwall and other self-catering breaks in the South West of England.
Disclosure: we were guests of Classic Glamping and had a complimentary stay at Western Meadows Glamping in Cornwall. All photos and views are my own and my family.
Looking for dog-friendly glamping in Cornwall? Why not pin this post for later!