Staycation ideas: hot destinations for your UK summer holiday
Where are you holidaying this year? Chances are it's in the UK. Travel trends are showing that us Brits and moving away from foreign summer jaunts with more of us favouring visits to UK destinations. Staying at home is the new alternative to chasing the sun. I for one am looking forward to a UK holiday over the school break, even if we are following it up with a cheeky trip to Italy. So why are staycations becoming a trend? And what are the hot destinations for UK summer holidays? Here's some facts and staycation ideas for you!
*This post contains affiliate links*
Staycation ideas: the travel trends
Rumours surrounding the shift towards a staycation have abounded ever since the Brexit vote in 2016. Yet the passage of time has enabled this speculation to turn to plausible theory as more and more data is released to support it.
At the forefront of this research is the holiday provider Travelodge. Each year the company produces an annual study looking at where people are spending their summer vacations. This year they have found that the number of Britons taking their main holiday in the UK has increased by 2% (from 55 to 57%) – so well over half of us are electing to keep our feet rooted on home soil.
In line with these findings, Fat Llama, a UK based peer-to-peer rental platform, have found that their number of campervan rentals have more than doubled in comparison to 2017 (increasing from 2.45% to 5.74%).
If you'd like to get £25 credit towards your first rental with Fat Llama then sign up here.*
Plus, the Caravanning and Camping Club have highlighted a 10% rise in UK campsite bookings this year. Evidently, British holidays (and camping in particular) are on the up – so what's prompting this change?
Staycation ideas: why stay at home?
Undoubtedly there are a myriad of reasons why people are opting to stay at home for their holidays this year. It all seems to have started with the Brexit vote. There's no doubt that the sudden fall in the value of the pound in 2016 corresponded to the Brexit vote, and this has had a massive fallout in British tourism. For one, Brits are not the only ones holidaying here – VisitBritain has reported a rise of overseas visitors by 6.2% in 2017, set to rise by a another 4.4% this year.
Since Britain's cities and renowned natural beauty sites aren't going anywhere soon (hopefully), it would not be an unfeasible leap to deduce that this influx is due to the weakened pound making UK trips cheaper than ever before.
Yet, tourism is obviously benefiting from the patronage of locals as well. Once again, Brexit appears to be the root of the cause as the falling pound makes internal tourism a safer bet than travelling overseas.
Staycation ideas: the best places for a UK holiday
If you're going to be staying on UK soil this summer then I've got some staycation ideas for you. Here are some top spots for you to start your staycation adventure:
Devon
As one of the largest counties England has to offer, you'll find our home county of Devon an enchanting mix of moorland, forests and beaches. That's not to mention dozens of family attractions whether you're visiting the Atlantic Coast of North Devon, the Jurassic East Devon Coast, Dartmoor National Park or our home stomping ground of South Devon. There's something for every taste this summer!  
Cornwall
Always high on the list for British holidaymakers looking for the perfect UK staycation destination, the sandy beaches, cliff-top views and seaside villages of Cornwall make it the ideal place for summer sun and surf seekers. We'll be heading Bude with our caravan in August and have already had some wonderful family-friendly resort, luxury glamping and self-catering holidays in Cornwall this year. If you don't have your own caravan or campervan for a UK staycation then why not rent one?*
The Cotswolds
The Cotswolds are described by their most famous expert, writer Laurie Lee, as: "The green back on earth and the whole world unlocked and seething". Despite being written in 1959, the same holds true of the Cotswolds. If you want rolling green English countryside look no further.
Scottish Highlands
The Highlands have captured the hearts of many visitors over the years. The combination of wild, dramatic scenery, rich history and unparalleled castles shows it's not for nothing that Scotland has been voted the most beautiful country in the world last year.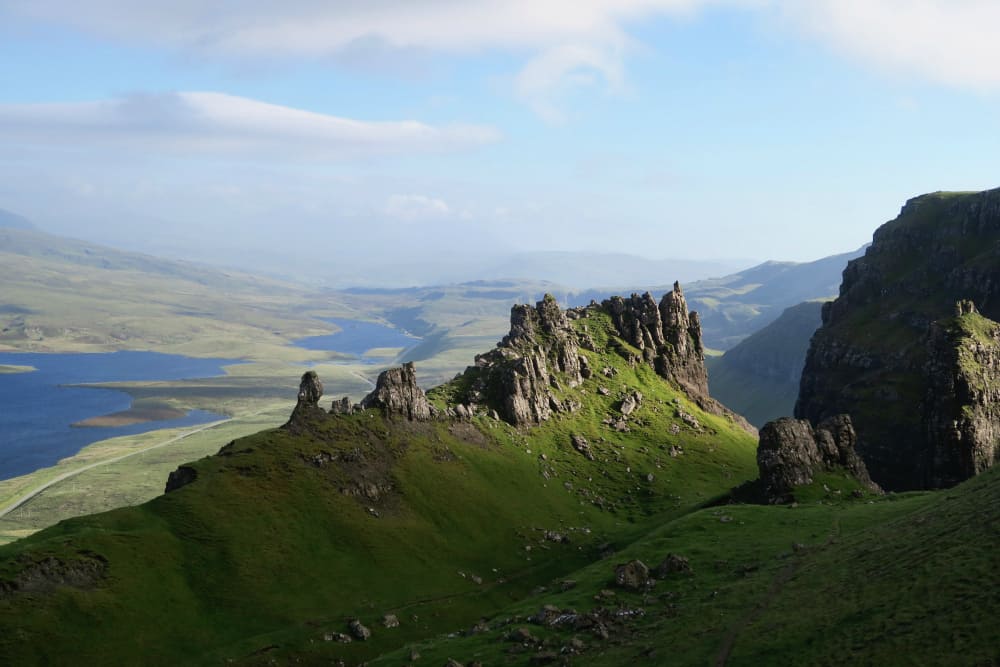 The Lake District
A national park founded by Beatrix Potter, the Lake District offers stunning views from some of England's highest mountains over the network of atmospheric lakes its famous for. We love it there and took Tin Box Tot for one of her first caravan holidays. We must go back soon!
UK staycations are on trend
At the end of the day, it's easy to look to popular destinations across the continent for your holidays without a second thought for what lies on your own doorstep. If you're feeling financially strained this summer, don't look at staying in the UK as the second choice. If you embrace the open road wholeheartedly you just may discover some treasures that rival anything you will find in a resort abroad.
*Disclosure: this post about staycation ideas contains affiliate links. If you click on the link and sign up to Fat Llama I will receive commission on your first rental. This does not cost you anything extra.
Pin for later