Island holidays: UK destinations for the best family breaks
There's something extra special about starting a vacation with a ferry ride. Drive or step onboard and quite literally sail away from the every day for an extraordinary family holiday. We love island holidays and have experienced a few with and without the children, and not in some of the far flung corners of the world that you might expect.
In fact most have not even required us to flash our passports. So where have we found these oh so convenient and relaxing island holidays? UK waters, that's where!
*Advertisement feature*
Here are some of the very best island destinations for families that we've visited or have come highly recommended by people we know.
Island holidays: UK destinations for the best family breaks
Island holidays in Guernsey
If you love active holidays switching between water sports, cycling and walking then Guernsey has a lot of offer families looking for a UK island family holiday.
You can reach the island within a few hours by ferry from Portsmouth or Poole giving you the time you need to ease into a family holiday to Guernsey.
St Peter Port is not only considered one of Europe's prettiest habour towns it is also the island's capital and a hub of tourist attractions. Kids of all ages will enjoy the newly renovated aquarium and older children will find the underground military museum La Vallette fascinating.
If history is your thing then a visit to the Castle Cornet and its five military museums are a must. The guns are fired at midday followed by living history performances.
Guernsey is also the perfect base from which to explore some of the smaller Channel Islands of Hern, Sark and Alderney which can all be reached by boat within an hour. Or why not take a wildlife boat trip to see the seals and puffins that live around the island?
If you're wondering where to stay in Guernsey there are plenty of self-catering options as well as hotels in St Peter Port and campsites for camper vans and glamping.
Special offer: 50% foot passenger discount on Condor Ferries
Heads up! If you fancy a day trip to Guernsey then you can get foot passenger tickets for half price by using the discount code 'DAYOUT2018' when booking online by 9 July 2018. T&Cs apply.
Island holidays in the Isle of Wight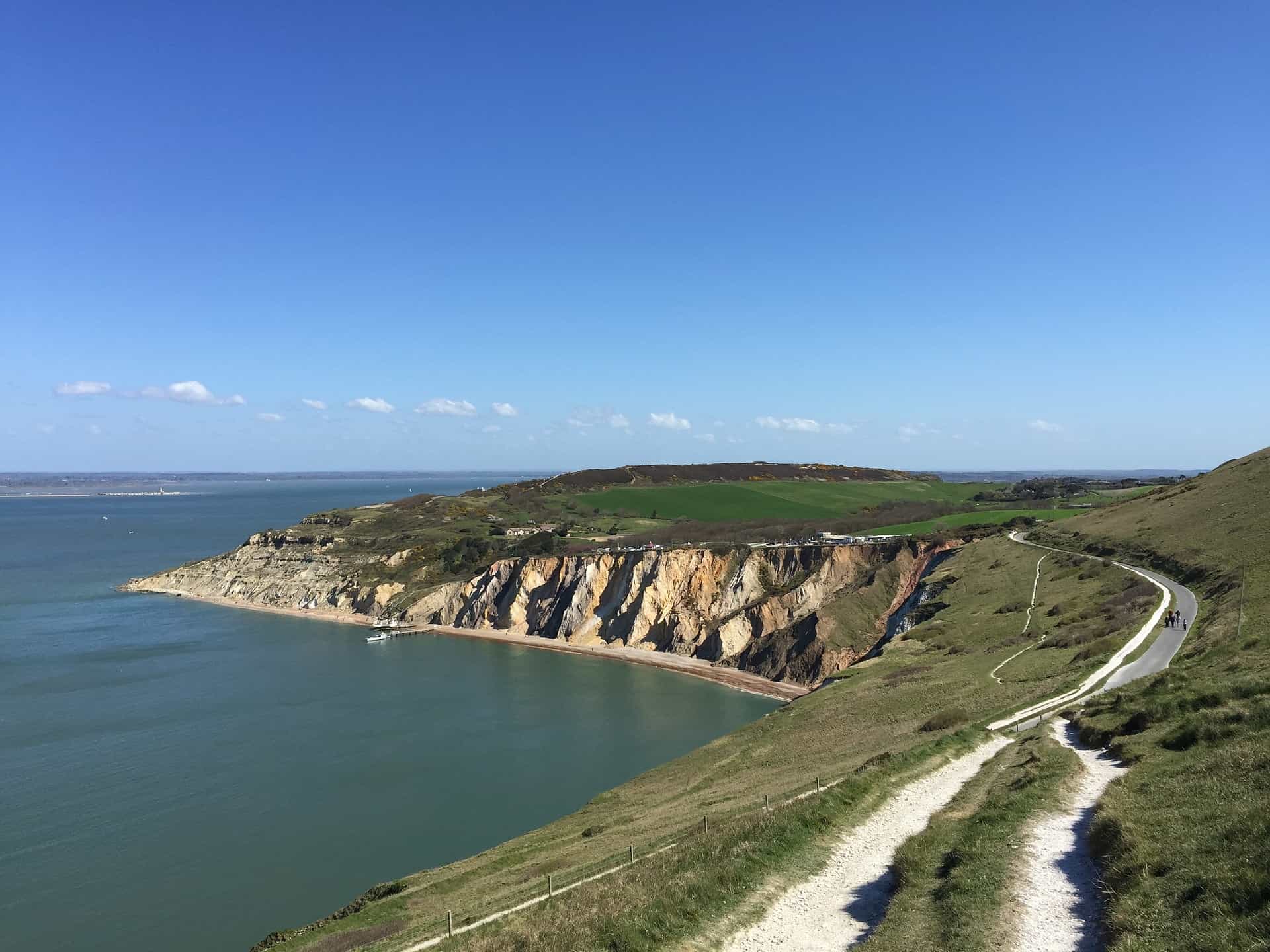 Whether you're looking for a traditional seaside holiday, coastal walks or remarkable historic sights there's so many things to do on the Isle of Wight.
We recently spent a day at the western end of the island exploring The Needles and Alum Bay. The Needles peninsular is awash with geographical and military history, while the Needles Park at Alum Bay offerers families good old-fashioned seaside fun in the form of fair ground rides, a chair lift down to the bay and boat trips to get a sea view of the chalky rocks jutting out of the waves.
A little further East you can explore Yarmouth Castle, meet the animals at Tapnell Farm Park or tackle the adventure playgrounds at Robin Hill Park.
Somewhere that I cannot get enough of is Queen Victoria's former holiday home Osborne House and who could miss out on a visit to Carisbrook Castle – one of the settings for the smugger's tale Moon Fleet. 
Around the coastline you can have a go at coasteering, paragliding and fishing. Or why not head inland and try tree climbing? This was an favourite memory from one of my visits pre-kids with Mr Tin Box.
The Isle of Wight has also been named as one of Lonely Planet's top 10 cycling destinations in the world with half day family-friendly tracks through to routes for multi-day cycling holidays.
You're spoilt for choice with places to stay in the Isle of Wight from spa hotels to self-catering holiday cottages and holiday parks to camping sites.
Island holidays in Jersey
Jersey is the largest of the Channel Islands, yet is still just nine miles long by five miles wide. I know from experience that you can drive around it, with plenty of stops to admire the views, in just one day.
However, that doesn't mean it's not worthy of a week-long or even a fortnight vacation – this wonderful UK island has plenty to offer family holiday-makers.
Mr Tin Box and I had a romantic getaway to Jersey a few Springs ago but it's somewhere we'd love to return with the girls. The crisp white sandy beaches, Jersey Zoo and aMaizin! adventure park would be right up their street.
Now that they are both getting the hang of bikes and scooters I'd also like to have a go at cycling around the island. The road-free Corbière cycle track sounds perfect for families. 
Other things to do on Jersey that families will enjoy are visiting the Jersey War Tunnels, catching the ferry out to the 16th Century fortification Elizabeth Castle, and the island's newest attraction Tamba Park which boasts a dino trail, adventure playground and boating lake.
During our last visit we stayed in a five star hotel in St Helier but I'd be tempted to try a camping on our return trip. The climate is much closer to that of northern France than the UK – perfect for camping breaks from early spring to the autumn.
You can take your own camper, tent or caravan, hire a camper van to tour the island or camp in luxury at the Durrell Wildlife Camp.
Island holidays in the Isle of Sky
A visit to the Isle of Skye is all about the drama of its landscape and the history that has been played out here. As such it's a haven for walkers who want to explore every nook and cranny of its mountains, Highland fortresses and prehistoric sites.
The Skye Museum of Island Life gives visitors an insight into what it was like to live on Skye 100 years ago and is centred around a preserved 19th Century crofters community
A magical place that should be on your list of places to see is the Faerie Glen near Uig. Its rolling green hills surround a basalt rock that looks like a castle giving it an mystical feel.
You might also see spirals of rocks in this area. They are not pre-historic but are said to have been created by enthusiastic tourists enchanted by this place. The advice from countryside officials is to not further damage the natural landscape.
Continuing the fairy theme the Fairy Pools at base of the Black Cuillins are a popular spot for a wild swim or just to admire the waterfalls.
If you visit at the beginning of August you may catch the Isle of Skye Highland Games which have been a firm fixture in the island's event calendar since 1877. If you've never experienced Highland dancing, piping and athletics like caber tossing then you're in for a treat.
There's Isle of Skye accommodation to suit all budgets from camping and bed & breakfast to self-catering cottages and hotels.
Island holidays in the Isles of Scilly
The Isles of Scilly are a place to feel the sand between your toes and let the hubbub of life drift away with the tide. There are 140 islands in the archipelago from largest, St Mary's, measuring 2.5 square miles to rocks jutting out of the sea 28 miles from mainland England.
And what a difference those few short miles make to the climate, lifestyle and sights you will experience in the Scilly Isles – you can't help but fall in love with these islands.
St Mary's is your landing point on the islands and from where you can explore many of the others inhabited and not. Take a guided tour or hire some bikes or a golf buggy to explore the coastline.
Alternatively kick back on a boat trip during which you can spot some of the island's wildlife or head to neighbouring Tresco, St Martin's, Bryher or St Agnes.
Tresco is famous for its beautiful abbey and gardens which are a delight to wander around with 20,000 plant species to admire.
And if you're looking for a beach where the kids can swim in crystal clear waters while you admire the view then Appletree Bay is the place to be.
Families will older kids can try out water sports like kayaking, coasteering and sailing, while little ones will be content with deserted beaches for making sand castles as big as their imaginations.
Visit the Isles of Scilly at the end of May and you'll hit the annual folk festival or arrive over the August Bank Holiday for another annual festival including boat races and aircraft fly pasts.
Places to stay on the Isles of Scilly include hotels, B&Bs and luxury self-catering apartments, plus a smattering of campsites open between February and November.
Picking a island holiday in the UK
Of course there are hundreds of islands around the UK that make great family holiday destinations. The biggest problem is picking just one for your next escape. Do you have a favourite island holiday? I'd love to hear about it.
Disclosure: this is post is a collaboration with Condor Ferries. Image courtesy of Shutterstock and Pixabay.
Pin for later