Essential tips for a holiday in Jersey with a camper van
If you are visiting Jersey with a camper van you may be wondering how easy it is to get around? Can you wild camp? And do you need a vehicle permit? In this post I'm answering all these questions after our own family holiday in Jersey.
*This post contains affiliate links*
Getting to Jersey with a camper van
This is super easy. We booked a four hour crossing between Poole and St Helier* on the Condor Voyager.
You have to check-in an hour before you sailing.
One of the bonuses of travelling over with a camper van, motor home or caravan (or a car with a roof box) is you park on the lower vehicle deck. This means you are the first to drive off at the other end.
If you are travelling with a pet the crew announce a visit to your vehicle during the first half of the journey.
The other option for crossings is from Portsmouth to St Helier* which is a 10 hour 20 minute crossing. This is cheaper but will eat into your holiday time if you have set leave dates.
I'd recommend downloading the Condor Ferries app so you have all your booking information and boarding passes in one place rather than buried in your inbox. This makes checking in easier.
Where to stay
You can stay at a limited number of approved Jersey campsites. We booked Camping Rozel, which is a 20 minute drive from St Helier.
It's family-run with four camping fields, each with something different to offer. There's sea views, pitches in a sheltered valley, pre-pitched tents and spots right next to the facilities. 
The site is well maintained with attractive flower beds and plants around the main facilities. Add to that a friendly welcome, a great location and, top of my kids' campsite wish list, a pool.
Read our full review of Rozel Camping Park.
Here are some more campsites in Jersey.
Can you tour different campsites?
No. You are not permitted to move between campsites during your stay and must return to your booked campsite each night.
Can you wild camp on Jersey?
Wild camping is a no-no in Jersey.
Essential vehicle permits
If you visit Jersey with a motorhome, caravan or camper van you need a vehicle permit. Travel with Condor Ferries and your campsite will arrange this for you a few weeks before you arrive.
If you travel with Brittany Ferries from France you need to contact them to arrange your permit.
Your motorhome or camper van permit must be displayed on your dashboard at all times.
There is no additional charge for this permit.
What's it like to drive in Jersey?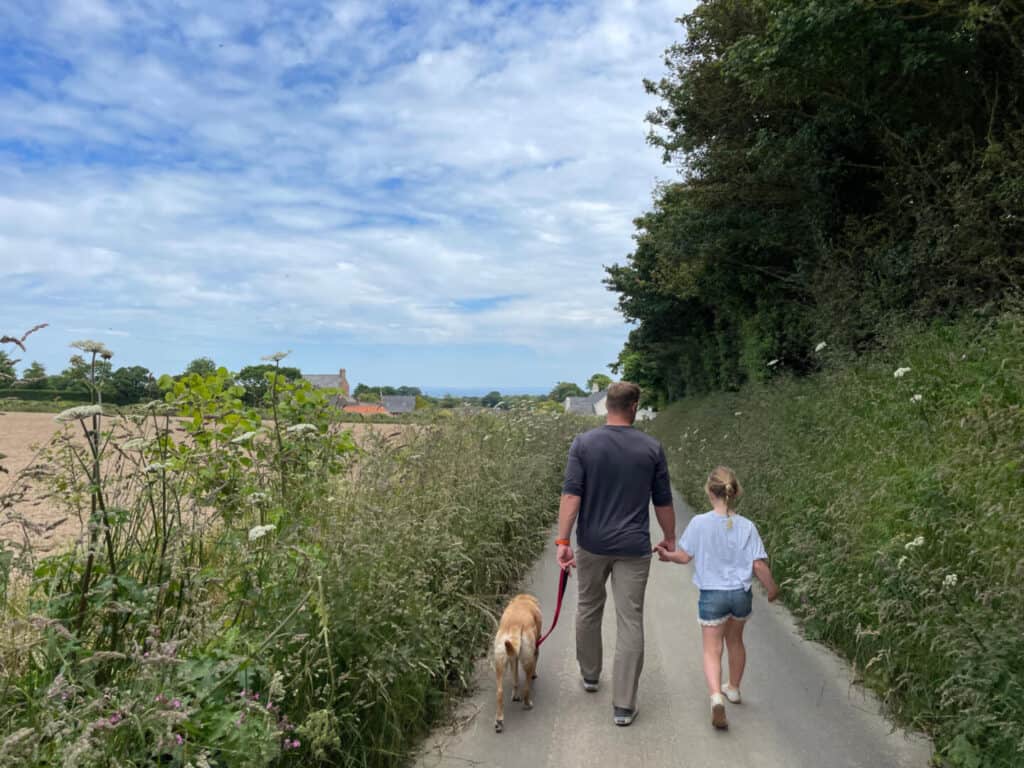 If you've driven the rural roads of Devon and Cornwall it's good preparation for Jersey. Expect roads to be narrow with few passing places.
The maximum speed limit on the island is 40mph but you're unlikely to achieve this.
Cycling and walking are very popular but dedicated cycle paths and pavements are limited outside St Helier and the larger towns. Expect to share the road with more vulnerable users.
Here's some more quirks to driving and roads in Jersey that are different to mainland UK:
Traffic light sequence
The traffic light sequence in Jersey differs slightly to mainland UK. When on red the lights will change straight to green rather than red and amber then green.
Bus stops
Bus stops are marked on the road rather than with signs.
Parking
You find the Pay By Phone parking system in place around the island. Download the app.
Parking is free at a lot of beaches. But this can be limited so take a look at Google Maps before you set off. Where there's a slipway from the coast road you can also park here. Make sure you check signs for restrictions.
If you want to explore St Helier avoid multi-storey car parks and head to Les Jardins on Esplanade.
Things to do on holiday in Jersey
We spent seven days exploring Jersey and had days out at the beach, at family attractions and visiting pretty port towns.
Take a look at our full guide to places to visit in Jersey.
So those are our tips for a holiday in Jersey with a camper van. I hope you've found them useful. If there's anything you'd add comment below.
More family camping tips
You might also like to read these posts:
Disclosure: this post contains affiliate links marked with *. If you click on one and make a purchase I may earn some commission. This does not affect the price you pay.