Eyefi MobiPro review: sharing photos while travelling
*Contains affiliate links*
When it comes to gadgets and tech I usually take a back seat in the Tin Box household. But when I was contacted by Eyefi about the Eyefi MobiPro – a wifi camera memory card – my interest was piqued. This is a really handy piece of kit for anyone wanting to share DSLR quality images on social media while they are travelling. For travel bloggers it's a must to have a WiFI enabled camera. But if yours, like mine, is too old to have this, then the Eyefi MobiPro* could be the answer.
About the Eyefi MobiPro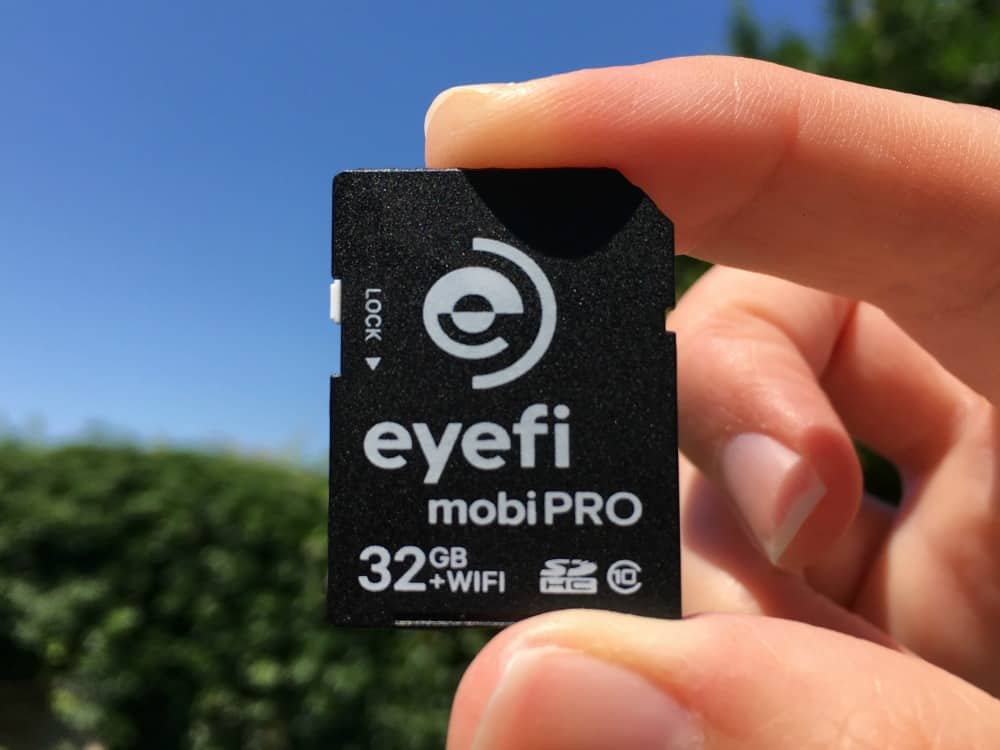 It's an SD card that uses wifi to connect to your mobile device, tablet or desktop, and transfer your DSLR quality images.
For a travel blogger with an rather old camera this is a revelation. I know there are lots of cameras out there with inbuilt wifi these days but I'm quite fond of my beat up Nikon D3100 and don't really have the funds to replace it. So being able to add wifi is brilliant.
It means I can now share my very best photos online almost as soon as they've been taken.
The Eyefi MobiPro is available in 16GB or 32GB and comes with a one year free subscription to the unlimited Eyefi Cloud.
Taking photos as a family travel blogger
Whenever we are on a day out or trip I'm always switching between my DSLR and mobile so that I have images to share on social media immediately. Plus some great quality shots to add to my blog posts later. This is a massive faff and wastes time duplicating shots when I could be enjoying experiences with my family.
This is why I was so excited about the Eyefi MobiPro and extra happy that we got to take it on our recent Mediterranean cruise.
How to use the Eyefi MobiPro
Before you can start using your Eyefi MobiPro you need to download the app to your mobile or tablet. I did this through the Apple App Store. It takes no time at all and within three easy steps – download, connect to the card's wifi, and verify the connection by taking a photo – you're ready to go. Brilliant for a technophobe like me!
When you have a good internet connection you can then upload to the Eyefi Cloud so you can access all your snaps through the app wherever you are.
Our test of the Eyefi MobiPro
The first real test came when we arrived in Barcelona to meet our cruise. We had a day exploring the characterful side streets, admiring the epic views of the city from Park Guell and chilling out on Barcelona Beach. At the end of the day I settled down to share my DSLR photos on social media.
It was almost too easy! I turned on my camera, went into my iPhone settings and selected the Eyefi MobiPro from the available wifi networks. I then clicked into the app and my pictures from the day started to download to my phone.
The app sorts your photos into date order as standard but it also has a clever tag feature that automatically sorts your photos into categories based on what's in the frame; be it a sunset, mountains or animals. You can also create your own albums.
I picked a few snaps that I wanted to share on social media, saved them to my photo stream and posted them on Twitter, Facebook and Instagram. You can also share them straight from the app.
Here's a few of the gorgeous DSLR snaps I was able to share on my Instagram account during our holiday.
A few teething problems
In the first six days we were away this handy little memory card really changed the way I was capturing our travels. I was able to use my camera for taking photos and my iPhone just for filming. Oh, and I appreciated a bit more of what was happening around me as well.
However on the seventh day I couldn't find the Eyefi MobiPro in the available wifi networks on my phone. When we returned to the UK I got in touch with the lovely folks at Eyefi who went through all the possible reasons for this.
It came down to my camera's auto power off setting turning it off before the memory card and my phone had time to connect. This didn't happen every time, but I've now adjusted the settings and everything is working just fine again.
What I love about the Eyefi MobiPro
It's changed the way I take photos and cuts out a lot of picture duplication across my devices
It's easy to use, even for a technophobe like me
I can upload great photos to social media on the go
I don't need to upgrade my camera just yet
It comes with a free one year cloud subscription
The customer service team are really helpful.
Where to buy the Eyefi MobiPro
The Eyefi MobiPro 32GB Wifi SD memory card is available buy from Eyefi MobiPro*.
How do you share your photos to social media when you are on the go?
*Disclosure: this post contains Amazon affiliate links which means I may earn some advertising fees if you click on an affiliate link and make a purchase. You will not be charged extra for this. I was sent the Eyefi MobiPro for the purposes of this review. All views are my own. 
I love hearing what people think about my blog so feel free to leave a comment below or browse around. You can also find me on Bloglovin', Twitter, Facebook, Instagram, Pinterest, Youtube and LinkedIn.