Bloc Hotel Gatwick Review – a pre-flight hotel at Gatwick Airport 
I don't often fly from Gatwick as it's a good five hour train journey from where I live in Devon. But when the chance of a trip to Lake Maggiore in Italy came up in May, Gatwick was the best option for flights to Milan Malpensa. I ummed and arghed about getting the sleeper train at midnight, so I could get there in time for my 9am departure. But in the end the best option for my sanity was to travel up the day before and find a pre-flight hotel at Gatwick.
*AD – this post contains affiliate links*
Bloc Hotel Gatwick had been recommended to me a few times, and thanks to building up Genius Points on Booking.com I was able to get £30 off the price, making a double room a very reasonable £73.
The location and accessibility from the train station made it ideal – it's minutes from the platform.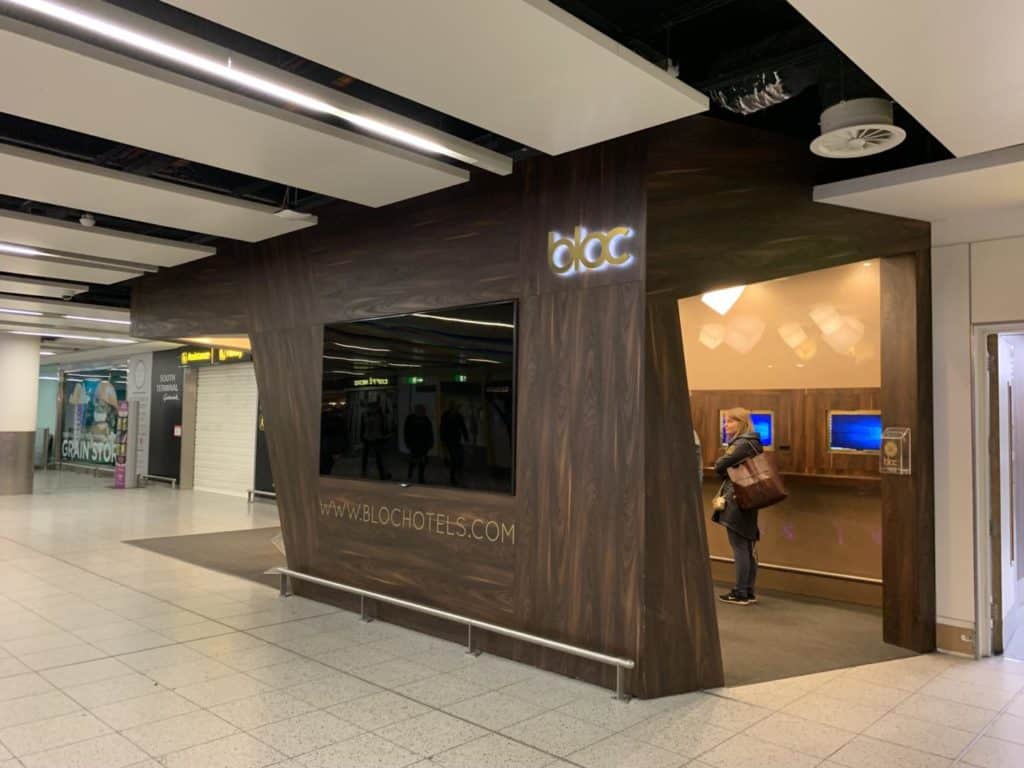 As I was travelling without the kids or Mr Tin Box, a double was all I needed for this trip. But rooms at the Bloc Hotel come in all shapes and sizes, from twin rooms with bunks to spacious suites.
For families there are a couple of room options with a double bed and bunks for kids up to the age of 14. Larger families will need to book two rooms.
Check the room options and prices of all Gatwick hotels*
Double room at Bloc Hotel Gatwick
My Vista Double Room had a king size bed that ran from wall to wall under the large window looking out over the airport. This was framed by purple ambient mood lighting which gives Bloc Hotel rooms a signature look.
I'm not sure I was that excited about it but it wasn't unpleasant.
My view didn't include the runways but I know you can request a room that does if they are available. You can also get a room with no window for a cheaper rate if you're not interested in the airport traffic. If you're arriving in the dark you may just want to sleep anyway.
Regardless of whether you can see the planes it's impossible to hear them. Until I went to bed I didn't hear any noise from outside the room. There was a tiny bit of noise in the night from the corridor but this was just doors closing and was very faint compared to some budget hotels I've stayed in.
Back in the room you get a couple of small bottles of water, a hair dryer, fluffy towels, a flat screen TV in the wall at the foot of the bed, a small bedside table/desk with seat and pegs by the door for hanging coats.
You can also connect to Bloc Hotel's free super-fast WiFi without the need for a password.
There's no wardrobe in the room but I always find it amusing when these are included in airport hotel rooms. Who unpacks just before or after a flight?
If you were desperate to use a coat hanger there were a few hanging from the pegs by the door.
Overall, the main room was compact but there was space to store bags under the bed or along the wall if needed, so you weren't tripping over luggage.
The bathroom was a wet room with a rainfall shower and normal shower head.
The rainfall wasn't as powerful as I'd expected but, on reflection, the room was small so the flow was just right not to drench everything. There's was a dispenser of shower gel and another of hand wash by the sink.
Your room lighting, temperature and window blind are all controlled with a small interactive screen beside the bed.
This is very whizzy and if you saw my Bloc Hotel Instagram Story during my stay you'll know I got a bit over-excited about this!
You can check into your room at Bloc Hotel from 4pm and check out at 11am, so there's no rush to leave if you don't have an early flight.
Both check in and check out were really speedy. I just flashed my Booking.com confirmation on my app, but photo ID would also have worked.
I could have checked out using the control panel in my room but instead opted to drop my key at reception. And that was that. Simple!
Check prices* for Bloc Hotel Gatwick
Where to eat
In your room you get a small booklet of discount vouchers for airport cafes, shops and restaurants. These range from 10 percent off your bill at Cafe Nero to free drinks at some outlets.
There are a couple of places to eat near the Bloc Hotel. I spotted Joes Coffee House, Giraffe and Whetherspoons. Joes closes at 8pm, Giraffe closes at 10pm but the Whetherspoons is open 24 hours a day. Its kitchen is open from 4am until 10.30pm.
On the floor below there was an M&S Food and Cafe Nero.
How close is Bloc Hotel to Gatwick train station?
Once you get off the train, follow the signs to departures and walk straight across the departure hall. Go up to floor 3, either by the escalator or lift, and Bloc Hotel is located just before Departures. It's an easy five minute walk from Gatwick train station.
Need a pre-flight hotel at Gatwick plus parking or an airport lounge? Check the deals available for Gatwick Airport with Holiday Extras*
How far is Bloc Hotel from Gatwick South Departures?
It could not be closer if it tried. You walk out of the lift that you use to access the hotel's rooms, turn right towards the terminal and then left. Departures is directly in front of you.
How far is Gatwick North Terminal?
My flight to Milan Malpensa was from North Terminal. It took just 13 minutes on foot and via the monorail to get from the Bloc Hotel to security at Gatwick North Terminal.
Take a look at all Gatwick hotels available on Bookings.com*
Got time to spare? Take a look at my review of Club Aspire lounge Gatwick North.
My Bloc Hotel Gatwick review: final thoughts
I'd not hesitate to book Bloc Hotel again and already have it in mind for a pre-flight hotel stay at Gatwick before Mr Tin Box and I head off on a cruise in December. The location and accommodation are excellent – modern, stylish and really quite luxurious for somewhere that you just need to lay your head for a few hours. Plus there are some good prices available on Bookings.com*. Next time I definitely go for a room with a view and see if we can get one with better vistas of the airport.
Planning a pre-flight hotel stay at Bristol Airport? Read my review of Hampton By Hilton.
Disclosure: this post contains affiliate links, which means if you click on a link marked with a * and make a purchase I may earn some commission. This does not affect the price you pay. I paid for my own stay at Bloc Hotel Gatwick.
If you're looking for a pre-flight hotel at Gatwick Airport, why not pin this Bloc Hotel Gatwick review for future reference.