An airport lounge has always felt like a luxury to an infrequent flier like me. But when we booked our Caribbean cruise we decided to treat ourselves to a pre-flight visit to Club Aspire lounge at Gatwick North terminal. Here's our review of this Gatwick airport lounge.
*This post contains affiliate links*
Contents - jump to what you'd like to know
Where is Club Aspire Lounge in Gatwick North Terminal?
You access the lounge on Level 1, which is two levels below the main duty free shipping area and the departure gates. There's a lift or stairs.
As the lift was taking people to a few different lounges we decided to use the stairs, which was easy enough when not carrying hand luggage for children as well.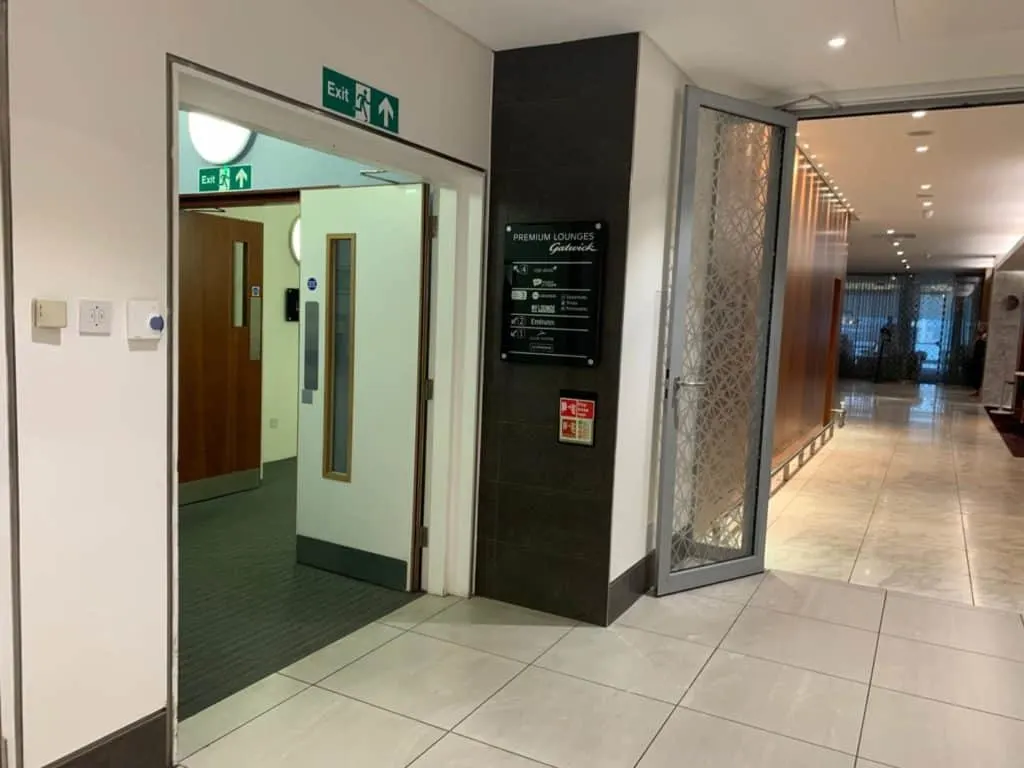 Facilities
The lounge is partitioned creating several different seating areas with tables and chairs, booths and coffee table-style spaces.
We found plenty of plug sockets next to the seating by the windows and settled ourselves here.
There was loads of free seating during our two hours in the lounge and the staff were making an effort to keep numbers down by turning people away who hadn't booked.
Tip: book in advance if you are flying first thing in the morning.
Find prices for Gatwick airport lounges*.
The atmosphere was calm and relaxed. There was natural light at the far end of the lounge where were windows overlooking airport service areas – don't expect a runway view.
The only area that let the lounge down during our visit was the toilets. They weren't particularly clean and one of the two cubicles in the ladies' toilets was out of order. It could have been awkward if everyone had suddenly needed to go.
Free food and drink in Club Aspire lounge
The central buffet and bar area was well stocked and tidy. We arrived at 8.20am when breakfast was being served and stayed until 10.20am.
Hot food included sausages, beans, bacon and scrambled eggs. There were also croissants, fruit, yoghurts and cereals, fruit juices, hot drinks from an instant machine, and wine, beers and spirits. There was actually more on offer than I'd thought there would be.
You could pay extra for Champagne or Prosecco.
Once we had finished with a glass, cup or plate they were cleared quickly.
We definitely got value out of the money we spent on our booking for the two of us.
It would have cost £15 each for breakfast at our hotel and I doubt we could have had a few cheeky pre-flight drinks and breakfast for the same price in the main terminal.
Would we book an airport lounge with the kids?
There was a mix of couples, groups and families using the lounge when we were travelling just after Christmas. I know my girls would have been happy with a few visits to the buffet and space to chill out with their tablets or some colouring pens.
I would have also been happier not having to watch them and our bags constantly, while also repelling requests for toys and sweets from the duty free shops.
Would we have got as much value out of the alcoholic drinks on offer? I'm not so sure, but the seats were certainly comfier than in the terminal building.
Is the Club Aspire lounge worth it?
I soon realised that booking a lounge was actually a sensible financial decision. We were going to buy breakfast anyway and maybe have a pre-holiday drink. We didn't have the kids with us after all.
So yes, at the time we travelled it was worth it. Prices have since gone up and I haven't revisited the airport to see if the food and drink prices in the main terminal have gone up too. I suspect they have – hasn't everything?!
How much does the Club Aspire airport lounge cost?
When I last checked, if you book direct with Club Aspire the cost is £34 per adult or £18 per child aged two to 11-years-old. Over 12-year-olds are classed as adults but, obviously, can't be served alcohol until they are 18.
We got a special offer through Club Aspire and booking direct meant if our flight was delayed we could stay as long as we liked. You can also book this lounge through Holiday Extras* and might find a deal.
Find prices for Gatwick airport lounges*.
Overall, I was glad we did book the lounge. It was a very pleasant way to wait for our flight and I would look into it again if we were travelling with our girls.
Where to stay at Gatwick Airport
Read my review of Bloc Hotel Gatwick South.
Disclosure: we booked and paid for our own visit to Club Aspire lounge. We got a special offer that was available to any member of the public. This post contains affiliate links marked with *. If you click on one of these and make a purchase I may earn some commission. This doesn't affect the price you pay.
Thinking of booking an airport lounge at Gatwick? Why not save this Club Aspire lounge Gatwick North review for reference.