Things to do in Costa Adeje – Tenerife with kids
If you ask my kids what they look forward to most on holiday it's playing on the beach. I think they'd love a trip to the Canary Islands, particularly Tenerife, because of the endless opportunities to do this all-year-round thanks to the excellent weather. The incredible beaches of Costa Adeje are one of the top reasons to visit the south of the island for a family holiday. However, I know I couldn't spend a week just lounging on the volcanic black sand – I'm far too fidgety. So, what else can this popular holiday resort offer families? Below are some of the many things to do in Costa Adeje or within easy reach of its bustling family hotels.
*Advertisement feature/contains affiliate links*
If you are looking for family hotels in Costa Adeje, Tenerife, then take a look at the seven available through iberostar.com.
Go on a tuk tuk tour
After loving a tuk tuk tour of Lisbon in Portugal, I know this would be a hit with my girls. Taking a tuk tuk tour* of some of the sights and attractions of Adeje is also a great way to orientate yourself at the start of your holiday.
Make a splash at Aqualand or Siam Park
Aqualand is a family-friendly water park* with 18 different attractions, making it a full day out with children in Tenerife. Many slides and activities are suitable for younger kids too. Be aware that there is a dolphin show, so if this kind of thing is not for you then may be take a look at Siam Park instead.
If you have older kids then Siam Park will be more up their street with a 1,150m wide beach, thrill-rides, a lazy river and a wave pool that can generate the world's largest manmade wave at 3m high. Find out more about visiting Siam Park with kids.
Check prices for visiting Siam Park*
Go dolphin and whale watching
It's common for groups of dolphins and pilot whales to be spotted off Tenerife. I'd love for the girls to see them in the wild. A boat trip can be booked from Costa Adeje, giving you half a day to spot wildlife living around Acantilado de los Gigantes and the Bay of Masca. Some boats also have underwater viewing areas so you can see these gorgeous creatures playing below the surface. Don't forget your camera!
This has to be one of the most fun things to do in Costa Adeje if you love wildlife and scenic boat trips.
Check prices for Costa Adeje dolphin and whale watching boat trips*
A day trip to Teide National Park
An excursion to see the volcanic landscape of Teide National Park would be another bucket list activity for me during a holiday in Tenerife with kids. And I'm sure I could tempt the girls away from the beaches with a ride on the Mount Teide Cable Car*. When they get a bit older it would be very special to keep them up for some stargazing. Tenerife is one of the best places in the world to see the constellations in action and Teide National Park* is where you will get the most stunning star views in Tenerife.
Teide National Park is an hours' drive from Costa Adeje and several tours are available, some with transfers from your hotel.
Find out more about stargazing tours in Teide National Park*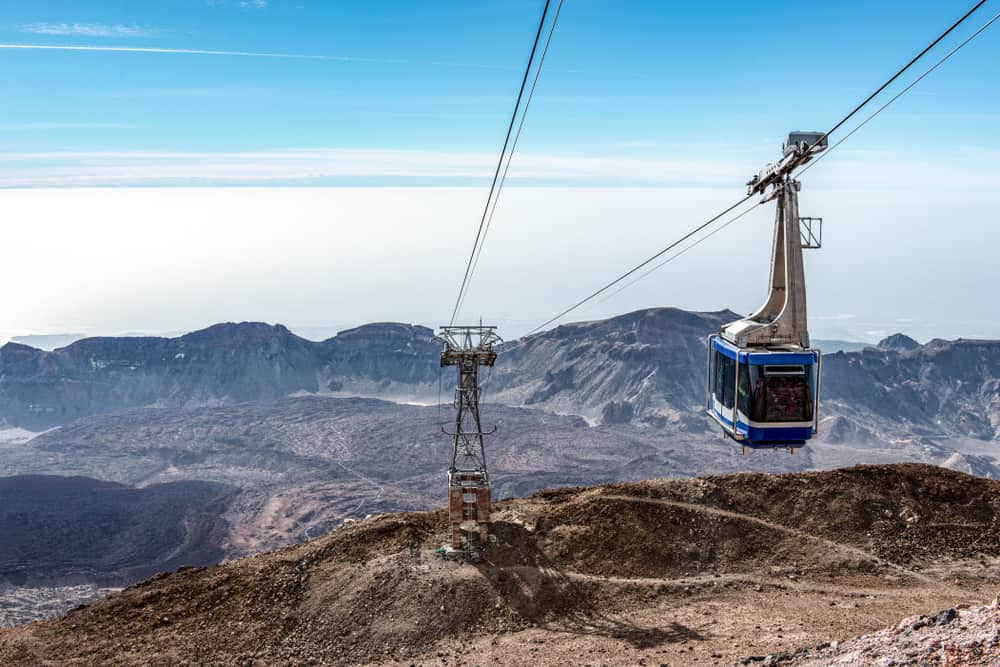 What are some of the best family friendly beaches in Tenerife
So what about those Costa Adeje beaches that I'm sure would capture my girls' hearts? Here's a round up of some of the beaches in and around the resort:
Playa del Duque
Gorgeous golden sands lined with sun loungers to hire. Expect these to be some of the more expensive places to lay down a towel on the sea front at Adeje, with beach front restaurants with prices to match. However, there is a water sports centre where you can pick from a whole range of activities if relaxing on the beach is not for you.
Playa de Troya
This beach which connects Adeje with Playa de las Americas is sea front with music, bars and water sports. If you like being at the centre of all the action then is a fun place to be.
Playa Fañabe
If you are looking for a beach without a hefty price tag on snacks and drinks from neighbouring bars then Playa Fañabe is a good place to head. You can also hire bikes here.
Playa Torviscas
Just along from Playa Fañabe, this beach is often quieter as there are no loungers to hire. However, there's still a beach bar and pedalos.
Playa del Puertito
If you prefer a beach that's off the beaten track then Playa del Puertito will give you a taste of what the coast here was like before the holiday resorts arrived. Even turtles are known to hang out in the waters off this rocky bay.
Have you visited Tenerife with kids? What things to do in Costa Adeje can you recommend? I'd love to hear about your tried and tested family excursions.
Disclosure: this post has been written with Iberostar. It also contains affiliate links marked with *. If you click on one of these and make a purchase then I may earn some commission. This does not affect the price you pay. All images from Shutterstock.
If you are planning a family holiday to Tenerife, then why not pin this post about things to do in Costa Adeje for later.