River Dart Country Park on a wet winter's day
We had our first Devon house guests this month – Grandma and Grandpa Tin Box – which gave us the perfect excuse to explore our local area. Despite the less than lovely weather I suggested we visit the River Dart Country Park as I thought it would give us all a chance to stretch our legs.
About River Dart Country Park
The Country Park is a independently run visitor attraction with 25 different activities for families from high ropes courses to kayaking and a commando assault course. For families with young children there's a toddler beach, adventure playground and mini zip wire.
You can also bring your tent or caravan to the Country Park, which offers more than 150 pitches with prices starting at £15 per night.
Our visit
I've noticed signs for the Country Park a few times on our trips out towards the A38 Devon Expressway from Dartmouth. I hadn't done much research about it as I thought 'country park' kind of said it all. I was expecting adventure playgrounds and lovely dog walks. As it turns out there's a lot more adventure than I had anticipated.
As we drove through the entrance we started to see huge slides and high rope courses peeping through the trees. We crossed the river and eventually came to the car park by Holne Park Hotel.
We quickly realised that we were going to have the place to ourselves as the car park was almost empty. After a stop at the toilets and temporarily losing my car keys (!) we found the park map and decided on our route to one of the adventure playgrounds.
Once we got round the hotel we realised that bringing the pushchair had been a bad idea as there were three sets of steps to negotiate. However the gravel path was dry, despite it having been a very wet month, and we soon found our way to an area packed with play equipment suitable for all ages.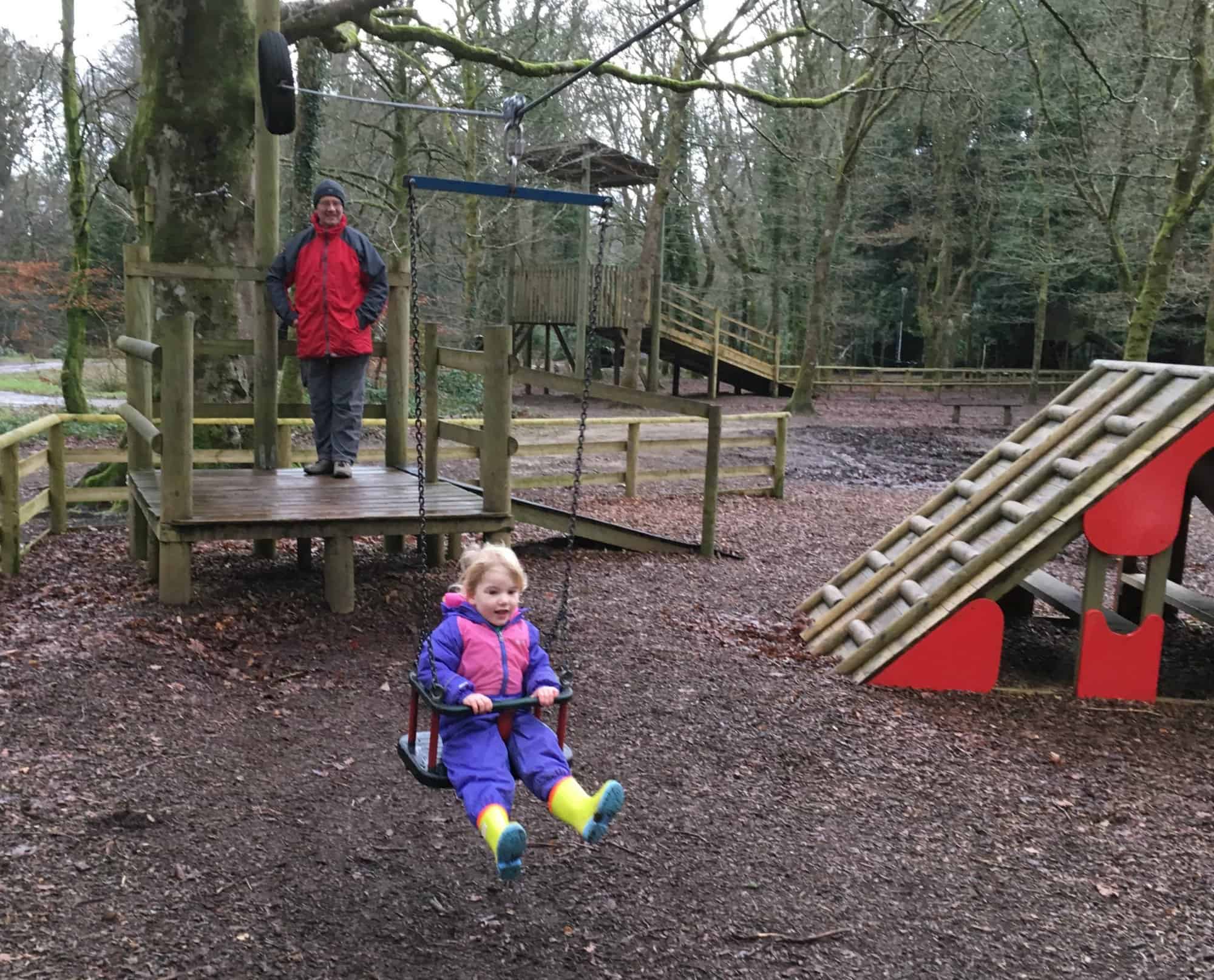 Tin Box Tot went straight for the swings. It took quite some persuading to get her to try something different but eventually she had a go on the mini zip line, 'drove' the train and ran around the life-sized wooden fort with me.
Tin Box Baby was content with the swings and hanging out with Grandma.
One member of our party was not quite so pleased – poor Tin Box Dog had been hoping for a run around, but had to be kept on her lead while we were in the play areas. When we tried to walk on to find her a dog friendly area Tin Box Tot had a bit of a breakdown because she wanted to climb one of the tree houses. At this point we split up – TBT and I went to look at the tree houses while TBB supervised her grandparents on a dog walk. As it turns out, dogs must be kept on leads everywhere in the country park.
As we were still the only people in the adventure play area TBT and I took a look at the Commando Assault Course for older kids. She soon forgot her bad mood as she shouted 'hello' at the top of her voice down the long dark tubes.
After a couple of hours at River Dart Country Park, and having seen only a small proportion of what's on offer, our bellies were rumbling so we went off to find some lunch at the House of Marbles in nearby Bovey Tracey. I'll write about that visit another day.
Handy to know
Entry to the Country Park is free between October and March. From March entry charges apply. Under threes go free.
You pay for parking in the low season between October and March.
If you are going to the Country Park with babies or toddlers be aware that there are quite a few steps around so you might want to use a baby carrier rather than a pushchair.
I couldn't find baby changing facilities in the toilets by the Old Sawmill Cafe but according to the Country Park's website they are there. Wood, trees and all that!
The River Dart Country Park is open from 10am until dusk daily with a closure between Christmas and New Year.
Pin for later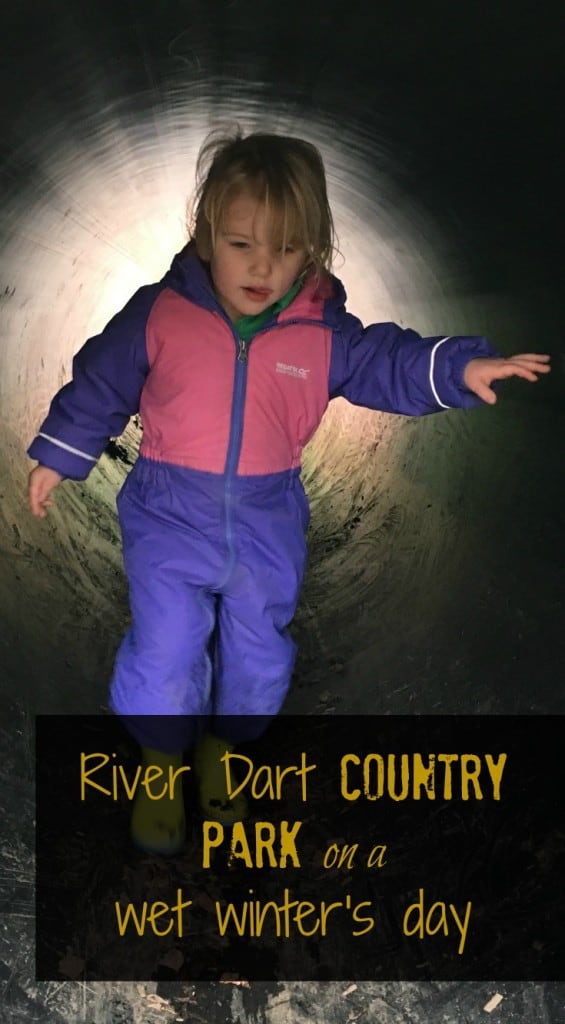 I love hearing what people think about my blog so feel free to leave a comment below or browse around. You can also find me on Bloglovin', Twitter, Facebook, Instagram, Pinterest, Google+ and LinkedIn.