Hendra Holiday Park review: a top family holiday in Newquay
If you asked our girls what their perfect holiday would look like their lively descriptions and excited scribbles would amount to something not far off Hendra Holiday Park in Newquay. The girls and I had the pleasure of staying here one year in June. Here's our Hendra Holiday Park review including all their favourite things about this top family holiday park in Cornwall, and some of mine.
*Advertisement feature*
Our stay at Hendra Holiday Park, Cornwall
We took a mid-week break at Hendra Holiday Park in Newquay just before Tin Box Tot was due to start school. It was my way of making the most of our last months of holiday freedom. Despite Mr Tin Box not being able to join us (blinking work), it was a top decision.
Tin Box Grandma and Grandpa were also staying at Hendra so it was a good opportunity to grab some quality time with them.
Arriving in Newquay
Hendra is something special. As soon as I pulled off the A392 into Newquay and saw the well manicured driveway I knew we were in for a treat. First impressions do count!
It took us less than two hours to reach Newquay from South Devon. I was pleasantly surprised how quick and easy the journey was – the roads are excellent.
The girls had fallen asleep on the back seat so I checked in with the friendly reception team and set off to find the grandparents in one of the touring fields. They had picked up my keys earlier in case we didn't make it before reception closed at 8pm. In the end I had plenty of time.
So, our adventure began.
Accommodation at Hendra Holiday Park
Hendra Holiday Park has been family-run for nearly 50 years. You can camp in your own tent, caravan or motorhome, or book into a mobile home or lodge-style luxury caravan.
The Hendra team arranged for us to stay in a Gwithian three bedroom premium caravan. It was modern, well equipped and perfectly located for accessing all the park facilities.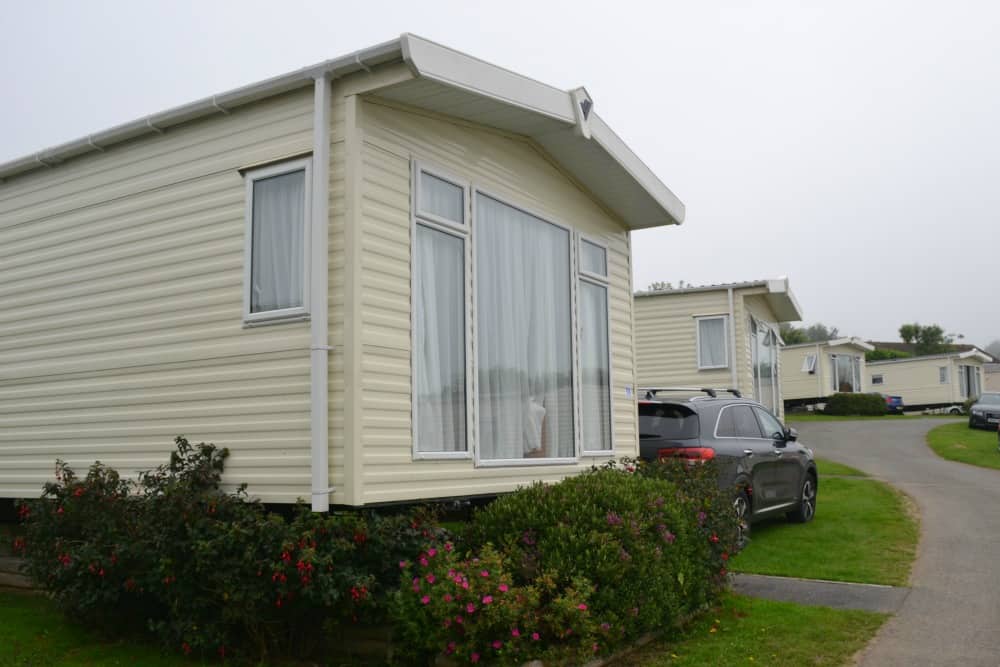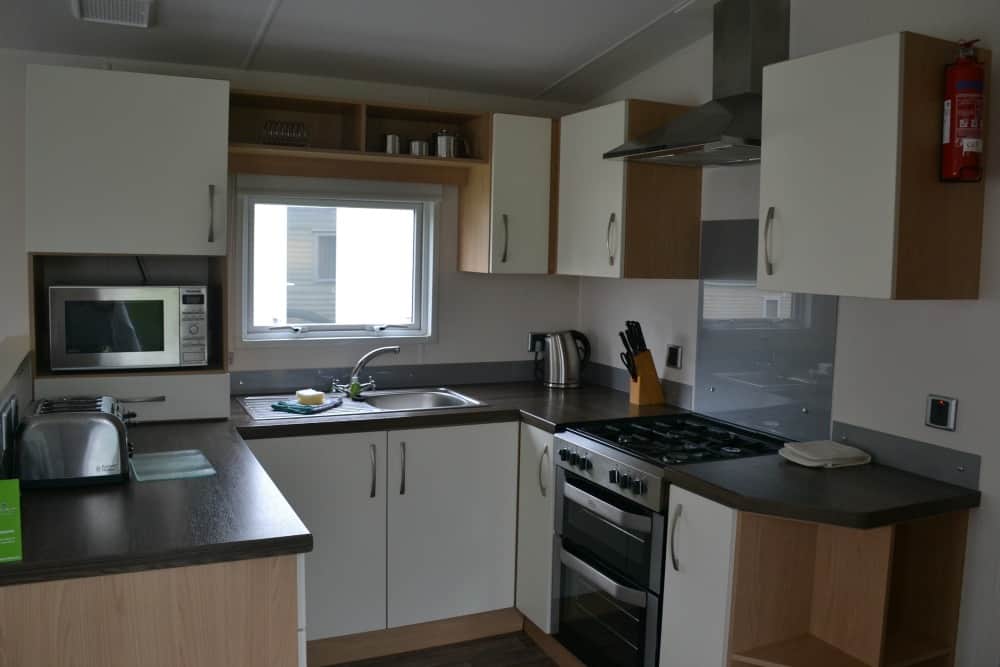 The girls shared one of the two twin rooms while I had the double all to myself. The bedrooms were small, as is the norm in a mobile home, but there was plenty of storage.
We also had a bathroom with shower, sink and toilet and another separate toilet. The kitchen came with a gas hob, oven, large fridge-freezer and all the crockery, utensils and pans we could possibly need.
In the living area we had a dining table to seat four people, an L-shaped sofa and armchair. For entertainment, there was a TV with an inbuilt DVD player – hardly used by us thanks to the onsite facilities.
Outside there was a grassy spot for me to park the car but not much more space. However, with a playground and soft play just a few minutes walk away it wasn't an issue.
Take a look at our review of another class of mobile home were we stayed during another visit.
What the Tin Box girls' loved about Hendra Holiday Park
There's something captivating about the North Cornwall coast and particularly Newquay. Thousands of families make it their destination of choice for holidays and beach breaks every year.
I think my girls, aged four and two at the time we stayed, would go nowhere else if we gave them the choice. And I know they'd be suggesting we stay at Hendra Holiday Park again. Here's why:
The Hendra swimming pools
Hendra has two swimming pools: the Oasis indoor fun pool with three slides, water features and family-friendly, clean changing rooms; and a large, heated outdoor pool.
There's a £3 charge for the indoor pool, which is good value if you have kids over 1m who can ride the slides and lazy river. For younger kids there's a warmer splash area and mini slide.
Both pools operate an arm band system to limit the number of people in them at any time, which was reassuring as I'm sure they get really busy in school holidays.
The entertainment at Hendra Park
There's a full daily programme of family entertainment even outside of the school holidays. We could have kept busy from 9am until 11pm with rides on the Hendra Express land train accompanied by the cheeky park mascot Henry the Hippo and the mid-morning activity club to the early evening Hippo Time for kids, games and the nightly family cabaret.
The entertainments team worked super hard all day. They were far and away the best we have seen on this kind of holiday park. All of this is included in the price of your holiday.
For older children there's archery, scuba diving, sea scooters and a football academy. Check the Hendra website for prices and availability of these and other activities.
The play facilities
In-between the the park's planned entertainment we went to the two-level playground and Henry's Playloft, which is a lovely new facility introduced in 2017. There's a charge for the Playloft but under 6s can also use the small free Pirates Den soft play next to The Venue club house.
Things to do near Hendra Holiday Park, Newquay
With all this fun going on at Hendra we didn't have time for much else, aside from a trip to Port Isaac. This lovely day out was more for Tin Box Grandpa's benefit than anyone else's. He's a fan of the TV series Doc Martin and wanted to see where it was filmed.
We were in luck as the cast and crew were in town during our visit. Even if you don't watch the show Port Isaac is a beautiful place. Kids will love running around on the sandy harbour and rock pooling when the tide is out.
If you do want to visit some of the more family-focussed attractions in the area Newquay Zoo, the Blue Reef Aquarium, and Newquay's famous beaches are just down the road from Hendra. For some more inspiration here's some of our favourite Cornwall days out with kids and dogs.
Read about more days out in my guide to Cornwall holidays.
What mummy rated
As a dabbler in solo-parenting because of Mr TB's work commitments, and as someone who appreciates a well thought-out holiday park, there were several things that really appealed to me about Hendra:
The well-looked after grounds
There were always site staff around working to keep the park clean and tidy. It's an approach that pays off. The grounds were beautiful and really eye catching at the site entrance.
The catering options
There's a couple of places on the park to get takeaway food or dine in. We enjoyed dinner at Mario's Pizzeria where kids eat free between 5pm and 6pm, and there's a fish and chip shop right next door.
The park shop, a Nisa, was also huge. I reckon you could easily get everything you need for your holiday food cupboard from here. There's also a large Morrisons within walking distance. This made for easy catering options.
The accommodation options
It was a huge bonus that my parents were staying on the same site, both because we could spend time with them and because I had a bit of help with the girls. Hendra's different holiday options made this possible.
We stayed in a mobile home and my folks were a few hundred meters away in a touring field. If you're interested in bringing your own caravan or tent to Hendra then I can report that the pitches are well looked after, as are the toilet blocks. You can stay in wide open rally fields or on pitches that are bordered with trees and hedges.
A top family holiday in Newquay
Hendra is definitely the type of holiday park you can take your kids to make memories that will last a long time. The girls loved the entertainment and family facilities. I loved how effortless it was to have a good time. The variety of child-pleasing activities and attention to detail around the park made it an easy and relaxing break.
If you're looking for a family holiday park in Cornwall with lots of different accommodation options, great facilities, a packed entertainment programme, and brilliant location then you can't go wrong with Hendra Holiday Park in Newquay.
For more information about staying at Hendra Holiday Park visit its website.
Disclosure: we were guests of Hendra Holiday Park for the purpose of writing a review on the blog. All opinions are my own and those of my family.
Why not save our Hendra Holiday Park review for later.
SaveSave
SaveSave
SaveSave
SaveSaveSaveSave
SaveSave
SaveSave
SaveSaveSaveSave
SaveSave
SaveSave
SaveSave