China Fleet Country Club review: a spa break with kids
Yes, you read that right: a spa break with kids. It is possible! Before you reach for the champagne, I'll level with you. It's not quite the same as those care-free spa trips with your gal pals before babies. But if you find the right spa – that understands families and knows parents sometimes crave a bit of 'me time' – then it is do-able. We were invited to review the China Fleet Country Club in Saltash, Cornwall, and can recommend it as just such a place.
China Fleet? What's the name about?
As the name suggests, the China Fleet Club didn't originate in the UK. It was established in Hong Kong in 1933 as a place for the men and woman of the Royal Navy and Royal Marines to enjoy rest and recreation while serving in the region. Indulge me here, as I have a bit of a personal connection to this place. Here's the background…
If you're a regular reader you might remember me mentioning living in Honk Kong as a kid. I was there for a few years during the early 1980s while my dad served in the Royal Navy. He has fond memories of the China Fleet Club and Hong Kong.
I desperately wish I could remember more about it, but my parents have albums full of pictures that I love flicking through. We even stayed at the second China Fleet Club built on the site of the first.
This opened in May 1985 and the foundation stone is now on display at the Club in Saltash.
So why did the Club move to Cornwall? The history buffs among you will remember that Britain handed the colony of Hong Kong back to China in 1997. Well ahead of this the Club made plans to move to the UK where it could continue to offer its facilities to serving personal, veterans and the wider community.
The China Fleet Country Club in Saltash opened its doors in 1991, building on a legacy that now goes back nearly 90 years. It was recently awarded a 4 star rating from the AA so you can be assured the standards are as high as ever!
Our China Fleet Country Club review
China Fleet Country Club sits on the edge of the River Tamar, which runs between Cornwall and Devon. The first thing you notice as you travel down the driveway is golfers to your left.
We arrived on a gloriously sunny day and it was obviously the right conditions for teeing off. It was a thoroughly civilised sight. But the parent in me couldn't help feeling edgy, visualising the girls tearing off over the golf course.
Was this place going to be kid-friendly? My concerns were quickly but to rest when we arrived at reception.
The pool and Aqua Spa
We were a bit early to check in so the lovely receptionist gave us some towels and pointed us in the direction of the swimming pool.
The leisure complex had the look and feel of a modern country club, but with lots of family-friendly features. There were large changing rooms, baby changing facilities and nappy bins.
The large U-shaped pool was great for kids. There was a slide, floats and a gradual slope around to the deeper water.
We visited the pool twice during our stay and there were always lots of families, so no need to feel we were interrupting anyone with a bit of splashing and squealing.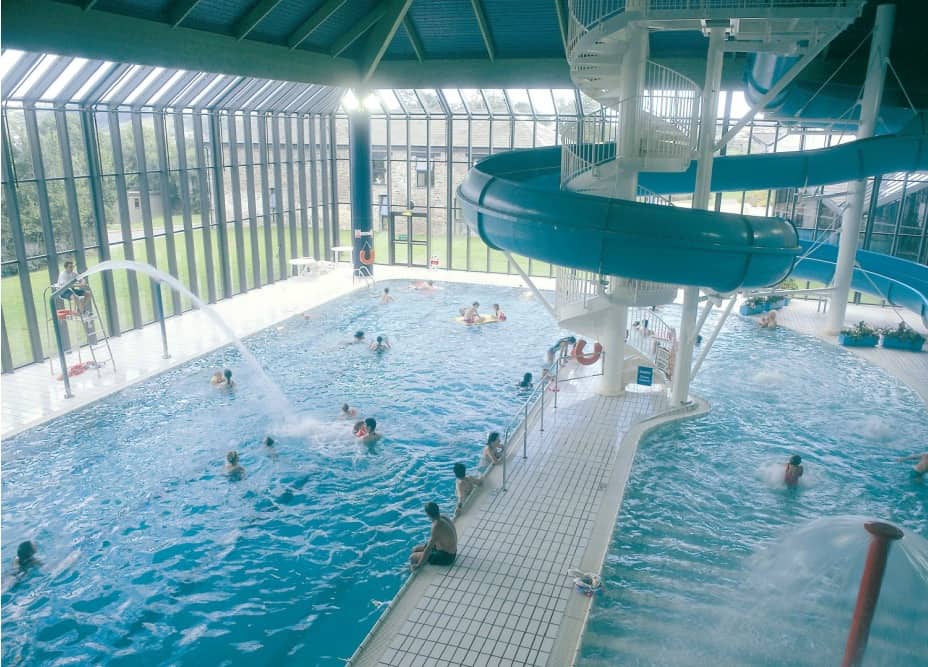 The best part (for me) was the Aqua Spa, which you could access through a door next to the pool. This was an Aladdin's Cave of hot, cold, bubbling and steamy rooms and experiences.
Mr Tin Box and I took it in turns to play with the kids in the pool and indulge ourselves in a spot of relaxation time. Had we visited during the week we could have booked them into the Country Club's Ofsted-registered creche, which is just opposite the main complex. This is open to Club members and residents.
I can highly recommend the aroma steam room. I've been in one before and didn't rate it. It was nothing special – a touch of scented steam. The one at China Fleet Club was in a different league. The steam envelopes you in exotic smells and mood lighting changes from shades of hot pink, to calming green and soothing blue. Bliss!
Family apartment
Fresh from the pool and Aqua Spa we picked up the keys to our 4-star Tamar Plus Apartment. This was was tucked around the back of the Farmhouse – a private function room – but only a short walk from the main facilities.
There's no parking directly outside but you can pull up outside to drop off your bags.
Inside our apartment we had an open plan living area and kitchen with a hob, oven, microwave and fridge. We had a good supply of tea and coffee, and there was a pint of milk in the fridge.
The large settee turned into a bed for the girls. There was a flatscreen TV on the wall and a cupboard containing the extra sofa bedding, an ironing board, clothes dryer and a safe.
Another door opened into the master suite. This felt very grown up with a beautifully tiled bathroom, dressing table, television and inviting king-sized bed.
The apartments are serviced daily, have free wifi and come with access to the leisure facilities, Aqua Spa, gym and some sports activities.
Our apartment was on the ground floor of a courtyard. The Club is obviously very popular as a wedding venue. We saw lots of guests going backwards and forwards between their apartments and the Farmhouse.
We didn't hear any noise from the wedding reception but there was a bit of early evening frivolity from a hen party staying in our courtyard. It certainly didn't bother our sleepy girls and things soon quietened down as the hens went out for the evening.
Family dining at the China Fleet Club
We had a self-catering apartment but decided to give cooking a miss during our stay. This left us with quite a few dining options. Room service is available from 8am to 8pm.
You can also dine out at the informal Brasserie with soft play in an adjoining room, or enjoy something a little more refined in the Upper Deck Bistro.
We ate here on a Saturday night, picking the earliest time for dinner at 6.30pm as our girls usually eat between 5pm and 6pm. Luckily their tummies weren't growling too much when we sat down but they were fidgety from the off.
Our waiter was obviously used to young children and quickly brought us the kids menu. The girls could pic n' mix their dinners and side orders for £4.70 each. They chose chargrilled sausages, pasta shapes and sweetcorn.
Mr Tin Box and I munched on bread and olives while we made our selections from the a la carte menu. We opted for three courses for a reasonably priced £24.95 but soon realised two would have been substantial enough.
The portion sizes were generous and the food extremely good. I particularly enjoyed my West Country Spiced Crab Cakes, Thai Green Salmon Curry and Warm Syrup & Date Tart.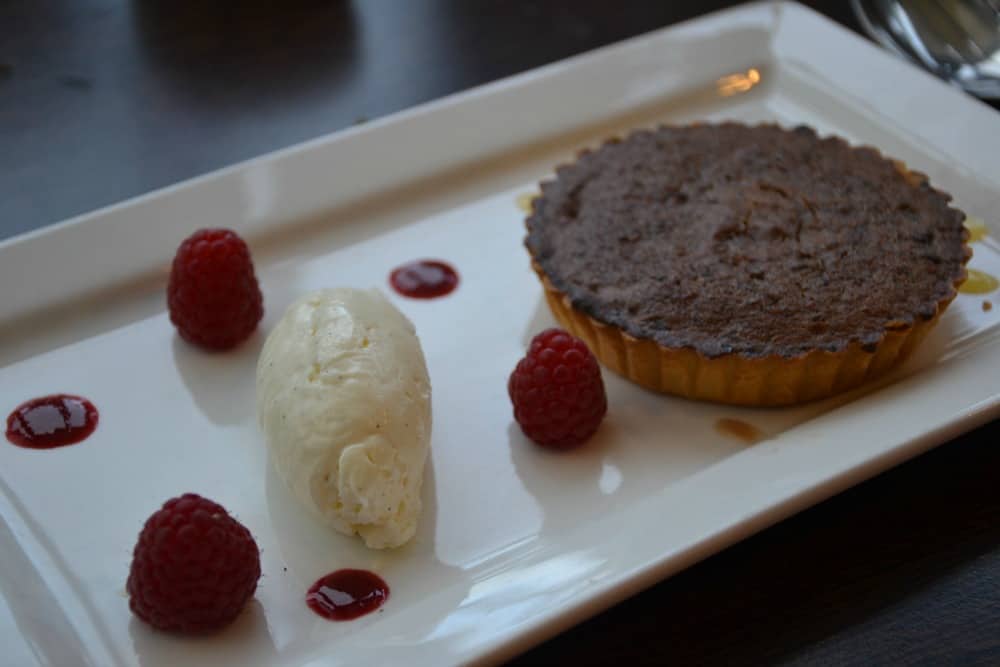 Had we been dining as a couple, we might have lingered longer over our food. But an hour and a half of reasonably good behaviour was enough for our two. It was time for bed.
Once the girls were sleeping soundly Mr Tin Box and I took advantage of the flat screen TV at the end of our bed and watched a movie in our PJs.
The Upper Deck Bistro was also were breakfast was served. This isn't included in your stay but is cheaper if booked in advance. You can choose from the cold buffet with cereals, pastries, cheeses, ham, toast and fruit. If you have room you can follow this with a full West Country breakfast.
I was still feeling rather full after the previous night's delicious three courses but Mr Tin Box and the girls ploughed on, setting themselves up for a morning of activities.
Family activities at China Fleet Country Club
After breakfast we decided to walk off some of our overindulgence on the nature trail.
This runs between the 18 hole golf course and the River Tamar. The girls were given bird spotting sheets to complete in exchange for a prize on our return to reception – good incentive to stretch their legs. The trail took us about 30 minutes to complete with two under fives.
If it hadn't been for the trail I'm not sure I would recommend this walk. There were only fleeting views of the river between the trees so it wasn't particularly scenic.
We also wished we'd taken our child carrier as the girls' interest wained when we had to retrace our steps back to the Club.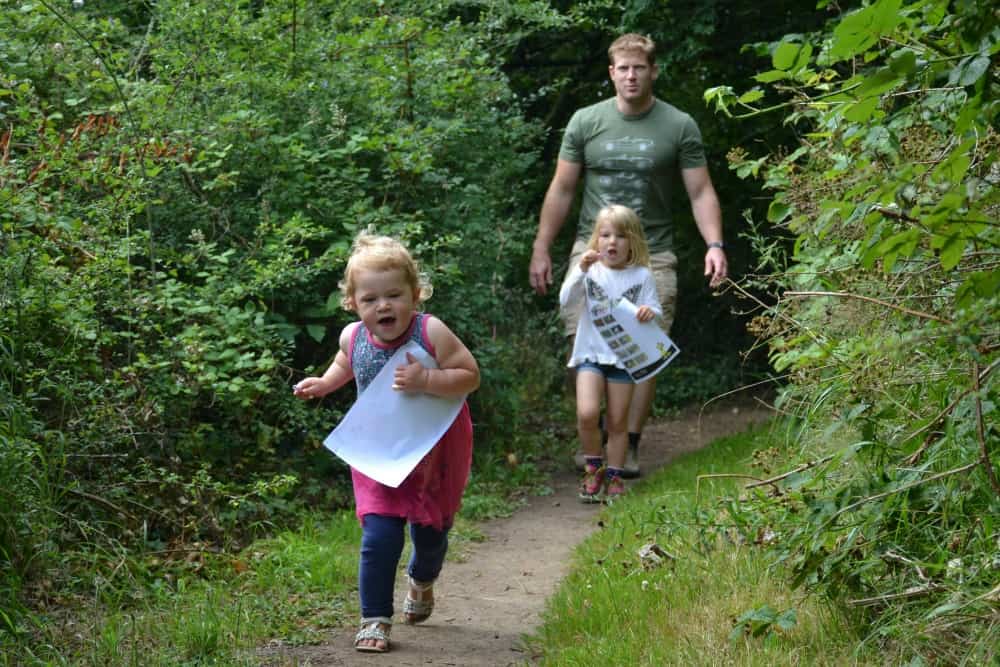 Next up was a spot of tennis. As residents we were able to book a tennis court and borrow rackets as part of our stay.
Embarrassingly Mr Tin Box and I haven't played since school. This was also the first time we'd introduced the girls to the sport. So it was more of a knock about than an attempt to recreate Wimbledon. However, it was good fun and the facilities, to an amateur eye, looked great.
We had just enough of the morning left to squeeze in another swim before lunch in the Brasserie. This is informal dining in a cafe style where you place your order at the counter.
The menu includes all day breakfasts, wraps and sandwiches, salads, burgers, curries and pasta dishes, with ingredients sourced locally. Again, everything was very tasty.
A bit of 'me time' in the spa
After lunch Mr Tin Box took the girls off to play in the woodland playground and I got myself ready for some pampering. I had an appointment with Tori in the Barn Spa for a Spiezia Tender Touch Mini Treatment (£30 for 25 minutes). This was a relaxing hand and arm massage.
The treatment is pure indulgence. During my 25 minute appointment I was smothered in Spiezia Body Softening Oil, Embrace the Day Scrub and Extra Rich Hand Cream – all Cornwall-made and 100 percent organic. It's the first time I've had a hand and arm treatment and I left feeling tingly from head to toe.
Just thinking about it as I write sends me back to that happy place.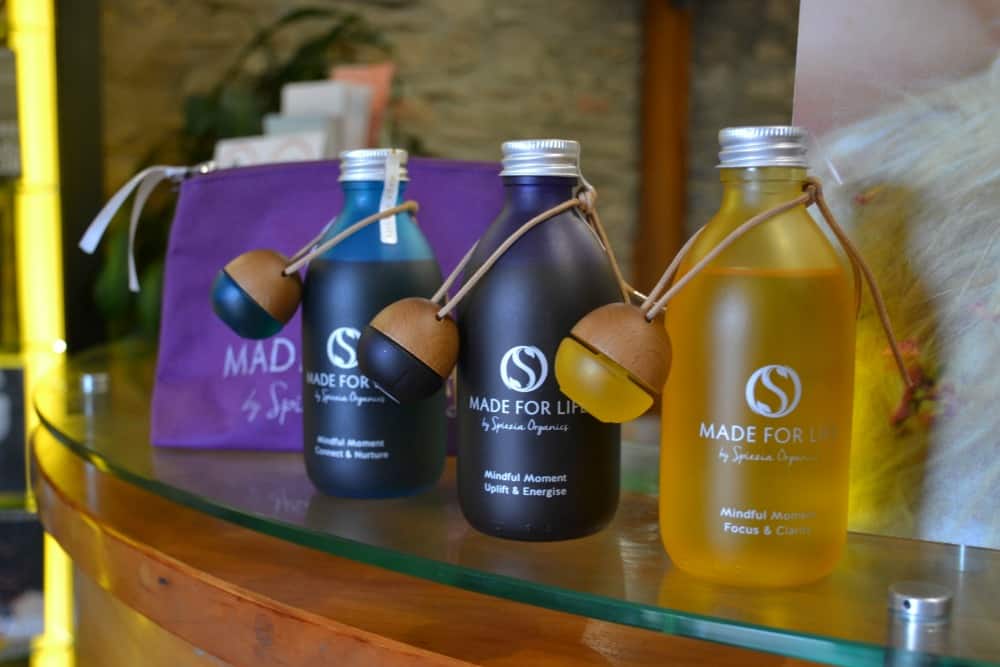 The Barn Spa offers all kinds of luxurious treatments from pedicures and facials to St Tropez Tanning and pregnancy pampering.
The verdict on China Fleet Country Club
As a place for parents to come and take turns at a bit of spa indulgence The China Fleet Country Club is a winner. Our girls were too young for the spa themselves but there was just enough going on to keep them interested while we snuck off to relax.
Apart from mummy and daddy looking a little more chilled than usual, I don't think they even noticed this break was more for us than them.
The apartment was perfect for our needs, the dining options were fab and well priced, and we loved the Club's facilities.
In fact, if we lived a little bit closer we would join the Club as a family. I know we'd make lots of use of the health club, programme of children's activities and pool. To find out more about membership, breaks and spa days at the China Fleet Country Club, visit the website.
Have you ever been on a spa break with your kids? Or would you give one a go?
Looking for more inspiration for things to do in Cornwall? Read our guide to family holidays in Cornwall. Or check out our recommended holiday parks in Cornwall, touring caravan sites in Cornwall and other self-catering breaks in the South West of England.
Disclosure: we were guest of The China Fleet Club and experienced out spa break with kids in exchange for a review. All opinions are my own and those of my family. Pictures of pool and Aqua Spa courtesy of the China Fleet Country Club.
Pin for later