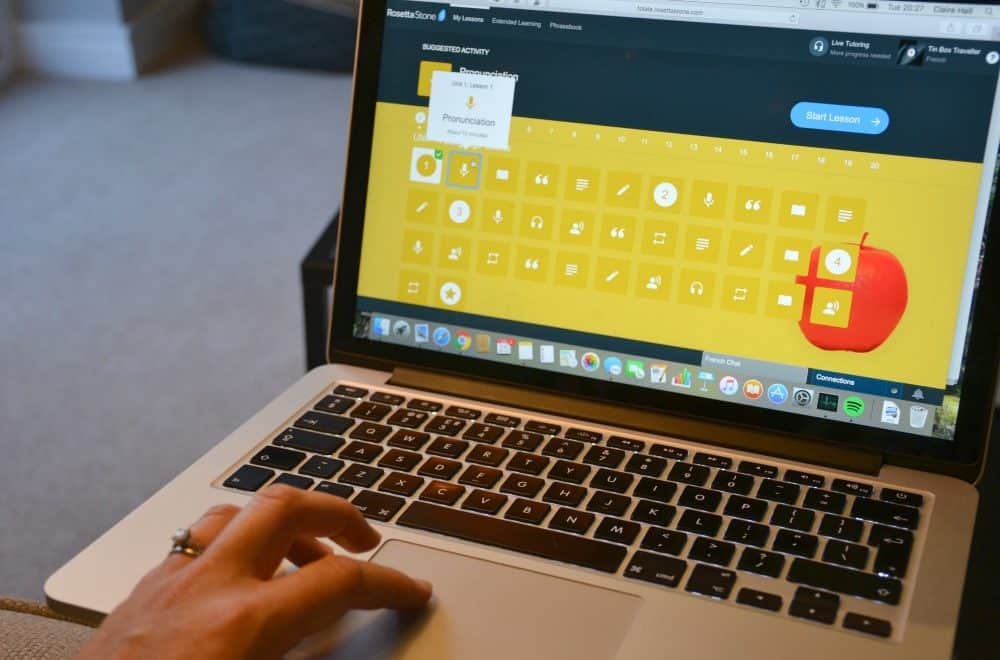 Starting to learn French online with Rosetta Stone
A couple of months ago the girls and I went on a fabulous camping trip to France. We had seven lovely days exploring the coast and countryside of the Vendée region. I mentioned before we left that my French skills were a bit ropy and someone was listening – the language experts at Rosetta Stone. They got in touch not long after our return to ask whether I'd like to learn French online with them. If you fancy doing the same continue reading for a 50% off voucher code at the end of this post.
My language expertise or lack of it
Despite taking French and German at school, languages were never my strength. I much preferred learning about history and culture. As I began exploring the world as a teen and 20-something it dawned on me that foreign languages and new, exciting cultural experiences tend go hand in hand. By then what skills I had had amounted to being able to mumble 'hello' and 'I have a dog'. It was hardly going to help if I came across anyone who didn't speak English.
And that was my saviour. So many people in Europe do speak English. They really put us to shame. So for the past umpteen years I have been ignoring my lack of language skills, while secretly feeling pretty rubbish about it.
Signing up to learn French online has given me the chance to rectify this situation and gain a bit of self respect next time I'm 'en France'.
Starting to learn French online
Rosetta Stone says using one of their programs is like "Learning a language the way you learnt your first…with no translations". Eeeek, that sounds both scary and common sense. They offer interactive learning programs in 24 languages to help people master reading, speaking and listening in their chosen language. You can even log on and learn on the go as once you've purchased a program you can access it on your desktop computer, tablet or smartphone.
I've now been dipping into this interactive learning experience for a week. Here's how it's going:
Sign up
Sign up was simple. Once the Rosetta Stone team had selected my 12 month online subscription to learn French I was sent an email with a link to activate my profile. There was also a link to the help centre where I could ask questions.
What you need
Your first email says you need a USB microphone headset but I've managed with the built in microphone and speaker on my Macbook Pro. You will however need a recent version of Flash Player to run the program.
Once you've set up your basic profile there's not really any other instructions. You're thrown in at the deep end which is a bit unnerving, but it follows the general immersive learning methodology of Rosetta Stone.
The learning area
The user interface – the area where you access your learning resources – is made up of tiles that tell you about your lessons. If you hover over them they reveal how long the lesson will take and the language skills you'll be using. Click on the tile and your lesson begins.
As well as your structured lessons there's a menu for extended learning which contains games and activities to practice what you've learnt. There's also a menu with a phrase book. All of this is included in your subscription.
My first French lesson with Rosetta Stone
My first session was all about the basics, with a little bit of pronunciation. I either had to match up the right short phrase with images or repeat the phrase that was spoken to me. For example, 'un'homme' and 'une femme'. Then it started adding different scenarios, like 'la femme lit'.
Rosetta Stone's program has speech recognition technology that listens to your pronunciation and marks it using a red/amber/ green scale. Until you get a green light you have to keep trying.
It was a bit of a shock and a relief when I scored 97% in my first lesson. Maybe some that pre-GCSE French did sink in?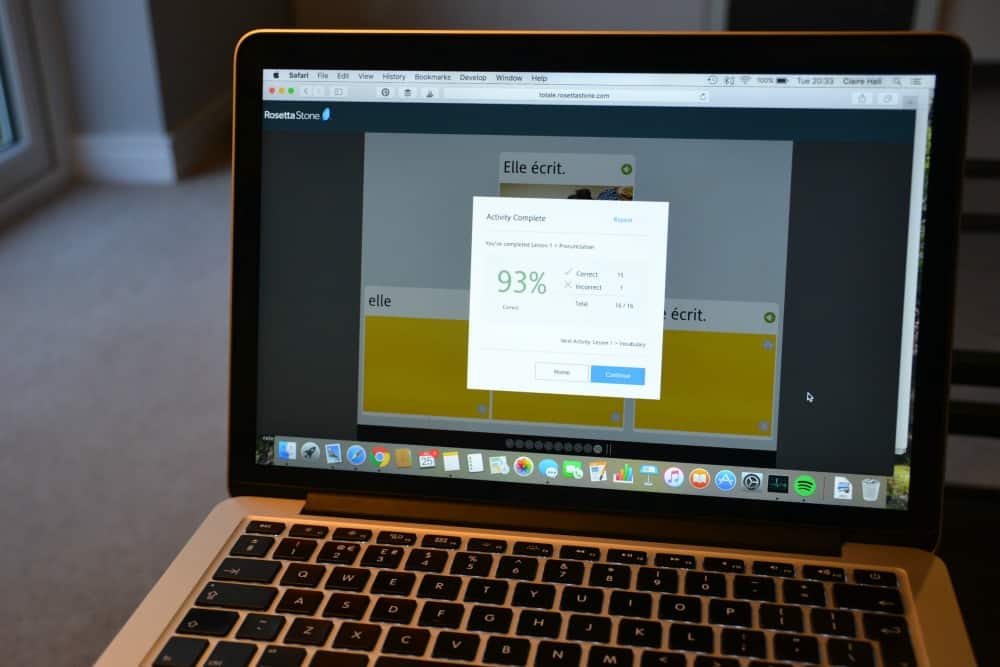 When you complete a lesson it's highlighted in white and a satisfying green tick box appears in the top right corner. I've now got a small collection of white tiles on my dashboard, which is visually very satisfying and motivation to complete some more before we head off on our summer holidays.
A handy thing about Rosetta Stone is that if you are offline you can still continue your learning wth downloadable MP3 lessons. Very handy for our road trip to Norfolk!
First thoughts on Rosetta Stone
After years of thinking I really should make an effort with languages in order to enjoy our travels more, I feel a little silly that I didn't try Rosetta Stone sooner. So far, it's been very simple to set up and start lessons. Everything is in bite-sized chunks so I know I can dip in and out of the program when I have a spare few minutes. Now I'm looking forward to exploring more of the resources available within the program to help me progress along this learning journey.
Reader offer – get 50% off your Rosetta Stone subscription
For more information about Rosetta Stone take a look at its website. Or if I have tempted you to try a course for yourself you can use my special voucher code 'TINBOXTRAVELLER50' to get 50% off a subscription when you reach the shopping cart.
Disclosure: I've been given a free subscription to Rosetta Stone in exchange for talking about my experience on the blog. All opinions are my own.
Pin for later
SaveSave
SaveSave
SaveSave