Cornwall weekend: a review of Trevella Holiday Park in Crantock
I'm in love with the West County. When we moved to Devon in December last year I had no idea how much I would enjoy exploring the sandy, yet rugged coastline, the quaint seaside towns and the endless variety of family attractions.
I feel like every weekend gives us the opportunity to explore some place new. And we needn't go too far to find our next adventure. For example, Trevella Holiday Park in Crantock, Cornwall, is just under two hours down the road from us, but it gave us a totally new perspective on the south west peninsular when we visited last weekend.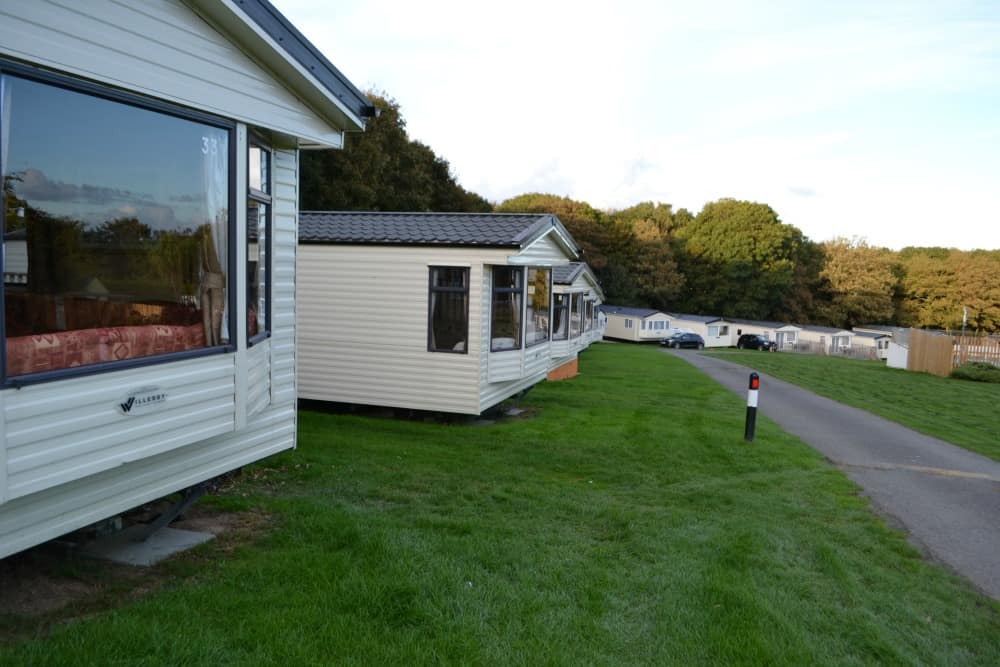 We were invited to review Trevella Holiday Park and stay in one of its pet-friendly caravans, as well as checking out some of the local sights thanks to a press pass from Cornwall Association of Tourist Attractions.
Read more about our wonderful days out from Trevella – we were spoilt for choice with lots to do within less than an hour's drive from the holiday park.
Our Trevella Holiday Park review
The Park is located three miles from the surf haven of Newquay and close to the beautiful dog-friendly beach of Crantock. It has a range of accommodation suitable for couples and families from touring caravan pitches, static caravans and luxury lodges to glamping tents and geo domes.
When we arrived to check in at Trevella we received a friendly welcome from the reception team. They gave us a key to our three bedroom caravan, an information booklet about the park and a letter about the free-wifi for guests.
Top tip: make a note of the wifi code at reception as we couldn't find it in any of the leaflets we'd been given.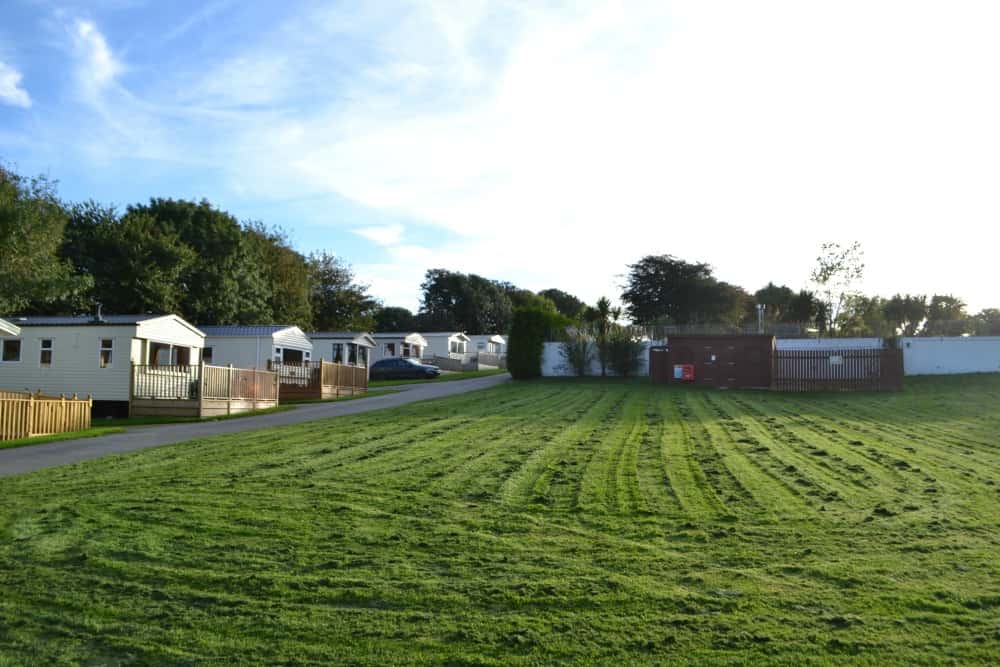 Our caravan was sited at the bottom of the The Green section of the park with a large grass area, the outdoor pool, playground and other park facilities directly in front of us.
It would definitely be a hive of family activity in the summer months, but during our visit in the first weekend of October it was quiet and peaceful.
Our Trevella holiday home
This was our second time staying in a static caravan so we knew what to expect. However, I was still pleasantly surprised by the space we had in the living and dining area. It was more than enough for our two pre-school girls to play in and for us adults to relax in the evenings.
We also had a raised wooden decking area to the side of the caravan where it would have been nice to eat our meals on the picnic table if the weather had been a bit nicer. The deck was completely closed in with a gate so that little people couldn't fall off or escape unnoticed.
We had requested a travel cot for Tin Box Baby and this was waiting for us when we arrived. We moved the single bed we wouldn't be using into the spare room and put the cot up next to Tin Box Tot's chosen bed. Both girls were very excited about their 'holiday room'.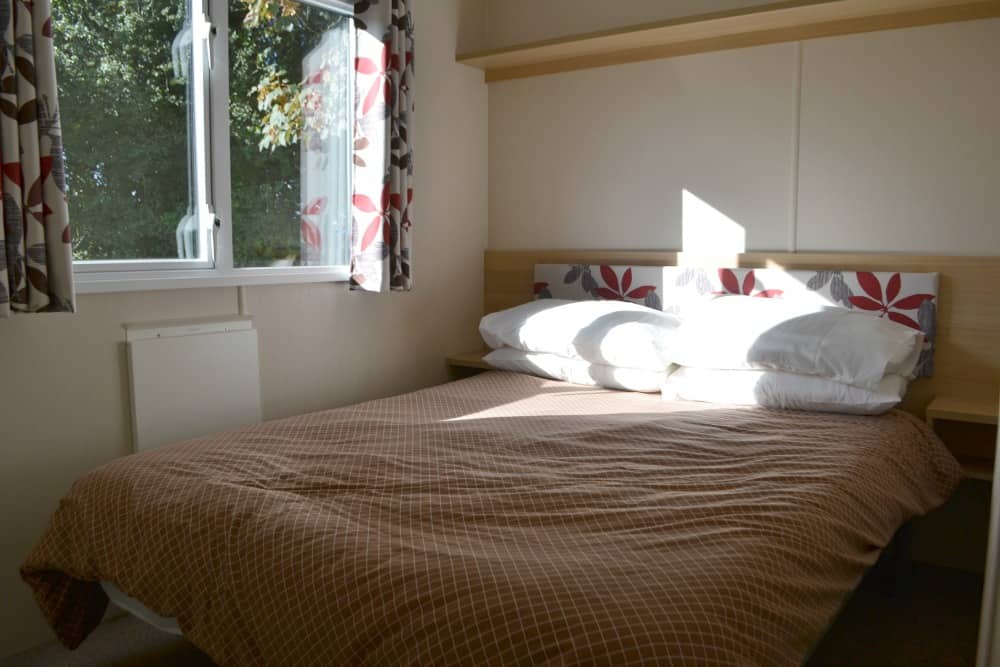 The bedrooms were be jeu but that's not a problem for us as we only use them for sleeping. Speaking of which, had it not been for the fact we're are used to kipping in all sorts of places we might have had difficulty with the mattress in the master bedroom. We could feel every spring through the sheets.
The caravan decor was dated and what I would call 'no frills', but if you stay in pet-friendly accommodation a lot then you're probably used to this.
Not all four-legged friends are as well behaved as Tin Box Dog. However, a nice touch for pet guests is that the park supplies you with a complimentary dog basket and treats. A note left in the basket said there was also a blanket but we didn't find this.
Find more dog-friendly accommodation and holidays in the UK
All-in-all, the caravan was clean, tidy and had everything we needed for our self-catering weekend. The appliances worked just as they should and we had all the necessary crockery, cutlery and utensils. It was a really good, value for money base from which to explore Newquay and the rest of Cornwall.
Trevella Holiday Park facilities
One of the things we enjoyed most about our stay at Trevalla Holiday Park was that we had plenty of time to relax.
Some parks have packed out day time and evening programmes of activities, which you feel obliged to take part in to get maximum value out of your stay. The girls love it but we're often shattered by the time we go home.
Trevella is not one of these places. There's lots to do at your own pace, like crazy golf, visiting the small collection of animals in pets corner, a fishing lake and two kids play grounds.
During peak season you can also have a dip in the heated outdoor pool or take part in the ranger adventure sessions like crabbing, nature walks and pond dipping during the day.
It's all very chilled-out. I loved the park's 'do stay on the grass' policy, encouraging kids to play outside. By the way, the grass and wider park grounds were all immaculately kept.
The park also has a launderette, a well stocked shop and a cafe serving snacks, main meals and breakfasts to eat in or take away.
Things to do in the area
We were totally spoilt for choice, with plenty of family and dog-friendly activities to try close by to Trevella Holiday Park.
We used the App for Cornwall to plan our days out. It's free to download for iOS or Android and helps you find attractions, activities, places to eat and shops. You can also use it to get discounts for some venues. Alternatively, you can go to Best Days Out Cornwall for inspiration and special offers.
Over the weekend we visited and would recommend the following Cornish attractions:
Final thoughts
Trevella Holiday Park is a great base for exploring Cornwall as a family and is located close to a stunning beach. We really enjoyed our out of season weekend break and thought our no frills accommodation was good value for money, despite a lumpy bed. It goes without saying that Tin Box Dog had a fabulous time.
Have you stayed at Trevella Holiday Park in Cornwall? Or do you have any other Cornwall holiday recommendations?
Here's a video giving you an overview of our caravan and a taster of our weekend:
Disclosure: we were guests of Trevella Holiday Park and were given press passes to cover entry to some Cornwall attractions. All views are mine and those of my family.
Pin for later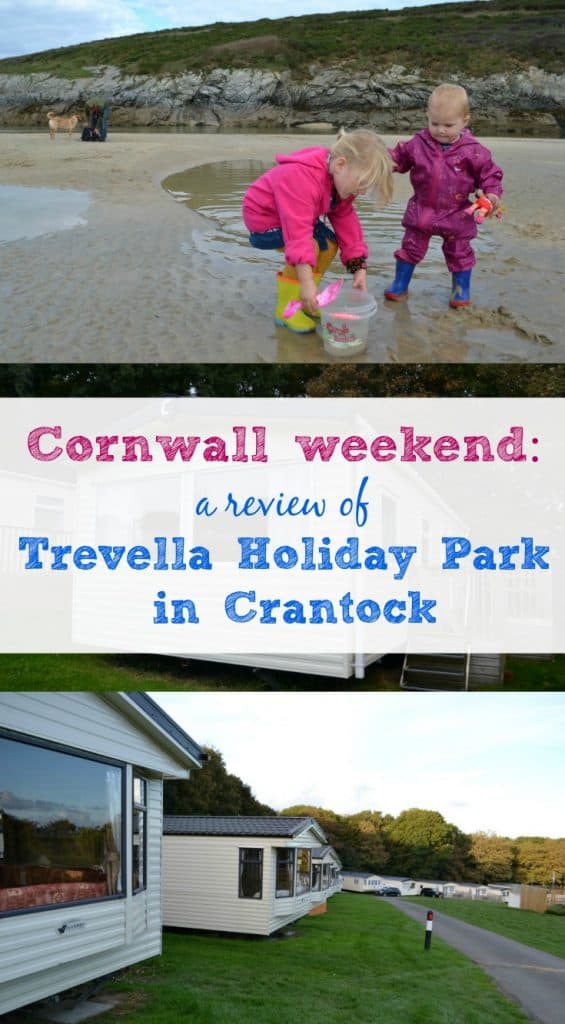 I love hearing what people think about my blog so feel free to leave a comment below or browse around. You can also find me on Bloglovin', Twitter, Facebook, Instagram, Pinterest, Youtube, and LinkedIn.