Exploring Kents Cavern – tips on visiting with young kids
Kents Cavern is one of those places that makes you feel like a minuscule dot on the Earth's timeline. It's been around longer than Stonehenge, the Roman Baths in Bath and the Cerne Giant. Yet, for somewhere so full of history and insight into the way our ancestors lived, it almost feels overlooked. Find out more by reading about our visit to Kents Cavern with kids.
About Kents Cavern
Kents Cavern is Britain's oldest ancient monument and was formed 2.5 million years ago. It was first inhabited by early man in the Lower Palaeolithic to the Post-Prehistoric period. That's 500,000 years ago to you and me.
But it wasn't just Neanderthals and then later Homo Sapiens who lived in the maze of natural tunnels. Remains of animals such as bears, wolves and sabre-toothed cats have been found in the cavern.
It's known that the Romans explored the caves centuries ago because of the evidence they left behind of their visits.
But it wasn't until the 19th Century that recorded excavations began under the guidance of Father John MacEnery and then William Pengelly.
They uncovered ancient artefacts, human and animal remains that rewrote history and set Kents Cavern apart as one of Europe's most important prehistoric sites.
The oldest known evidence of modern humans in north west Europe – a 41,000 year old fragment of jaw bone – was uncovered here in 1927.
Our visit to Britain's oldest ancient monument
It was a typical UK summers day – cold and damp – so a trip to the Cavern seemed like the ideal way to entertain our family group, which included Tin Box Grandma and Grandpa who were holidaying with us.
Before children, Mr Tin Box and I made a habit of visiting a cave or mine during our holidays. It became a bit of a tradition.
However, since Tin Box Tot and Baby arrived, it's not something we've attempted. With two extra pairs of hands along to help, we thought now was the time to see how our two toddlers would cope.
We arrived at Kents Cavern just before lunch, so decided to have something to eat before venturing underground.
Entering the caves – what to expect
When you arrive at reception you are given a time to meet at the cavern entrance for your tour. In August guides were taking in a new group of 20 people every 15 minutes.
We were able to choose a later tour, giving us enough time to have lunch in the attraction's cafe.
Our tour began in the Vestibule where there is a short light and audio show that sets the scene for your visit. Three-year-old Tin Box Tot wasn't a fan and asked to leave several times.
Just before I began to feel like a really, really bad mum, the lights stopped flashing and our guide began to lead us through The Long Arcade – a canyon carved through the rock.
Our guide switched on lights in each part of the cavern as we walked though so, apart from in The Bears Den where its customary for all the lights to go off for a short period of time, we could appreciate the natural beauty of the place.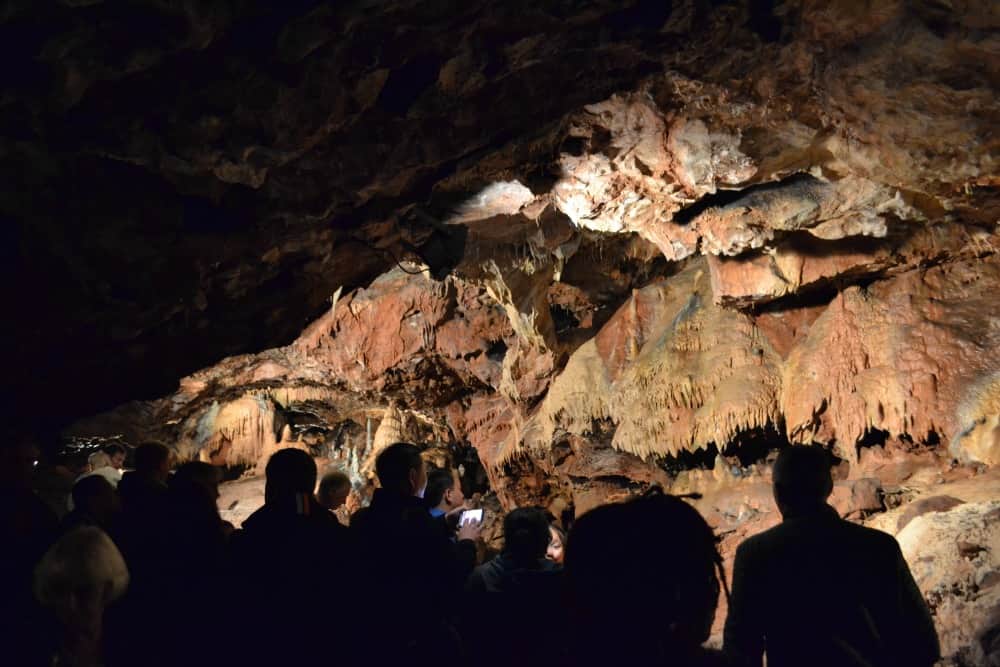 It didn't take long for Tin Box Tot to start focussing more on the strange and mystical shapes created by the jagged stone walls rather than the scariness of the dark, narrow passages.
She particularly liked looking at the stalagmites and stalactites that had survived some of the more explosive Victorian methods of excavation.
You can also read about our visit to the Welsh National Showcaves here.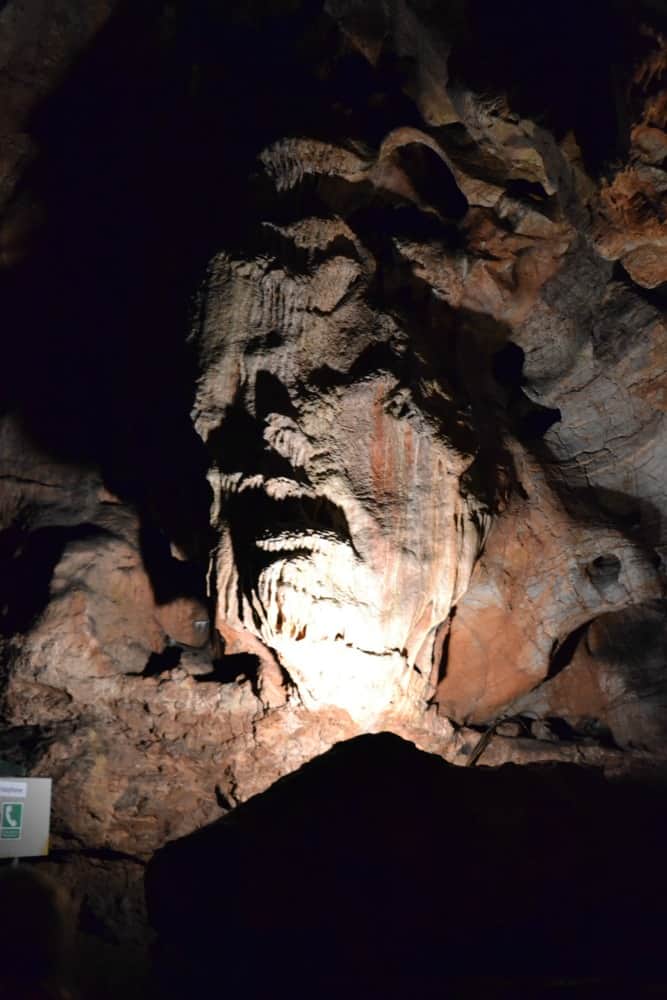 Kents Cavern is such an interesting place and very different from other caves we've visited because of the depth of information that is known about the inhabitants – animals and humans.
If you love history, you'll find the stories of the artefacts found in Kents Cavern, and how they were discovered, fascinating.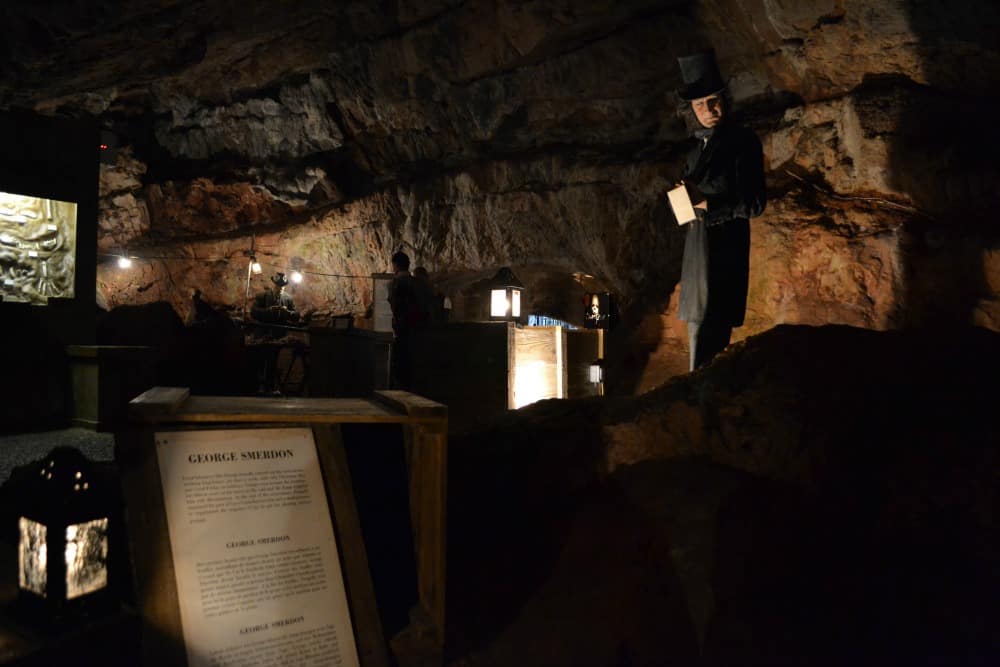 Family facilities
The cafe serves a range of hot and cold food, including children's lunch boxes and meals
Baby changing facilities are in the disabled toilet
There's a free children's activity sheet to complete during your visit, as well as a fun dig, cave painting and woodland trail to entertain children outside.
Tips for visiting Kents Cavern with kids
There are a few steps inside the cavern, otherwise the whole walk can be done with a narrow pushchair. Wide pushchairs will struggle in some places and double buggies would not make it. On busy days a limited number of pushchairs are allowed in the cave at any one time.
When you first enter the cavern you are warned that the lights will be dipped low. You might want to prepare children for this. Some young children may find the introductory light show a bit scary.
If at any time you feel the need to leave the cavern during the tour your guide will arrange for you to be escorted out. You cannot leave the tour on your own.
The temperature in the cavern is a constant 14°C (58°F) whatever the season. Dress appropriately and wear comfy shoes.
Other nearby activities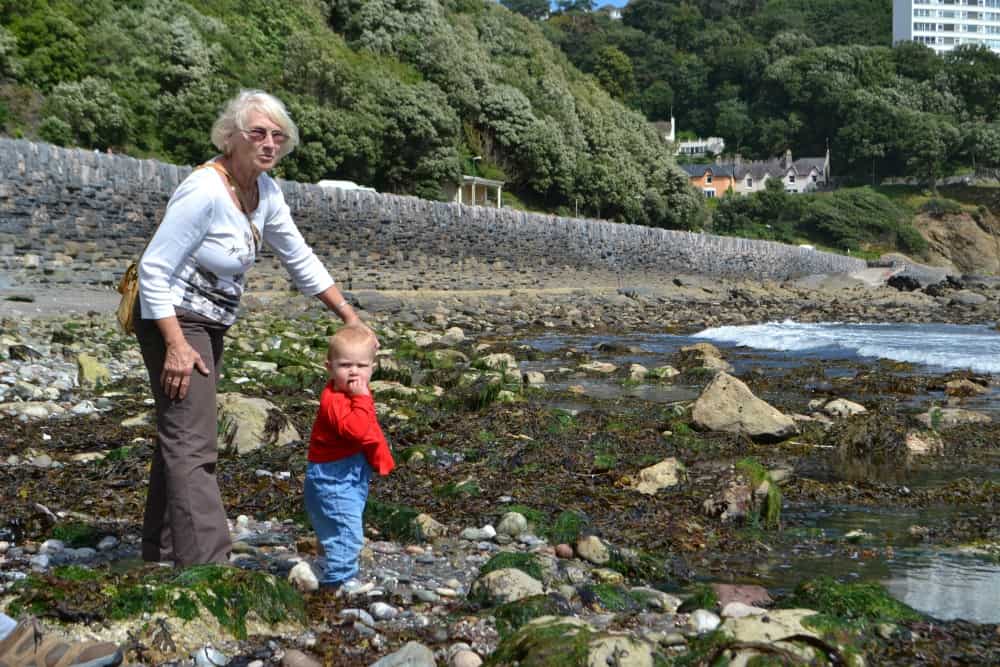 We took a walk down to the dog-friendly Meadfoot Beach just over half a mile from Kents Cavern.
Read about more things to do in Torquay with kids.
Are you a fan of visiting caves? Can you recommend any we should plan our next holiday around?
Looking for things to do in Torquay, Devon? Why not pin this post about visiting Kents Cavern with kids for later.
As ever, thank you so much for reading! I love hearing what people think about my blog so feel free to leave a comment below or browse around.
You can also find me on Bloglovin', Twitter, Facebook, Instagram, Pinterest, Youtube, Google+ and LinkedIn.