North Devon camp site review: Welcombe X near Hartland
The first week of our summer holiday took us to the North Devon camp site of Welcombe X on the picturesque border between Devon and Cornwall. It is a relatively new camp site in its second season. Here's our review and a bit about what we got up to in the surrounding Area of Outstanding Natural Beauty.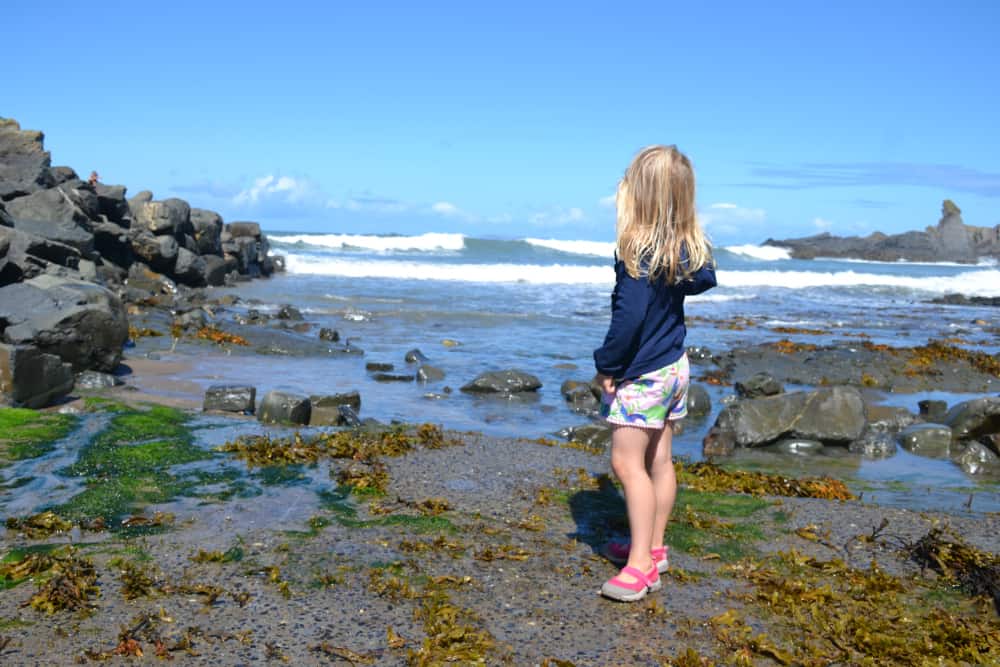 Reviewed: Welcombe X – a North Devon camp site
We stayed at Welcombe X for seven nights as part of a Caravan and Motorhome Club rally with the West Hampshire Centre. This gave us the chance to catch up with old friends as well as explore the wonderful Atlantic Coast. Tin Box Grandma and Grandpa were also on the rally so Mr Tin Box and I had the bonus of a few hours of child-free time here and there.
The location
Welcombe X is right on the A39 which makes it really easy to find. We liked the convenience of being able to hop straight on the road and head off for a day sightseeing. You also don't have to tackle any narrow or single track Devon roads to reach the site.
Despite the proximity to the main road we didn't find it disturbed us.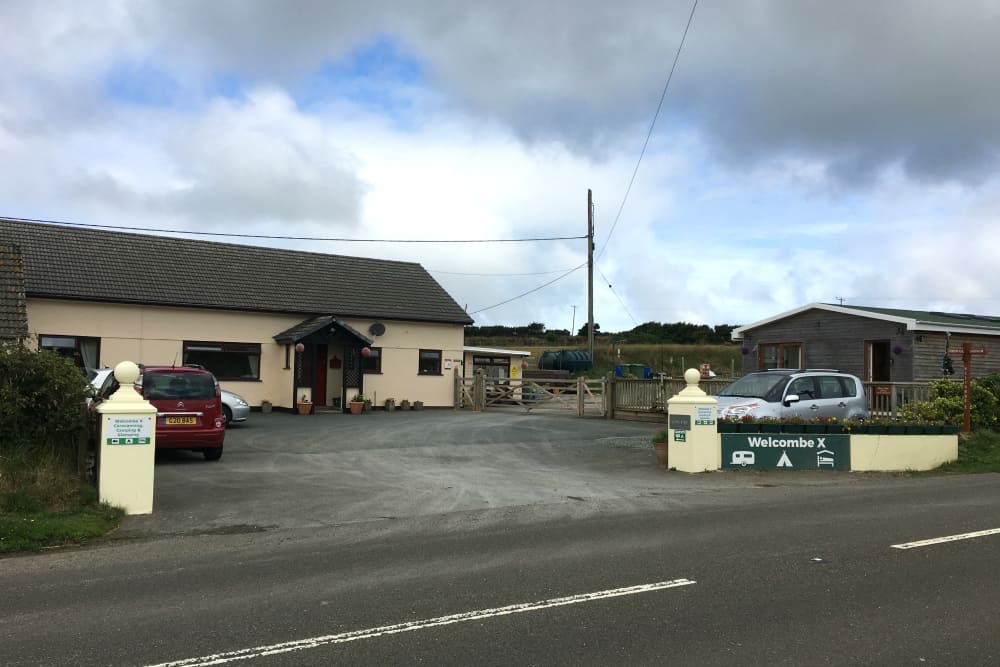 However, if you are sensitive about road noise and are looking for a quiet site then this one isn't for you. You also have to be cautious when turning onto this 60mph road as your view is obscured.
Ten minutes drive down the road is the village of Hartland in North Devon which is your closest place with pubs, small convenience shops and a post office.
Twenty minutes south is Bude in Cornwall which has a large Morrison's, Lidl and industrial estate before you get into the main town and beach.
If you prefer to use the bus rather than drive when you arrive there is a bus stop on the opposite side of the road to the site entrance. Check the timetable as buses don't run every day.
Pitches and other accommodation
Welcombe X has 20 touring pitches all with 16 amp electric hook up. There's a mix of grass and hard standing pitches and we'd recommend bringing levelling blocks as there is a slight slope on the main field.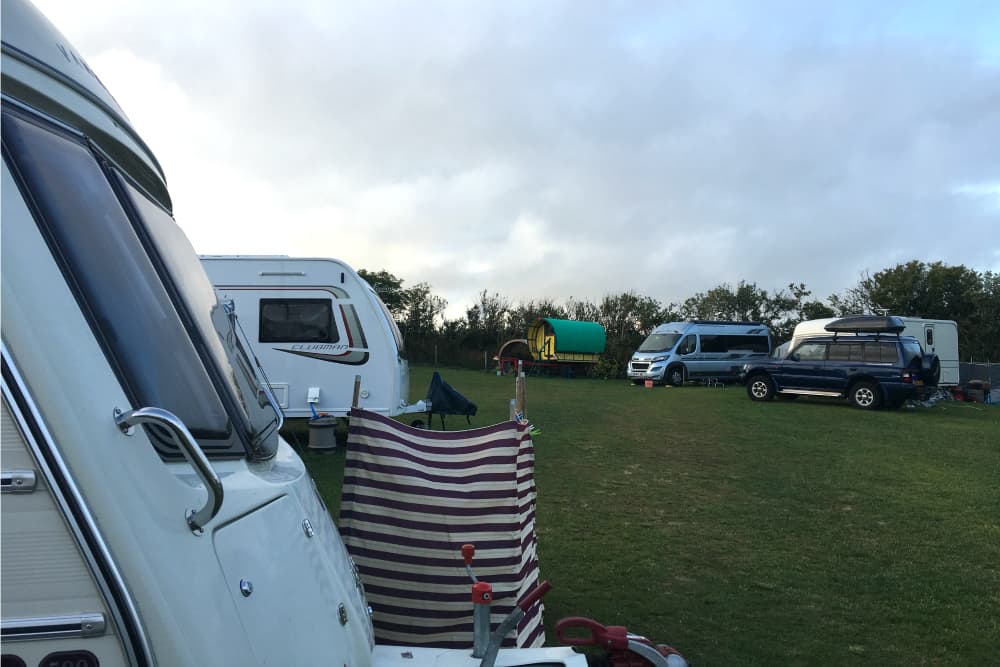 If you don't have your own caravan or tent there's self catering options. Welcombe X has a very pretty glamping gypsy wagon, a shed on wheels and static caravan available for hire.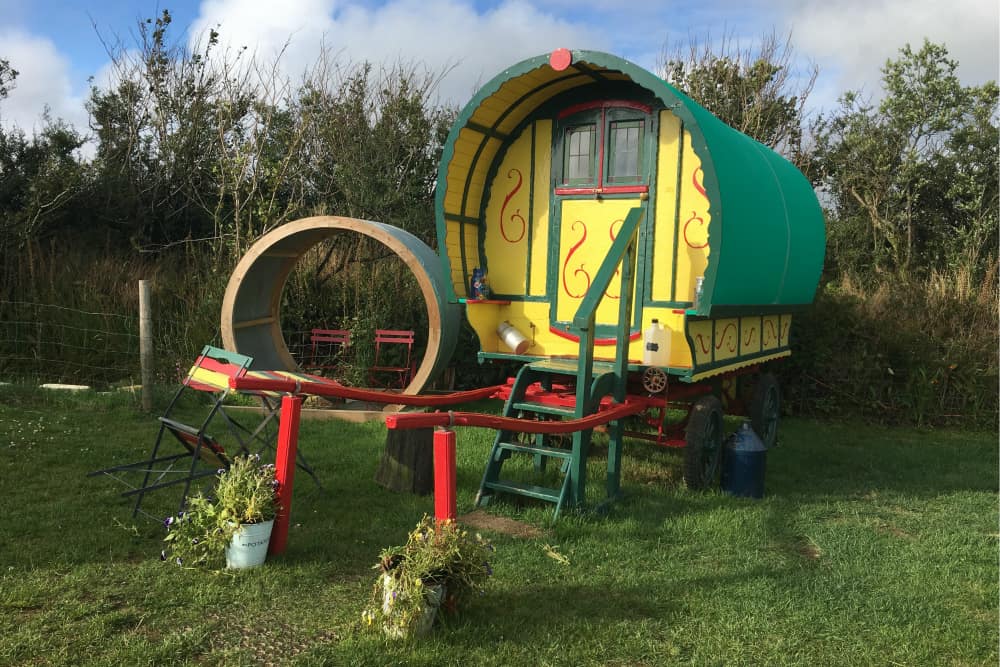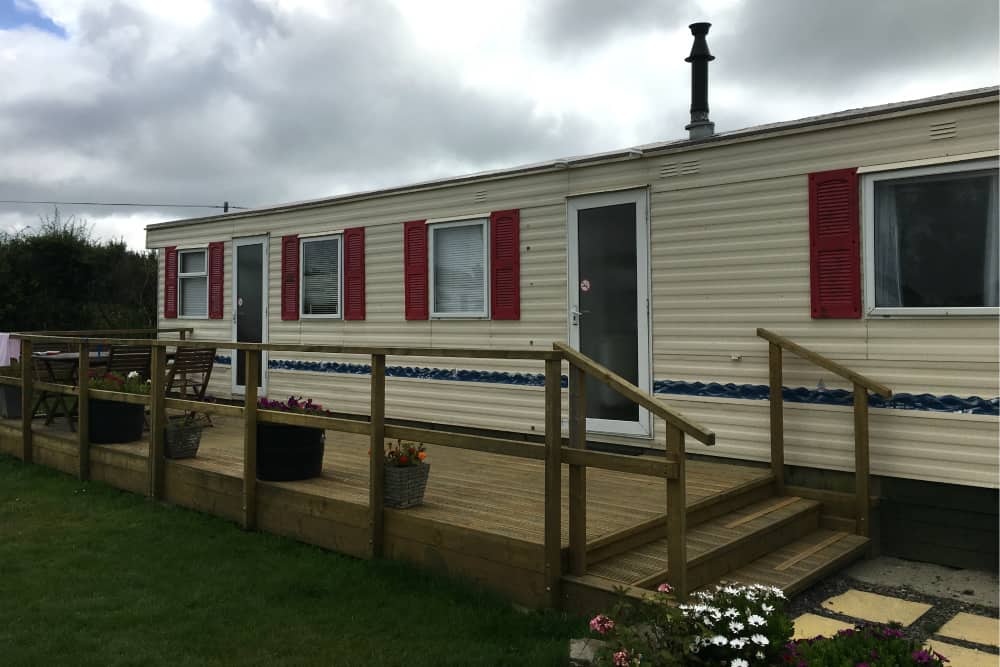 Campsite facilities
At the far end of the campsite there's a small shower block with two shower rooms (one with a toilet), a separate toilet and dishwashing area. This was clean and tidy every time we used it. 
You could log into the campsite's wifi by buying vouchers from the reception but we stuck to our personal data as the 4G signal at the site was good.
Dogs are welcome on this North Devon camp site but there isn't a dog walk onsite. This was a bit awkward as the A39 is a fast road during the day and there isn't a footpath beside it.
If you wanted to give your four-legged friend a good exercise you needed to get in your car. Luckily North Devon is awash with lovely places to go for a walk.
There are plenty of dog-friendly beaches in my guide to things to do in North Devon.
Families are also welcome on the campsite but bear in mind that there's no playground. There was space in the camping field for kids to run around in front of the pitches which was good for keeping an eye on them. The entrance to the campsite is also gated to prevent children wandering close to the road.
Facilities for caravan rallies
Our rally officers put own daily entertainment and the great thing about Welcombe X is that there's a marquee with tables, chairs and a bar area for ralliers to use.
Take away meals
The owners offer a daily takeaway service run out of their kitch caravan in the middle of the site. They take food orders for breakfast and evening meals, which is a great service if you don't fancy cooking when you get back from a day out.
Main meals ranged from home-made lasagne with garlic bread to chicken curry and a burger and fries, all for £5 a portion. Children's meals like fish fingers, scampi or chicken nugget, all served with chips, were available for £3.
Evening meals had to be pre-ordered by 11am the same day but breakfast rolls were cooked to order between 7.30am and 9.30am.
Touring prices
Prices for touring pitches start at £15 per night for two people and up to two dogs. Extra people are £2 per person, per night. This price includes electric hook up and use of the toilet block.
Things to do in North Devon near Welcombe X
During our seven day holiday in North Devon we had several days out from Welcombe X including trips to Clovelly Village, The Milky Way Adventure Park, Bude, Hartland Quay and Hartland Abbey. These are all within half an hour of the campsite and make great family days out.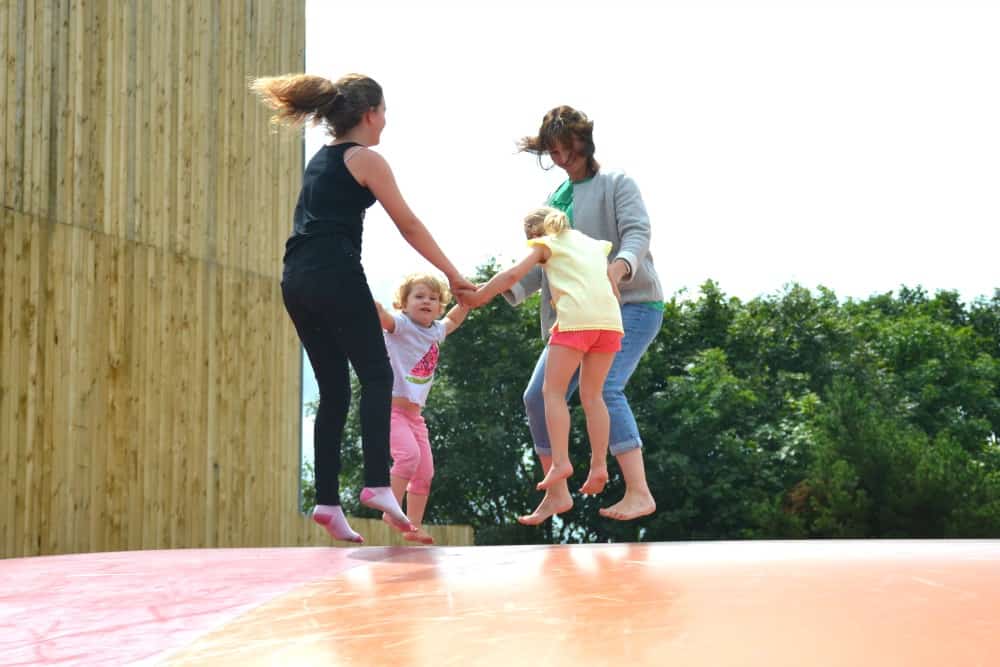 If you're looking for more things to do then take a look at my blog post about North Devon beaches, family attractions and sights.
Final thoughts on Welcombe X
Overall this is a good site in a great location – North Devon is a beautiful holiday destination that feels more off the beaten track than popular South Devon, yet still has plenty of things for families to do. Welcombe X is a good base for exploring and venturing south into North Cornwall too.
The campsite owners have put a lot of thought into their new venture. We particularly liked little touches like the herb wheelbarrow where you can snip cuttings to flavour your cooking. However, the road noise might bother campers and caravanners who prefer sites in the middle of no where.
More Devon caravan and camping sites
If you're looking for more Devon caravan and camping sites check out these reviews:
Pin for later