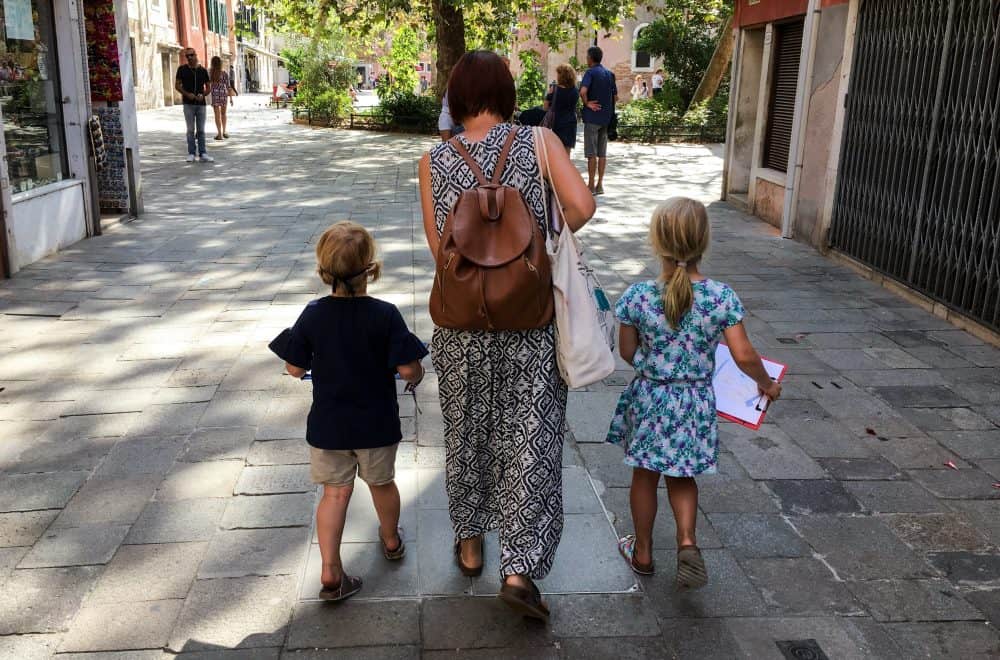 Venice tour with kids: Macaco Tour review
Any fan of architecture, history or engineering couldn't help but be intrigued by Venice. This iconic Italian city founded 1,500 years ago is a marvel and as picture perfect in real life as in the countless films in which is it is featured. Up until the summer this was the only way I'd experienced Venice – on the big screen. The girls knew even less about it but were intrigued when I mentioned we'd be visiting a 'floating city' as part of our week staying at Lake Garda. So, there was much anticipation about our Venice tour in August.
*Advertisement feature*
But with two young children, aged five and three, how could we bring the city's significance to life for them? Luckily I'd been contacted by Gaia from Macaco Tour a few months earlier and she offered to help us out during our trip to Venice with two excitable children.
If you would like to see what else we got up to during our week in Italy, here's a video:
Venice tours with kids
Macaco Tour aim to give young tourists the chance to tour Venice in a fun way, getting in touch with its less famous areas. It does this with private, guided tours and workshops designed for kids, parents and grandparents, which was ideal for us as our trip to Venice included Tin Box Grandma and Grandpa.
We were booked on the Sounds Hunt – a treasure hunt where noises lead you on a trail through the residential area of Santa Croce, far away from the tourist crowds.
After two hours of dashing through St Mark's Square, pausing at the Bridge of Sighs, and crossing the Rialto Bridge we had two very tired and fractious little ladies on our hands. It was time to step back from the bustle of Venice's tourist hotspots and join our Macaco Tour.
Venice for kids with Macaco Tour
Gaia met us on the steps of San Stae church on the Grand Canal for our one hour Venice tour aimed at four to eight-year-olds. From the very beginning she had a great report with the girls who had came primed with questions about the floating city. Nothing phased Gaia as she put the girls at the centre of the experience, getting down on their level to explain their challenge.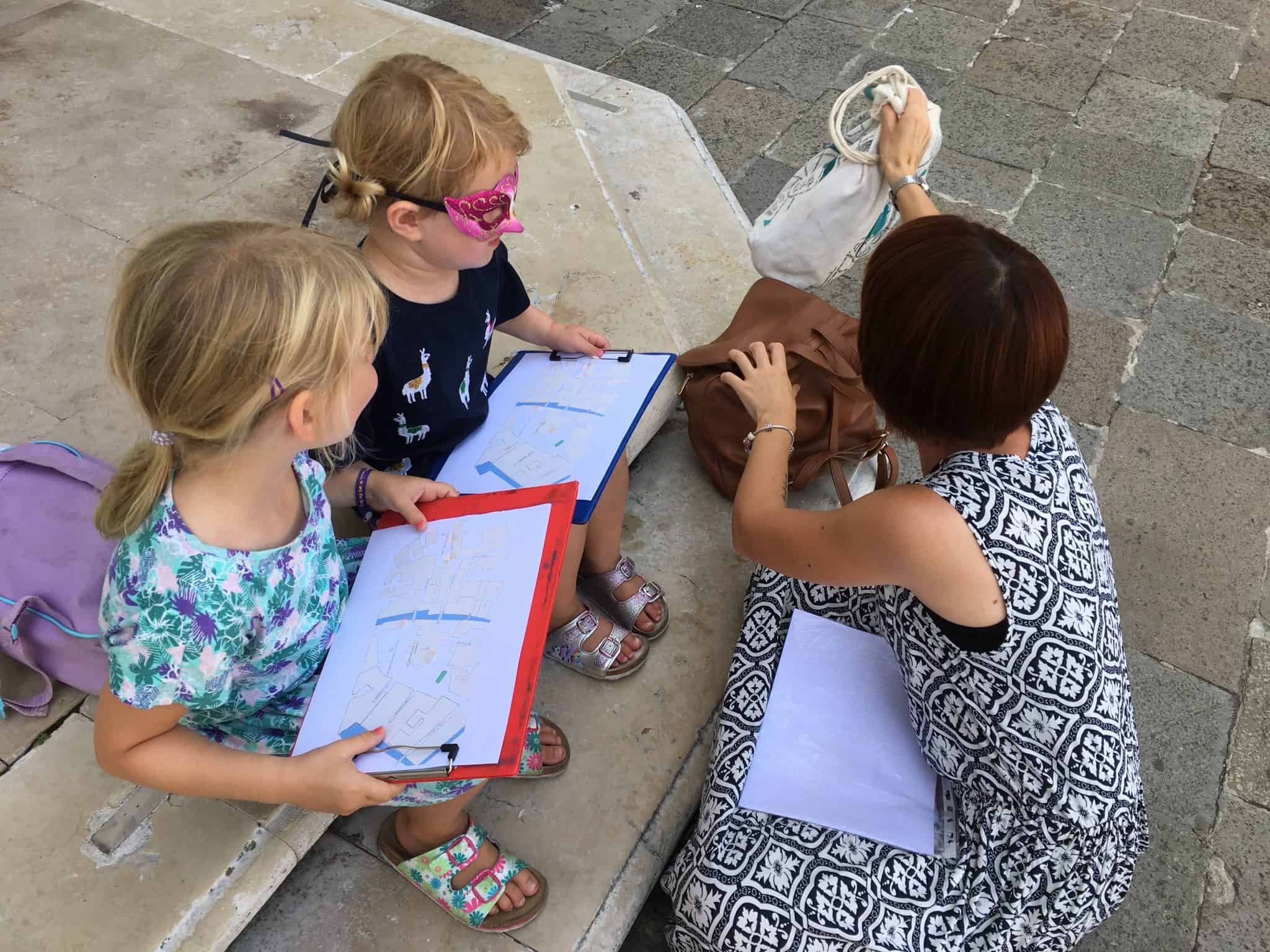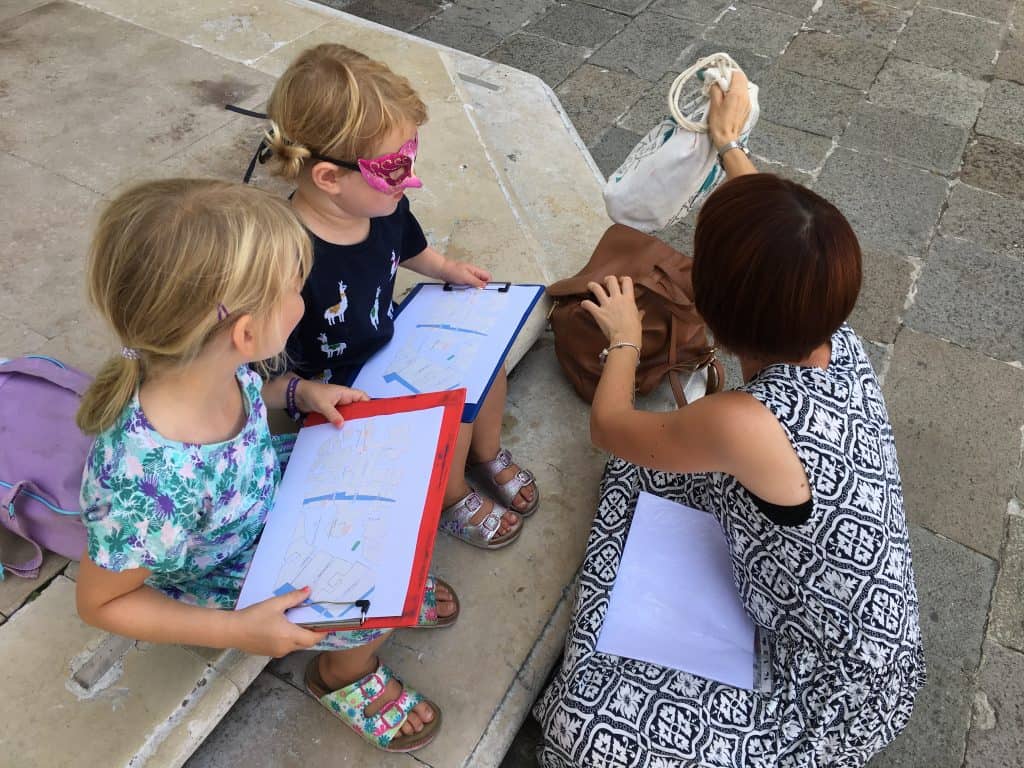 Tot and Baby were each given a map of Santa Croce on a clipboard and had to navigate to four places where they would discover something about Venice's past. But first they had to listen to a noise played on Gaia's electronic tablet for a clue about the next waypoint on their treasure hunt.
When we reached each waypoint there was yet anther Venetian challenge. The girls played games and drew pictures that sparked conversations about the creatures living in the lagoon, Venetian symbology and St George – one of the city's patron saints.
The dragon slaying hero can been seen in paintings and carvings on many buildings, just as often as the winged lion that represents the might of Venice itself.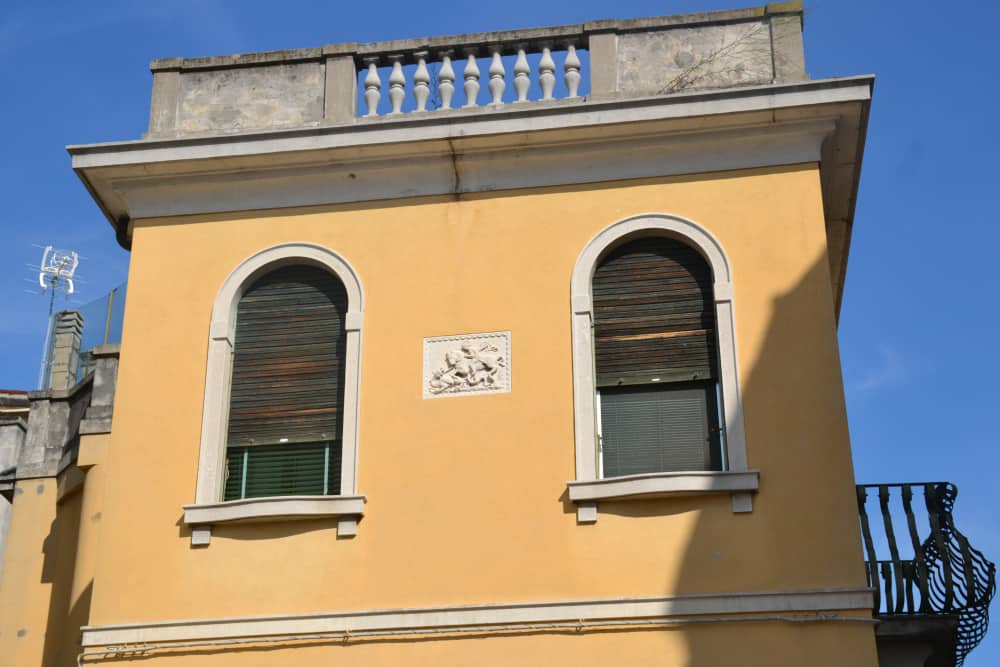 Along the way Gaia was happy to take questions and elaborate on the children's tour to answer a few queries from us adults. Aside from that we really did hang back and let Gaia take over as we strolled through calm streets intersected by tiny canals. It was such a relief after a hot and hectic wander around some of the more well known sights earlier in the day.
Macaco Tour review: final thoughts
The Sounds Hunt is an interactive and fun activity that was thoughtfully delivered. The girls happily trotted off with Gaia at each stage of the treasure hunt and hung on her every word. They were thrilled with their final prize of a book in which they could record their adventures, plus a lolly pop for good measure.
The one hour private Venice tour with kids costs €100 (plus VAT) for up to four people. Additional people can come along for €20 each. After experiencing wandering the busy streets of Venice with two frazzled little people, we thought this was a great way to reignite their interest.
They were much more engaged in looking for things they had spotted during the Macaco Tour as we headed back across Venice to meet our return ferry to the mainland.
If you are visiting Venice with children then we can recommend taking a look at the range of tours and workshops offered by Macaco Tour. As well as treasure hunts, they do guided tours by boat, mask making workshops and the chance to make Murano glass at the original furness.
Take a look at the Macaco Tour website for all the options.
For more reading check out my blog post about our day in Venice with kids including our trips for visiting Venice.
Disclosure: we are invited to try a Venice tour with Macaco Tour so we could share our review on the blog. We paid for our own travel from Lake Garda to Venice. All opinions are my own and those of my family.
Planning a trip to Venice with kids? Pin our post for later.