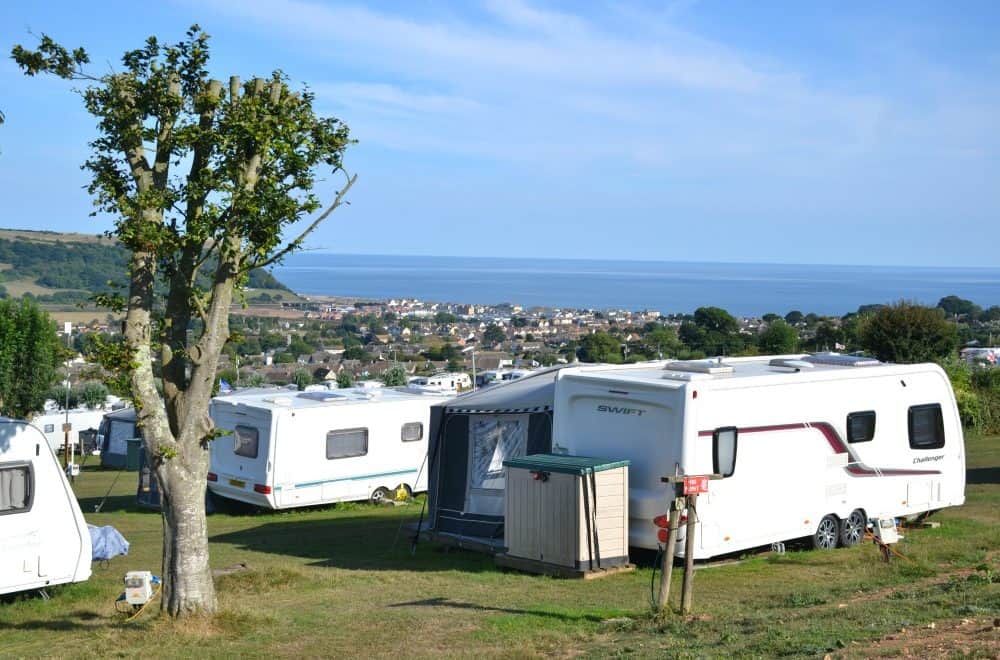 East Devon campsite review: Manor Farm Caravan & Camping Site in Seaton, Devon
I could get used to views like this. Just a few hours after arriving at Manor Farm Caravan & Camping Site in Seaton, Devon, I was sold. With panoramic views across the Seaton Wetlands nature reserve down to the impossibly blue Jurassic Coast of Lyme Bay it's not hard to understand why so many caravanners decide to take a seasonal pitch at this East Devon campsite.
Luckily the site reserves 13 pitches for tourers like us as well as a camping field for tents. This was the scenic base for our summer press trip with Visit Seaton during which we explored this small part of glorious East Devon.
*Advertisement feature*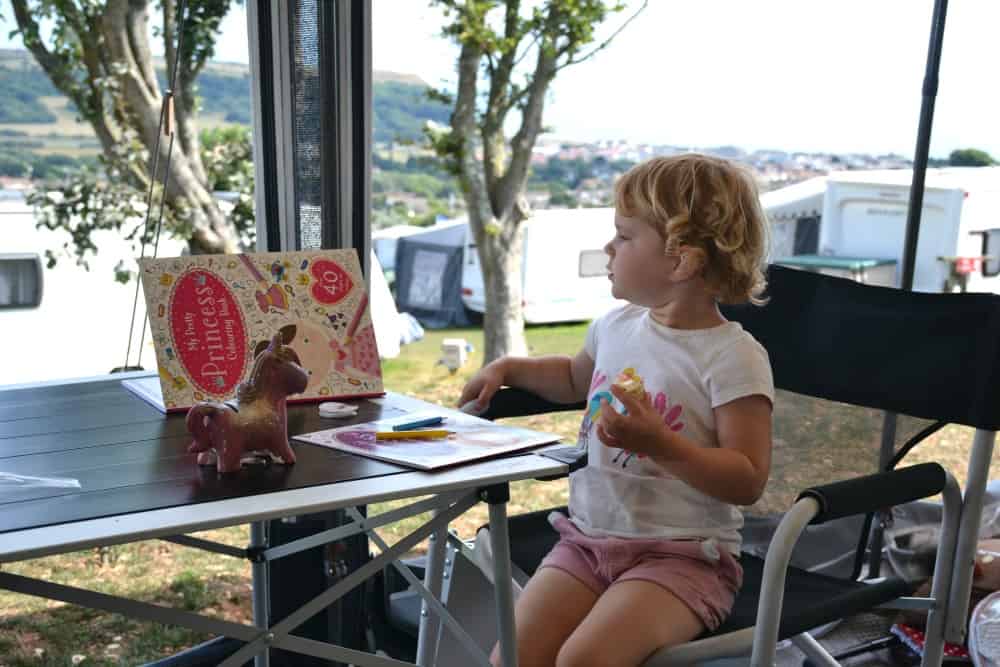 Manor Farm Caravan & Camping Site review
If you're looking for an East Devon campsite with the most incredible coast and country views then you can't go wrong at Manor Farm. It's a great base for exploring the local area with plenty of beaches, walks and small tourist attractions close by.
The site is also a good choice for families with its large play area and Pets Corner. Here's our review after a seven night stay.
Reception and shop
The arrival time at Manor Farm Caravan & Camping Site is midday. Follow the instructions on the site's website and you can't go wrong. It's clearly sign posted from Seaton Down Hill. Be aware that a lot of roads in Devon are narrow in places – even the A roads.
The reception is at the end of a long driveway which is single track with passing places along the way. As the majority of people visiting the site will be going to pre-pitched caravans you're unlikely to meet anything other than cars coming the other way.
Checking in was quick and easy but no information was offered about the site. You can find out a lot of what's going on from notices around the site and in the toilet blocks.
The site shop at reception is open until 5pm each day and has fresh bread, plus store cupboard basics, a few camping supplies, and lots of locally produced burgers, sausages and cuts of meat including some reared on the site's farm.
Touring and camping pitches
The 13 touring pitches with electric hook up are in a line near the top of the site giving you a view over the tops of the seasonal vans. When you walk down through the site you can see that these also have great lines of sight across the countryside and coast.
We needed to use a levelling block under the offside wheel but otherwise getting pitched was easy going. We used our motor mover to swing around the caravan so our door and awning could face the wonderful view.
This gave us a fabulous vista during the day and evening when it was so warm that we took down the front of our awning to get the benefit of the breeze up the valley.
The terraced area for touring caravans and motorhomes has been created in the past year so the ground is rough and the grass hasn't yet had a chance to grow over the bank.
For us this meant sun-baked red earth met the gravel hard standing, but the surface might be muddy in wetter weather. The pitches are functional with no frills.
Campsite facilities
There's two shower blocks onsite with a washing up area, plus an information room and laundry with a couple of washing machines, a tumble dryer and iron and ironing board. The machines cost £3 a cycle and the dryer was £1. The closest block to us was a few minutes walk away in the centre of the site.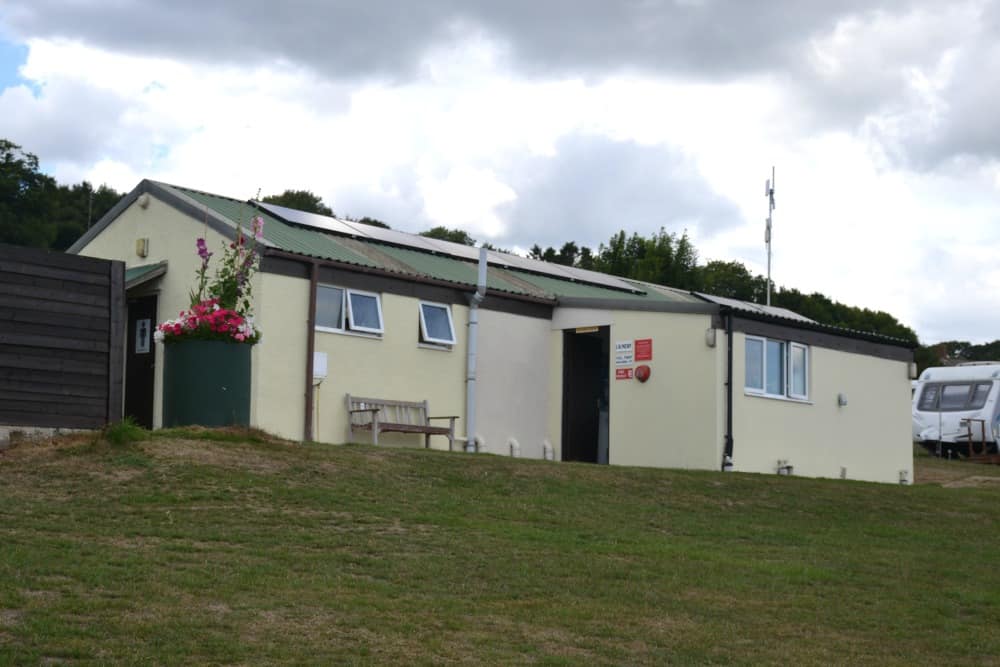 The toilet and shower facilities are dated but clean and tidy. The water was hot and there is no charge for using these facilities. There was a larger, more accessible shower cubicle in the ladies and gents but nothing designed specifically for families.
Waste, rubbish, recycling and water points were all very close to our caravan and seemed to be located regularly along the main roadways.
Dog walking field
Manor Farm is a dog-friendly East Devon campsite and has a large dog walking field at the bottom of the site. There are rabbits a plenty, Tin Box Dog isn't fast enough or interested enough to get hold of them but if your furry friend is be aware!
Kids playground
It became a daily routine for us to visit the playground either before or after dinner when it was a little cooler during the incredible summer weather. The girls loved it, particularly the play fort and long slide.
The playground equipment has seen quite a few seasons and is well weathered. However it is obviously popular with the large number of families on the site and can be seen from a lot of the surrounding seasonal caravans.
There's also an area where kids can have a kick about with one set of goal posts. Something that I particularly enjoyed while watching the girls run around excitedly was sitting on the picnic bench and enjoying the unavoidable views again.
Pets Corner
Another bonus for families is the campsite's Pets Corner farm which opens daily between 9am and 11am. Kids can meet animals and help to feed them as well as collect eggs and help take the ponies for a walk.
You can also look at the animals in their fields and pens along the campsite driveway at any time.
Takeaway food onsite
We had barbecues every night while at Manor Farm but if you didn't fancy cooking after a day of sightseeing or walking a couple of mobile takeaways visited the site on set days during the week.
Stone cooked pizza and fish and chips were options we saw advertised. An ice cream van also drove around the campsite most afternoons.
Things to do in Seaton, Devon
Manor Farm is on the side of Axe Valley one mile from Seaton seafront making it the perfect place to stay if you love spending time by the sea. From Seaton you can walk along the coastline to Beer or if you're looking for more of a challenge, Lyme Regis.
We packed a lot into our week staying in Seaton and you can read about our highlights, including a boat trip with Stuart Line Cruises from Sidmouth, Devon.
If you're looking for more inspiration you can check out the Visit Seaton website or take a look at my top places to visit in East Devon.
Final thoughts on Manor Farm Caravan & Camping Site
We really enjoyed our stay at Manor Farm. It's a no-thrills family-friendly campsite with plenty to do close by as well as daily activities in Pets Corner each morning.
Whether you're looking for somewhere to use as a base for enjoying the countryside and Seaton's attractions or a picturesque site where the kids can run off and make plenty of friends then this is a good choice for you.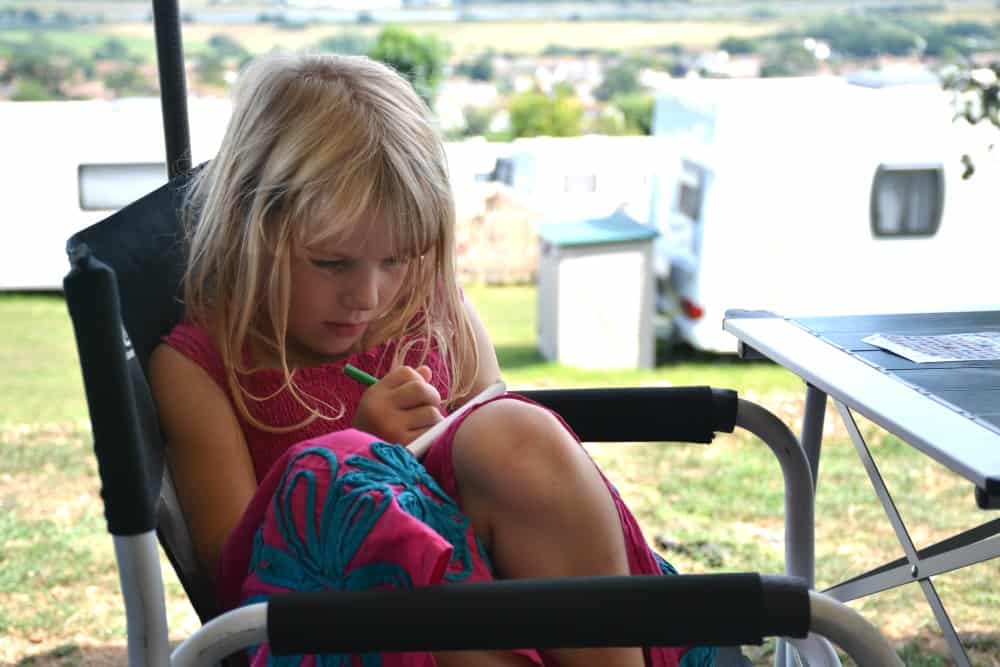 Site fees for caravans or motorhomes using the touring pitches at Manor Farm Caravan & Camping Site are £26 a night in August and lower at other times of the year. The pitch fee includes all guests, electric hook up, awnings/gazebos, extra cars and pets. The site is open from mid-March until mid-November.
More holiday parks in East Devon
If you looking for more holiday parks in East Devon then check out these reviews:
Why not also take a look at my big guide to Devon family holidays.
Disclosure: we had a complimentary stay at Manor Farm Caravan & Camping Site as part of our press trip with Visit Seaton. All opinions are my own and my family's.
Pin for later