It's camping but not as we know it. Whenever I hear the word 'glamping' I think of bell tents decked out with lavish cushions and vibrant carpets. Or safari style tents with shady verandas and crackling fire pits. Last weekend we were invited to review something altogether a bit more space age: the glamping pods at Oakdown Holiday Park in East Devon.
*Advertisement feature*
Oakdown is an award-winning holiday park just outside Sidmouth on Devon's Jurassic Coast. It has a wide range of accommodation options. You can bring your own touring caravan, stay in a luxury mobile home or, the very newest option, a shabby chic shepherds hut.
We opted for one of two Premier Plus Glamping Pods which are, in my opinion, much less 'back to camping basics' than the site's four wooden glamping pods.
If you've not tried luxury camping and fancy giving it a go here's a guide to glamping with kids.
So why choose a premier pod?
Our Coco Sweet-made pod was somewhere in-between a touring caravan and tent. It had solid sides, a canvas awning, beds and electrics. It came with its own decking, a recycled plastic picnic bench for al fresco dining, three deckchairs and two metal stools.
If you don't fancy eating outdoors there's a small fold out table and four stools tucked away inside.
Through the corrugated plastic doors the pod is minimalist, adding to the space age feel. But you do get a lot of luxuries that you wouldn't find in a wooden pod or your own tent.
There's a under counter fridge freezer, a small electric portable heater, a kettle, and a microwave. You also have plenty of storage in the kitchen area, under the beds and on shelves in the master bedroom.
The only modern luxury missing is running water. The glamping pods share a mini toilet block, with two toilets and sinks, close by. There's a fresh water tap outside the block.
The Tin Box girls were beyond excited to have their own bedroom, as were we as it meant we could sit up and read beyond their 7pm bedtime. At night we could hear the rustling of the wind in the trees, just like in a tent. But we had the comfort of the heater clicking on and off with a thermostat when it got a bit chilly. Perfect!
And in the morning we benefitted from a bit of extra time in bed (not enough – does such a thing exist after kids?) thanks to the pod's blackout curtains that popper shut over the large corrugated plastic end walls. These let in a lot of light during the day, making the pod light and airy.
Our girls enjoyed using their new Regatta pink rabbit chairs sent to us by Hawkshead.
Oakdown Holiday Park's award-winning facilities
Oakdown was named the AA Campsite of the Year for England in 2015 and has a cabinet of other awards. So what makes a holiday park award-winning? There's a lot of things that you could easily take for granted that have been very well thought through at Oakdown Holiday Park.
They clearly want to minimise their environmental footprint. The amenities block – a former wartime radar building – is a green building, covered in plants to make it blend into the site's rural location, and there's solar panels on the roof.
Inside it's modern and very clean. The showers shut off automatically after a short time to conserve water. And you are activity encouraged to recycle while on holiday.
However, award-winning isn't all about being green. Things that make a campsite stand out for me, and were very much present at Oakdown, are music being piped into the warm amenities block, family bathrooms, a modern and well-maintained playground, and immaculate pitches that are spaced for privacy.
The amenities block also offers camping staples like a dish-washing area and laundry room.
Our girls were particularly impressed with the children's playground which had great equipment, and lots of space to run around.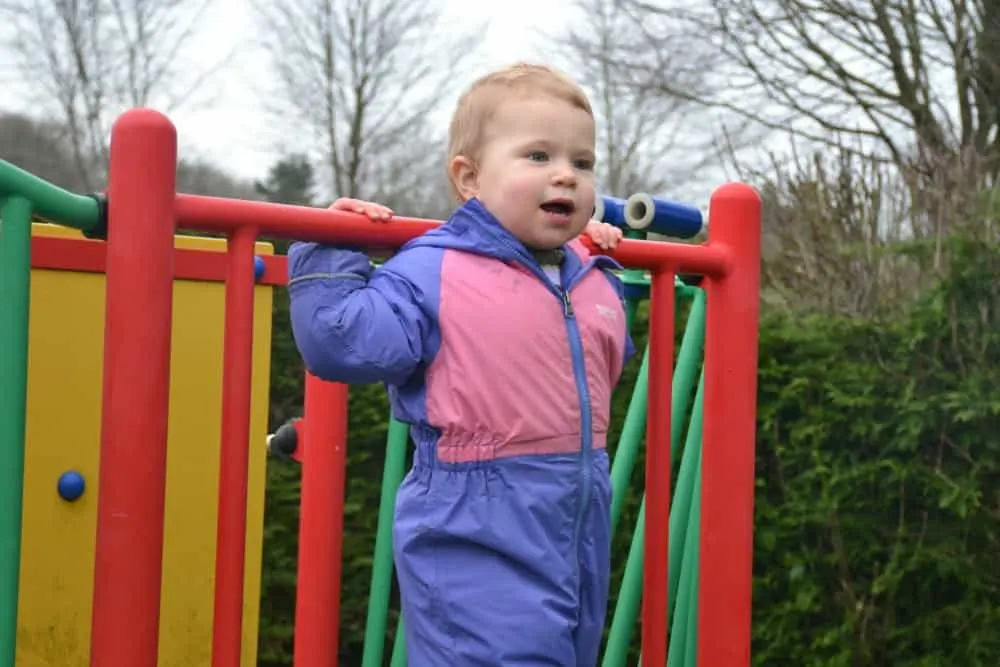 Handy things to know and bring when glamping at Oakdown Holiday Park
There's a cafe serving breakfasts and lunches, and a site shop for all your essentials.
If you want to use the family bathrooms in the amenities block take some pound coins to feed the hot water meter. You get 15 minutes of hot water in the shower and bath for each pound. We only needed £1 to fill a bath for the girls and have two showers. There's no charge in the mens and ladies showers. UPDATE: new shower facilities have been added closer to the glamping pods.
You can buy a linen package when you book your glamping pod. This includes your bed linen (and very comfortable it is), but not towels or tea towels.
If you have young children and don't fancy trotting over to the toilet block with them in the night, bring a potty.
Pack a barbecue or cooking stove, as well cutlery, crockery and utensils.
Pets are not allowed to stay in the glamping pods.
50MB wifi has just been installed on the site, although too late for our visit so we couldn't test it out. The 3G signal on 3 was very strong.
What did we make of the glamping pods at Oakdown Holiday Park?
We felt right at home in our Premier Plus Glamping Pod. Apart from the fact we didn't have our own sink, toilet or shower it was very much like staying in our own homely Tin Box.
I always find camping or caravanning very relaxing and our stay at Oakdown was no different. The staff were extremely friendly and helpful. Particularly when the first thing I did when we arrived was blow the electrics on our pod. We were back up and running faster than it took me to persuade the Tin Box girls to abandon the playground.
Was there anything we didn't like? Not much. But if I was being super picky I would mention that there's a bit of noise from the A3052 during the day.
There was also some serious muck spreading happening in the fields next-door when we arrived. This is par for the course for seasoned campers!
In summary, if you're desperate to try camping with kids then the glamping pods at Oakdown are a great place to start without roughing it. Or if you're a regular camper looking for a bit of luxury then you'll feel positively spoilt here.
We had a great weekend at Oakdown Holiday Park and will defiantly be recommending it to our camping, caravanning and holiday park loving friends.
You can stay in Oakdown's Premier Pods for between £60 and £75 a night (prices correct at time of review).
There's a lot to do locally! Here's my review of our visit to Wildwood Escot nearby in Ottery St Mary, our ride on the heritage Seaton Tramway and a free day at The Donkey Sanctuary at Sidmouth.
Disclosure: we were invited guests of Oakdown Holiday Park and received a free stay in exchange for a review. All views are my own and those of my family. We were sent the Regatta children's camping chairs in exchange for a mention on the blog. The girls genuinely love them.
Pin for later