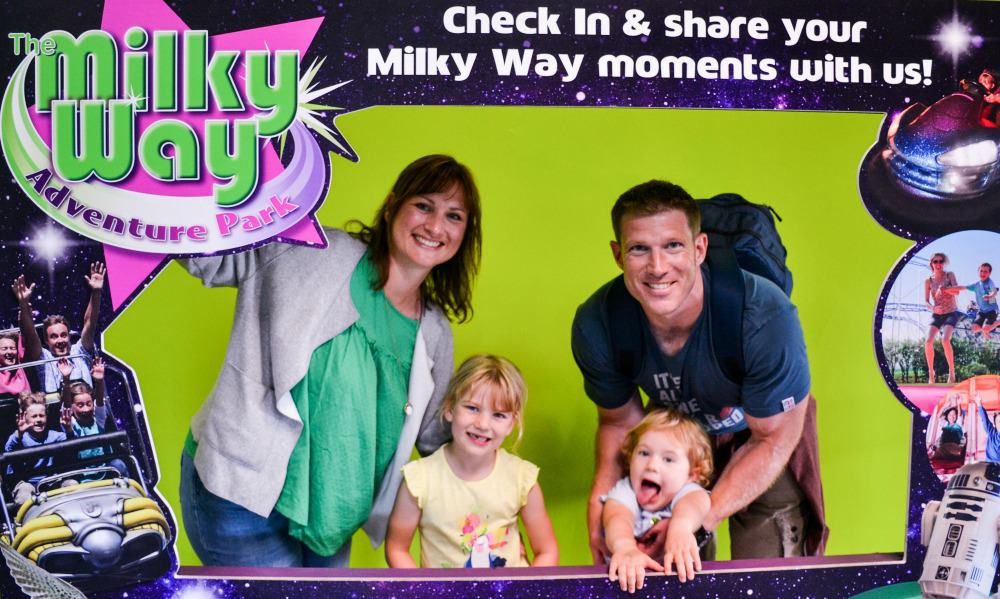 The Milky Way Adventure Park – a Devon theme park review
If you're looking for an all-weather day out with kids in North Devon then you can't go wrong visiting The Milky Way Adventure Park near Clovelly. We spent a packed and exhausting six hours at this Devon theme park during our recent caravan holiday in-between Bude and Bideford. Thank you to The Milky Way for inviting us to review their attraction. Here's what we got up to:
A day out at The Milky Way Adventure Park
This wasn't our first visit to The Milky Way. We took Tot there when she was a few years old. I have vivid memories of her enjoying the Jumping Jupiter bouncing cushions and the brilliant bird of prey show with hawks swooping low over our heads. She was under the 80cm height restriction for some of the more exciting attractions but we still filled our day with lots and lots of soft play, slides and a ride on The Milky Way Train.
This time we were visiting with five-year-old Tot, three-year-old Baby and their friend Miss M who is 11. Aside from being a test of our child juggling skills we were ready to put the theme park through its paces for a wide range of ages.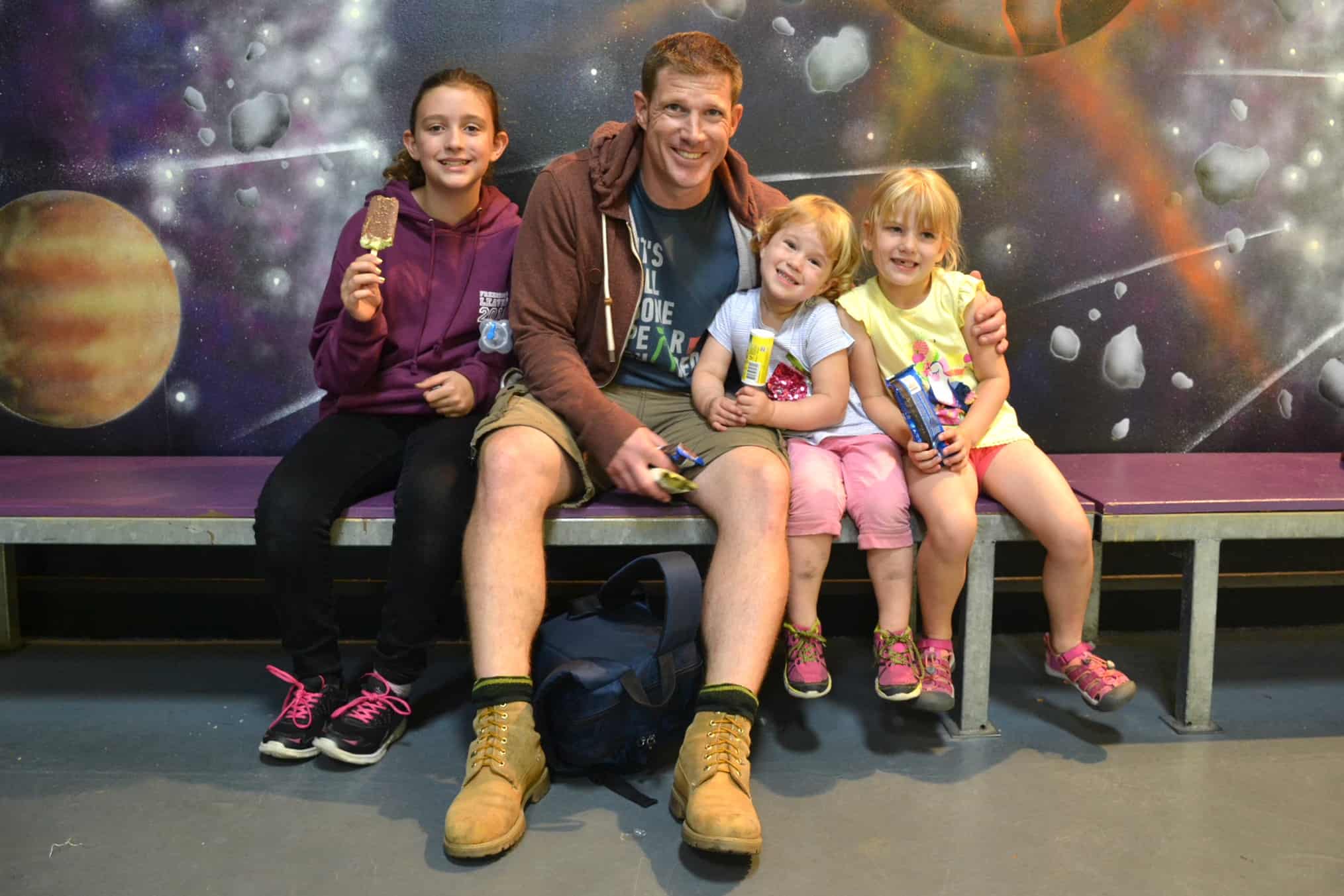 Indoor fun for wet days in Devon
One of The Milky Way Adventure Park's biggest selling points for Devon holiday-makers is that it has undercover attractions filling the same space as three football pitches. Take a look at the interactive attraction map to see the scale of the place. That's a lot of rainy day fun to be had if the weather fails you!
The girls spent the best part of an hour in the Time Warp – Devon's largest indoor adventure play area – which has a 25ft free-fall drop slide, a more sedate wavy slide down which you can race against your mates, an enclosed high ropes course, toddler areas, and huge ball pits.
If you enjoy a bit of a thrill then there's the Droid Destroyer dodgems. We were particularly impressed that the Milky Way staff made sure that children of all ages had a good time on this ride. They alternated been sessions for younger kids where no bumping was allowed and sessions for older children and adults who could take things up a gear. This meant everyone in our group had fun.
Another higher adrenaline indoor attraction that we all enjoyed was The Clone Zone – an alien space ship experience and ride. You are warned before you enter that this could be a little scary for younger children as it's dark and there are a few alien characters inside. But after a few shrieks we all came out smiling.
After all that excitement it was good to wind down with a visit to the Sports Centre where you can have a go at archery or paint pottery for an additional fee. The girls all chose a piece of pottery (prices start at £4 for small items) and spent ages decorating them with acrylic paints and glitter.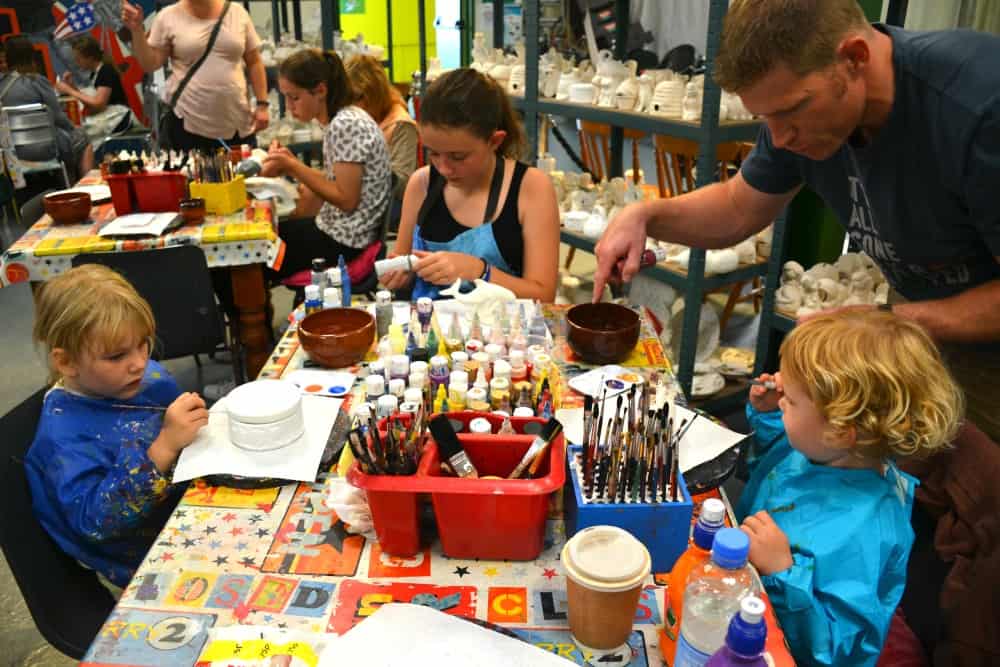 If you're a fan of Star Wars or Dr Who then you can't miss the Sci-fi memorabilia area for selfies with Darth Vader, R2D2 and Ja Ja Binks.
Live shows at The Milky Way
Throughout the day there are shows in the indoor arena. We caught the first birds of prey show, seeing a Harris Hawk, Barn Owl and Little Owl flown above the crowd. There's something quite exciting about being brushed by the feathers of a bird of prey as it skims past your ear. There are two bird shows each day and you can also visit the performers and many more of their featured friends in the North Devon Bird of Prey Centre which is based at The Milky Way Adventure Park.
Other live entertainment on at this Devon theme park until October 2018 include Britain's Got Talent Semi-Finalist Merlin and The Big Show Close Up, and interactive science and space shows.
Outdoor fun at The Milky Way Devon
The Milky Way's two rollercoasters are outside along with a train, 30ft tall donut slide and two large inflatable pillows.
The girls made a beeline for the Jumping Jupiter inflatables as soon as we arrived at The Milky Way Adventure Park. There's one for under-five-year-olds and another for older kids meaning that tiny tots don't get overwhelmed by bigger kids having fun.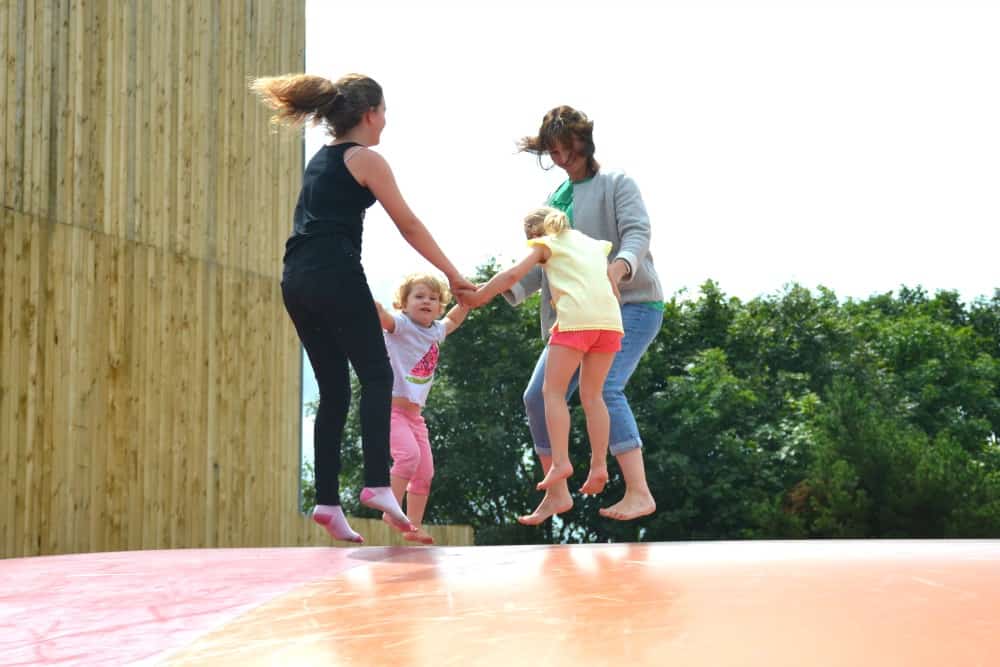 Next door to the pillows is the theme park's newest ride: Gravity Rider. You have to be 1m to tackle this slide which meant even Baby could have a go. However, it is very fast and she did look a bit green when she reached the bottom. Miss M thought it was great fun.
On the other side of the park the more sedate coaster, the Cosmic Caterpillar, was a huge hit with Tot and Baby who had several goes back to back, while Miss M enjoyed the faster pace of the Cosmic Typhoon. 
Food at The Milky Way Adventure Park
You can bring your own picnic but there are several options for snacks and lunches at The Milky Way. We ate lunch in the stylish Star Light Restaurant. Meals range from panini and pasta to pizza and Thai fish cakes as well as cream teas. For children and toddlers there are appropriately sized meals including lunch boxes, pasta and jacket potatoes. 
The prices were reasonable and the food was very well presented. We ate just after midday when the restaurant was starting to get busy and were impressed with how speedily the food arrived. We also called into the Galactic Cafe above the Time Warp for some much needed drinks after several circuits of the indoor assault course.
Milky Way prices
Entry for a family of four with children over the age of three comes in at just over £50. Tickets for children aged one to two-years-old cost £6 and under ones are free.
You can save on ticket prices for The Milky Way Adventure Park by buying your tickets online in advance. Online tickets can be used on any day between March and October (dates as advertised when you buy them), which is a real bonus if you want to take advantage of the theme park's indoor activities on a wet day. You can also come back another day for half price.
Final thoughts on The Milky Way Adventure Park
The Milky Way is a really well thought out Devon theme park with lots for kids of all ages to do. The fact there's so much going on indoors makes it ideal for wet day fun as well as keeping out of the sun if the weather is extremely hot. Not only that, everywhere we went was clean, tidy and fresh – no mean feat when you're entertaining hundreds of families each day. And despite it being peak holiday season when we visited we didn't need to queue for more than a few minutes anywhere. The park was busy but there was enough going to spread everyone out. 
Thanks to The Milky Way Adventure Park for a great day out. We'll certainly be back!
If you're looking for more days out inspiration in the area then take a look at more things to do in North Devon.
Disclosure: we received free entry to The Milky Way Adventure Park in exchange for a honest review on the blog. We paid for our own food, ice creams and pottery painting. All views are my own and those of my family.
Pin for later