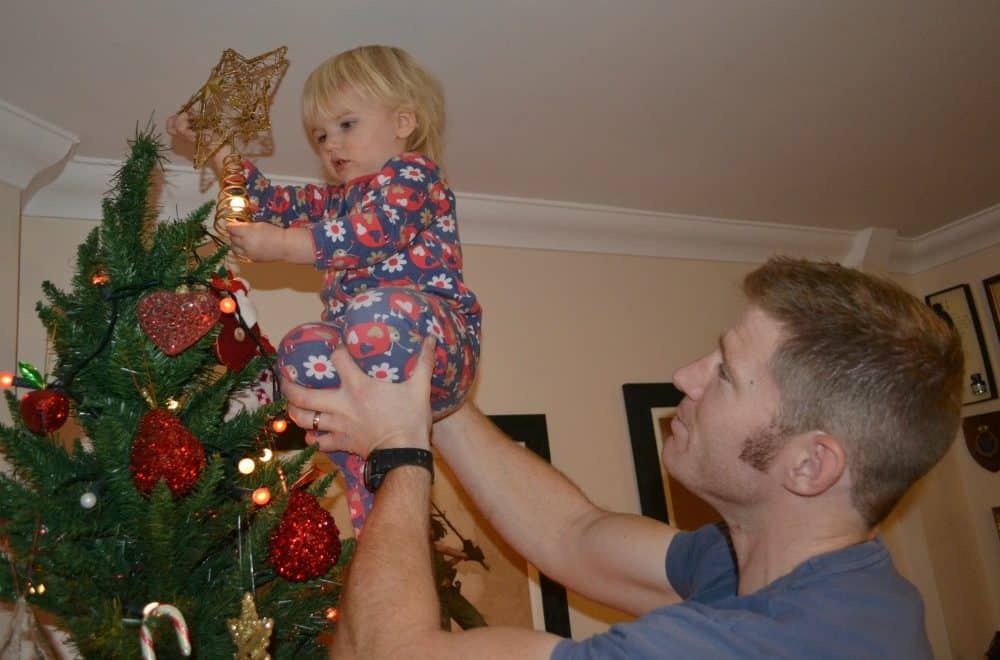 What Matters Most this Christmas – Holiday Inn Express #WeKnowWhatMatters
As regular readers will know, we love to travel and explore new places. But I'll let you into a secret…we rarely plan too far ahead. The not so secret reason why is because we are a military family. Our plans can change quickly with the requirements of Mr Tin Box's job. One of the many ways this can affect family life is that there's always the possibility Christmas could happen without daddy.
We were reminded of this recently when we were told Mr TB will be working away a lot in the next five months. For a short time we didn't know whether or not that would include the festive season.
I found this particularly upsetting as our girls – aged three-years-old and 19 months – are both getting excited about this Christmas. We'd also broken our planning rule and booked our first ever Winter holiday back in August. The thought of doing this alone was a little depressing.
Thankfully Mr TB is being allowed time off for Christmas and will be home during the weekends in December. It makes me so happy to know that we can all go and see Santa together, decorate the tree and have a laugh in our ridiculous jumpers. Most of all, he'll be able to watch the girls unwrap their presents and save me from the responsibility of cooking on the big day!
What matters most this Christmas
This one time of the year is all about having your family close. Whether it's spending a couple of days with your nearest and dearest or throwing open your doors to friends. Just being together, sitting down for an enormous meal and watching the kids play hide and seek in amongst the wrapping paper is what matters most. It makes it all the more exciting when you're joined by family who've come from far away or you haven't seen in a long time.
Holiday Inn Express have done a wonderful thing this year by bringing together families who are separated not only by miles but also by borders. They know guests often stay at their hotels to visit family. But for those people with loved ones living abroad, that's not always possible. This Christmas they have surprised three families with visits from special people.
Grab some tissues and check out the #WeKnowWhatMatters video:
We may have to spend Christmas without Mr TB sometime in the future. It's something we did before the girls came along, so I know how difficult it can be to be separated at this time of year. Add kids into the mix and it must be extremely difficult.
We've been lucky again in 2016. I'll definitely be thinking of all those families who are apart, military and civilian, this Christmas.
Join in with the #WeKnowWhatMatters Twitter party
Holiday Inn Express and Tots100 are hosting a Twitter party between 1pm and 2pm today (Tuesday 6 December). Here's how to join in:
Make sure you're following @tots100 and @HIExpress on 6th December between 1pm and 2pm
Tweet them during the Twitter party about what matters most to your family over the festive period
Don't forget to use the hashtag #WeKnowWhatMatters in every tweet you write to be in with a chance of winning one of five £25 John Lewis vouchers.
Find the full details on the Tots100 website.
Disclosure: this is a sponsored post with Holiday Inn Express and Tots100.