Review: Tea with Father Christmas at Wyevale Garden Centre – Jack's Patch, Devon
It's beginning to feel a lot like Christmas in the Tin Box household. Not only did we put up the decorations this weekend, we also had our first engagement with Santa during Tea with Father Christmas at Jack's Patch.
The Wyevale Garden Centre Breakfast and Tea with Father Christmas experiences are on my list of the magical Christmas events happening in Devon this year. Having never experienced one before we were delighted to be asked to do a review.
We arrived at Jack's Patch early and enjoyed a browse around the garden centre's plants, Christmas decorations and gifts before heading to the restaurant.
Tea with Father Christmas at Jack's Patch
The Tea with Father Christmas tables were laid out in the raised seating area overlooking the River Teign.  We were greeted by Faith the Elf who showed us to our table and brought over a high chair for Tin Box Baby.
Our table was set with two places especially for the girls including plastic cutlery, cups and colouring sheets. There were also cheap but cheerful crackers and a personal Christmas card for us all.
There was still a bit of time before the start of the experience, so the girls and I went to the soft play at the end of the restaurant to work up an appetite. Meanwhile the other families started arriving, including the lovely Gina from Gypsy Soul who was on the next table. Check out her YouTube video about the event.
Sitting down to Tea with Father Christmas
The food started to arrive. Top marks to the team for bringing out the kids meals first. You order your food in advance. This is always a bit difficult as Tin Box Tot is prone to changing her mind. Luckily two of the girls' favourite meals were on the menu – sausages and a jacket potato with beans. So I ordered one of each, expecting them to share their plates. However, both seemed happy to chow down on what was in front of them. The jacket potato was the ideal size for a pre-schooler and there was more than enough sausages and chips for Baby.
Mr Tin Box and I picked the Cream Tea with tea and coffee refills, which arrived on a three tier cake stand. We had cheese and onion and turkey and cranberry sandwiches. This was followed by delicious spiced Christmas scones with jam and clotted cream, then macaroons, mini-mince pies and lemon curd short breads. Mr Tin Box is a bottomless pit but I was stuffed full. For mums and dads with smaller appetites there was the option just to have the scone.
While we were eating Father Christmas arrived to greet the children. Tin Box Tot was obviously quite excited and a little star struck, but managed to whisper a 'hello'. Tin Box Baby barely looked up from her food!
After dinner festive fun
After tea the girls were given a festive activity to do while they waited for their turn to see Father Christmas. Each had a short bread biscuit to decorate with icing and three pots of decorations – chocolate buttons, sprinkles and marshmallows. This went down a treat.
When the girls had finished decorating their cookies Faith fetched a box for the the pieces they couldn't eat so we could take them home.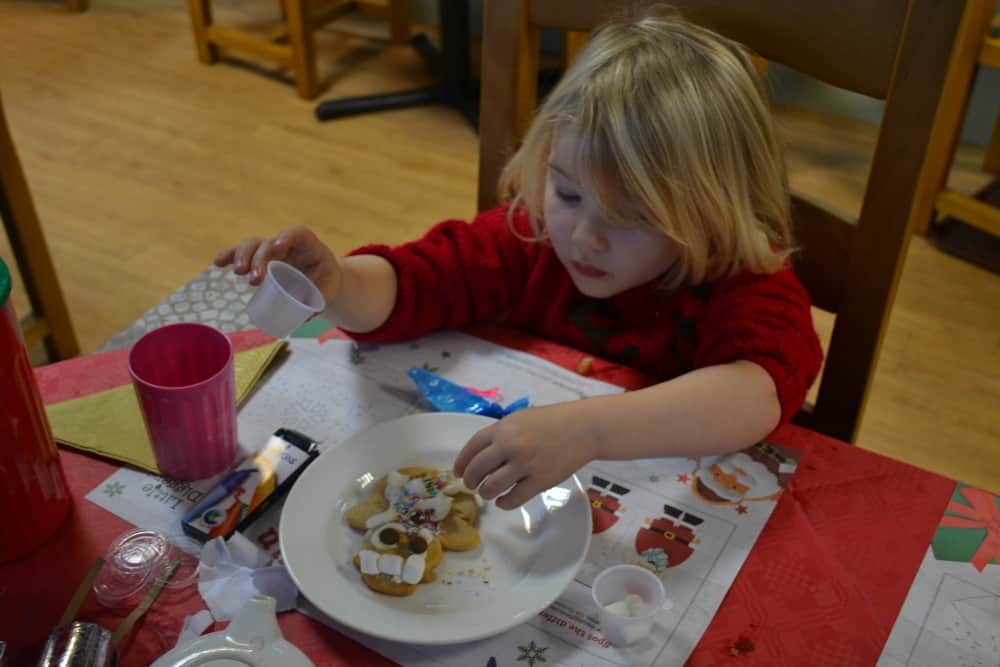 Meeting Father Christmas
It was then our turn to see Santa. There were four family groups at our Tea with Father Christmas. This was less than I was expecting and meant there was no waiting around. We walked back through the garden centre to the grotto. It was beautifully decorated with lights, snow and a huge display of polar bears, penguins and rabbits. Tin Box Baby was fascinated by the cuddly and animated animals. We almost ended up taking a snow bunny home!
Our time with Father Christmas was not at all rushed, which was fantastic because Tin Box Tot was a little wary to begin with. She soon warmed up when Santa asked what she'd like for Christmas and gave her some advice on things to leave out for him on Christmas Eve. Top tip: chop up the carrot for the reindeer so Rudolph remembers to share with his friends.
The girls were invited to pick a gift from a wall of toys ranging from cuddly tigers to bead sets and board games. Tin Box Tot opted for a fire engine and Tin Box Baby went for a musical train. Each of the gifts was probably worth about £5. When you consider that the event cost £9.99 for kids and they also got a reasonable sized meal and a cookie to decorate, I think this was really good value.
Our cream tea was £7.99 each, which I thought was also good value considering the quality, quantity and refills on the drinks.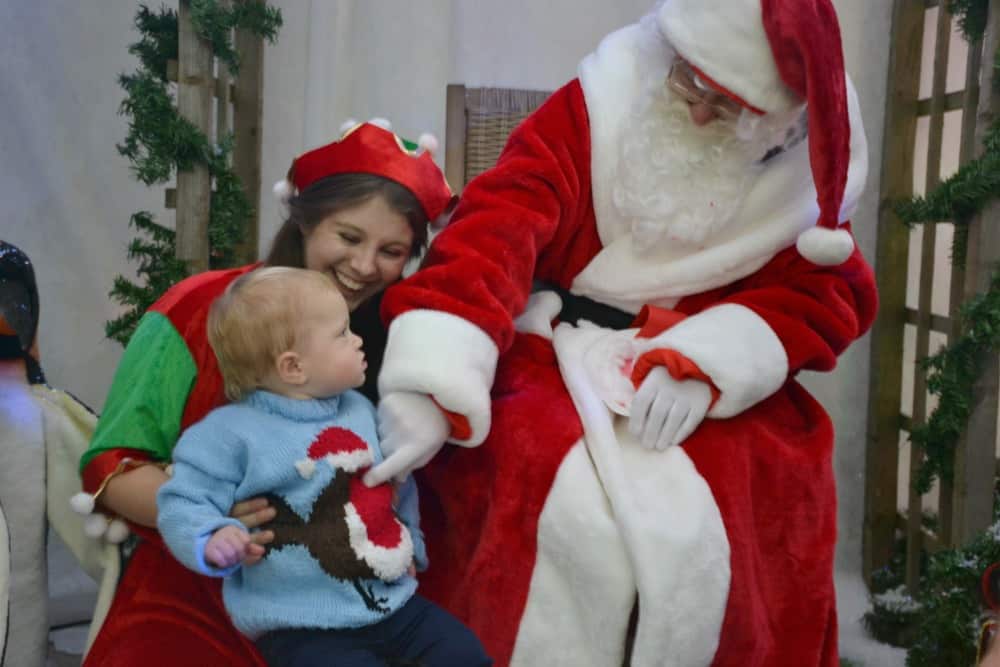 All in all Tea with Father Christmas took just over an hour. The whole thing was seamless and inexpensive. Plus the staff couldn't have done more to make it a lovely experience for us all.
Jack's Patch is one of more than 100 Wyevale Garden Centres that offers Breakfast and Tea with Father Christmas. There's plenty of parking, and with soft play, an aquarium centre and a great selection of gifts, it's somewhere we will keep in mind for visiting with the kids at other times of the year.
Disclosure: we were invited to Tea with Father Christmas at Jack's Patch for the purposes of an honest review. All views are my own and those of my family.
Pin for later