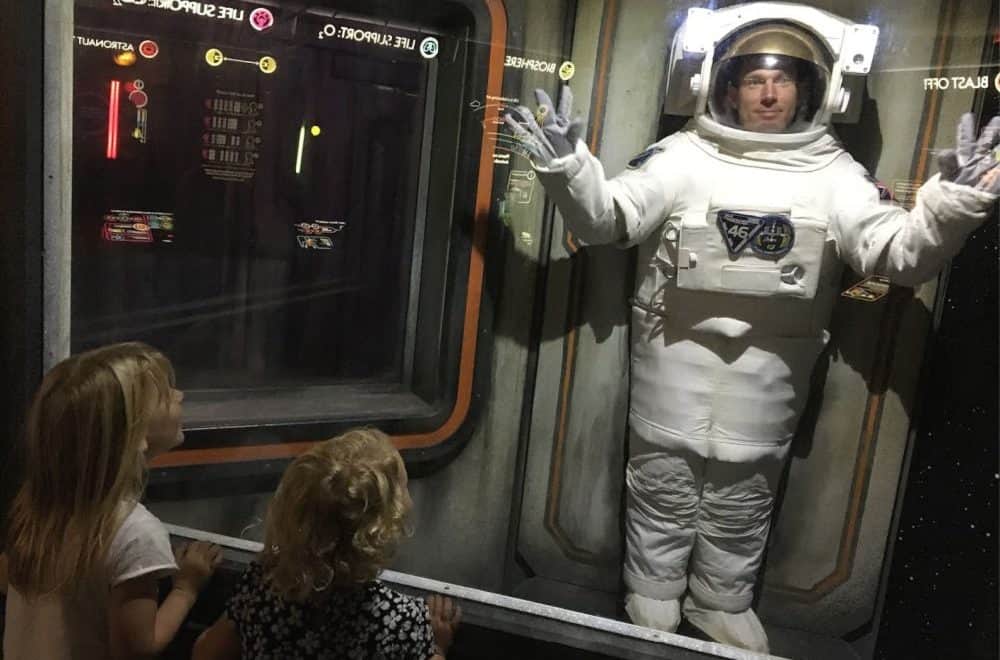 Winchester Science Centre review – things to do in Winchester in the rain
Typically, the Saturday of our recent trip to Hampshire was wet. We needed to find something to entertain the Tin Box girls and their older cousins that also allowed us to avoid the rain. Winchester Science Centre was the perfect solution. This indoor family attraction is the perfect thing to do on rainy days in Hampshire.
Here's our review:
Activities for rainy days in Hampshire:
 

Winchester Science Centre and Planetarium

Our visit was perfectly timed with Science Week during which the Centre was unravelling some of the science behind Science Fiction. Star Wars cosplay characters greeted us at the entrance and were wandering around all day posing for selfies and giving plenty of high fives.
Things to do at the Science Centre
There are dozens of hands-on experiments suitable for primary and secondary school kids spread over two floors. Tot, who is five, was just about old enough to get some of the concepts while three-year-old Baby was more interested in banging ALL the buttons.
They both enjoyed the immersive experiences:
The Colon Cafe – a journey through the intestine to learn about good and bad bacteria with plenty of sound effects and 'poo' to squeeze

Explorer: Space – a huge collection of space experiments and a chance to 'put on' an Extravehicular Mobility Unity (EMU)
and the Little Big Room – which messes with your mind by playing with perspective.
Tot loves crafts and the Invention Studio give her the chance to chop, colour and stick. This is where you can also try science activities like make a rocket or programme a robot.
Grown ups need not worry about being bored during their visit as there's plenty to amuse adults at Winchester Science Centre too. While we were there Airbus had a VR headset for people to try out. Mr TB had great fun on this. We all enjoyed the immersive experiences and the planetarium show.
Planetarium show
There's an extra fee for going to a planetarium show during your visit to Winchester Science Centre (£3.50 per person) but we thought it was worth it.
The 30 minute show we saw was a journey though our solar system geared towards kids. The aim was to spark their curiosity: everyone can be an astronaut and explore the stars if they work their imagination. Winchester has the UK's largest capacity digital planetarium and it was quite impressive. 
Be aware that the auditorium goes dark and the 360 show might make you feel a little disorientated. Tot and Baby were fine but did start to get a bit fidgety towards the end. The good thing about taking kids in is that they can chatter – there's only a few screenings that are 'quiet'.
Winchester Science Centre with toddlers
We're just about past the toddler phase but I still have an eye out for things that make it easy for visit an attraction with young children. Winchester Science Centre is well set up for toddlers.
There's boxes and steps for kids to reach higher experiments, building blocks beside the cafe area, baby changing, kids toilets as well as adult ones, and a lift to get between the floors with pushchairs.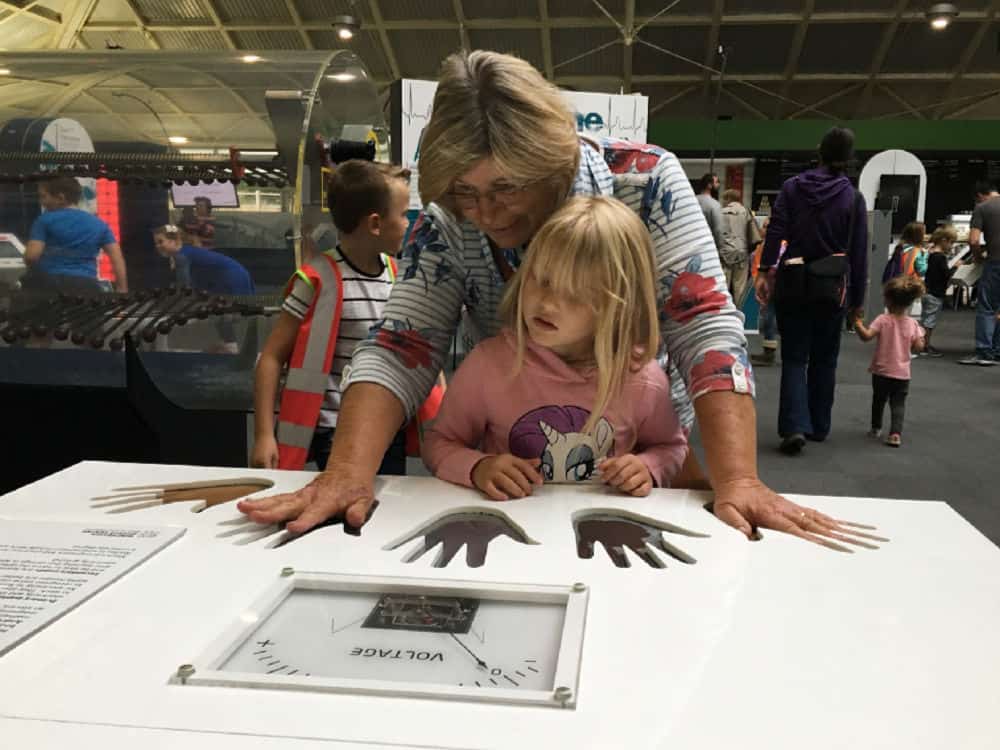 Eating
The Science Centre has a cafe with food at reasonable prices. There were kids lunch box meals including a sandwich, drink and three snacks, jacket potatoes, panini and nachos. Budget about £5 per person.
You can also save money and bring your own picnic. There's plenty of indoor seating around the centre where you can eat your own food. 
Winchester Science Centre parking
You do need to pay for parking outside the Science Centre. This costs £2 for an all day ticket. The ticket machines take cash and cards.
Winchester Science Centre prices
Book your tickets three days in advance for a 25% discount or the day before for a 10% discount. Tickets cost £7.50 per person if booked three days in advance or £10 on the day of your visit.
Winchester Science Centre review
Why have we never been to Winchester Science Centre before?! It was a great way to spend a rainy day in Hampshire and give the kids a science lesson. If you incorporate a planetarium show and visit at a weekend or during the school holidays, when there are live science shows, you could easily fill a day.
Find out more about Winchester Science Centre's events.
If you're in the South of England I have more ideas for Hampshire days out with kids.
Disclosure: we paid for our own entry to Winchester Science Centre and the planetarium show. 
Pin for later