Back to School ready with Treads indestructible school shoes + giveaway
Picture the scene: you've just enjoyed a brilliant summer of holiday with the kids, squeezed in-between work and everything else life throws at you unexpectedly. Amazing memories have been made. Maybe the odd pound has been put on from all the ice cream. And your faces are glowing from extra time in the sun. Then you remember…the kids still need new school shoes and uniforms before they go back in September. Eek!
This is usually me in the final week before school starts; wondering when we are going to fit in a trip to the shops without ruining the last few days of the holidays. But not this year. This year I'm feeling super smug because I've got everything sorted already. Uniforms, PE kits, book bags and the all important new school shoes are sorted for both Tot, who is moving up into Year 2, and Baby who is starting Year R! I know. I can't quite believe it.7
*Advertisement feature*
It was early July when I started thinking about how much less stressful the holidays would be if I could prepare everything needed for back to school in advance. And with trips to Wales, Italy and North Devon in the first three weeks of the holidays, it made total sense to plan ahead.
If you haven't already started gathering everything your kids need for school in September then now's the time begin. Save yourself that last minute panic!
My preparedness has, in part, been made possible thanks to Treads who asked me if I would like to try out some of their indestructible school shoes and their home foot measuring gauge and tape.
How easy is it to use the Treads measuring kit?
As soon as I heard about the measuring kit I thought it was an absolutely genius idea. It's perfect for someone like me who a) lives over an hour from a large shopping centre, and b) hates spending valuable family time tramping around shops when we could be exploring.
You can either buy a reusable measuring gauge and tape for £4.99, or download and print a free, step by step paper foot measuring guide.
Rather than interrupt our summer with a trip to a shoe shop I was able to measure up the girls at home and order their new school shoes online. Here's how easy it was:
The girls look super smart in their new Treads and are looking forward to wearing them from September. Tot chose the Brisbane – Mary Jane style (RRP £45) and Baby chose Alberta – Mary Jane (RRP £45).
Both pairs, like all Treads indestructible school shoes, are covered by a 12 month guarantee.
Side note: the smallest child's shoe size Treads sell is a size 11. Four-year-old Baby is a size 10 so her shoes are still a bit loose. She's certainly growing at the moment, so who knows; by September she may have grown into them!
The Treads 12 month guarantee
In the past, I've been guilty of buying Tot cheap school shoes that have fallen apart in weeks. Cheap shoes really are a false economy as you just have to buy another pair. The great thing about Treads is that they are quality shoes that also come with a 12 month guarantee.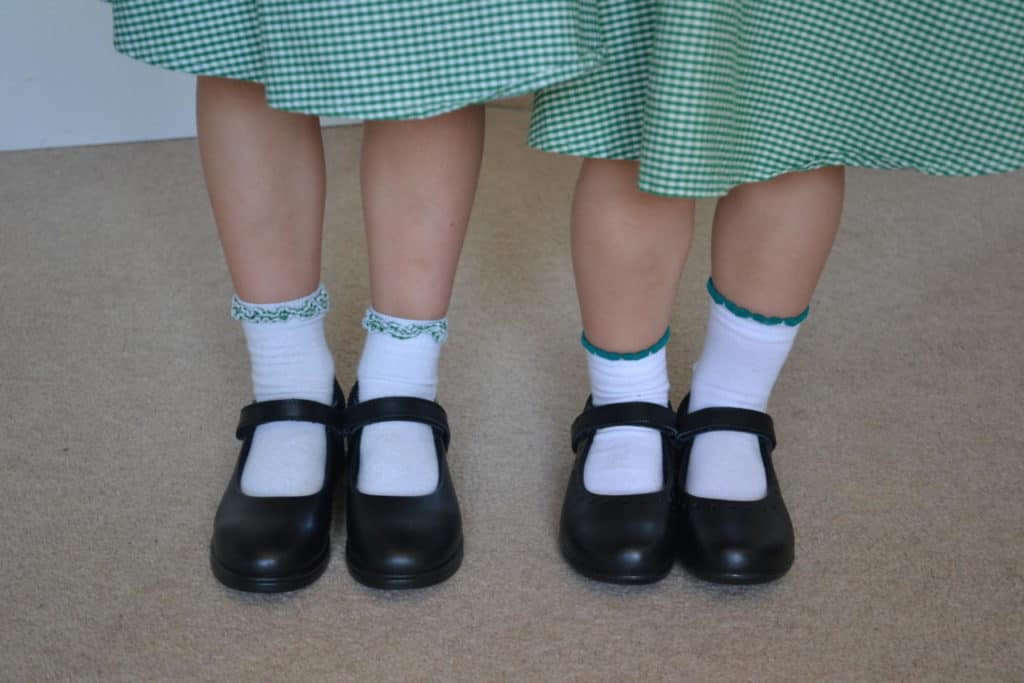 With two girls who are always on the go, this is a massive bonus. You can have your pair of Treads indestructible school shoes replaced within 12 months if:
the sole has split or is removed from the upper
the outsole is worn through into the midsole
the stitching has failed resulting in a split or torn seam
the leather upper is cracked or damaged forming a hole
a strap has detached or split leaving it non functional
the eyelets are detached from upper.
Win a pair of Treads indestructible school shoes
The lovely folks at Treads have agreed to send one Tin Box Traveller reader a pair of Treads indestructible school shoes of their choice. For a chance of winning this prize simply follow the instructions in the Rafflecopter widget below. The giveaway closes at 11.59pm on Wednesday 21 August 2019. See the T&Cs below. Good luck! 
Disclosure: we have been sent the girls' new Treads school shoes for this blog feature and Treads are supplying the giveaway prize. 
Terms & conditions:
NO PURCHASE NECESSARY TO ENTER OR WIN. A PURCHASE DOES NOT IMPROVE YOUR CHANCES OF WINNING. VOID WHERE PROHIBITED BY LAW.
The email address provided will be used only to notify a winner for this competition, and will not be shared or added onto any mailing lists.
The prize draw opens at on Wednesday 7 August 2019 and closes at 11.59pm on Wednesday 21 August 2019. Sorry, but any entries submitted after this time will not be valid. We will email the lucky winner within 30 days of the prize draw close date. If the prize is not claimed after within 48 hours of us notifying them about the win, or we feel that the entrant has not entered honestly, we will pick another winner.
The winner will receive one pair of Treads School Shoes, subject to availability.
These cannot be exchanged for prizes of similar value – unless products are out of stock. These prizes cannot be exchanged for a gift card, credit note or have their account debited of the values of these prizes, and the prize is non returnable or refundable.
For further information and see how we store your data, please check out the full Treads Privacy Policy – https://www.treads-shoes.com/privacy-policy
You must be at least 18 years of age to enter
Open to UK entrants only.