At half term we were invited to experience a caravan holiday in France with Al Fresco Holidays. The thought of sun, lungfuls of fresh air and plenty of activities to occupy the kids was too good to pass up. Plus, we were able to bring along friends which was a real bonus as Mr Tin Box couldn't get the time off work. So, off we set to the Yelloh! Village Pin Parasol campsite in the Vendée region of France.
If you like to skip to the good bits, here's a video about our stay with Al Fresco Holidays in France:
A stay at Yelloh! Village Le Pin Parasol with Al Fresco Holidays, France
Al Fresco have caravans on more than 70 sites in Europe. Pin Parasol is one of its five-star campsites and it's not hard to understand why. The grounds, bar and 2,500m pool complex are immaculate. Mobile homes and glamping tents are laid out around the park in small clusters with clipped hedges. Over on the to
uring side of the park there are spacious pitches surrounded by shady trees and colourful flower beds. Since out visit the site has had an upgrade to its main pool and bar complex.
Contents - jump to what you'd like to know
Family entertainment at Yellow! Village Le Pin Parasol
We visited in low season so a lot of the entertainment programme hadn't yet started but there was still lots for us to do.
The kids club ran in the mornings for children aged four plus, there were pool games, and quizzes in the bar during the evening.
Our kids had their fill of fun from the pool complex with its four slides, indoor and outdoor heated pools and children's splash park. They also enjoyed the large playground and bouncy castle by main reception.
During the peak holiday months of July and August there's even more going on, like pedalos on the nearby lake, circus entertainment once a week, a mini-disco for the kids, and cabaret nights.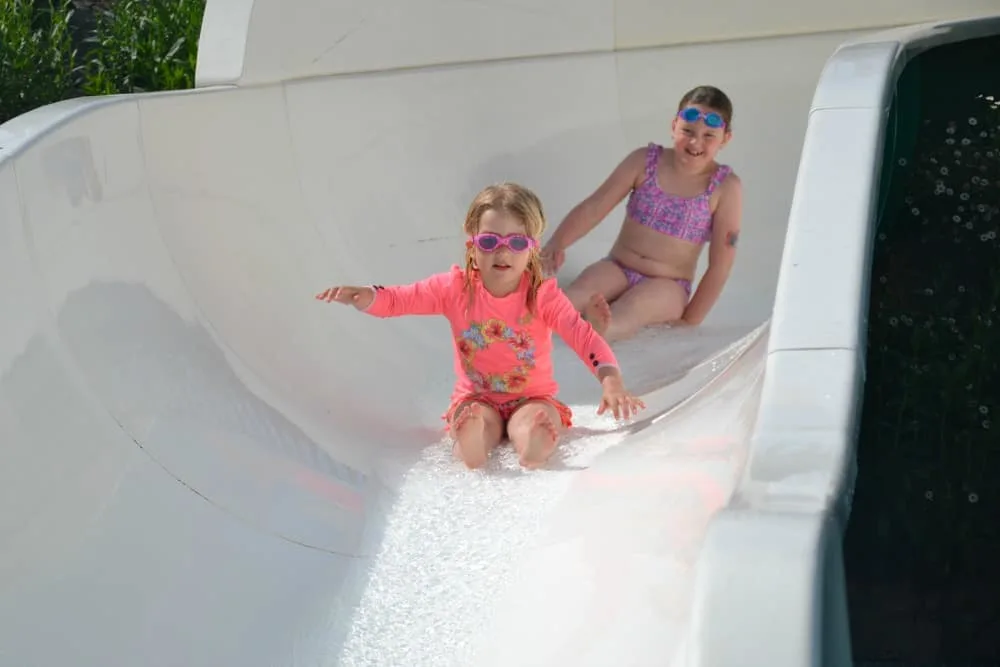 Food and shopping
We catered for ourselves during most of our holiday. If you wanted a break from cooking there was an onsite takeaway serving pizzas, chips and burgers.
The bar also had a menu of hot food, salads and sandwiches. We ate here twice and, while the food was good, it took an extraordinarily long time to arrive at our table. The longest we waited was an hour and there were only a few other families eating at the time.
My advice would be to stock up at one of the large supermarkets in Bretignolles-sur-Mer (20 minutes away) or Brem-sur-Mer (15 minutes away), or visit one of the daily local markets. The onsite shop had basic cupboard supplies, milk and fresh bread, but there was no barbecue meat, fruit or veg.
Overall this is a campsite I would recommend to friends looking for a relaxing family holiday in the French countryside. Even outside of peak season we happily filled our days at the pool, children's park and playing outside the caravans.
Pin Parasol has a lovely feel about it. Its rural location meant that the peace was only interrupted by bird song. And the small groupings of caravans set back from the roadways meant that it felt safe to allow the kids to run around outside.
Things to do near Yelloh! Village Pin Parasol
We managed to tempt the kids away from the Pin Parasol pool with a couple of days out. The campsite is about 20 minutes from the coast.
We stumbled upon the beach at Olonne-sur-Mer – a nature reserve complete with 1,200 hectares of woodland, edged by 8km of sandy beach. We loved it so much we visited twice, with only a few surfers for company.
On a cooler day we decided to do something a bit more adventurous and headed for Le Grand Defi, eight minutes down the road.
This is an outdoor activity centre with Go Ape-style tree courses, zip lines, paint balling and pony riding. The trails through the trees are graded in difficulty with courses suitable for children as young as two which was perfect for my pre-schoolers.
I've written more about our great afternoon at Le Grand Defi.
The Al Fresco Holidays experience
You can check out all of Al Fresco Holidays' locations and holidays on its website.
Once you've decided on your holiday you can opt for the hassle-free option of having Al Fresco arrange your flights and car hire, as well as your accommodation.
We thought the pre-trip process was seamless, with emails dropping into my inbox in the weeks before, giving us all the details we needed to prepare for our break.
Arriving onsite
In the days before our holiday I started to receive texts from our onsite reps. They greeted us when we arrived and gave us a tour of our caravans. Tracy and Malcolm were brilliant. They were always around to assist and helped us out with tips about the site and local area throughout our stay.
Al Fresco Holidays had their own reception onsite where we could borrow buckets and spades, check out what there was to do in the area and leave messages if we had a query.
Our only disappointment was that our mid-afternoon flights left us short on time to get to the site. We weren't able to pick up our hire cars and drive an hour and 20 minutes to the site before reception closed.
We arrived well after our Al Fresco reps had finished work. They still met us with a smile though! It was also desperately close to campsite takeaway's closing time. Thankfully we made it and the kids ate before a late bedtime.
This timing mishap was soon forgotten once we started exploring the brilliant facilities of Pin Parasol. I wouldn't hesitate to book with Al Fresco Holidays again. I might check the details of our journey in a bit more detail though.
Our Al Fresco Holidays Rossini Riviera mobile home
This six-berth mobile home was the perfect base for our caravan holiday in France with plenty of social space both inside and out. There was an open plan kitchen and dining area with a fold out double bed if needed.
At either end of the van there were bedrooms – a twin room and double – both with plenty of storage.
I know beds are a personal thing but I like mine firm. The one in our van ticked all the right boxes – it was hands down the best I've snoozed on in a mobile home. Next to the twin room there was a toilet.
The master bedroom had a good-sized ensuite shower that also opened on to the living area.
Outside there was a large decked area with al fresco dining table, two reclining seats, a clothes airer. The deck was half covered which was great for keeping the sun off us during the day and the damp at bay at night.
On the grass there was a sun bed, which I sadly didn't catch a moment to use.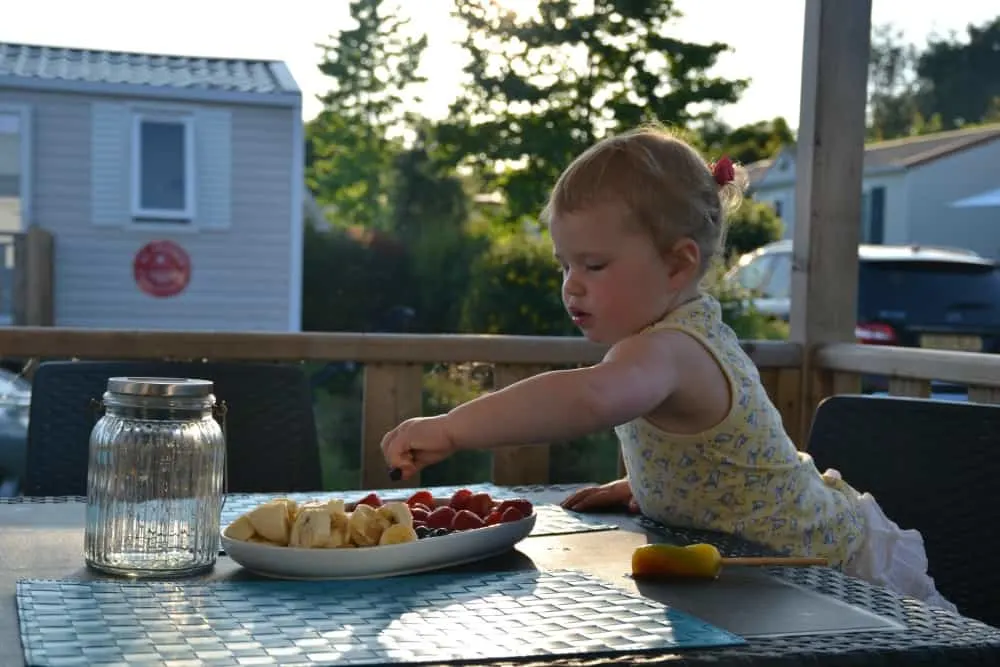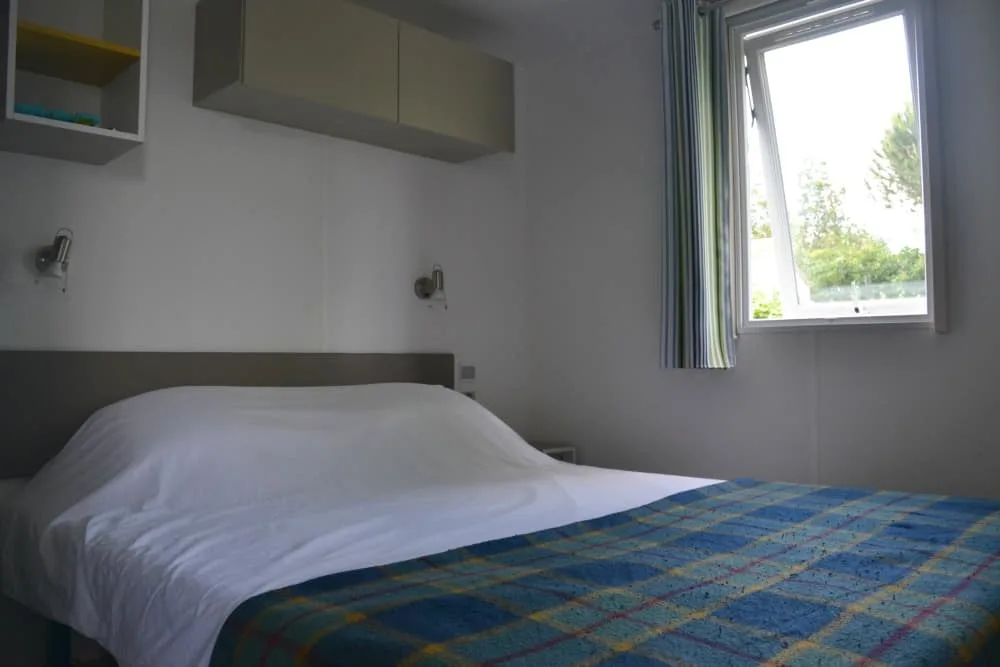 What we loved about our Al Fresco Holidays break at Yellow! Village Pin Parasol
We had such a great week with Al Fresco Holidays at Yelloh! Village Pin Parasol and came away with plenty of happy memories.
Our highlights were spending quality time with our friends, playing with the kids at the pool and the location close to the coast and c
ountryside activities. Our stress levels plummeted and there was plenty of chat about holidaying together again. And with Al Fresco Holidays campsites in five European countries, it's just a matter of deciding which destination is next!
If you're planning a trip in France with children you might find my holiday checklist helpful. Have you had a mobile home holiday with Al Fresco Holidays in France or elsewhere in Europe? What did you think?
Disclosure: my friends and family were guests of Al Fresco Holidays. All opinions are my own.
Pin for later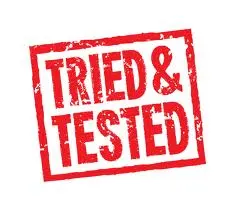 SaveSave
SaveSave
SaveSave
SaveSave
SaveSave
SaveSave
SaveSave
SaveSave