Days out in Worcestershire: Classic Nostalgia at Shelsley Walsh
If you're looking for days out in Worcestershire and are a fan of motorsport then you need to add Classic Nostalgia at Shelsley Walsh to your bucket list. Karen from Stopping at Two attended this two-day motorsport festival for Tin Box Traveller. Here's what her family experienced during the adrenaline-fuelled event:
When you think about racing cars, no doubt Formula 1 will immediately spring to mind. However, there are so many different types of car racing happening in this country, it is a pity that F1 dominates TV coverage. Most children love cars at some point in their lives, and for many, they never grow out of it. There is a real excitement from watching motorsports on the TV. However, actually being at an event is a whole other level. Not only do you get a real feel for how fast the cars are travelling, there really is nothing like hearing the roar of the engines and the smell of petrol. We were really excited to be invited to Classic Nostalgia at Shelsley Walsh and experience racing at the oldest motorsport venue in the world.
A classic day of F1 nostalgia
Shelsley Walsh is in Worcestershire and its famous Speed Hill Climb is organised by the Midland Automobile Club. The 1,000-yard course is renowned for being particularly steep. Its average gradient is 1 in 9, with one section being a 1 in 6 gradient! This means that the racing is all about power! Shelsley Walsh is not how you imagine a motor racing venue at all. The track climbs up through woodland, making a really beautiful site.
This year, Classic Nostalgia was held at Shelsley Walsh Hill Climb on the weekend of 28-29 July. It featured vintage and retro racing (categories based on the age of the cars), live music and food. This year's theme was "F1 Through the Ages". In the paddock area there was a display of modern and classic F1 cars – including the 1992 Williams FW14B in which Nigel Mansell won the 1992 championship.
The paddock itself was fascinating. There were lots of different types of racing cars, of different ages. There was something to interest car fans of all ages.
The enclosure at Shelsley Walsh
We were kindly hosted by Stratstone Club for the day. This meant that we had access to the Stratstone enclosure where we were able to overlook the start line from their grandstand. This gave us a great view and meant that the girls were able to see the start of the racing easily.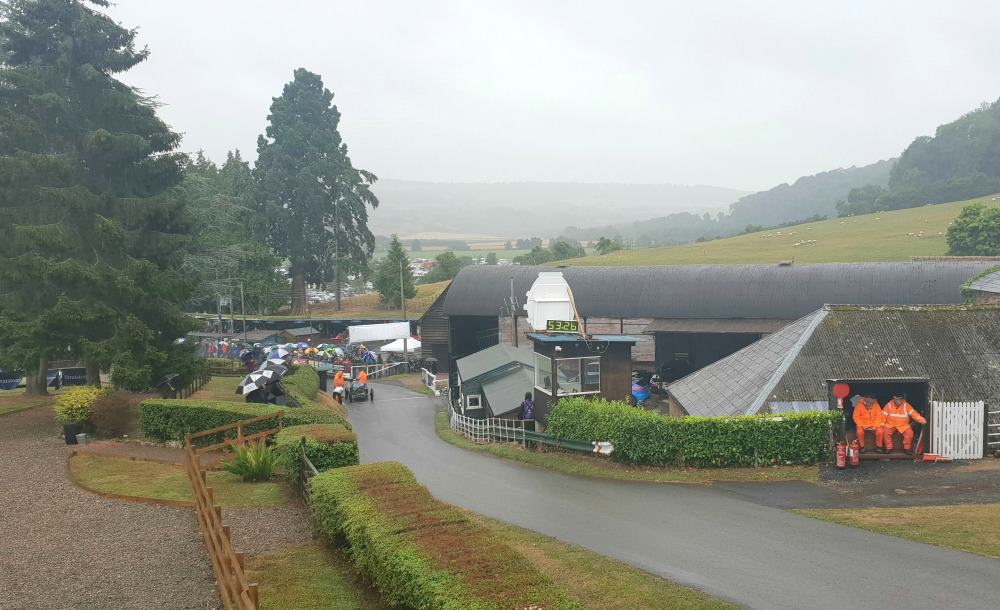 We were also able to use the Stratstone covered seating area which was brilliant as unfortunately the wonderful summer weather we had been experiencing had broken this weekend. The rain didn't spoil the weekend at all. Waterproof coats and wellies were all that was needed – and even when we weren't sheltering in the Stratstone enclosure, there was plenty of shelter from the trees as we walked up the hill to watch the racing at different points on the track.
Final thoughts on Classic Nostalgia at Shelsley Walsh
All-in-all it was a great dayout in Worcestershire. Shelsley Walsh Hill Climb is a great venue for families to visit as it is not a huge site, so little legs don't need to walk far to see some action. There are plenty of toilets and refreshment areas around the site. All you need to do is make sure that you are dressed appropriately for the weather!
Read more about Karen's day on her blog, Stopping at Two. See more highlights from this year's Classic Nostalgia at Shelsey Walsh and look out for information for next year's event on the Shelsey Walsh website.
Disclosure: Karen and her family received free tickets to Classic Nostalgia at Shelsley Walsh in exchange for covering the event on Tin Box Traveller. All words and images are copyright of Karen at Stopping at Two.
Pin for later