What to wear paddle boarding in the UK
Stand up paddle boarding is a brilliant outdoor activity for families – we are totally hooked. However, you need more than something to ride to try out this fun water sport. Here's what we recommend you wear paddle boarding in the UK in the summer and winter.
*This post contains affiliate links*
What to wear paddle boarding in the summer
We started our paddle boarding in the summer in the UK. Here's the kit we started out with:
Wet suits
Wet suits should be top of your mind when wondering what to wear paddle boarding, especially in the UK.
Baby inherited a Jakabel toddler wetsuit* from her sister when we started paddle boarding. It originally had inbuilt floats which were great for when the girls were splashing around at the beach. We would always advise wearing a buoyancy aid for water sports (see below).
Tot has had a few shorty wet suits, starting with a Nalu child's wetsuit* which we picked up during a day out at a country park. It's really flexible and lasted as long as it fitted her. Baby inherited this too.
Mr Tin Box bought a XCEL shorty wetsuit from a local surf shop. There's similar ones on Amazon*.
Wetsuits can be an awkward fit so sometimes going to a shop where you can try them on before you buy is a good idea.
Meanwhile, I picked up a £30 wetsuit from our local supermarket to see what the quality difference was. It was definitely thicker and less flexible, but it did the job.
It lasted two seasons before the seams started to give in – possibly something to do with my lockdown weight gain! Here's a similar one on Amazon*.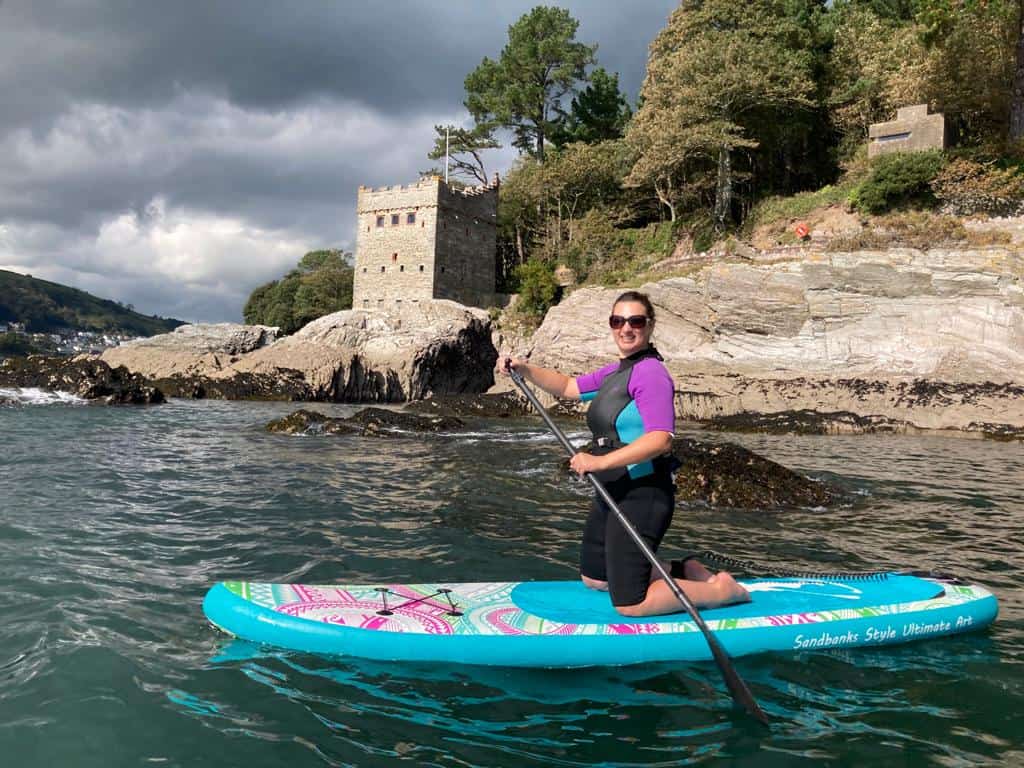 UV protective swimwear
If you are paddle boarding in the summer or in warmer climes then you can probably ditch the wetsuit and opt for standard swimwear.
I know from experience that you can burn easily when on the water – ouch! When doing any kind of water sport like paddle boarding wear UV protective swimwear, rash vests and hats to protect you and the kids.
Beach shoes
Non-slip, water shoes will help you when you are getting in the water and on the board. We have KEEN Stingray water shoes for the kids, which are fab.
Sun glasses
If you're out on the water you're bound to be picking up plenty of sunlight reflecting off the surface of the water. Good sunglasses will help to protect your eyes and your kids' eyes.
What to wear paddle boarding in winter
If you want to enjoy paddle life all year round then you must make sure you have the right gear for paddle boarding in winter.
We kitted ourselves out for the UK's colder months this winter. Here's what we recommend you wear for paddle boarding in the winter on the coast:
Winter wetsuits for paddle boarding
After feeling the water temperature dropping over the autumn we knew we would need long wetsuits for winter paddling.
Mr Tin Box went for the Xcel 5-4mm Axis X wetsuit from a surf shop local to us in Devon. It
I needed something that allowed for my curves. Circle One do wetsuits for women up to size 18. I have the Kona 3mm wetsuit. It's a summer wetsuit but the long arms and legs have kept me toasty during our winter swims in January.
Tot has a Circle One Faze kids 3/2mm wetsuit and Baby has an Australian Board Co Pulse 3/2mm wetsuit. These are also long summer wetsuits, which are fine for the short periods of time the girls are in the water. They are mostly splashing about.
Wetsuit boots and gloves
I didn't understand why people raved about wetsuit boots and waterproof gloves until I tried them myself. OMG, they are a revelation.
The simple version of the science is that if your hands and feet are cold then your whole body feels cold. So, keeping your extremities warm means you can have fun for longer.
Mr Tin Box has Xcel boots and C Skin gloves, while I have Circle One boots and these 3mm PAWHIT gloves*.
We have also got the girls boots and gloves.
Dryrobes
When you get out of the water after paddle boarding in the winter you need something you can throw on quickly to keep you warm. We've invested in a couple of Dryrobes, which do the job wonderfully.
They are large enough to change in and have big pockets for keeping essentials like phones and keys safe while you climb in or out of a wetsuit.
Read out tips for paddle boarding in winter.
More things you need for paddle boarding
Don't forget these important extras whether you are paddle boarding in the summer or winter:
Buoyancy aids
Whether you are paddle boarding in the summer or winter you need buoyancy aids for you and your family.
Something that we didn't have before starting paddle boarding were buoyancy aids for the kids. We picked up a Gul from Go Outdoors for £40 and a Circle One from a surf shop. Similar ones are available on Amazon*.
It's a good idea to talk through the various options or seek advice from a professional to make sure you get an appropriate buoyancy aid for your kid.
Read more of our tips for paddle boarding with kids.
When we borrowed boards from Red Paddle Co they also supplied us with two Airbelt personal flotation devices. Think of those life jackets they use in safety demonstrations on planes but tucked away in a waist belt that you can quickly put over your head and inflate should you get into trouble.
These have been specially designed for Red to give you the reassurance of carrying a buoyancy aid without it getting in the way.
When we bought our own boards we found these buoyancy floats*, which are very similar. You wear them like a belt and hardly notice them.
The paddle boards
We used Red inflatable paddle boards last summer and loved them, plus they are a Devon company – not that we are biased! Other brands are available. We have recently bought Sandbank SUP Style boards and found the main difference was the price.
Read our Red paddle board review and our Sandbanks SUP Style paddle board review.
Changing towels
Donning a wetsuit on the each or in a car park is no mean feat. Having a changing towel* makes this soooo much easier in the summer months.
Cool bag
If you are planning an expedition with your paddle boards then you may want to take a picnic with you. Red make a waterproof, insulated cool bag* that is ideal for this with plenty of contact points for you to secure it to the webbing on your board. It is pricy but it keeps things cold for ages so is also ideal for festivals and camping too.
Dry bag
When you are using a public beach to launch you will want to take dry bag for essential items you don't want to leave in your car. Mobile phones, car keys and cash, as well as a microfibre towel* and change of clothes can be kept drip free in a dry bag*.
Mobile phone case
If you need to keep your mobile phone accessible, which is always handy if you are paddle boarding off shore, a waterproof mobile phone case* is handy. You can also slip a bit of cash into this.
Now we can't wait to get back out on the water. Have you been paddle boarding? What kit do you always take with you?
For more travel advice and reviews take a look at my tips for smashing travel with kids and sign up to my newsletter.
Disclosure: this post contains affiliate links. If you click on a link marked with * and make a purchase then I may earn some commission. This doesn't affect the price you pay.
Planning a SUP adventure with kids? Why not save this post about what to wear paddle boarding.