Sandbanks SUP Style paddle boards review
Last summer we borrowed a couple of inflatable stand up paddle boards (ISUP) and got bitten by the bug. As soon as water sports were allowed in 2020 we got some for ourselves. Here's our review of the Sandbanks SUP Style paddle boards we bought and why we chose them for paddle boarding with kids.
*This post contains affiliate links*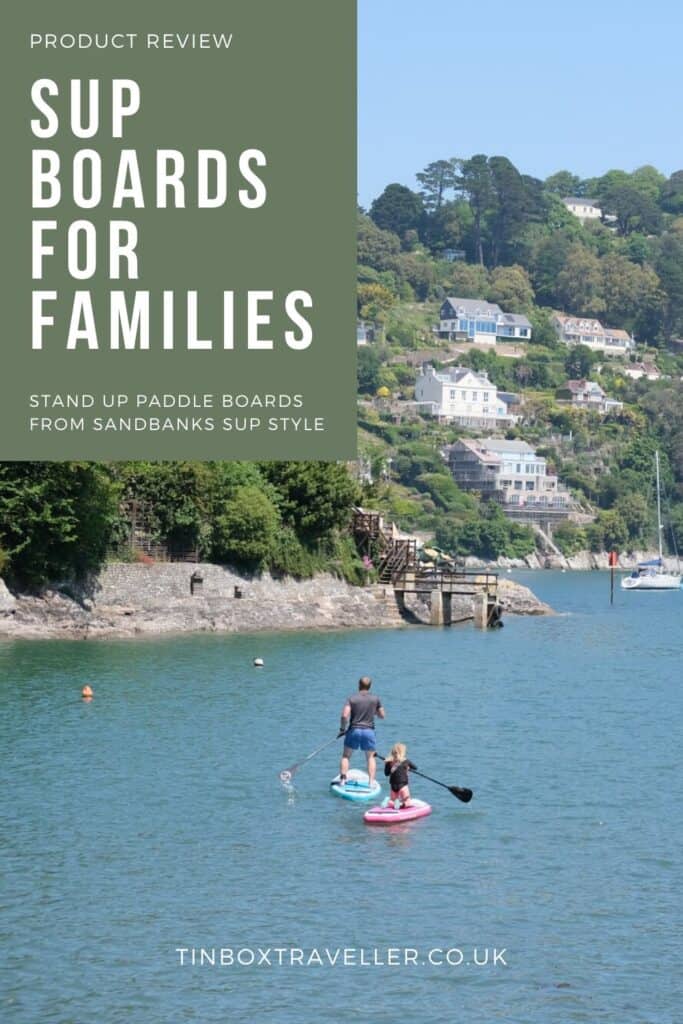 Paddleboarding is a fast growing sport and leisure activity, and an easy way to get out on the water and keep fit. We also find it is brilliant fun to do with our girls.
They enjoy sitting on the boards with us and having a go themselves. Baby was just four years old when she had her first SUP adventures with us.
Here's some more reading about SUP for families, what equipment you need to get started and tips for paddling boarding in winter.
After giving back our borrowed boards last summer Mr Tin Box spent the winter looking at options for getting our own.
Sandbanks SUP Style paddle boards
After reading many reviews and drawing up a short list, Mr Tin Box gave Sandbanks Style a phone call.
This small UK-based family business makes high quality paddle boards at a very reasonable price. They look amazing as well!
Sandbanks Style was established in 2014 with the aim to fill the gap in the market between expensive good quality boards and cheap inflatables that are little better than beach toys.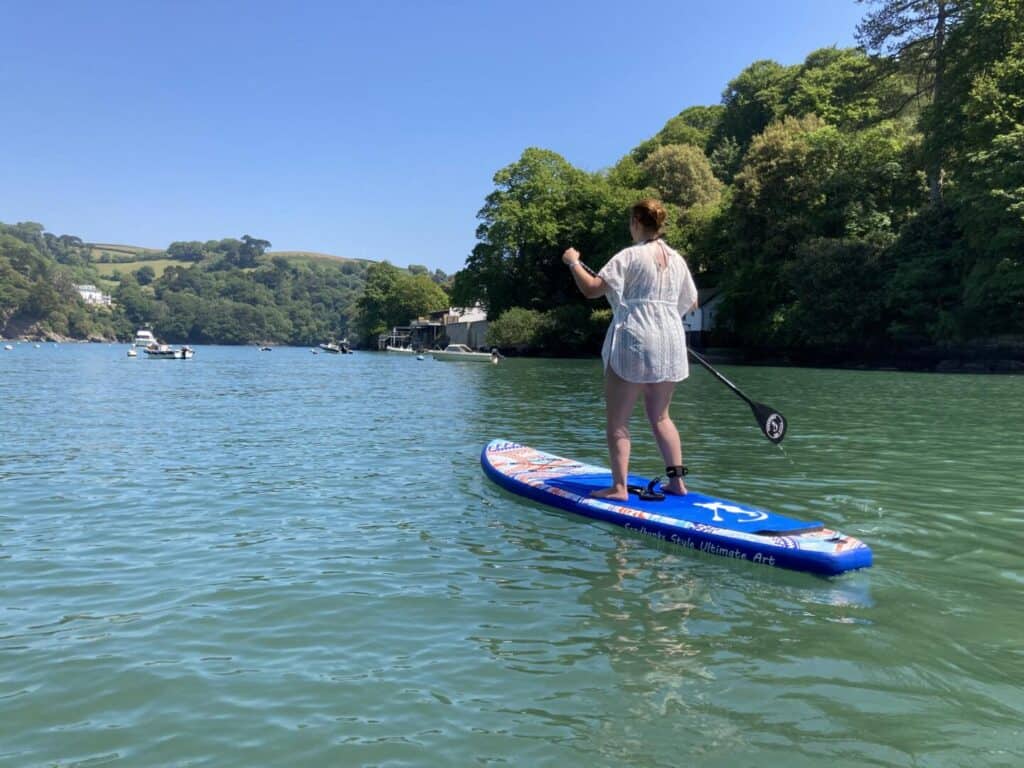 Our paddle boards
We wanted to buy boards that would be suitable for paddling with the kids and on our own. We also knew the girls would like their own kids' paddle board.
After taking some expert advice from the team at Sandbanks Style we settled on their Ultimate Boards in two different colours and a smaller Splash board designed specifically for younger paddlers.
The Ultimate board is 10'6" long and 32" wide – great for all round use.
The Splash is only 8'6" but still 32" wide, which makes it really stable in the water and great for young beginner paddle boarders.
The paddle board package
Each board come with a paddle, a two stage pump, one ankle leash, valve repair kit and wheeled rucksack to pack everything in.
When packed the bag measures 90cm long, 30cm deep and 40cm wide.
Mr Tin Box also upgraded to a carbon fibre paddle, mainly because you can sell him anything if it is made of carbon fibre!
We also bought an extra ankle leash for the kids. Finally we added a 12v electric pump to make inflating the three boards a little quicker when we get to the beach or river.
All this was quickly delivered the day after ordering!
Paddle board features
The boards come in a range of colours and patterns but you can opt for a plainer design if you want. We chose the Malibu and Maui designs for our 10'6" boards and the kids' Splash board in pink.
There is a comfortable and grippy diamond groove deck pad and a raised kick-step for step back turns for the more advanced paddler.
The boards are also shaped to ensure they glide through the water and ride over waves more easily. There are three fins, two fixed and one removable for shallower water.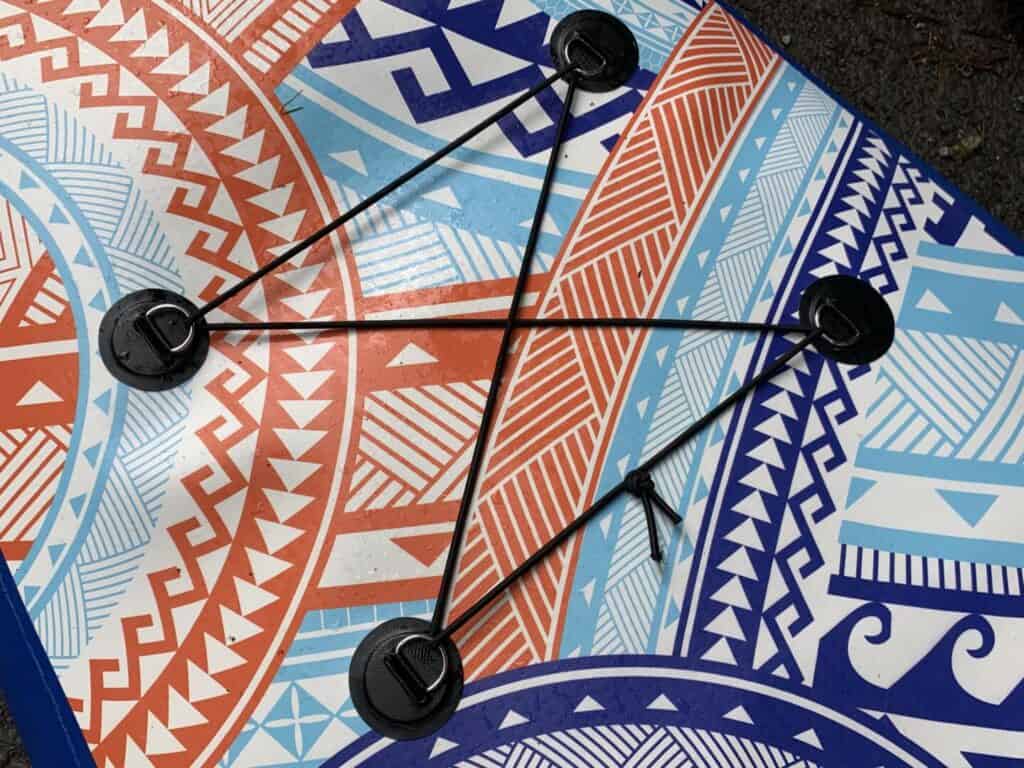 An elastic luggage strap on the front is ideal for securing a dry bag or picnic.
Here are the full paddle board specifications:
Ultimate
Length: 10'6"
Width: 32"
Thickness: 6"
Carrying Capacity: 130kg
Recommended Pressure: 18 – 20 PSI
Splash
Length: 8'6"
Width: 32"
Thickness: 4.7"
Carrying Capacity: 60Kg
Recommended Pressure: 18 – 20 PSI
Sandbanks SUP Style paddle board review
Mr Tin Box was little worried that he would be disappointed with our new boards having previously used premium branded boards. He need not have worried.
Board quality
Straight out of the box the boards looked and felt every bit as good as the premium brand. A quick test in the back garden proved they were just as sturdy once inflated.
If corners have been cut on the boards to reduce the price we certainly can not tell. The boards also come with a three year warranty for further peace of mind.
The only place where the premium boards may have had a noticeable advantage is in the accessories supplied. Whilst the Sandbanks Style wheelie rucksack is perfectly functional it lacks some of the padding and design features of our borrowed premium boards.
The manual pump is also not quite as good, but again this is not surprising as the premium equivalent retails for twice the price!
However, the carbon fibre paddle is excellent and well worth the extra. Well, that is according to Mr Tin Box.
Using the boards
We have had the boards on the water several times over the past month and they have performed perfectly. They move through the water well, are steady and comfortable to kneel on when the surface gets more choppy.
Mr Tin Box even managed a headstand at the beach.
Most of the time the girls hop on the front of our Ultimate boards while we paddle down the River Dart. I find standing and paddling with seven-year-old Tot a little easier because she is less wriggly than five-year-old Baby.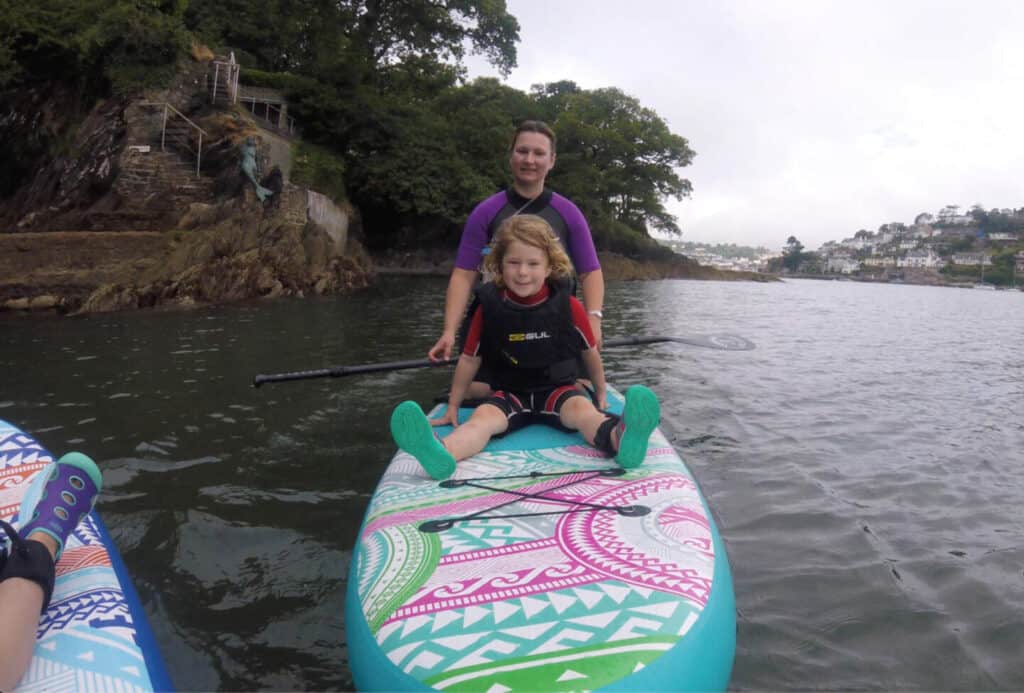 The girls have also been able to use the Splash board to stand up and paddle for themselves under our supervision. When we have gone further away from the shore we have attached their board to ours. They also wear a buoyancy aid* and ankle leash for safety.
Mr Tin Box and I also wear Restube inflatable safety devices*.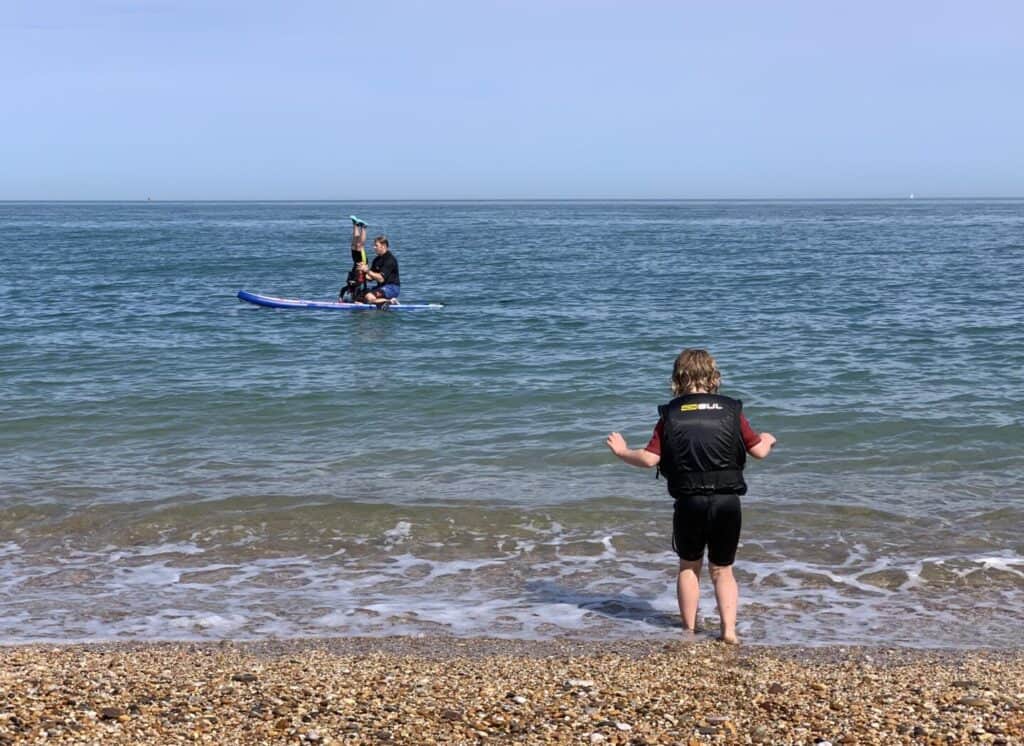 Check out our full guide to SUP safety and clothing for paddle boarding.
Look out for more about our inflatable stand up paddle board adventures in future posts.
How much do these mid-budget paddle boards cost?
Our Sandbanks Style Ultimate Paddle boards cost £489 each, the Ultimate range starts from £449. The Splash board is £339. These prices are mid-range for paddle boards but, as I've already mentioned, it really doesn't feel like there has been a compromise on quality when it comes to the boards themselves.
We have been really impressed with the service we received and the quality of the Sandbanks Style board. They are really good value for money from a UK-based family business. We would definitely recommend them if you are in the market for a mid-budget inflatable stand up paddle board.
Get in touch with Sandbanks Style for buying advice and for pricing on the carbon fibre paddle upgrade. Here's their website. Be warned that their boards have been really popular post-lockdown!
Disclosure: this post contains affiliate links marked with *. If you click on one of these and make a purchase I may earn some commission. This does not affect the price you pay.
Want more ideas for family holidays and days out? Read my tips for smashing family travel and sign up for my newsletter.
---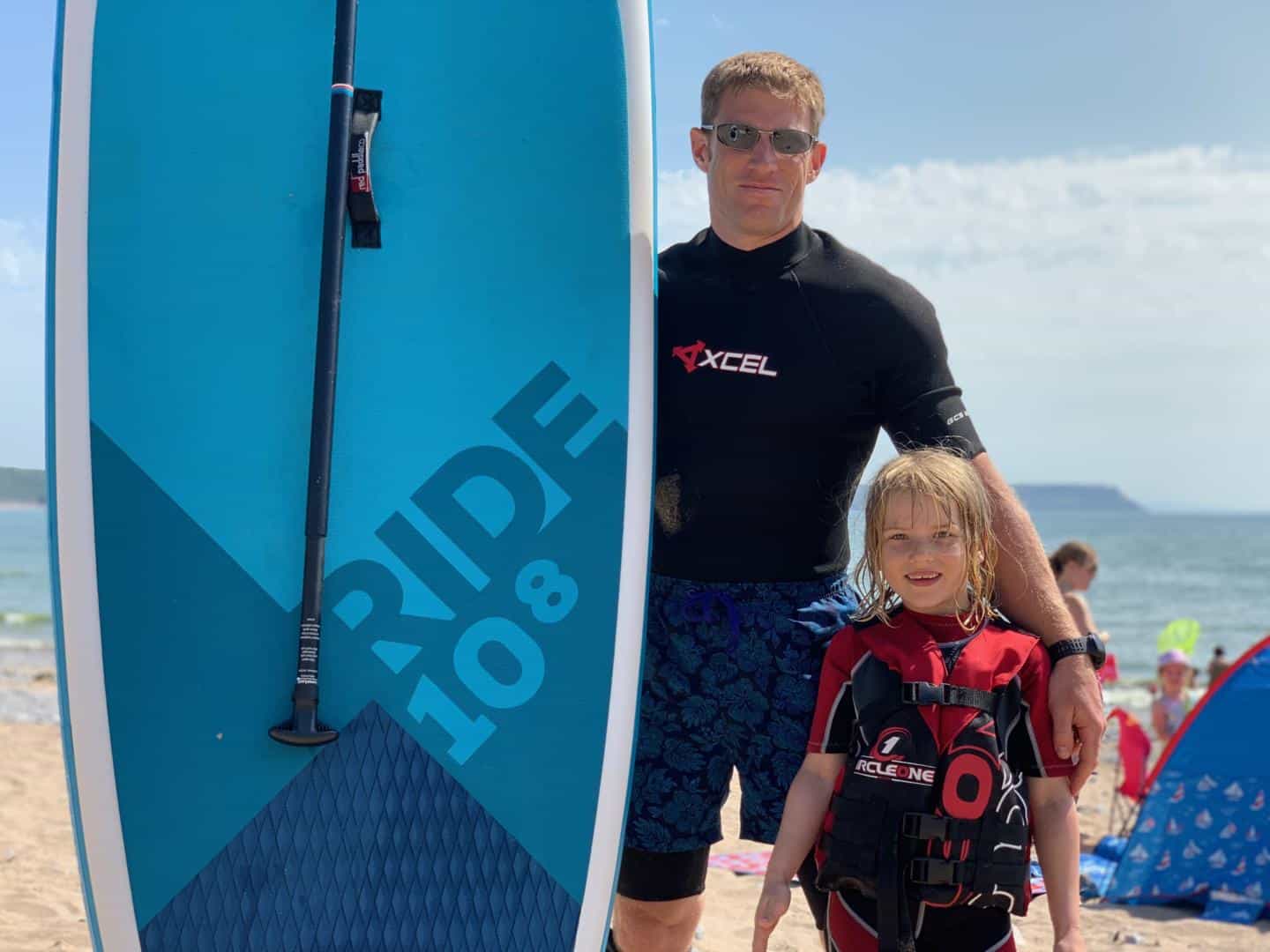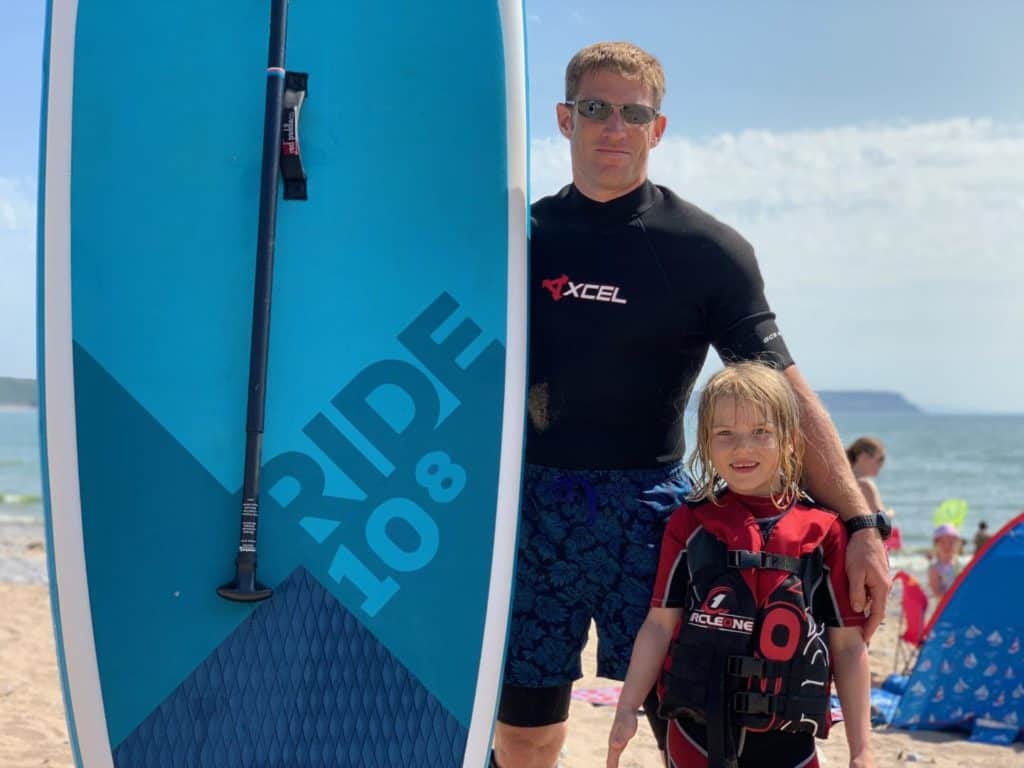 We've shared our honest thoughts on loads of camping, outdoor and family travel products here on the blog.
Want to know what we rate? Read our product reviews.
Are you looking to buy some stand up paddle boards for SUP with kids? Why not save this Sandbanks SUP Style paddle boards review on Pinterest.