7 best places to stay in Crete with kids
The Greek Island of Crete is a top destination for a family holiday in Europe. Its sparkling seas and alluring beaches balance perfectly with a backdrop of rugged, snow-capped peaks, ancient ruins and sleepy hilltop villages. But where are the best places to stay in Crete with kids?
*This post contains affiliate links*
Whether you come to throw down a towel or explore, there's plenty of things to do in Crete to compliment your holiday modus operandi. But having a good base can make or break your island getaway. In this post about family holidays in Crete, I've asked some fellow bloggers for their accommodation recommendations.
You might also like my guide to planning family holidays in Greece.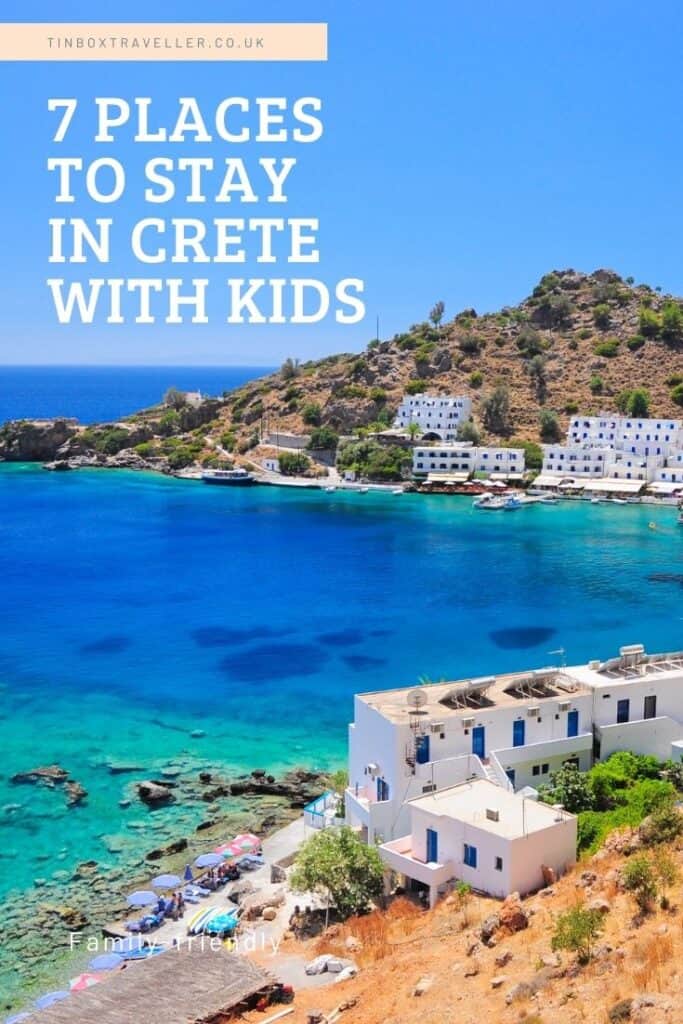 Travel in 2021: check the latest government guidance on travel to and from your holiday destination. Each country has its own guidelines and requirements for holidaymakers.
Here's a selection of the best family-friendly places to stay in Crete including hotels, all-inclusive resorts and apartments:
1. Kiani Beach Resort near Chania
An all-inclusive resort in Crete recommended by us!
If you are looking for an all inclusive resort we can highly recommend Kiani Beach Resort* near Chania. It's located on the Blue Flag beach beside the town Kalyves. As part of the all-inclusive package you have use of three swimming pools (one indoors), brilliant family suites, entertainment, kids clubs and buffet dining.
The Kiani Beach Resort team work their socks off entertaining guests throughout the day and evening. The Animation Team deliver quizzes in multiple languages, play games with the kids, and run exercise classes, as well as the Kids Club.
We had a great stay with just the right balance of activities and relaxation at the hotel. Exploring all the fun things to do in Chania was made super easy with the onsite excursions office, taxis outside the hotel and a good local car hire company.
Read our full review of Kiani Beach Hotel in Crete.
2. Galaxy Hotel Iraklio in Heraklion
This family hotel in Crete has been recommended by Gabi Ancarola from The Tiny Book Crete Travel Blog.
Galaxy Hotel Iraklion* is a fantastic 5-star luxury hotel situated in convenient and central location in the capital of Crete, Heraklion, within a walking distance from the Old Port and Plateia Eleftherias, Heraklion's main square. Therefore, staying at the Galaxy allows you to visit the main landmarks in town.
If you're staying in town for a short time and are not into visiting the beaches in Heraklion, then this place is one of the few hotels in the city centre offering a wonderful swimming pool that kids love, plus a gym and a wellness club. Dads who golf can even access the golf course the hotel features a few minutes by car from the centre.
The hotel also has an allergy-free room policy. Connecting family rooms are really comfortable and provide private spaces for each member of the family, making it a perfect accommodation for a family vacation. Kids receive a bath kit and dedicated treats including biscuits, candies, and more!
A special word should be spared for Galaxy's gastronomy. Not only does the hotel feature two fine dining restaurants with kid-friendly options, but it also serves one of the most authentic, rich, and delicious Cretan traditional breakfast you can find in town.
Renting a car in Crete is a common way to travel the island. Galaxy also features a super convenient valet service that allows guests to completely forget about the stress of finding a parking space during their holidays.
3. Santa Marina Beach Resort near Chania
This resort in Crete has been recommended by Chrysoula Manika from Greece Travel Ideas.
Santa Marina Beach Resort is the perfect place to stay if you are planning a family vacation on the island of Crete.
The hotel is located in the village of Agia Marina right on the beach with many restaurants and shops within walking distance. The city of Chania, one of the must-see places in Crete is only 5km away from the hotel. It can be easily reached by car, public bus or taxi.
The hotel boasts over 200 rooms, two restaurants, and three bars. A traditional Cretan night and a karaoke night are also organised weekly.
This 4 star Crete hotel* has direct access to the beach, swimming pools including a children's pool, a mini club for children over four-years-old with recreational activities, and a children's playground.
Finally, there are specially designed dishes in the restaurant for the kids. All in all, the Santa Marina Beach Resort is an excellent choice for families who want to enjoy a relaxing holiday near Chania.
4. Andreas Apartments near Heraklion
These family-friendly apartments near Heraklion are recommended by Sylvie Simpson from Travels with Eden.
One of the best family-friendly accommodation options in Crete is the Andreas Apartments in Gouves.
Gouves is located just 19 miles from the capital, Heraklion, and it's the perfect resort for families. Choose between numerous beaches, world-class cuisine and many tourist attractions.
The Andreas Apartments are just a few minutes walk away from the beach. The small apartment complex has a friendly atmosphere, a pool and a snack bar.
Rooms are very suited for families with cooking facilities and comfortable beds. Cots can also be provided if you're travelling with little ones.
The Andreas Apartments have lots to keep the kids entertained. There's a large playhouse packed with toys from pool toys to bikes for use during your visit.
The snack bar serves up excellent value cuisine, from chips to milkshakes and Greek specialities.
There are also some fantastic restaurants on the same road as the apartments. The Paradise restaurant serves up traditional Greek cuisine, and there's a large play area for the kids.
Just a short walk away, you'll find the Island Hotel Bar and Restaurant, which serves world-class cuisine overlooking the beach. There's also a play area here, including a large bouncy castle!
5. Alcanea Boutique Hotel in Chania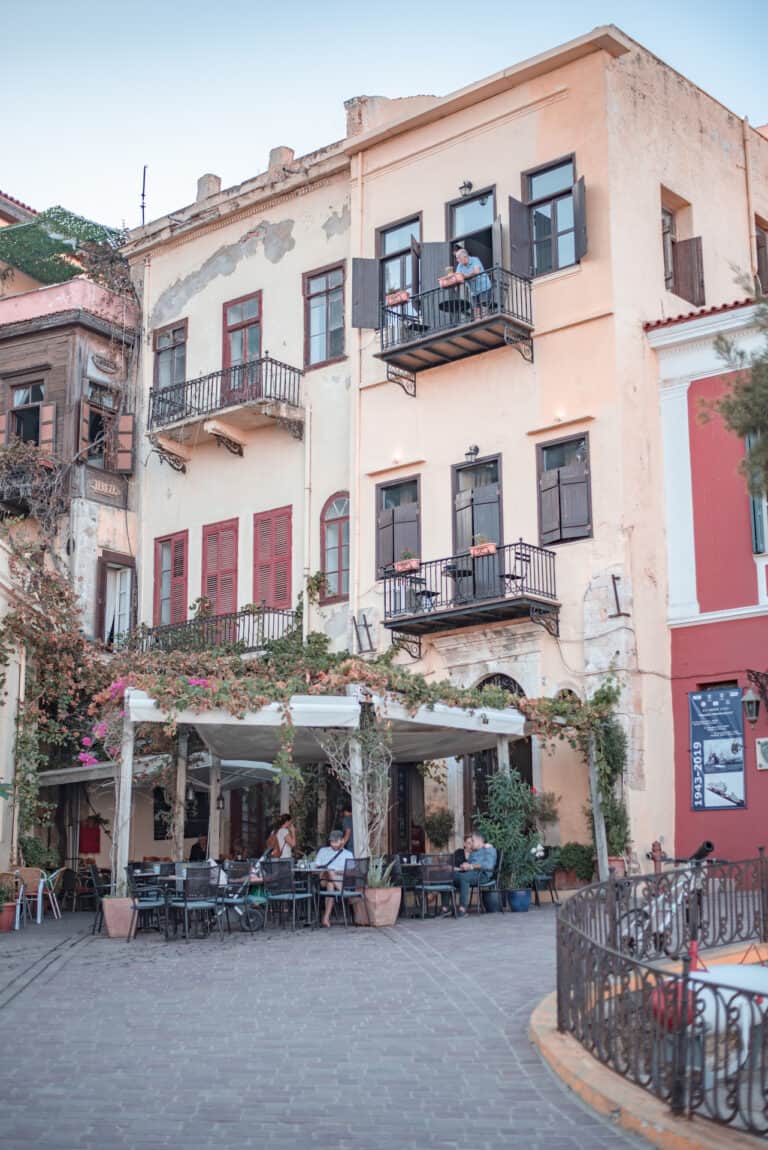 This family hotel in Chania has been recommended by Elena Pappalardo from The Carry-On Chronicles.
Alcanea Boutique Hotel* is the perfect accommodation for families seeking an affordable and spacious stay in a prime location. Ideally situated along the Old Venetian Harbor in Chania, this boutique gem was beautifully restored back in 2011. However, it still retains its historic charm and offers guests beautiful views of the Old Port.
The property offers eight spacious rooms, including a family room that can accommodate up to five. Plus, the hotel's colourful and stimulating decor is ideal for children.
There are also two common areas – inside and outside – where families can stretch their legs, as well as a café and wine bar on site.
In addition to the family-friendly nature of the property, the Maritime Museum of Crete is just next door. This museum makes for a fun family outing and is a popular place for school trips.
Plus, the hotel is conveniently located just steps away from numerous restaurants and eateries, so guests won't have to travel far to find a meal for their hungry kids.
6. Almyrida Residence Hotel near Chania
The family-friendly hotel in Crete has been recommended by Earth's Magical Places.
Located on the north-west coast of Crete, within a small town of the same name, the Almyrida Residence is a fabulous hotel with a modern and elegant feel.
The town of Almyrida is about 45 minutes away from Chania and other popular spots on the island. However, despite being small, with a friendly local feeling, the town is well established for tourists with plenty of delicious restaurants and things to do.
For example, there is a gorgeous beach with shallow water making it great for young families.
The hotel itself is packed full of amenities and is also perfect for families! There's a stunning rooftop infinity pool (with a highly rated restaurant terrace) and even a spa for the adults.
Meanwhile, there's a child-friendly pool on ground level, along with a bowling alley, to keep the kids entertained.
With panoramic views over the beach and the Lefka Ori mountain range, there's not much more you could hope for when looking for somewhere to stay in Crete.
7. W Suites in Stalida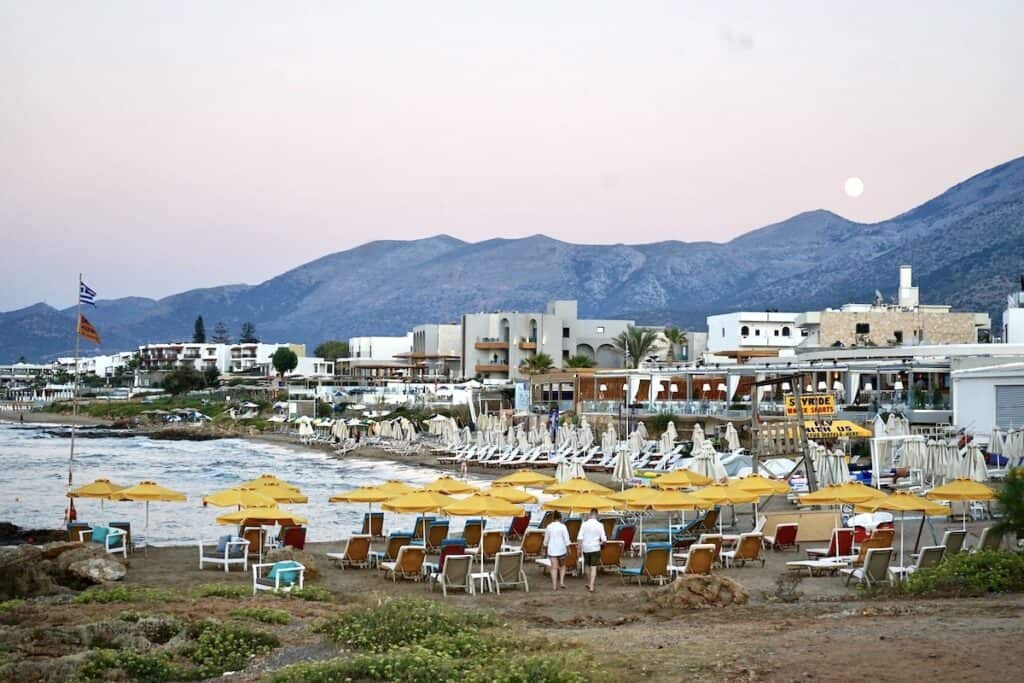 These apartments in Crete have been recommended by Andrew Balfour from Motor Sport Guides.
Located in the pretty coastal village of Stalida (also known as Stalis), W Suites* offers affordable
rental apartments that are perfect for families with small children.
The apartments are newly renovated with small kitchens, well-appointed private bathrooms and large terraces.
The resorts' large swimming pool has a separate wading pool for children, sun lounges and a bar
serving drinks and snacks. There's also a spacious private garden where your children can play
safely.
W Suites is about 300 metres from the nearest beaches, including several family friendly resorts
where you can rent sun lounges with free use of a swimming pool.
The resort is also within easy walking distance of local restaurants and shops in both Stalida and Malia. The terminus of the 'Happy Train' is also a short distance from W Suites – this is a great way to get your bearings in the area and your kids will love riding the train.
More places to stay in Crete
If you'd prefer a private villa, take a look at TUI's Villa holidays* on this Greek Island. A villa is the ideal place to stay in Crete if you are looking for somewhere to have a larger or multi-generational holiday.
Take your pick from villas with private swimming pools*, villas with sea views* and larger properties* for that special family gathering.
If you're wondering about the best time to visit Crete, how to get around or what to do while you're there, check out my guide to planning a family holiday in Crete.
Disclosure: this post contains affiliate links marked with *. If you click on one of these and make a purchase I may earn some commission. This does not affect the price you pay.
Planning a family holiday in Crete? Use Pinterest to save this post about the best places to stay in Crete.