Hampshire days out: a ride on Hythe Ferry and exploring Southampton on foot
Last month we towed our caravan, Tin Box, to Blackfield on the edge of the New Forest in Hampshire. It's a great location for exploring the National Park and for hopping on the Hythe Ferry to Southampton.
In all of the 30-odd years we lived in Hampshire this was something we'd never done. So it seemed like an excellent mini-adventure to kick off our break with Tin Box Nana, Grandad and the cousins.
Here's what to expect during a ride on Hythe Ferry and what there is to see in Southampton on foot when you get there.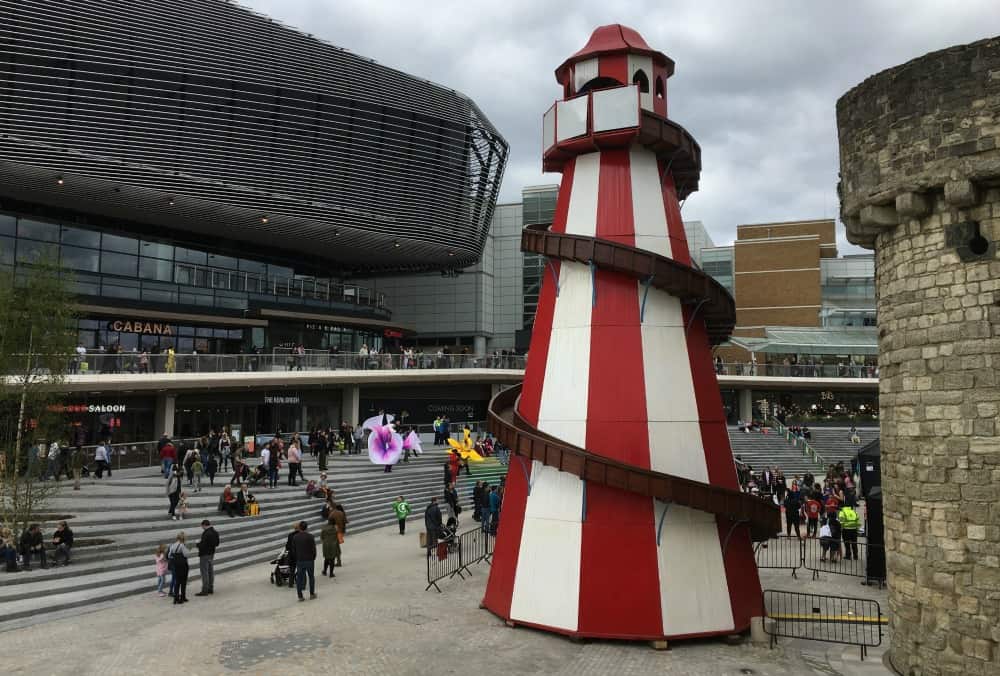 Historic Hythe Ferry and Hythe Pier
There's been a ferry route between Hythe and Southampton since the Middle Ages. The current Hythe Ferry was built in 1946 and it's far to say it has seen better days.
You reach the ferry at the end of Hythe Pier – the UK's seventh longest pier and a 640m walk into Southampton Water. It's also home to the world's oldest and longest pier train.
King George VI was once a passenger. He rode in the front carriage as he went to deliver a message of support to the assembled troops before they set off for Operation Overlord in 1944.
There's a drawing pin on the back of the seat where the King sat. A much grander plaque once marked the spot but this has been 'misplaced' over the years.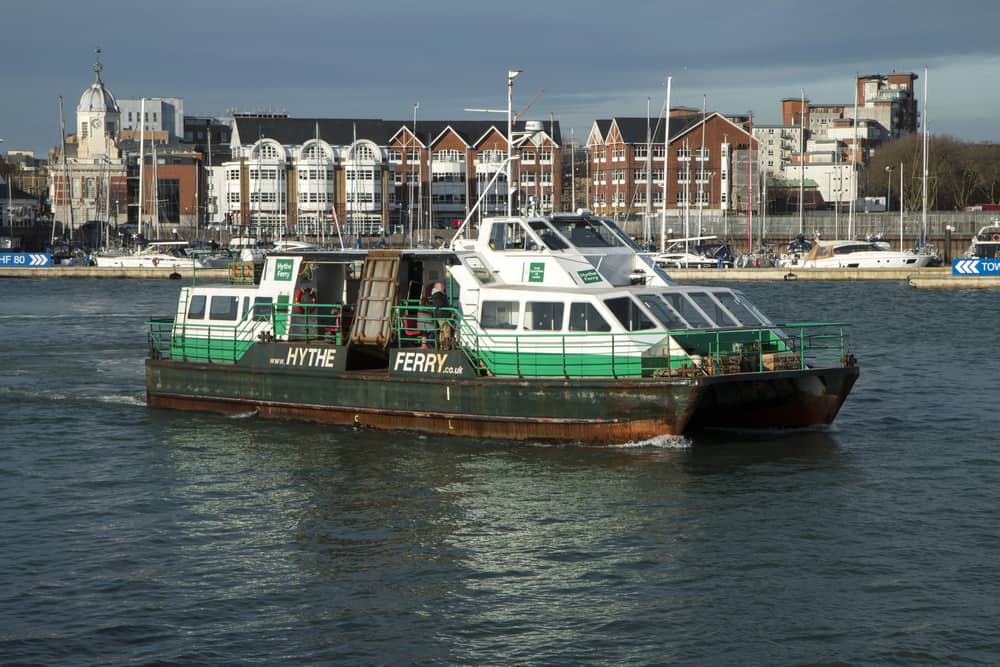 What to see during a ride on Hythe Ferry
The Hythe Ferry is a great way to see the comings and goings of Europe's leading cruise port. You can see plenty of sights usually reserved for passengers onboard the luxury liners and Isle of Wight ferries.
You can ride the Hythe Ferry for a fraction of the price, albeit with a bit less glamour.
Speaking of cruise liners, P&O's Britannia was busy welcoming a new set of passengers as we sailed by. They were off to the Mediterranean – yes, I did cast a lustful eye over the cruise itinerary from my iPhone.
This 143,730 tonne ship looked massive from our pea-green ferry boat. However it's not the biggest liner to birth in Southampton. The world's largest cruise ship, Harmony of the Seas, has visited a number of times dominating the port's skyline like a bobbing apartment block.
Southampton is also the place where most of the UK's export cars are crammed onto container ships bound for foreign shores. We saw dozens of Minis and Range Rovers being driven onboard an enormous container vessel.
The mind boggles at the value of all those cars. Let alone the number of drivers who must have been involved in the complicated game of auto Tetris inside.
During our 20 minute crossing there was also time to wave at the Red Jet and Red Funnel ferries carrying holiday makers to the Isle of Wight, marvel at the tiny tug boats steaming out to greet new container ships wadding down Southampton Water, and pick out some familiar landmarks.
The mouth of the River Hamble, the Itchen Bridge and even the Spinnaker Tower in Portsmouth were all visable from the water.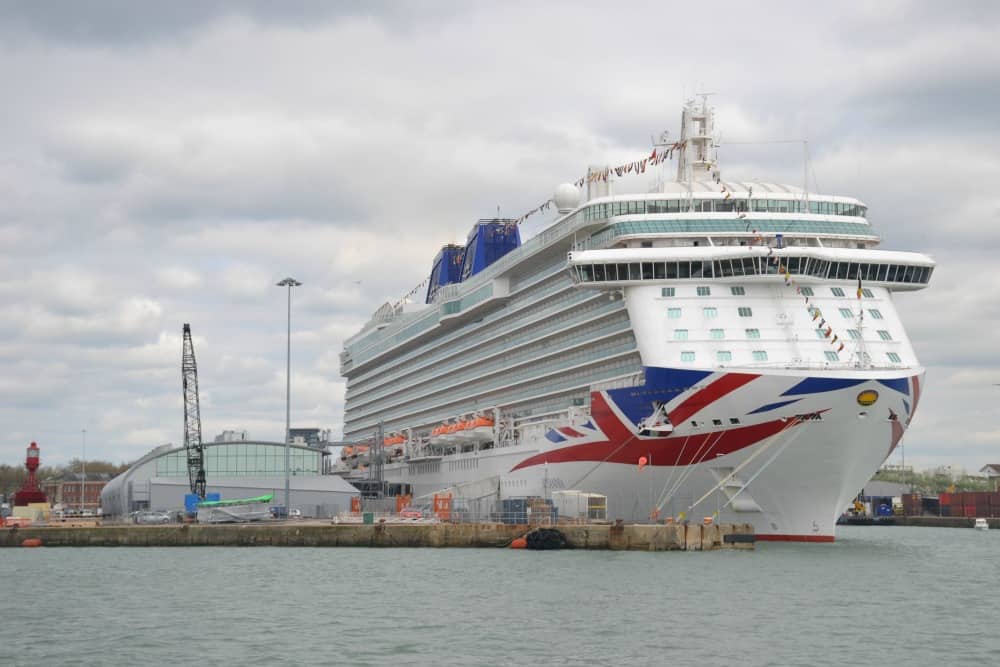 Things to do on foot in Southampton
After our short voyage we came alongside at Town Quay in Southampton. Mr Tin Box and I are no strangers to the city having been to University, lived and worked there. So it was refreshing to walk around as tourists.
I did a bit of retail therapy in West Quay (my excuse was I totally forgot to pack undies for our trip!) and marvelled at the new West Quay 2 leisure complex.
Meanwhile the girls and their cousins explored Southampton's merchant trading past at the Tudor House and Garden.
All of these places are within walking distance of the Hythe Ferry.
We got to them via an indirect route wandering around some of Southampton's medieval city walls and vaults. Another Southampton claim to fame is that it boasts the third longest stretch of unbroken medieval city walls in England.
Things to do in Southampton with kids
If you have longer to explore Southampton with kids I can recommend a visit to Southampton Art Gallery and SeaCity Museum, which are a 20 minute walk from Town Quay.
The art gallery is free and holds regular children's workshops, while SeaCity Museum tells the story of Southampton's maritime history and local connections to the ill-fated RMS Titanic.
For more ideas on what to do in and around the city take a look at my guide to things to do in Southampton with kids.
Essential information about the Hythe Ferry
The prices below were correct at the time of publication. Check the Hythe Ferry website for up-to-date information.
A family ticket costs £19 and includes a ride on the world's longest pier train to and from the ferry.
We parked in the long stay car park in Hythe which is within walking distance of the Pier. This cost us £3 for four hours.
If you'd prefer not to walk into the city centre, there's a bus service, Quayconnect. This runs from the ferry terminal at least every 30 minutes. This costs £2 per person for unlimited day travel or it's free if you're a Red Funnel or National Rail customer that day.
Picture credit: Due to the unique nature of travelling with two pre-schoolers I didn't get good shots of Hythe Pier and Ferry during our trip. These images are courtesy of Shutterstock.
Pin for later