Tin Box Traveller Diaries: April 2017
What a treat April was! I began the month with a glorious week in Cornwall with my little family and ended it in London at a conference with the best group of online buddies a blogger could have. That's not to mention a brilliant and busy trip to Hampshire to see family and friends in-between. April is definitely my favourite month of 2017 so far.
Here are my highlights from what we got up to at home, away and on the blog in April:
Home
We've managed to wean Tin Box Baby off her dummy during the day so no more pictures like this! This has been a major project as she has been really reliant on it, as have I! But we've cracked it thanks to a lot of family time and persistence this month.
Tin Box Tot got her school place for September and luckily it was our first choice. Phew!
And here's the big one: we exchanged contracts on our new house in Devon and will be getting the keys early in May.
Travels
Our very first trip of the month was to Cornwall where we stayed at St Ives Holiday Park for a week. I have a major soft spot for Cornwall and loved being there again after our last trip at Christmas.
A week later we hitched up Tin Box for her first outing of the year and set off for Hampshire. We spent the Easter weekend at a caravan rally on the edge of the New Forest and then pitched up at a small site near our parents' houses. This gave me a chance to do a couple of days in the office of the PR company I work for and a few more days to catch up with family and friends where we used to live.
On the last weekend of April I took a solo trip to London for the Traverse travel blogging conference. I went to this in Cardiff last year and had a ball. This year was even better with lots of learning, catching up with fellow family travel bloggers and a smattering of sightseeing.
Adventures
At the every beginning of April we teamed up with Devon's Top Days Out to experience some of the family attractions in South Devon. We really enjoyed revisiting Woodlands Family Adventure Park and going to Pennywell Farm for the first time. I even made a little video.
In Cornwall, we had some great days out at St Ives, the Minack Theatre, Land's End and the Cornish Seal Sanctuary. We were very lucky with the weather and managed a couple of beaches trips too.
Further East in Hampshire we took a trip on the Hythe Ferry to Southampton for a wander around the city centre. The Tin Box girls and their cousins looked around the famous Tudor House while I shopped in West Quay – lucky mummy! The next day we drove to Lepe Country Park, which is so close to the Isle of Wight that it feels like you could reach out and touch it. Our final sight of our Hampshire trip was Calshot Castle. This sits on a spit at the mouth of Southampton Water on the Solent. I will get round to writing about all of these places in more detail very soon.
Back home in Devon, the girls and I had one final engagement with the Easter Bunny at the Palace Theatre in Paignton.
And to round up the month, I couldn't believe my luck to see so many sights (from afar) during my trip to London for Traverse. A river cruise on the Saturday night was brilliant for ticking off the iconic landmarks like the Thames Barrier, Tower Bridge, the London Eye and the Palace of Westminster. I've now got a serious taste to return and explore more.
Blogging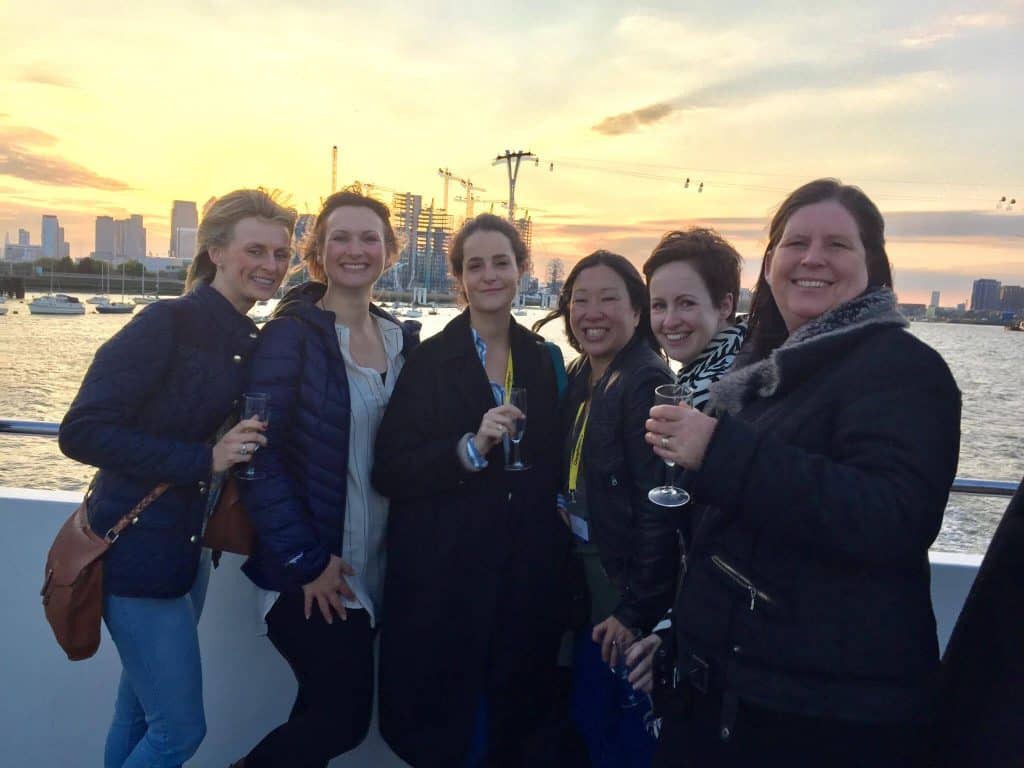 The blogging highlight of my month has to be Traverse and meeting up with a fab bunch of family travel writers. If you're looking for holiday inspiration, tips on travelling with children or destination guides from around the world these ladies are inspirational. They're also a lot of fun! I'll be writing a separate post mentioning many of them to give you a pointer for future reading.
A opportunity that came my way thanks to my Devon blogging connections was the chance to judge the Exeter Baby Activities Family Favourite Awards. In the last week of April I helped whittle down the nominations in two categories to four finalists a piece. It was a tough job, but helped me get to know our new home county even better in the process. The winners will be announced in May.
In April I worked with: Just So Festival; Villa Plus; Leightons Opticians; Palace Theatre Paignton; Visit Cornwall; John Fowler Holiday Parks; Trespass; Devon's Top Days Out; and Hawkeshead.
As well as my Devon attractions video, I also put together one about our trip to St Ives with John Fowler Holiday Parks and Visit Cornwall:
As ever, thank you so much for reading! I love hearing what people think about my blog so feel free to leave a comment below or browse around. You can also find me on Bloglovin', Twitter, Facebook, Instagram, Pinterest, Youtube, Google+ and LinkedIn.