Land's End with kids: Cornwall's most southwestern family attraction
If you think Land's End is all about the iconic sign post then think again! I was under this misconception until we looked into visiting during our Easter break in Cornwall. As it turns out there are nine different things to see and do on the most southwestern tip of mainland UK. That's not to mention the cafes, restaurants, shops and a hotel that has been welcoming guests since the 1850s. Here's what we discovered when we were invited to review Land's End during our family holiday in Cornwall.
Here's a bit more about our Easter holiday in Cornwall:
Land's End with kids
About Land's End
There's evidence of people living at Land's End from 10,000BC, and this epic piece of coastline has had custodians since 1066. However, it wasn't until the arrival of the Great Western Railway at Penzance in 1959 that tourism really took off.
The wildlife, walks and views have always been a draw. But in the 1980s other attractions were added to Land's End to make it an all-weather, family destination.
Lands End's interactive family attractions
I was a bit worried about what my two pre-schoolers might think of the high tech attractions, especially the 4D Cinema and Arthur's Quest. These interactive and mood lit experiences sounded like great fun to me. However, I thought they might be a little scary for a four-year-old and her nearly two-year-old sister.
When I picked up our tickets a very friendly receptionist talked me though each of the attractions, telling me what to expect. This was such a help as I was able to prepare four-year-old Tin Box Tot – she has been known to get dramatic when confronted with new experiences.
After thinking we'd have to give the cinema and Arthur's Quest a miss, we ended up doing both. In the cinema we watched a 20 minute animated film – The Lost World, which is a dinosaur adventure. The girls thought their 3D glasses, moving chairs and the water spray were hilarious.
They were a little more wary during Arthur's Quest but were coaxed through the dark corridors and mirror maze by the promise of stamps on their Quest sheet. The Quest is a search for King Arthur, Camelot and Excalibur, with scenes of the gory aftermath of battles, an animatronic dragon and ghostly apparitions. Most of it went over the girls' heads. Mr Tin Box and I enjoyed it though, particularly having the voice of Bryan Blessed guide us through the experience. I'm really glad we got to see this attraction but I do think it's more suited to children over the age of seven.
An audience with Shaun the Sheep
The Shaun the Sheep Experience was right up our girls' street. By chance we had watched Shaun in the City the week before so they were excited to see their new woolly hero. The experience is a life size walk through of recreated Aardman sets, with props and activities along the way. Throwing poo at the pigs was a hit.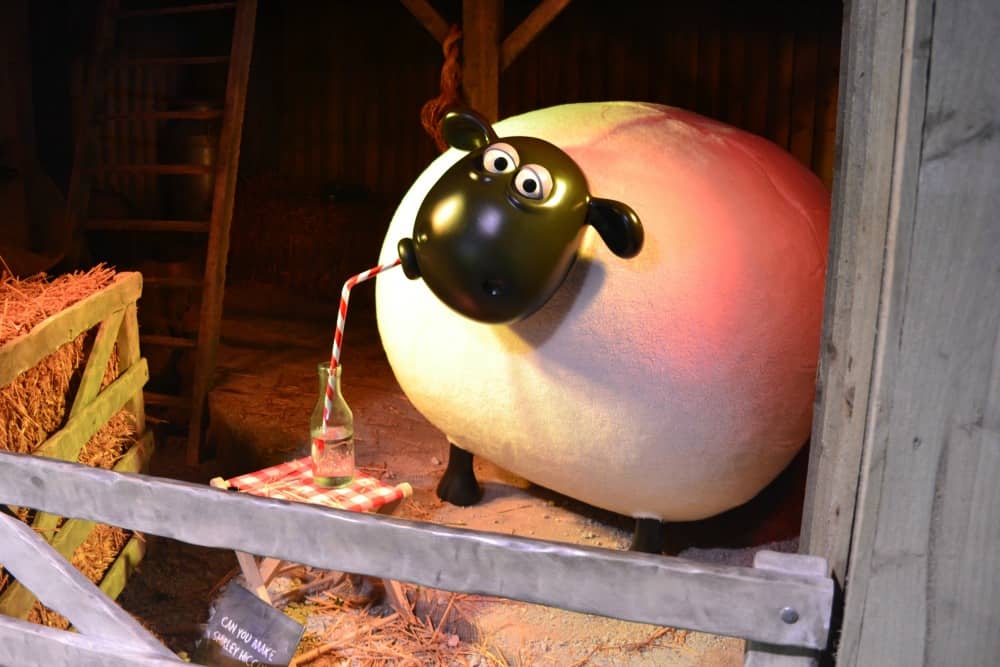 We managed to complete all three of these experiences in about 45 minutes thanks to the unique attention span of our girls. I can imagine families with older kids spending more time reading about the Aardman animation processes. You could also have a go at making your own short films.
Cornwall's most southwestern farm
Greeb Farm is a short walk away from the modern attractions. This is a 200 year old farmstead with wonderful views of the Lands End coastline. Here we met the spring lambs, ponies and goats. We weren't able to feed the animals during our visit because of the threat of avian flu and fear of attracting birds carrying the virus. However, we were were still able to pet them and also saw roaming chickens, ferrets and ducks.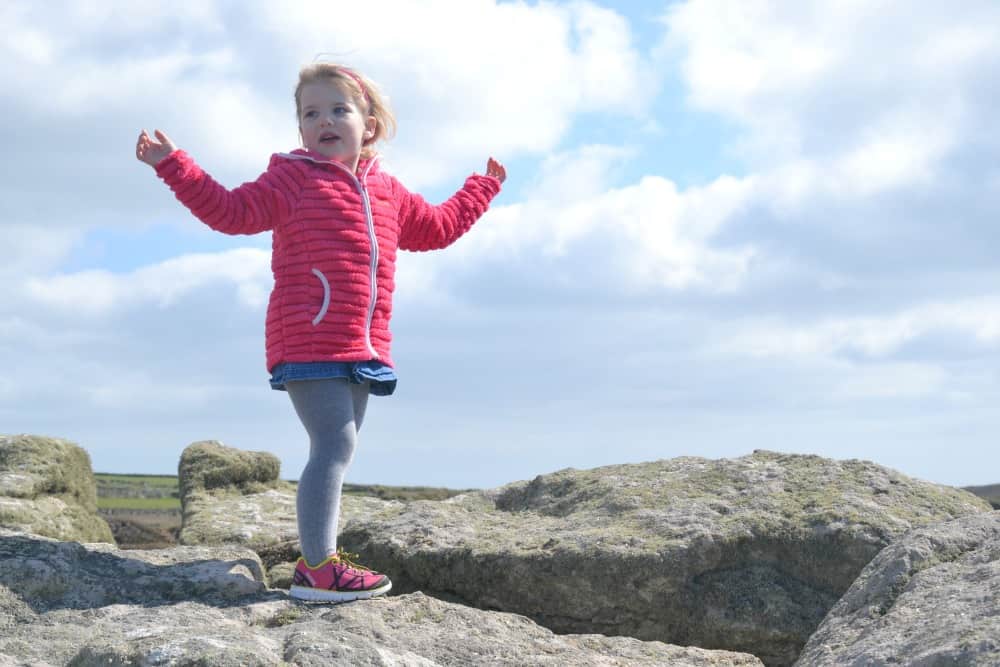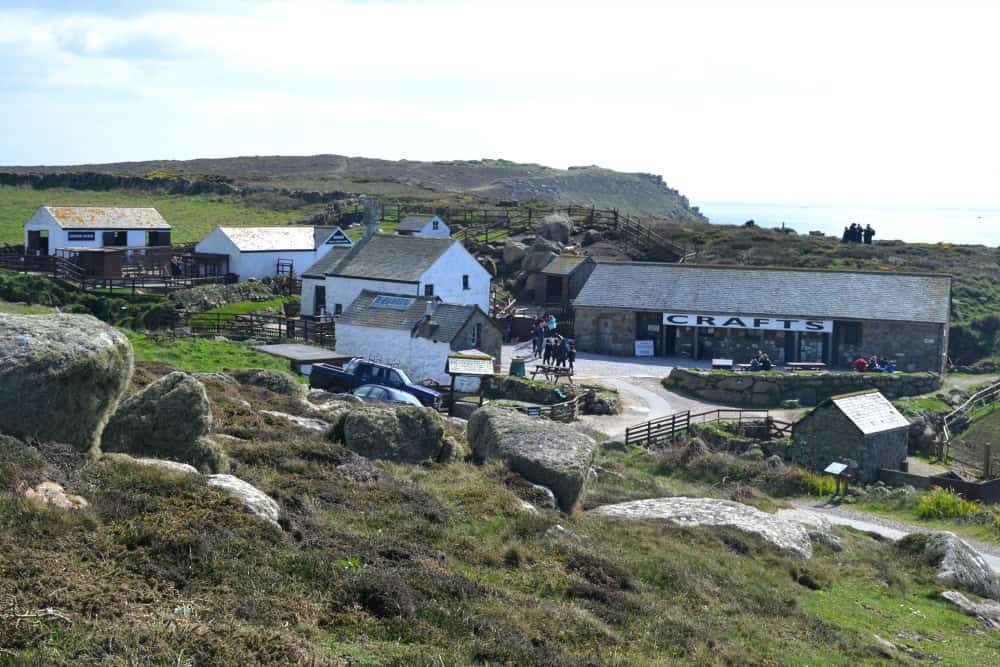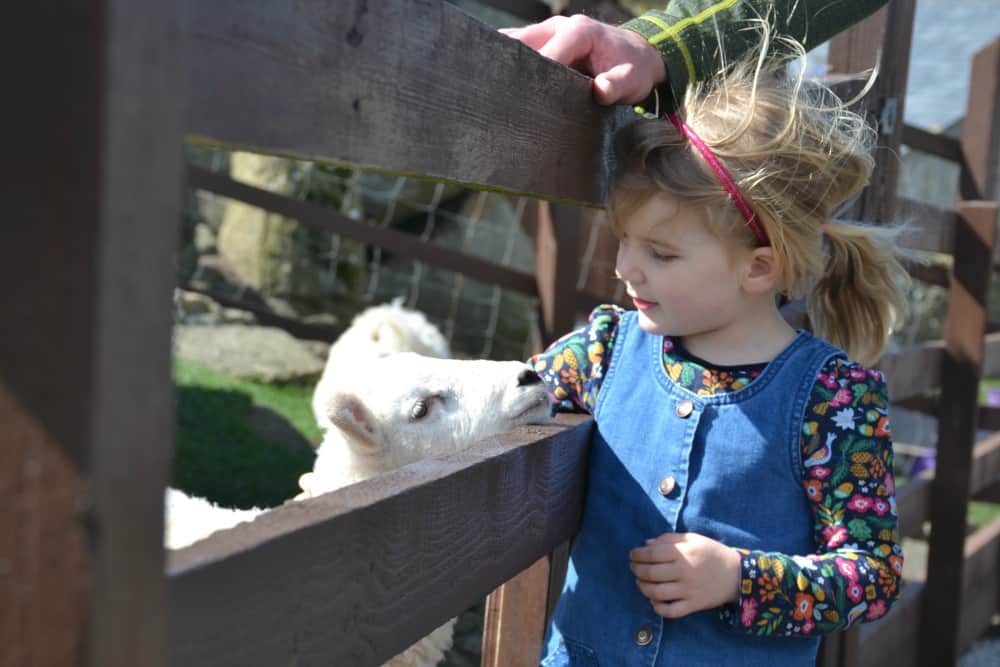 Next to the farm there's a craft workshop where a lovely chap showed us how he was making silver jewellery. I'm not sure whether the girls were more intrigued by the red hot silver, the jewellery-maker's pirate-esque garb or the sleeping cat on his desk.
We finished off our visit to Land's End back at the main visitor centre. Here we got our obligatory pictures with the sign and enjoyed a proper Cornish ice cream.
We easily spent half a day at Land's End with our kids and would have spent another half day walking the family and dog-friendly coast path.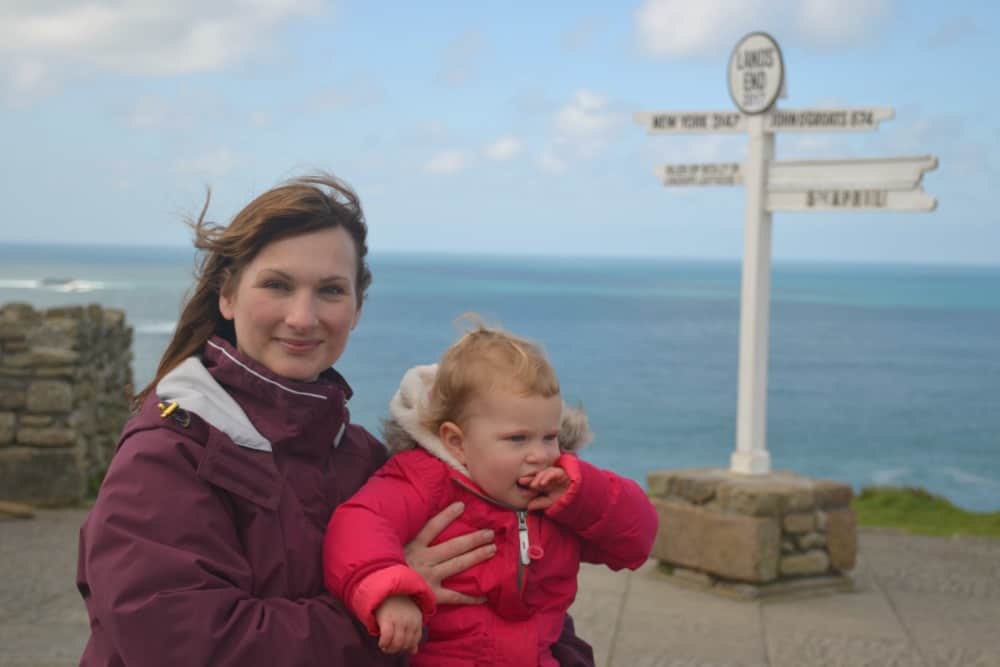 Handy information: Land's End with kids
We had an all-inclusive family attraction ticket. This covered The Lost World 4D, Arthur's Quest, the Shaun the Sheep Experience and Greeb Farm. Book online for a 10 percent discount.
There's lots you can do for free at Land's End with kids too:

you can visit The End to End Story to learn facts about Lands End;
kids can play on the slides, climbing frames and zip wire of the Wreakreation Play Area;
you can walk the coastal paths (pick up a guide from the visitors centre);
you can have a picture with the sign;
and you can look at the decommissioned life boat.

Parking costs £3 all day.
Dogs are allowed in the main visitor centre, farm and coast walks. They are not allowed in the shops, interactive attractions or some of the restaurants.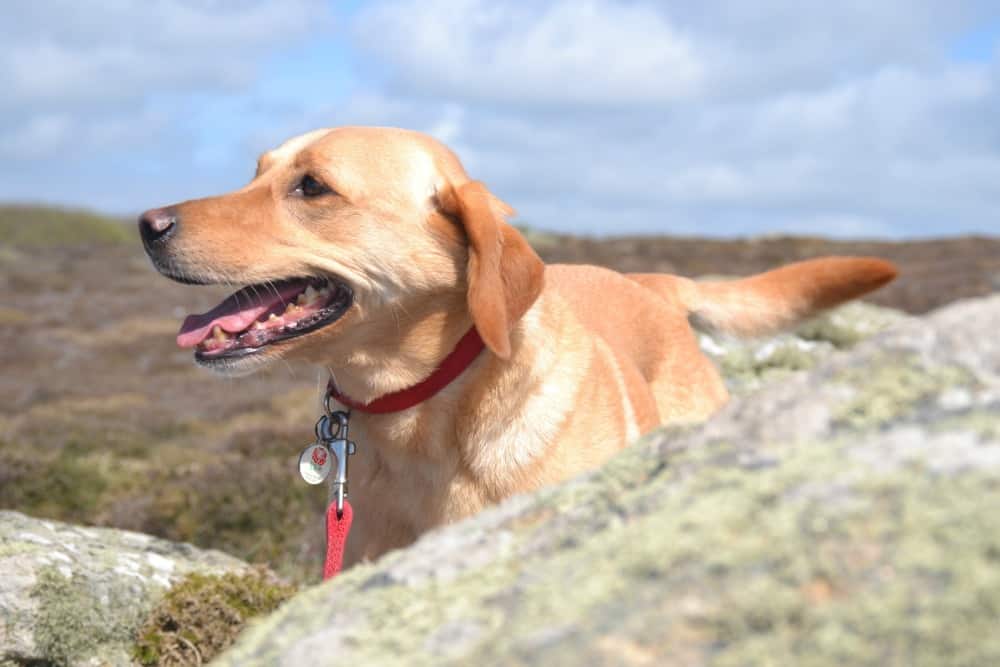 Have you been to Land's End with kids? What did you think?
Disclosure: we were given a family pass for Land's Ends interactive attractions for the purposes of a review. All opinions are my own and those of my family.
Pin for later