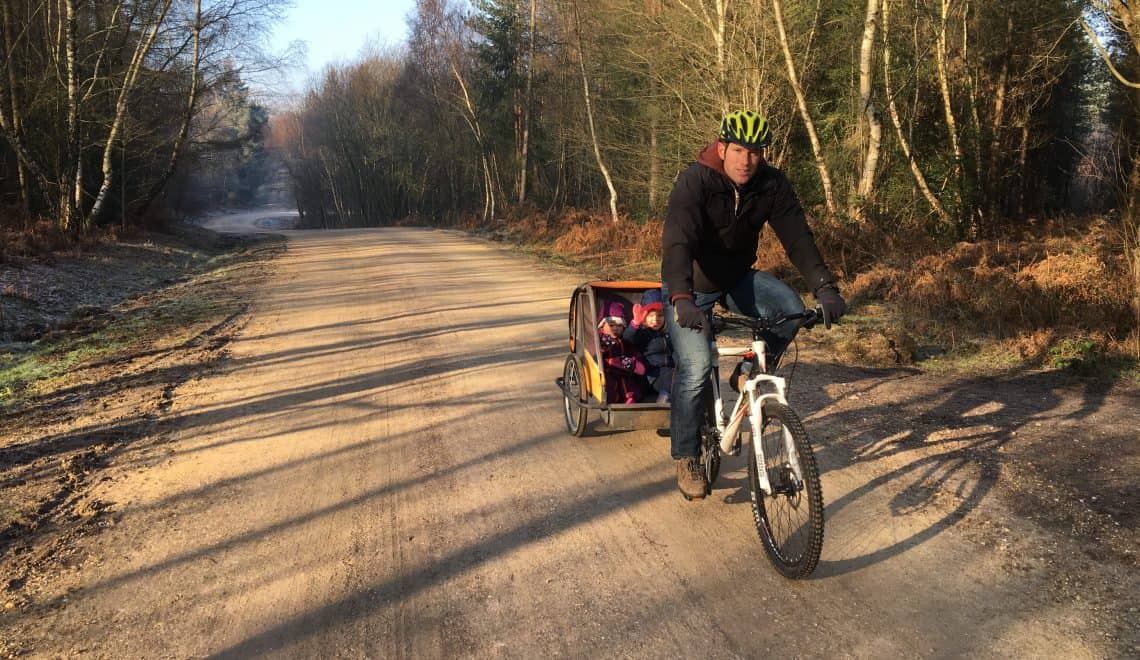 Family cycling at Alice Holt Forest, Surrey
Back in January we spent a wonderful weekend staying in Surrey. It was at the height of the UK's first big freeze of 2017 and the days were bright, clear and cold. Very cold! But the sunshine enticed us outside to see what the area had to offer families. One activity that had been recommended to us a couple of times was cycling at Alice Holt Forest. On our last morning we decided to head there to hire some bikes and explore the forest with our two pre-schoolers.
About Alice Holt Forest
Alice Holt Forest is a beautiful Forestry Commission site which sits on the most northerly border of the South Downs National Park. It's a great day out with something to entertain all the family including relaxing woodland walks, play areas and themed trails, miles of cycle paths and even a Go-Ape for thrill seekers.
It's also the starting point of the Shipwrights Way. The 50 mile path to Portsmouth gets its name as it follows the route that fallen oak trees would have been transported along from Alice Holt to the south coast's Medieval ship building yards. Walkers from all over the UK come to follow the path. However, those not quite up to a 50 mile trek will be pleased to know there are numerous other trails to suit all abilities, including some that are wheelchair and pushchair accessible.
For younger visitors there are a range of play parks and trails.  The Easy Access Discovery Trail is suitable for all abilities and has numerous activities signposted along the way from den building to looking for creepy crawlies. There are also some Gruffalo-themed sculptures to hunt down – perfect for motivating the tiniest of ramblers.
Hiring bikes at Alice Holt Forest
We only had a few hours to spare before the end of our weekend so we knew we had to use it wisely. So, as Tin Box Tot is really getting into cycling at home we opted to explore on two wheels.
At this point I'll admit that I was slightly trepidatious as I haven't been on a mountain bike for years. Mr Tin Box, on the other hand, has two of his own and is often found hacking around tracks in the Brecon Beacons as part of his job.
We hadn't booked any bikes but the Alice Holt Cycle Centre was able to supply us with two bikes and a trailer for the girls. We had intended to put four-year-old Tot on a tagalong but her legs were just an inch too short. Luckily Mr Tin Box enjoys a bit of a challenge. He took the trailer with both girls leaving me to concentrate on remembering how to ride a bike.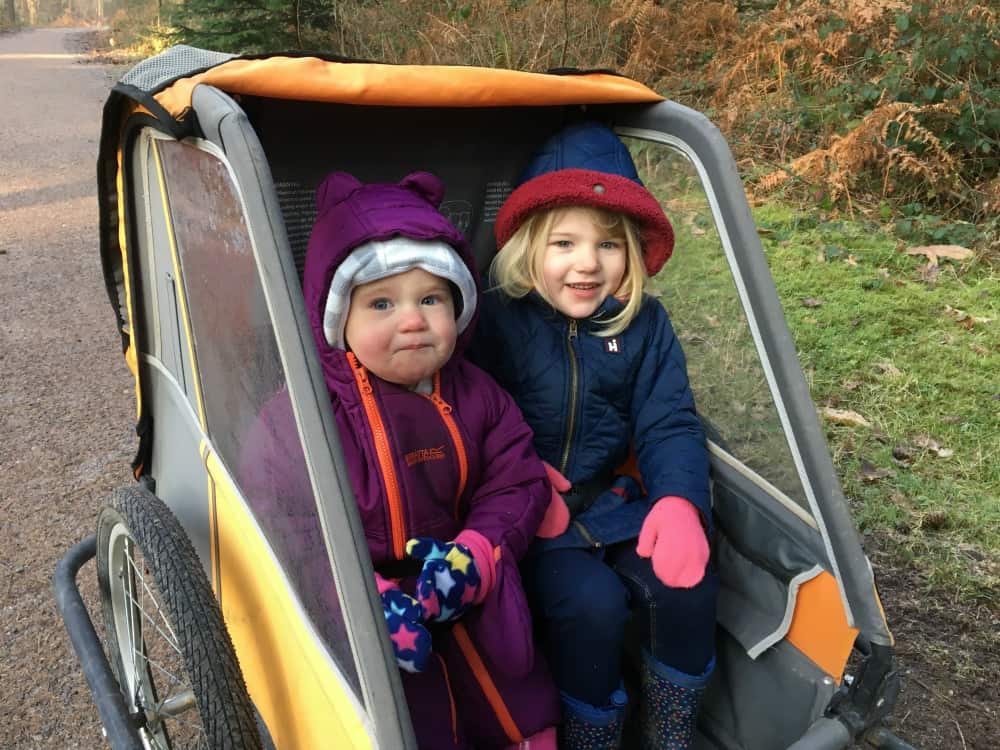 Family cycle routes
There are six trails for walking and cycling around Alice Holt Forest. We chose the Family Cycle Trail – a three mile route suitable for most riders with only a few hills and wide flat paths.
Mr Tin Box was soon speeding off into the distance much to the delight of his passengers. There were squeals of 'faster Daddy' and 'Wheee' way ahead of me on the trail as I began to remember how much my bottom would hurt the next day. This, and the fact I was experiencing some issues with my gears, meant I followed on at a more steadily pace. The upside was I was able to appreciate the scenery and the low, bright winter sun beaming thorough the trees.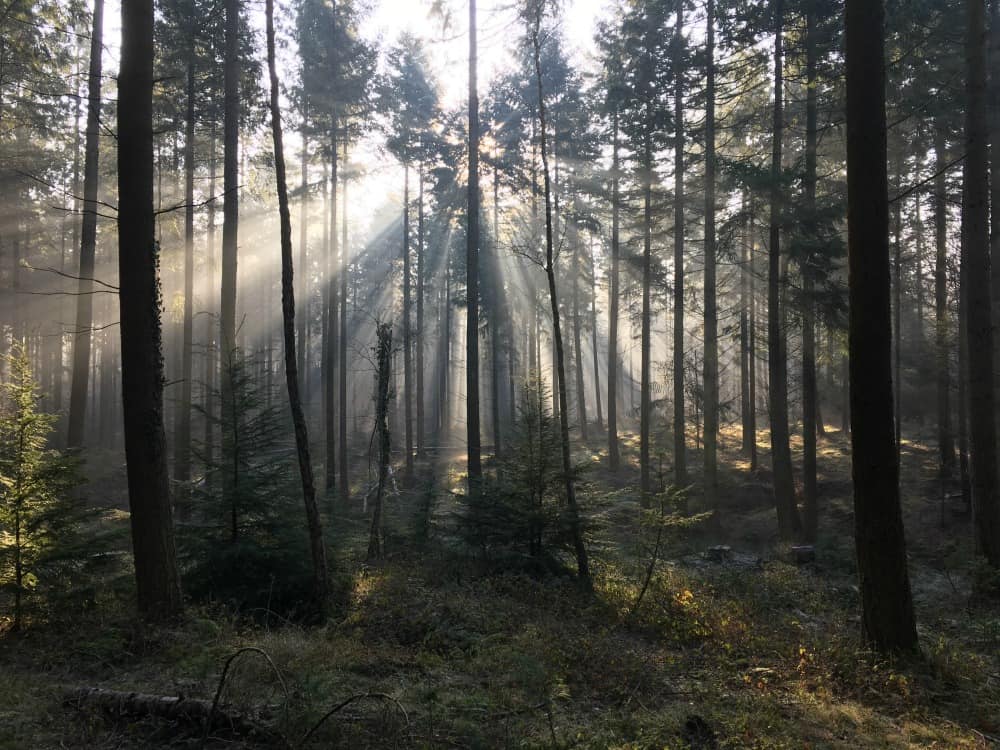 Points of interest in Alice Holt Forest
There was plenty more to see during our ride including a fantastic sculpture called Semiconductor, which is a visual representation of scientific data collected at the forest.
We also stopped at Lodge Pond, which is popular with local fishermen and a perfect spot for a picnic in warmer months. There would have been room for us to pack a small picnic in the girls' trailer which had a large storage pocket behind the seats. However, having had an enormous breakfast at Bel & The Dragon where we were staying, lunch hadn't even crossed our minds.
Nearly an hour after we'd set off we returned our bikes to the cycle centre. The Family Cycle Trail was ideal to help me get back into cycling – not too long and not too many hills. And, the girls loved their first experience of a bike trailer with Daddy as their chauffeur.
After dropping off the bikes we stopped at the play park for a rather icy run around. This was followed by a well earned drink and cake from the temporary catering van. The main cafe is being refurbished to provide new indoor and outdoor seating. This is due to be completed in early 2017.
Tips for cycling at Alice Holt Forest
Book your bikes in advance if you are visiting during the spring and summer months.
You can borrow helmets. Bring your own if you have them and remember gloves if it is cold. I forgot mine and paid for it with bright red fingers.
The hire bikes are clearly well used. It's worth having a short ride in front of the hire shop before setting off to test gears and brakes.
Tin Box Tot is just under 1m in height but wasn't able to reach the peddles on the tagalong children's bike. She was thrilled to be allowed to sit in the trailer with her sister though.
The nitty gritty
One hour bike hire, including two adult mountain bikes and a trailer, cost us £27. The tagalong would have cost us an additional £7 or we cold have opted for the £30 family cycle package. Additional hours can be booked at a reduced rate.
Parking charges at Alice Holt Forest start at £1.80 for an hour. Remember your car registration number as you'll need this at the parking machines when you go to leave. Card payments are accepted. Regular visitors may find a forestry commission Discovery Pass will save them money.
You can find Alice Holt Forest by using this postcode: GU10 4LS
Pin for later