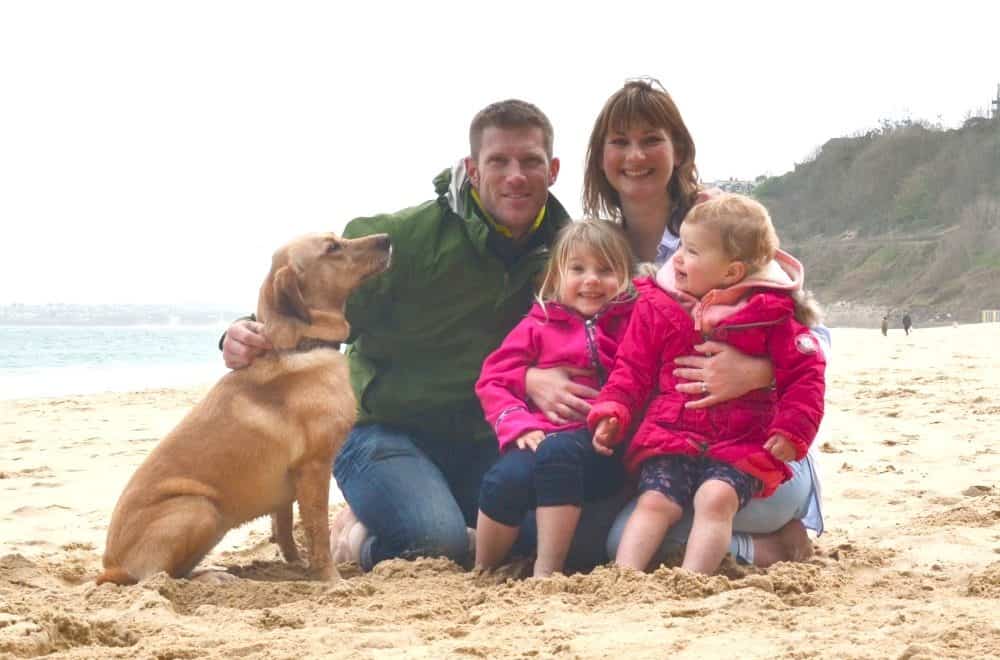 St Ives Holiday Village review – a woodland lodge resort in Cornwall
We love family and dog-friendly holidays, and were invited to try one at the John Fowler St Ives Holiday Village in Cornwall. This woodland lodge resort for families ticks all the right boxes for pet-friendly accommodation in a superb location. If you are looking for a Cornwall holiday park with plenty on for families then read on for our St Ives Holiday Village review from 2017.
*Advertisement feature*
For more travel advice and reviews take a look at my tips for smashing travel with kids and sign up to my newsletter.
St Ives Holiday Village
St Ives Holiday Village is one of 11 John Fowler family holiday parks in the South West of England. There are more than 300 lodges, chalets and bungalows dotted around the woodland resort in shady glades.
We enjoyed the secluded feel of the place. It was also perfectly located for all the things we love to do in Cornwall: the beaches, the attractions and the sights.
Here's a bit of what we got up to during our Easter week in Cornwall:
Our lodge at St Ives Holiday Village
Our two-bedroom, pet-friendly Platinum Single Lodge was hands down the best caravan holiday home we've stayed in for its decor and layout. With a house move just around the corner I'm really noticing these things at the moment. I would have happily taken the colour scheme home with me.
The dining area, kitchen and lounge seating were ideal for maximising space. We also enjoyed the benefits of a fully equipped kitchen with a dishwasher, large fridge-freezer and built-in microwave. The cupboards were stocked with all the utensils, crockery and pans we needed for our self-catering lodge holiday.
There was also a small welcome pack with washing up liquid, a sponge, tea towel, cleaning cloth, and tea and coffee sachets.
Outside our patio doors we had a small decked area with picnic table. Had the weather been warmer I could have seen us enjoying a few meals and post-kiddie bedtime drinks here.
As it was, I used it as a good spot to snaffle some of the amazing meringue we'd found in the St Ives Bakery down the road. FYI, it beat me!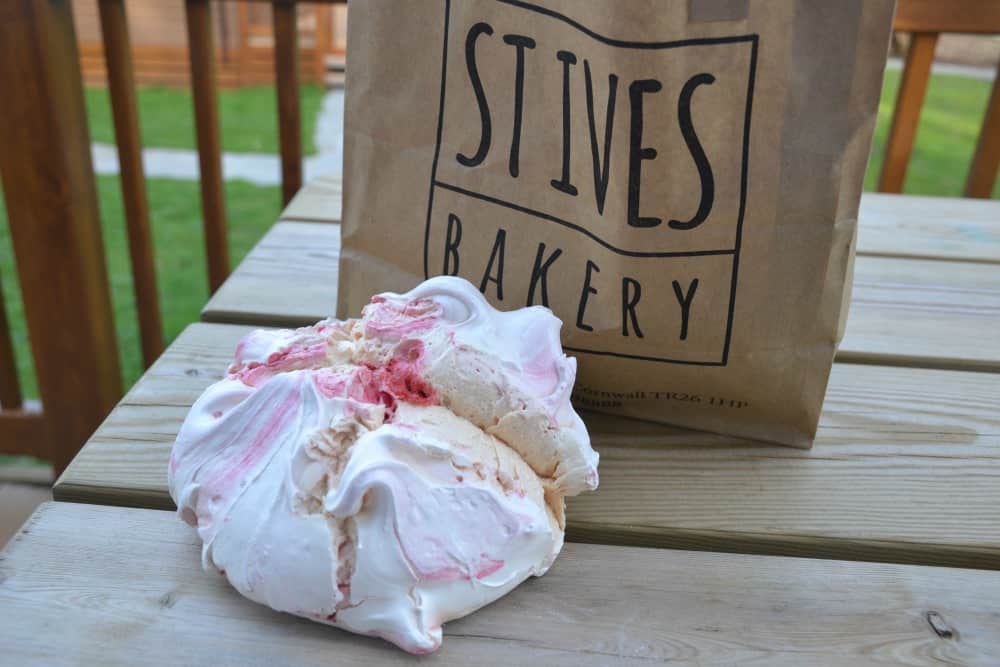 The spacious master bedroom had plenty of storage, an ensuite toilet and flat screen telly on the wall. However the double bed was the let down as the mattress was not very supportive. This was on par with beds in other caravan holiday homes we've stayed in.
The girls loved their small twin room, which had overhead cupboards and a single wardrobe with draws. The family bathroom had a large shower, sink, toilet and storage.
I also have to give a mention to the responsive park maintenance team. When our gas ran out at 8am on or final morning they turned up to switch over our bottles straight away.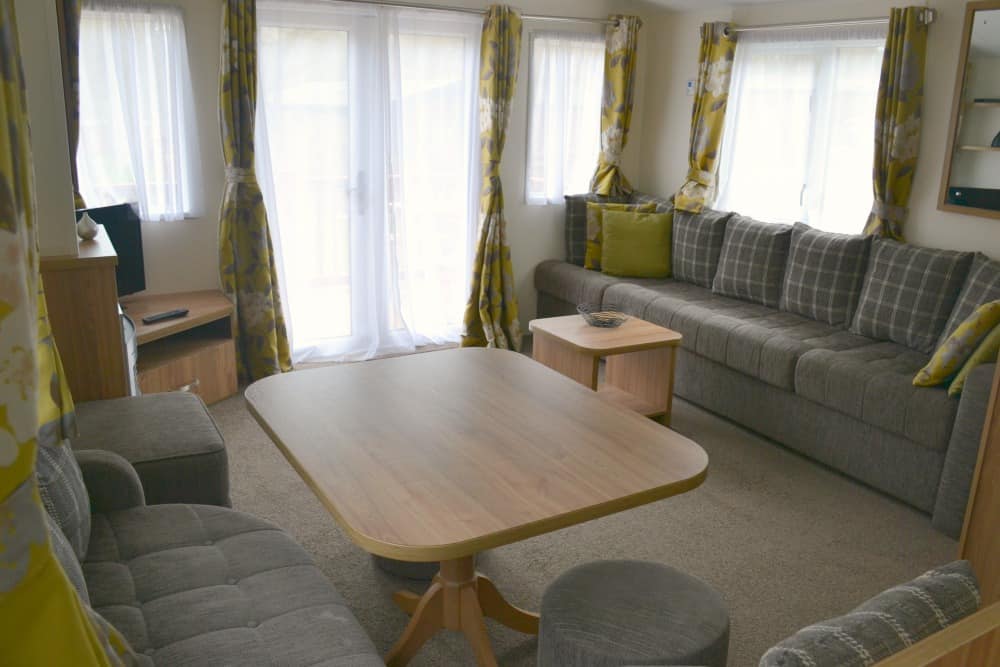 Resort facilities
The girls were very excited about there being an indoor swimming pool at St Ives Holiday Park. So it was the very first thing we decided to try when we got there. The pool is a good size with a toddler pool and main swimming area with slide.
Sadly, we didn't get to try this out as our girls were too short. You had to be at least 136cm to ride what was quite a tame looking flume. However, there were lots of inflatable toys and the water was toasty warm, making the pool a hit with our girls.
That said, the facilities could do with a bit of updating. There were no lockers and the showers were cold in the ladies changing rooms when we visited.
As well as general swimming you can book free activities in the pool like water walking, kayaking and aqua gilders. There are also water games three times a week and adult only swimming twice a week.
The pool is part of the main resort complex which also has an arcade, The Rafters Club and bar, a convenience shop and small playground.
Our lodge was the closest to the complex. This gave us easy access to the facilities but did make it a little noisy when the evening entertainment fired up. This wouldn't be a problem for most of the site, which is spread across 100 acres of woodland. The background noise certainly didn't stop our tired little ladies sleeping.
Around the holiday park there are walks, den building and a nature trail. This kind of woodland lodge resort was great for us as a family with a dog. Tin Box Dog could be walked on her lead throughout the park.
Family entertainment
The kids' Foxy Club, lead by the Stripeys entertainment team, met for fun and games for an hour each morning. We went along on the Thursday of our stay, which was an extended three hour fun day. This included an Easter chocolate party for which we paid £1 per child.
The girls joined in with parachute games and messy chocolate fun afterwards. At four and two-years-old, a lot of the games were a bit advanced for them. The temptation to just eat the chocolate balanced on their foreheads was too much.
This left them a little bored while the older kids finished each game, which took quite a while. The programme we were given when we checked in mentioned face painting and balloon modelling during the fun day, which would have been a bit more suited to our girls' ages, but this didn't happen.
We ended up leaving before the end to get them both lunch and a rest before heading out for the afternoon.
Evening entertainment
Each evening the Stripey team laid on a mini disco and games for the kids before bingo, a family showtime and other entertainment into the night.
Our girls were so tired from all the fresh air they got in and around St Ives that we didn't make it past the mini disco. They really enjoyed this though. Tin Box Baby and I even won a Foxy Club certificate for our dancing – I was secretly chuffed as I haven't won a kids club certificate since I was nine!
The Stripeys were great hosts during the evenings and took time to get to know the guests.
Places to visit nearby
I mentioned earlier on that we loved the location of this woodland lodge resort. It was the main reason why we decided to head to the far south west of England for Easter.
While staying at the holiday park we got to explore the famous Cornish seaside town of St Ives and two of its fabulous beaches – Carbis Bay and Porthminster. All of this was within 10 minutes drive of the John Fowler holiday park. Tin Box Dog was allowed on both beaches until the Sunday before Easter.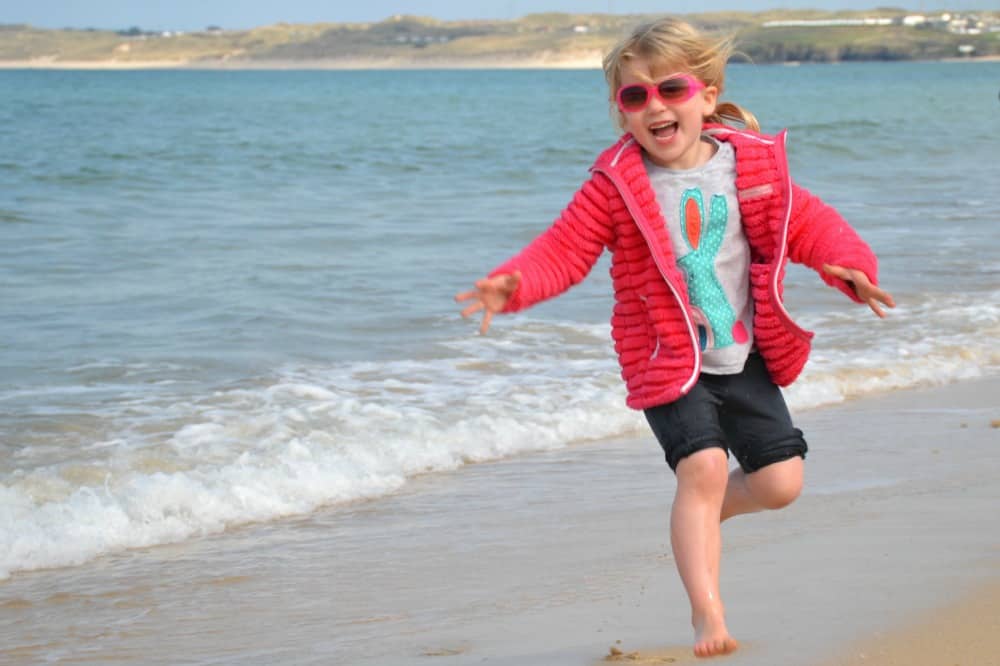 Still within 40 minutes drive were the cliff side Minack Theatre, Land's End and the Cornish Seal Sanctuary – all dog-friendly attractions (see websites for some restrictions).
You really are spoilt for choice with family days out in this location. If you love faster-paced attractions Flambards, Paradise Park and Coast2Coast Karting are just a short drive away. We've also heard lots of great reviews about The National Museum in Falmouth.
Find more ideas for things to do in Cornwall in our guide to family holidays in Cornwall.
St Ives Holiday Village review
If you are looking for a Cornish woodland lodge resort for families we loved the location and accommodation at St Ives Holiday Village. Its woodland walks and proximity to wonderful local sights and beaches made it an excellent holiday destination.
Areas for improvement would be the pool facilities and making the day time entertainment appropriate to the age of all children. However, these were by no means show stoppers for us.
If you are looking for a great family holiday park in the far south west of Cornwall, then St Ives Holiday Village has a lot to offer. We were sad to leave and can't wait for our next Cornwall family holiday.
Find out more about family breaks at St Ives Holiday Village by visiting the John Fowler Holidays website.
If you are looking for more recommendations on places to stay in Cornwall then take a look at our guide to family holidays in Cornwall.
Disclosure: we were invited guests of John Fowler Holidays. All opinions are my own and those of my family.
If you are looking for a holiday park near St Ives then why not save this St Ives Holiday Village review on Pinterest.