Reviewed: AC Hotel Gava Mar – a Barcelona hotel by the beach 
Take me back to this stylish hotel in Costa Barcelona. The AC Hotel Gava Mar was my oasis of calm during a packed four days experiencing the cultural activities and sights around Catalunya with the various tourist departments of Costa Barcelona. The hotel is in a superb seaside location, with a stunning private pool and beautiful interiors. If you are looking for somewhere to stay outside Barcelona or a Barcelona hotel by the beach then read on for my review: 
A bit about the AC Hotel Gava Mar
Located 5km from Barcelona Airport and 17km from the city, AC Hotel Gava Mar is a small but stylish Marriott hotel with 69 rooms, many of which over look the private gardens, pool and beach.
From the roadside it doesn't give away much, but step inside and the decor is well put together and business-like.
Indeed, the hotel has the feel of somewhere more suited to a business trip than holidays with children but there are lots of reasons why I wouldn't discount it as a Barcelona hotel for families. Let me explain…
A Barcelona hotel with gardens and a beach side location
The hotel is just a moment's walk from a fine sandy beach sloping gently into the refreshing waters of the Mediterranean. Guests have access to this by walking past the luxurious pool area, through palm trees and flower beds to a gate that is for the sole use of hotel patrons.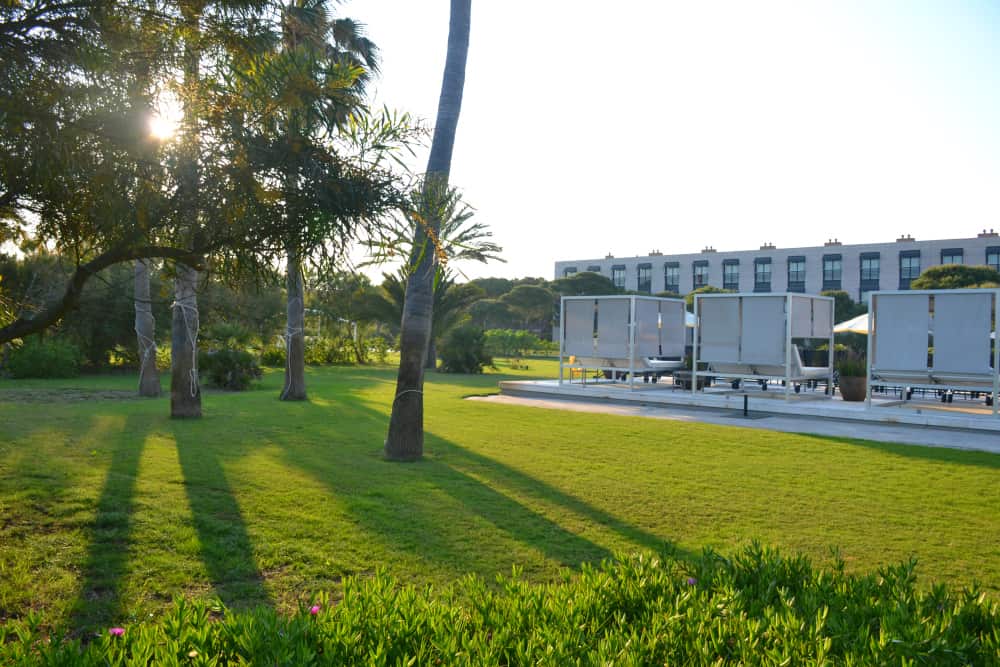 The beach is every bit as beautiful as the pool area. In fact, if I'd had the chance grab an afternoon of 'me time' I think I'd have split my time equally between the two. I know my girls would have spent hours enjoying both, making it very hard to drag them away to explore Costa Barcelona.
The stunning free form pool was casually flanked with loungers, seating and day beds positioned to maximise the view of the hotel gardens. A few steps away there is a bar. This wasn't open during our stay but I can imagine it being a popular spot to order drinks during lazy summer days by the pool.
From the shady terrace back into the hotel there's a stylish bar lined with jars of snacks you can help yourself to. This is also where the breakfast buffet is served each morning.
Dining at AC Hotel Gava Mar
Breakfast is buffet style and you can dine around the bar or on the terrace.
There's a choice of hot food including tortilla, sausages, scrambled egg, bacon and mushrooms washed down with fruit juices and Nespresso coffee.
If you prefer something lighter after a filling three course Spanish feast the night before there was also the full range of continental breakfast with pastries, fruit, yogurts and muesli tempting me each morning.  
In true Spanish style, dinner was long and vast. My considerably expanded waistline is testament to the quality of the cuisine and the size of the portions. On more than one occasion I should have skipped the main course and dessert but each dish was just far too tempting. The food being served up to other guests in the bar looked of equally good quality.
Room facilities – a garden view room at AC Hotel Gava Mar
My double room was stylish, spacious and comfortable. The combination of dark wood laminate floors, clean grey decor, dark leather furniture and moulded glass sink in the bathroom made it feel very luxurious.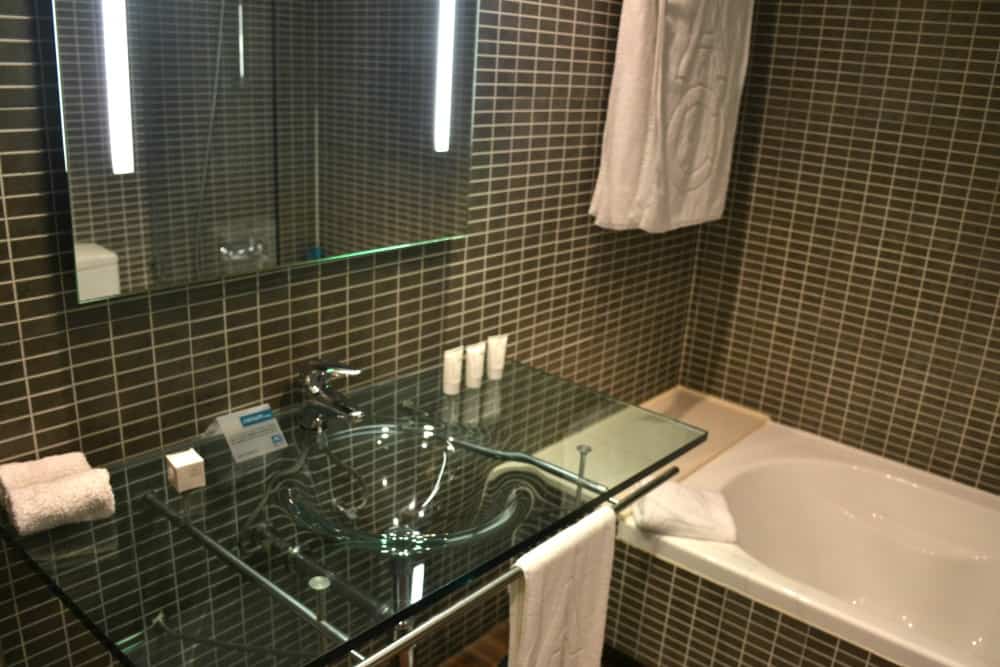 The room also came with a long list of features you'd expect from 4 star accommodation. 
Kingsize bed

 or twin beds on request

Air conditioning
24-hour room service
Hair dryer
Mini bar
Stereo
Desk
Large flat screen TV
Travel essentials on the bathroom stand
A powerful shower over a wide bath
However, it did lack draws to put away smaller items of clothing, a safe for valuables and an ironing board. I'd have also liked tea and coffee making facilities but, as some of my fellow guests reminded me, these rarely come as standard in Spanish hotels.
Ultimately, I slept well, loved being able to open my large patio door onto the garden and enjoyed the stylish surroundings. If you are staying with children a roll out bed or cot can be requested, or adjoining rooms are available.
Here's a tour of my room and the outside areas of the hotel:
The price of a double garden view room was 154€ per night during May when I stayed.
Places to visit in Barcelona beyond the city
Costa Barcelona – the region surrounding the Catalan capital – is brimming with family-friendly activities. The hotel itself is close to the Minas de Gava Archaeological Park – mines first excavated more than 6,000 years ago for their materials used to make ornaments sold across Western Europe.
Our group of 35+ travel bloggers and influencers headed out to see some fabulous Costa Barcelona cultural sights by coach each day but you could also explore solo. Bikes were available to hire at reception and it was two miles to the resort town of Castelldefels which has shops, bars, water sports and 5km of beach.
We also visited the Accura Spa just next door to the hotel where you work out in the gym or join an exercise class as part of your stay. There's also special guest rates for spa treatments.
If your kids love bowling, the cinema or go karting these are also all available within 10km of AC Hotel Gava Mar.
You may want to hire a car if you are intending to explore widely as the train station is 3km away. A taxi from the airport will cost about 20€ and a taxi into Barcelona city will cost about 50€ one way. Parking at the hotel costs 21€ per day.
Final throughs on this Barcelona hotel by the beach
If you're looking for a quiet base for a family holiday outside Barcelona city, a beach hotel close to Barcelona Airport or a Barcelona hotel with a pool then AC Hotel Gava Mar is a great choice.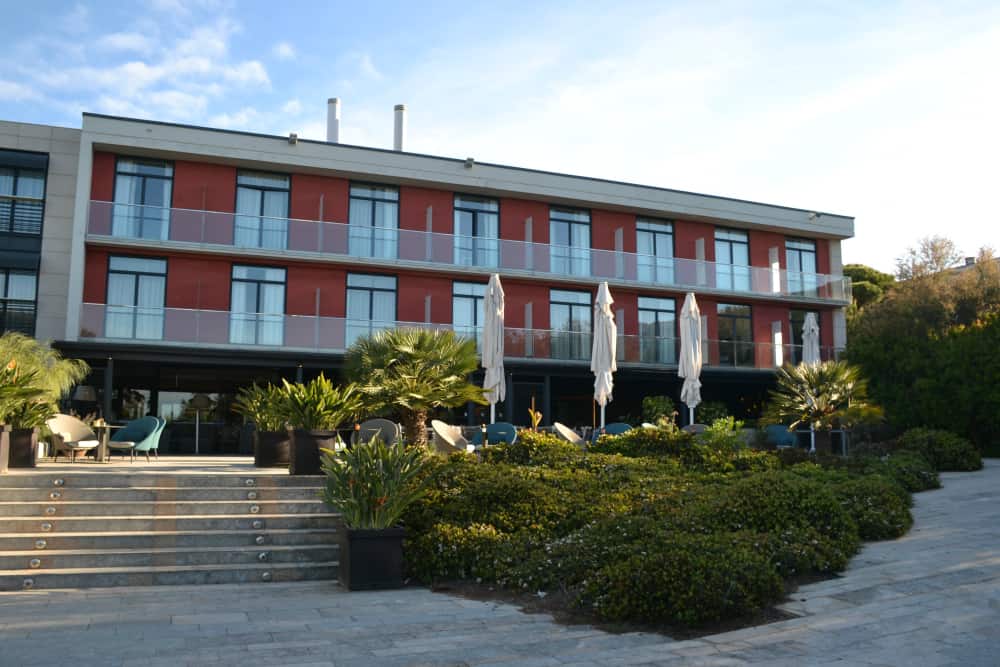 There's no facilities for children as such – like a play park, pool slide or kids club – but if you're looking for a chilled out hotel close to Barcelona city then I think you'll enjoy it here.
Disclosure: I was invited on a press trip to experience Costa Barcelona for the purposes of writing about my highlights on the blog. My meals, activities and accommodation at AC Hotel Gava Mar were complimentary. All opinions are my own.
Pin for later