When should you book a holiday for 2021?
After a year of travel disruption, cancelled trips and quarantine for thousands of UK families, carefully planning a holiday that you are sure will happen feels like a pipe dream. If you're wondering should you book a holiday for 2021 this post may help.
I have asked the experts 'when is the best time to book a holiday for 2021?'. Read on to find out what they said.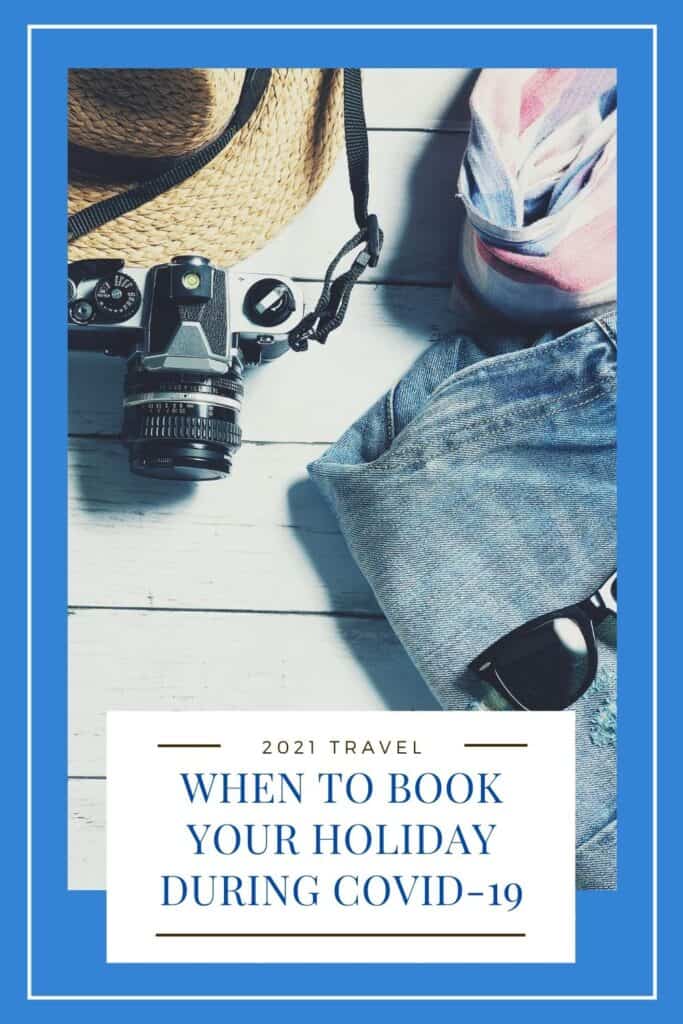 When England entered its third national lockdown and travel corridors shut, I was torn about whether we should book a holiday and where it should be.
But looking back at 2020, many struggled to find last minute UK holidays. So is there a chance of missing out in 2021 if you don't book now?
The risk is very real, especially as the UK government has now set out it's roadmap for easing restrictions with self contained holiday accommodation due to reopen from 12 April 2021.
We took the decision back in January to book campsites in the South West of England where we live for July and August. It seemed a safe bet that we'd be allowed to travel within our region and have a relatively self-contained holiday if restrictions eased by the summer. And, of course, there are plenty of other benefits to having a UK holiday.
Hopefully it will come off.
International holidays may even be possible by 17 May if the Government's five-weekly reviews tell them what they want to hear.
But let's face it, things could still change regardless of the roadmap. So is there really a good time to book?
If you are on the fence about booking that 2021 holiday or shelving your plans until later, here's what the travel experts have to say…
Expert option: when should you book a holiday for 2021?
My experts include journalists, business owners, destination mangers and bloggers. All work in travel so you could say they have a vested interest in seeing tourism recover.
However, they are also on the travel industry's front line; getting feedback from holiday-makers, monitoring booking patterns, and witnessing how the pandemic has impacted accommodation availability.
Each expert has shared their experience of what's happened within the holiday industry in 2020 and what we can expect in 2021.
Mark Hodson, Editor of 101 Holidays
101 Holidays is an independent travel ideas website run by award-winning journalists.

"I'm normally a big advocate of booking ahead because a holiday consists of three delicious parts: the anticipation, the experience itself and the memories. If you book last minute, you only get two out of three.
"But 2021 is likely to be a bit different. If summer 2020 converted you to UK holidays, I would go ahead and book now for the summer. The best places will sell out during the school holidays.
"Having something secure in the diary – perhaps a favourite place revisited – will help keep you all going during the dark winter months to come."

Mark Hodson, 101 Holidays

"If you're looking overseas, I would take a more nuanced approach. Start researching now, focus on countries that have done well at combating the virus, such as Turkey, Cyprus, Iceland, Italy and Germany, but speak to travel providers about booking terms. What will you pay as a deposit, when you need to pay in full, what happens if new restrictions come into place, either in the destination or from the UK side?
"Even if you feel comfortable booking independently, this year I'd suggest booking with a tour operator, for their expertise and all the consumer protection you get from a package. And make sure you take out travel insurance from the time of booking.
"If you have school-age children taking exams in 2021, you could weigh up the risks of booking a holiday after the exams but before the end of term. Even if school is operating normally, there may be a more relaxed approach to taking children out of school. But this is a risk: caveat emptor."
Cathy Winston, Travel Editor at the Jewish Chronicle
Cathy edits the travel pages of the Jewish Chronicle and also writes the family travel blog Mummytravels.
"As 2020 has shown, making predictions is a risky business – and the same goes for planning a 2021 holiday: you've got to resign yourself to a bit of risk whether you book now, to get beat the rush, or wait until the last minute when the situation is clearer.
"With the industry keen to reassure travellers and tempt people back, you're actually in a stronger position than normal if you book in advance."

Cathy Winston, The Jewish Chronicle
"Along with some great deals, more accommodation is offering free cancellation or date changes, a lot of package holidays (which already have ATOL protection) are doing the same, plus very low deposits – some companies are even letting you transfer bookings to other people if you're unable to go.
"If you can't face the idea of cancelled plans and insurance claims, I'd only wait if you're prepared to be flexible – and consider arranging a UK trip with free cancellation so you've got a Plan B to fall back on.
"Demand for staycations may not be as high in 2021 if restrictions ease, but with many deciding not to take the risk, there's still likely to be more limited choice for a last-minute escape to popular holiday spots during school holidays.
"Whatever you choose, get your insurance sorted first. With new policies covering travellers for Covid-19-related claims, and even some which will cover you for countries where the FCO advises against all but essential travel, you can't guarantee you'll be able to travel but at least you're protected."

Neil Lemon, owner of Devon Holiday Cottages
Devon Holiday Cottages lists self-catering properties available in the South West of England.
"Roughly three weeks after the end of the first lockdown, we had no more availability. With 2,500 Devon holiday cottages at the time, that was some going. September 2020 had the highest occupancy rate we have ever seen. The last quarter of the year also has lots more bookings than normal. So was this a 2020 blip or are we seeing a shift in behaviour?
"Our 2021 bookings show that we will have another summer where some hopeful Devon visitors will be disappointed as we will again run out of capacity.
"With the threat of Covid, foreign holidays have become less popular for many reasons including repatriation issues, healthcare or isolation upon return.

Neil Lemon, Devon Holiday Cottages website
"Lots of us already know how good a holiday in the UK can be. After all, we do have some exceptional beaches, coastline, countryside, history and people. With the VAT rate dropped to 5% for accommodation running until the 12th of January 2021, it is an added incentive for people to decide on a staycation in 2021 which is reflected in the bookings we are seeing.
"This will be a long term shift in behaviour towards thinking staycation first. Until a vaccine for COVID is found, there will be far less foreign travel. We are busily expanding our portfolio of cottages to try and cater to that growing demand."
David Jackson, Manager of Marketing Cheltenham
Marketing Cheltenham works to promote the town and grow it's visitor economy through Visit Cheltenham.
"We all hope, of course, that we'll be getting back to something resembling the 'old normal' sooner rather than later. However, whilst that might see international travel and an overseas holiday back on the agenda for some, many will still be cautious – or simply priced out of the market given what is likely to be reduced airline or package capacity.
"I've no doubt therefore that the increasing trend for holidaying at home is set to continue – and with perhaps even greater demand than we saw this summer, as confidence returns to more parts of the market and more hotels and experience providers offer greater flexibility in their booking terms."

David Jackson, Marketing Cheltenham
"Inevitably, school holiday periods will be exceptionally busy – with evidence that these are already getting booked up. However there are still plenty of opportunities to grab a bargain outside of these peaks.
"My advice for those considering a UK holiday in 2021, would be to book early!"
Clare Mackenney, Owner/Director of Andrewshayes Holiday Park
Andrewshayes Holiday Park is and independent, family-run holiday park in East Devon.
"In 2020, as soon as travel was allowed, we saw a huge demand for holidays and short breaks to East Devon.
"What is unusual for us is the amount of bookings already in place for 2021. This is a combination of people who deferred this year's holiday as well as new customers who have decided to book again.
"My advice would be that if you have particular requirements such as specific dates, facilities (such as a swimming pool, a hot tub or dog-friendly) or a preferred location, then get on and book.

Clare Mackenney, Andrewshayes Holiday Park
"Here at Andrewshayes Holiday Park we just require a £50 deposit to secure a holiday. Also if you book now many places are still offering 2020 prices so you may get a good deal.
"Andrewshayes has a new development of fabulous luxury self catering lodge style caravans which make the perfect place to relax and explore East Devon and the nearby Jurassic Coast."
Carrie Bradley, family travel blogger at Flying with a Baby
Carrie is a former flight attendant who flew with her family in the summer of 2020. She shares her tips and experiences on Flying with a Baby.
"Speaking to fellow parents, the urge to escape to some semblance of normality – the annual pilgrimage of a family holiday at home or abroad – is high. With rules changing frequently, booking a holiday either abroad or at home is challenging if you prefer certainty in your life.
"2021, whilst filling with us hope in lockdown days, is still looking like a bumpy ride for all aspects of travel.
"But planning a holiday is still possible, with flexibility being the key.
"Holiday companies which can afford to offer a flexible booking process such as free or late cancellation or a last minute change of destination are ideal for the most reassurance."

Carrie Bradley, Flying with a Baby
"Last minute deals will be an option if you don't mind where or when you go but want the flexibility to have plenty of options without any money stuck in the refund process.
"If you are thinking of abroad, keep a close eye on FCO guidelines and the entry requirements for that country. If you do decide on a last minute trip, do you need a disposable mask for the flight like Italy currently requires, or a private COVID-19 test or to fill out paperwork within a certain time? Have everything lined up, so if you do see a fabulous deal, you can book it without any surprises at the airport."
2021 holidays: book now or wait?
Is this a decision you have been struggling with or is your mind made up? I'd love to hear where you stand on the question of when is the best time to book a holiday for 2021.
If you are looking for inspiration check out my posts about family-friendly places to stay, camping and caravan holidays and family hotels.
Collecting ideas and inspiration for your future travels? Why not use Pinterest to save this post sharing advice about the best time to book a holiday for 2021.