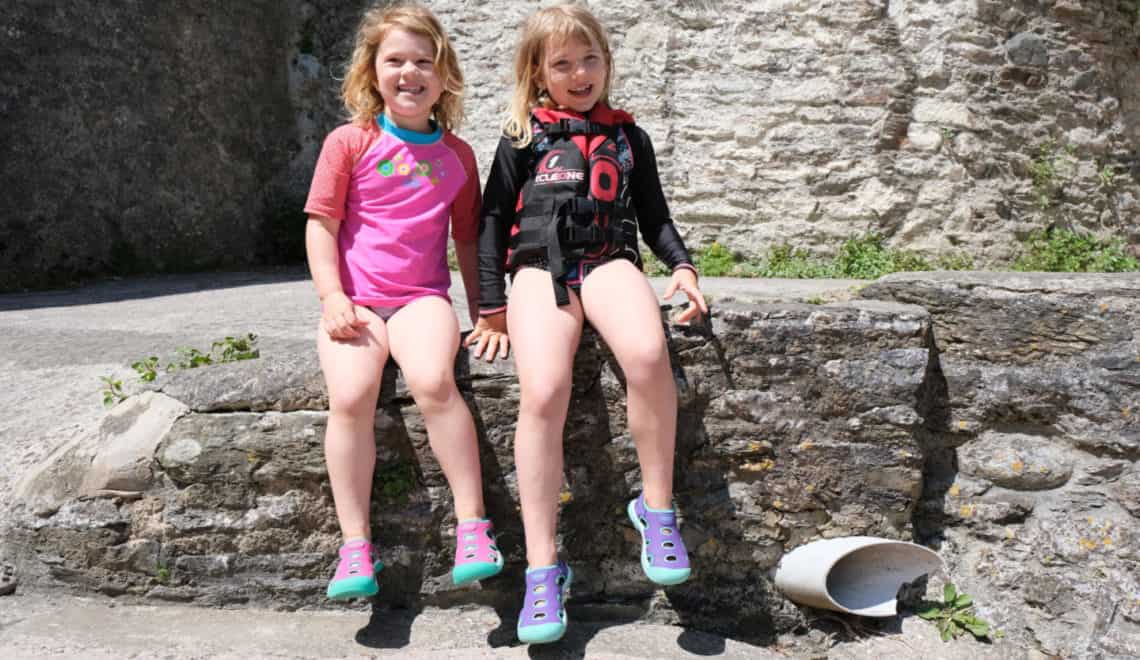 KEEN Stingray water shoes for kids review
Our girls are always asking to go to the beach. Luckily, we live in a part of the world where they are abundant. However, there's inevitably little grumbles when we get there: 'I'm hungry' (five seconds after lunch), 'why didn't we bring the buckets and spades' (because you left them on the doorstep), and 'the stones are hurting me feet'. Well, now we have solution for that last grumble: the KEEN Stingray water shoes for kids.
*Advertisement feature*
Why buy the KEEN Stringrays?
When you are looking for water shoes for kids it's likely you need them for going to the beach, playing on a river or exploring rock pools. The KEEN Stingrays are up for all of this.
We also started using them paddle boarding with our children in Devon after lockdown measures were eased in May.
Our paddle boards have a textured middle section to minimise slip and the Stingrays complement to this. The only reason Tot and Baby were coming off their boards was due to their own wobbling.
Their feet were also protected from stones at on the bottom of the sea and river, and the shoes made walking out of the water onto a stoney shore more comfortable.
Read more about stand up paddle boarding with kids.
Tot had a grumble about little stones finding their way into her water shoes while we were on the beach. But once we were in the water she thought they were great.
How are these different to other water shoes for kids?
We have tried a few different types of kids water shoes, mostly the soft trainer sock type with a textured sole.
But these either fall off or the bottoms wear very fast on gravely beaches. We've had some that have fallen apart after a few trips to an outdoor pool or beach, which is not at all great for the environment if pieces float off.
The KEEN Stingrays have a durable yet soft sole with plenty of grip so they are slip free. They are light so won't weigh your child down if they get out of their depth.
This sturdiness also means you can wear them to walk to the beach. They are a good everyday kids sandal.
The hook and loop fastening at the ankle keep these shoes on in the water and, if you are paddle boarders like us, the loops at the back mean you can attach them to your board webbing if your kids want to take them off during the ride. Baby is fussy like this!
We also know they will last. Having tried the KEEN Newport H2 kids sandals and Terradora kids walking shoes before, we know that children grow out of KEEN shoes before they wear them out.
Tot has passed pairs down to Baby and they look nearly new.
Essential information about these kids beach shoes
Features of the KEEN Stingray:
Low-profile design that is lightweight and flexible
PFC-free
Non-marking rubber outsole
The washable TPU upper is water and abrasion-resistant for durable wear
Uses Aquagrip rubber with zonal siping to provide maximum traction on wet surfaces
Quick-dry lining for active use
EVA insole with arch support for all-day comfort.
You can also pop these water shoes in a washing machine on a gentle cycle and air dry them. They look good as new.
The KEEN Stingray comes in four colour combinations:
Brilliant blue/chartreuse
Magnet/brilliant blue
Royal purple/cockaotoo
Very berry/peacock green
Our girls chose the vibrant royal purple/cockatoo and very berry/peacock green.
All are available in children's sizes 7 to 12 and retail at £29.99. Buy them online from the KEEN website.
Why buy from KEEN
When I have reviewed KEEN shoes in the past some readers have said they love the look of them but they seem expensive.
The KEEN Stingrays are more expensive than water shoes you will pick up from supermarkets. But you really do pay for quality and longevity of kids footwear. If you visit the beach lots then I would recommend investing in something that will last the season.
I also recommend KEEN as it is a socially responsible and environmentally conscious business. In March this year, it provided 100,000 pairs of shoes to those on the front line of the COVID-19 pandemic. Last year it did similar for the fire fighters battling the blazes in Australia.
Our KEEN Stingray review
I think I've said it all already. We really rate the KEEN Stingrays. These water shoes for kids are a great addition to the girls' summer wardrobe and are going to be coming on lots of trips to the beach with us to protect their toes.
I've already added them to our list of essential equipment for stand up paddle boarding.
Disclosure: we were sent two pairs of KEEN Stingrays in exchange for an honest review. All images are my own.