Freeloader child carrier review
The key to successful adventures and travel with kids is finding the right gear. There's plenty of kit on the market that claims to be a 'must-have' for family holidays and, being a sucker for good marketing, I've bought quite a few of these gadgets and gizmos. Many of them get tried once or twice and are then discarded because they're awkward to use, bulky or we found we just didn't need them. So when the team behind the Freeloader child carrier got in touch to say their carrier was ideal for families who loved to travel and explore, I couldn't help but think 'really?'. Read on to see how we got on.
Our experience with baby and child carriers
We've had the same structured back pack-style carrier since Tin Box Tot was six-months-old. We bought it because it claimed to be suitable for children from six-months to about four years. It's served us well but is by no means perfect. It's big and weighty. It doesn't pack down and takes up a lot of room in our car when we're out and about. I certainly wouldn't consider taking it on a plane. Most important of all, I haven't been able to use it for a year now as even with two-year-old Tin Box Baby it's too heavy for me. So, carrying responsibilities have fallen solely to Mr TB.
But how does the Freeloader child carrier compare?
A bit about the Freeloader
This eye catching piece of kit has been designed by parents after our own hearts. They want to explore with their young children but recognise that they do get tired and need a break. Like us, they had become frustrated by the impractical nature of other child carriers, so they decided to have a go at making one themselves.
They used their experience in the outdoor gear market to investigate how new technologies being used to make products for adults could be adapted for their child carrier. So what did they come up with?
Features of the Freeloader child carrier
Five point safety harness
Foot stirrups
No larger than a day pack and very light (5.8 lbs)
Aluminium fold-down seat with padding for small bottoms
Child in piggyback position with their weight distributed around the adult's core by shoulder straps
Complies and exceeds US product safety standards (CPSC)
What age is the Freeloader child carrier for?
Minimum age: 2.5 years
Carrying capacity: 25 to 80 lbs.
Standing height: 33in to 50in tall
Our review: the Freeloader child carrier
Our Freeloader arrived in the post just before my solo week in France with the Tin Box girls. I was umming and erring about what to take with me as the prospect of manuavireng a fully laden luggage trolly and minding two pre-school kids did not fill me with joy. If my only option had been to take our old baby/child carrier I wouldn't have even considered it.
But the Freeloader was a whole different proposition. It was light, compact and hid itself neatly inside our car seat travel bag. Had Mr TB been with me to carry our change bag containing all important airborne kiddie entertainment, snacks and nappies, I would have taken the Freeloader onboard as hand luggage. It was well within the size restrictions for our airline, Flybe (55 x 35 x 20cm including handles and wheels).
I tested the Freeloader for the first time in France, using the tiny instruction card to quickly get the hang of where the straps and buckles went, and how Tin Box Baby should be positioned. I could even get her on my back on my own, which was something I've been unable to do for a year with our old carrier. Our trips to the dune-backed beaches of the Vendee region would have been a lot more difficult without this great piece of travel kit as they were inaccessible with a push chair.
Back home in the UK Mr Tin Box was able to put the Freeloader through its paces and was equally impressed. We've used it several times. Tin Box Baby was relieved to climb onboard during a trip to Hardwick Hall in Derbyshire after climbing up several flights of stone stairs in the ruined Old Hall.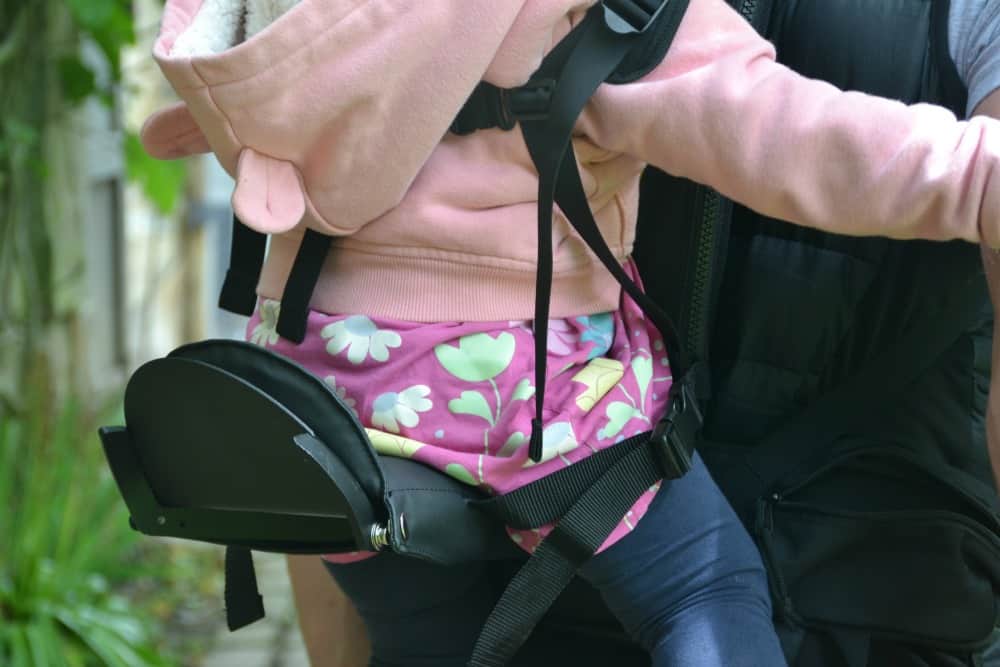 The Freeloader baby carrier was also the perfect mode of transport for Baby when we went in search of the hidden Devon cove of Scabbacombe Sands a couple of weekends ago.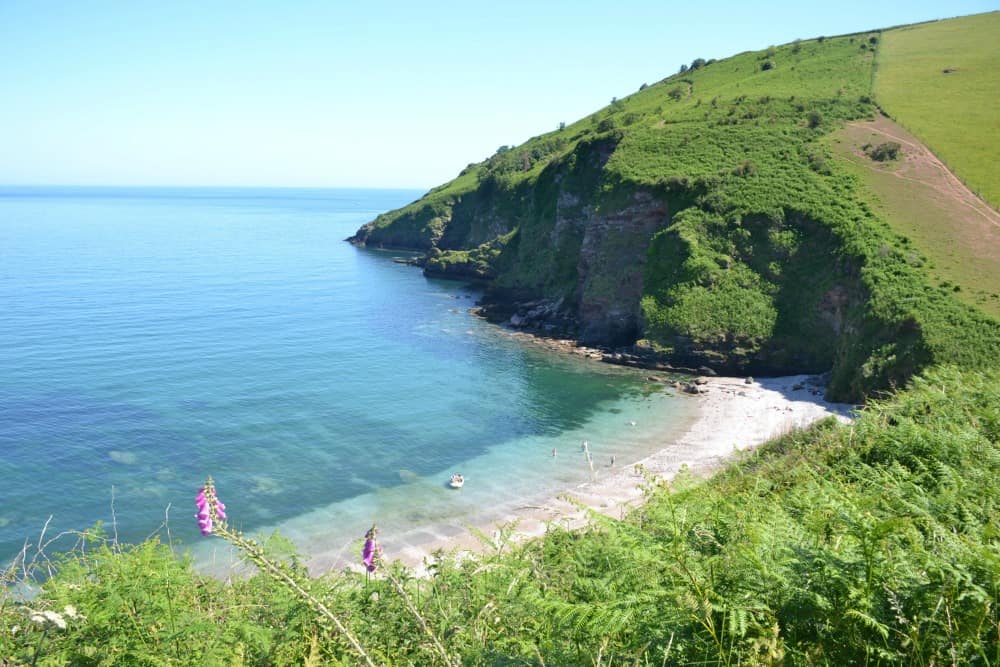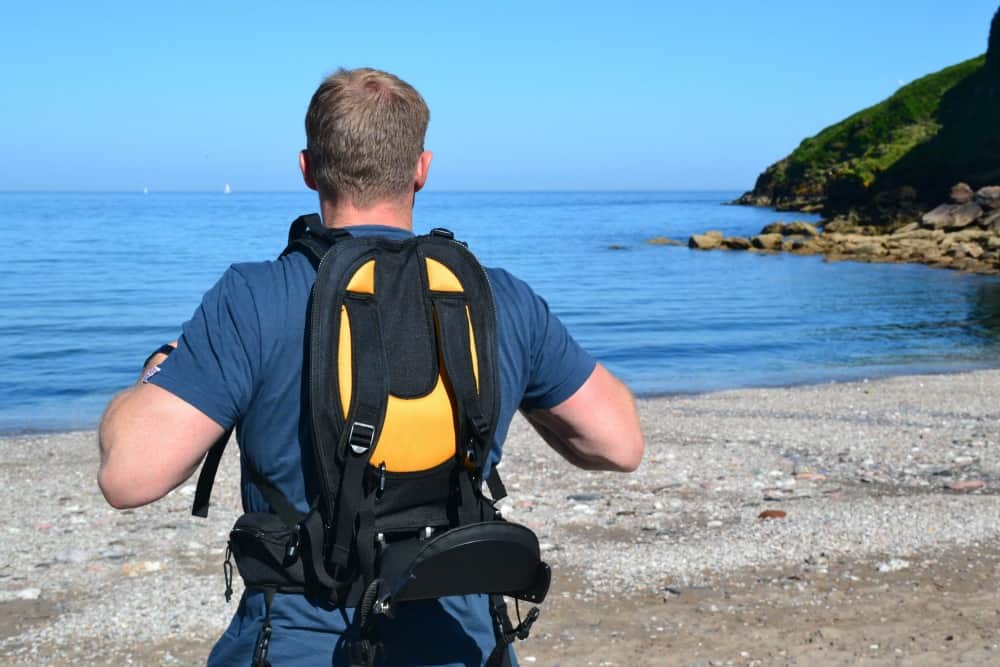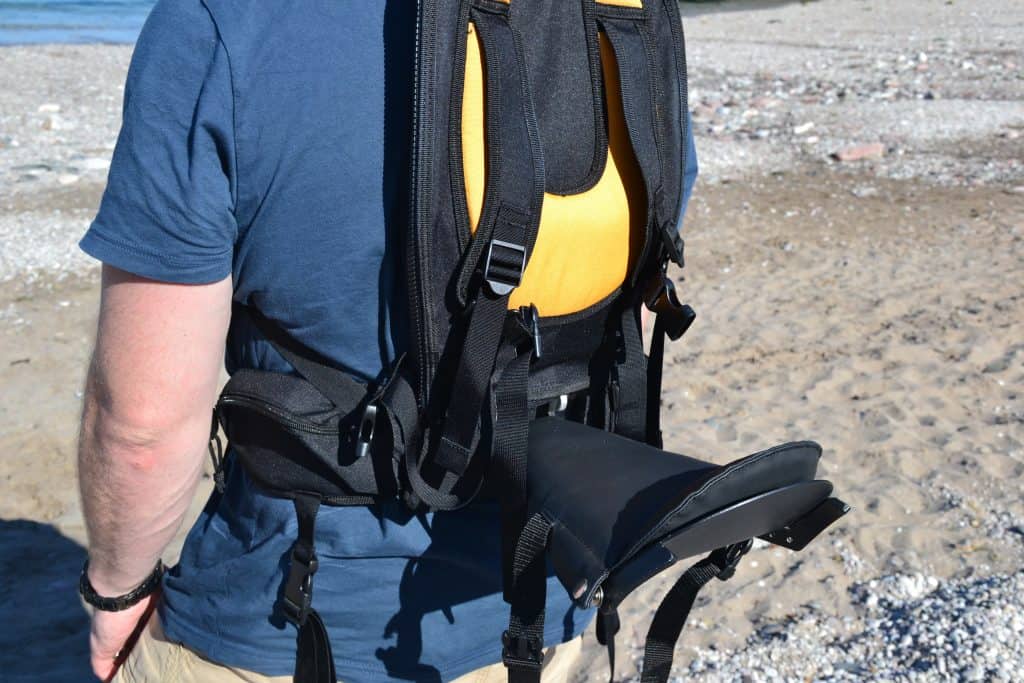 It's this kind of 'off the beaten track' adventure that the Freeloader is designed for. Until it's needed, you hardly notice wearing it. Then when the going gets uneven or your kids' legs start to give up this child carrier is a quick, easy and comfortable way to give them a lift.
We really rate the Freeloader and will be using it a lot during our adventures this summer.
The Freeloader comes in three colours and sizes to allow for adults of different builds. It retails at $299, which is roughly £240 at time I published this post, but with the GBP fluctuating check before you buy! Orders can be placed online.
Win your own Freeloader child carrier – closes 23:55 on Sunday 16 July (UK)
The lovely folks at Freeloader have offered me one of their fab child carriers to give away to you my wonderful readers. And they'll ship anywhere in the world! To enter simply read the T&Cs below and use the Rafflecopter to guide you through submitting your entries. You need to start by logging in with either your Facebook account or an email address (NB: this will be used if you win so make sure it's a real one). Entries close at 23:55 on Sunday 16 July, 2017.
Disclosure: this giveaway and review are a collaboration with Freeloader. All opinions are my own.
Terms & conditions
UK and international entrants welcome.
The winner will be sent their prize direct from Freeloader.
Supplying an email address within the Rafflecopter widget means the entrant is willing to be added to the Tin Box Traveller mailing list. You are free to unsubscribe at any time.
All entries must be received by the advertised closing time at 23:55 on Sunday 16 July, 2017.
The prize is non-transferable and there is no cash alternative.
The winner will be chosen at random through Rafflecopter and will be notified as soon as possible after the draw.
The winner will be contacted by e-mail, if they do not reply within seven days another winner will be chosen.
Events may occur that render the competition itself or the awarding of the prizes impossible due to reasons beyond my control, and accordingly I may vary or amend the promotion and the entrant agrees that no liability shall attach to me.
English law applies and the exclusive jurisdiction of the English Courts shall prevail.
By submitting an entry through Rafflecopter, all entrants are acknowledging and accept the terms and conditions for the giveaway.
The winning entry will be validated and if the instructions for entry have not been followed for that Rafflecopter entry a new winner will be chosen.
Each Rafflecopter entry is a single entry into the giveaway and stands alone as such. Any incorrect entries from the winner only make these entry methods invalid, not all the winner's entries. The winning entry method from them will still be valid as long as it complies with our other terms and conditions.
Entries using any software or automated process to make bulk entries will be disqualified.
The competition may be added to a number of sites for the purposes of promotion.
Pssst! Have you heard? I've reached the Brilliance in Blogging awards finals
If you've enjoyed this post and have a moment to spare I'd love your support. You can vote for me here. I'm in the Travel category which is section 9.
Pin for later