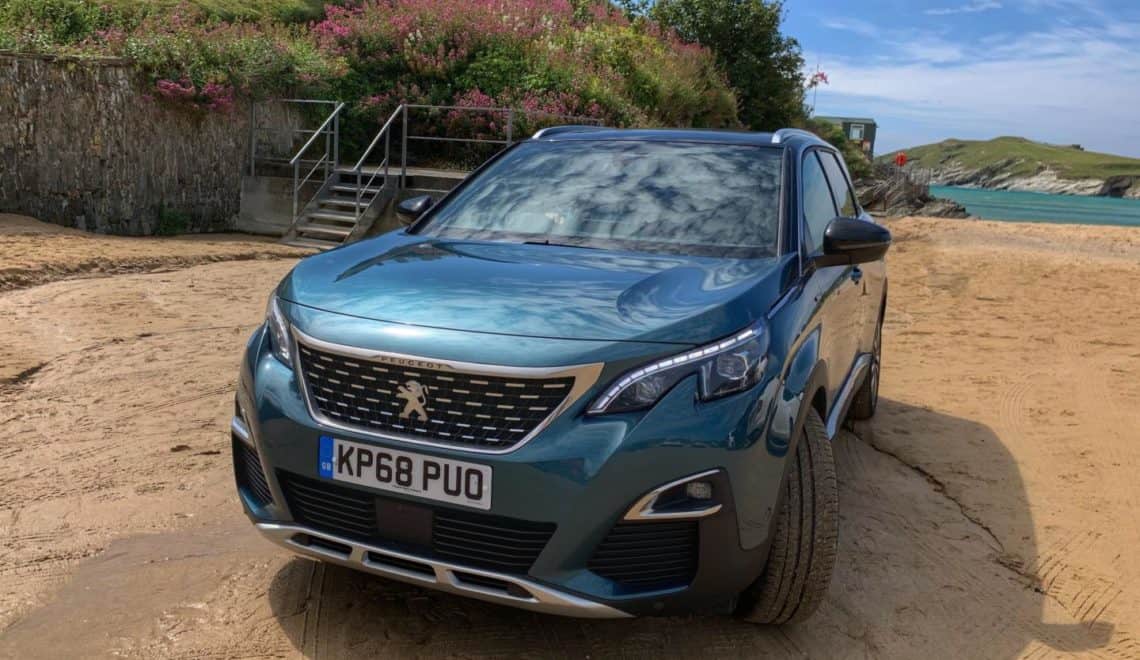 Peugeot 5008 GT Line Premium review – SUV with 3 ISOFIX seats
We're big fans of SUVs. They make road trips with two kids and a dog so much easier, giving everyone space and allowing plenty of room for a mountain of 'essential' holiday clobber. So when the team at Peugeot asked if we'd like to road test one of their cars it had to be the Peugeot 5008 GT Line Premium.
*Advertisement feature*
Here's our take on the Peugeot 5008 SUV with views from both Mr Tin Box and I as we tested this large family SUV with three ISOFIX seats. Yep, it's fully equipped for travel with three young kids!
First impressions of the Peugeot 5008 GT Line Premium
I do love a good looking car and the Peugeot 5008 GT Line Premium ticks all the boxes with good lines, stylish headlights and a funky interior.
I also loved the colour – Emerald – which won approval from the Tin Box girls too. They chattered for quite a while about whether it was green or blue; eventually agreeing to disagree but both liking it.
Mr Tin Box was more reserved with his judgement. He hasn't been a Peugeot fan since lusting after the 205 GTI in the 80s and 90s. 
But when offered the chance to take a look at the Peugeot 5008 GT Line Premium he accepted it would be a good chance to see if he had been missing out. Could the 5008 get a nearly middle-aged Mr Tin Box excited about a Peugeot again?
We had a week to find out all about the Peugeot 5008 GT Line Premium and started our review by taking 'Pugh', as we named him, for a weekend in Cornwall.
Mr TB did most of the driving during this trip, as he is a terrible passenger. I then had a few days to run errands with Pugh and check out how he fared day to day.
How is it to drive?
Mr TB was initially a little skeptical about the skinny tyres when compared to our own big car. But after a few miles he admitted the car handled well and was more agile than our Korean SUV, which he put down to the lighter weight.
He spent some time playing with the sport and comfort modes but found they made little noticeable difference, apart from a bit more or less noise. So that was left it in the automatic mode. The paddle gear box was also tried out and, again, eventually the car was left to do its own thing.
As a passenger, I found the ride to Cornwall down narrow country lanes and faster duel carriageways very comfortable. And when driving closer to home I enjoyed how the car handled. It felt steady and smooth on the windy Devon roads, and the rear camera was handy for parking in tight spots in Dartmouth when I needed to pop to the shops.
Forward facing cameras don't come as standard in the Peugeot 5008, so the birds eye view on the display screen was a bit redundant. But we've seen other vehicles with this feature and it is really handy. Consider the upgrade if you want to have full view of what's around you when parking.
Other Peugeot 5008 SUV features
There's no denying that the Peugeot 5008 GT Line Premium interior is smart. Mr Tin Box was a fan of the paddle buttons under the electronic display.
The materials used to craft the interior looked and felt high quality.
I enjoyed the novelty of being able to change the ambient lighting and the scent pumped out by the air conditioning system. There are three different perfume options, and you can set up a driver profile with your personal preference along with other ambience settings.
But how essential are these quirky features? I'll let you make up your own mind.
Engine size
Our car had the 1.5l Blue HDI engine with eight speed automatic gearbox. Whilst not the fastest car in the world the little 130 bhp engine coped admirably with two adults, two small children, a dog, and luggage. But those regularly carrying multiple adults or towing may want to consider the more powerful engine options.
If you're after a car that looks a little less SUV and a lot more sporty check out our PEUGEOT 508 review.
Is the Peugeot 5008 GT Line Premium 4×4?
You would be forgiven for thinking the Peugeot 5008 is another of the many large seven seater, SUV 4x4s based on its looks. But the 5008 GT Line Premium is two wheel drive across the range. 
This means lighter weight, lower emissions and much smaller engines than you would expect from a car of this size. In short you get the chunky utility looks, massive boot and commanding driving position but without the compromise on economy.
Seats for larger families
The unique selling point of the 5008 GT Line Premium is the seating arrangements. The middle row has three ISOFIX seats, making it very desirable to families with three pre-teen kids. 
Add to that two foldable seats in the boot and you have a versatile seven seater.
Something that I was asked a few times on social media while we were testing the Peugeot 5008 was about boot space and leg room in those rear seats.
What's the boot space like?
When the car is set up with five seats, the boot has 952 litres of space, which was plenty for fitting in our gear for a weekend away in Cornwall. Tin Box Dog hopped into the footwell of the middle row of seats and cuddled up to the girls.
With all seven seats up there's 167 litres of boot space left. This would not be enough for Tin Box Dog to travel in the boot – I did suggest it but she wasn't up for it. But I did fit three large supermarket bags in the gap, which was enough for a sizeable mid-week top up shop. You could also fit an 'umbrella' folding pushchair in this space, but not a lot else.
If you have a large load to move around you can fold the boot and middle seats flat, making 2,150 litres of space – not to be sniffed at!
Add to this the ability to remove the rear row of seats altogether, and to slide the middle seats back and forth to suit, and you really have got a hugely flexible load carrier.
Are the rear seats big enough for adults?
The first time I put up the third row of seats and climbed in the back I found myself in a rather unflattering position trying to squeeze my legs into the gap in front of the middle row. I'm 5ft 6in. 
I soon realised that the middle row could be pulled forward and this gave enough space for me to sit in the third row with my knees skimming the seats in front. I'm also happy to report I looked a lot less flustered. 
Next I hopped into the middle seats to make sure that the leg room there hadn't been compromised by the seats being pulled forward, and I found there was still room to sit comfortably. 
I'd not invite friends over 6ft to sit in the third row but these seats would work really well for teens and smaller adults.
Would the Peugeot 5008 GT Line Premium be a good tow car?
Another question I was asked while testing the Peugeot 5008 GT Line Premium was: could you tow a caravan with it? As caravan fans ourselves, this is something we always have on our minds when looking at new cars. 
The Peugeot 5008 GT Line Premium has very low nose weight capacity (75kg) and low kerb weight (1,490kg unladen), so wouldn't be good for heavier caravans. However, as long as you are not planning to tow anything heavier than 1,330kg, then it would be up to the job. 
We didn't test this ourselves but you can read a tow car review in Practical Caravan.
Safety
The Peugeot 5008 GT Line Premium comes with all the latest safety features like lane assist and emergency braking. It also scored a full 5 stars in Euro NCAP.
The lane assist can be a little invasive on the smaller roads where we live but works well on motorways and dual carriageways. You can turn it off but you have to go through the various on screen menus to do it. A dedicated button on the dash would have been preferable. This is available on the Peugeot 508 Fastback.
As mentioned before, the big win is the three ISOFIX mounts in the middle row of seats, ensuring larger families can have the safest seats for all their children.
Peugeot 5008 GT Line Premium review: final thoughts
Overall, the Peugeot 5008 GT Line Premium ticks all of the boxes as a spacious, versatile, stylish and technology-packed family car. Those three ISOFIX seats are a massive advantage for larger families. Plus the extra third row of seats are ideal for giving lifts to friends as well.
The Peugeot 5008 is also great value for money when compared to SUVs offering similar features (prices start at £32,780), and the 2×2 drive makes it the economical choice.
If you are looking for the styling and practically of a large 4×4, but never intend to go off roading then this is the car for you. Find out more on the Peugeot website.
Disclosure: we borrowed the Peugeot 5008 GT Line Premium for the purposes of this review and were compensated for our time to put together coverage here on the blog and on social media. All opinions are our own.
Looking for a new family SUV? Why not pin this Peugeot 5008 GT Line Premium review for later.