New Hydro High Dive Show at Crealy in Devon this summer
We love seeing what the team at Crealy Theme Park & Resort come up with to make school holiday visits to this Devon theme park extra exciting. This summer, they are hosting a brand new Hydro High Dive show at Crealy and it sounds like it's going to be brilliant. We can't wait to see it during the holidays.
*Advertisement feature*
The Crealy dive show first came to Devon in 2017, when the professional divers performed Olympic-style dives in penguin costumes.
What is the Hydro High Dive show at Crealy?
This year, the brand new fireman-themed show features aerial stunts and dives from a team of international divers.
They will be fighting fires and trying to help a frantic woman rescue her stranded baby, whilst performing hair-raising stunts into a small pool less than three metres deep.
There will be synchronised dives, comedy dives, and performers flying through the air ignited in flames from heights of more than 25 metres into the pool below.
The High Dive team is a collection of the world's best show divers, who are regularly found performing at venues worldwide.
They are directed by Bill Brown who has been producing, directing and performing in shows for 30 years. Most notably, he has created shows for Disney, Busch Gardens and Sea World. He has also produced a custom aerial act for the Ringling Brothers Circus and spent time as an aerial coach for Cirque du Soleil.
Most of the performers have worked for Brown Entertainment in the past, travelling around the USA and to China for different shows with some of the divers taking part in a high diving act at the Famous Chimelong Circus.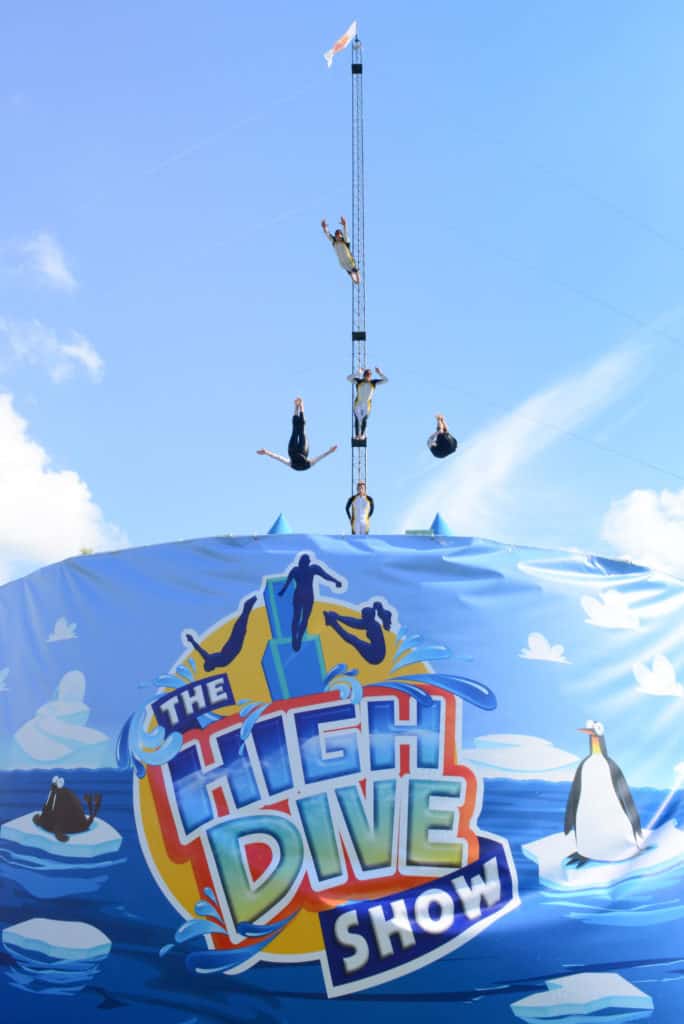 Thinking ahead to Christmas? Here's what we thought of The Crealy Christmas Spectacular in 2018.
When to see Hydro High Dive show at Crealy
The Hydro High Dive show at Crealy will be performed at 11.30am, 1.30pm and 3pm every Monday to Saturday from Monday 22 July until Saturday 31 August 2019. Entrance is included in your Crealy ticket price.
If you are on holiday in Devon, or even if you're local, take a look at Crealy's seven days for the price of one offer – it's fantastic value, especially as you'll struggle to do everything in one day.
For more information about the Hydro High Dive show at Crealy or to book park tickets visit the Crealy website.
Where is Crealy, Devon?
Crealy is just a few minutes from J30 of the M5 at Exeter. As well as the summer dive show you can have a go on some amazing rides, meet cute and cuddly animals, and storm around 75,000 square feet of indoor play areas.
Where to stay in Devon?
It's also possible to stay at Crealy. The Crealy Meadows campsite – right next-door to the theme park – has camping and touring pitches, lodges with hot tubs, and glamping accommodation. Have a read of our review of Crealy Meadows and glamping at Crealy.
For more vacation inspiration, take a look at my big guide to family holidays in Devon.
Disclosure: we have been offered complimentary tickets to use at Crealy over the summer holidays in exchange for helping to promote the Hydro High Dive show.
Visiting Devon this summer? Save this post about the Hydro High Dive show at Crealy for later.