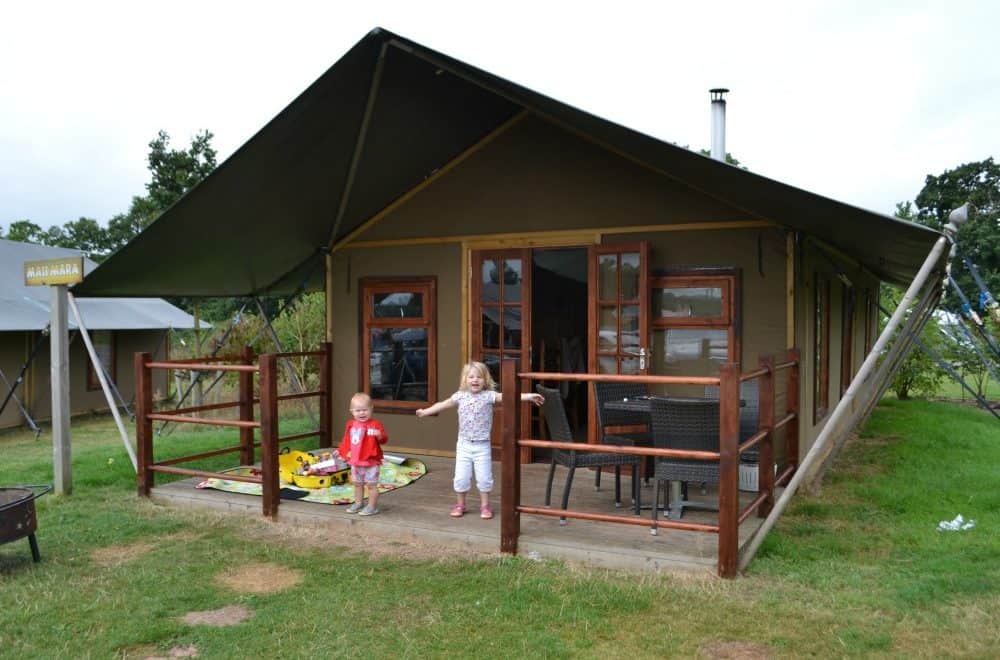 Glamping at Crealy Meadows in Devon: safari tent review
I'm often reminded by my parents that my first camping experience was when I was still in nappies. So holidays under canvas are nothing new to me. However, back in 2016 glamping was. This was when we were invited to review a safari tent at Crealy Meadows in Devon.
*Advertisement feature*
Crealy Meadows is a camping and caravan site attached to Crealy Adventure Park & Resort in the South West of England. As well as pitches for tents and touring caravans, the site offers glamping tents and luxury lodges.
I was really excited to try out this new way of holidaying with my family and also about the campsite's position right next door to the theme park. This meant entertainment was on tap for our then three-year-old and 16-month-old throughout the weekend.
Since 2016 we have done a number of family glamping breaks. If you've not tried luxury camping and fancy giving it a go here's a guide to glamping with kids.
Crealy Meadows camping and caravan park
Our Crealy Meadows safari tent
When we arrived at Crealy Meadows we were allocated a standard safari glamping tent with canvas sides and a zip-up door. It was very homely, with two bedrooms plus a cabin bed, a kitchen with wood burning stove, a dining table and sofa bed.
Outside there was a decked veranda with a rattan garden set, a fire pit and parking for two cars.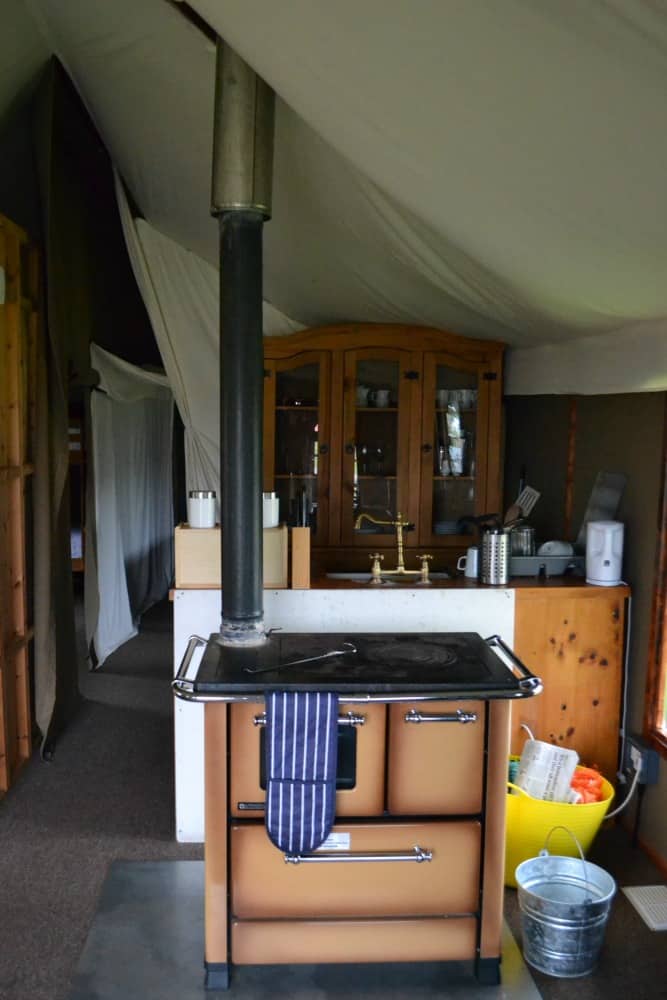 The tent came with all the equipment you might expect to find in self-catering mobile home or cottage, including crockery, utensils, a fridge-freezer, electric kettle and toaster. There was even a complementary bag of wood for the stove and fire pit. The one thing you must bring is bedding.
After we had settled in, one of the super-friendly staff (more on them later) was walking around asking families if they'd like an upgrade to a safari tent plus as they had a couple spare. We didn't need much persuading.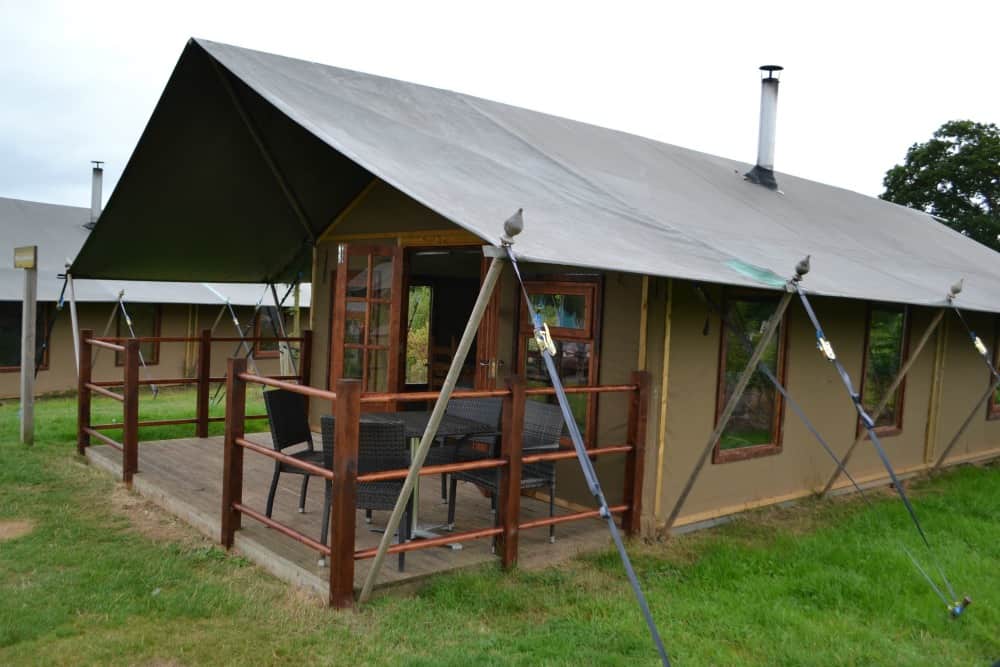 As well as all the features I've already mentioned, the campsite's three safari plus glamping tents come with heating, proper windows and a front door, insulated walls, carpet, bean bag seating and an enclosed veranda.
We certainly appreciated the extra warmth provided by the underfloor heating and radiators on a wet weekend at the beginning of September.
It really didn't feel like we were sleeping in a tent but we had all the benefits of camping, like being able to sit out and watch the stars after the kids were in bed. It was extremely peaceful.
Crealy camping and glamping facilities
Whether you're glamping, camping, or caravanning you won't be disappointed with the facilities on offer at Crealy Meadows.
The toilet block is toasty warm with music piped in while you shower. The showers themselves are some of the best I've seen on a campsite with wide cubicles large enough to fit a parent and a couple of small kids if necessary.
However, there was never a need for us to share with the girls as there's also a family bathroom with a full sized bath, separate shower and low level toilet. Also at the toilet block is a dish washing area and laundrette.
There are two children's playgrounds, one located right next to the glamping tents. And the site has a well stocked little shop with plenty of grocery essentials, plus barbecue equipment, games, and sweet treats.
Entertainment at Crealy Meadows
During peak season there's evening entertainment for visitors staying on the campsite. This happens within Crealy Adventure Park. The entertainment team run a nightly programme of kids games, bingo and a cabaret.
We visited at the end of the summer season and the team were working really hard to involve the small audience they had. I can imagine things are a lot more lively at the peak of the school holidays.
The bar is open throughout the evening, as is one of the park's enormous soft play areas with slides, ball pits and climbing frames. This is fantastic when your kids don't have the attention span for the entertainment.
Also included in glamping and luxury lodge holidays is entry to Crealy Adventure Park. When you arrive onsite you're given instructions about a secret gate which allows you to bypass the entrance queues.
We thought this was a great idea as it gave us access to the rides within minutes of leaving our tent. It's worth saying that you can hear the low rumble of the rides and families having fun during the day, but the campsite is very peaceful at night.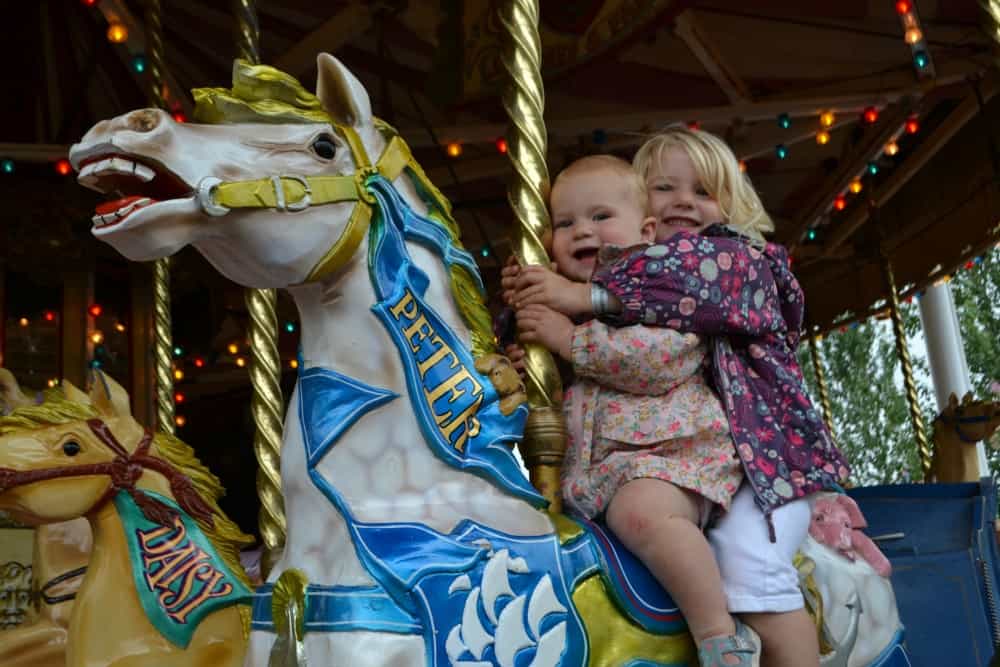 What's at Crealy Park?
The park has 16 rides ranging from tea cups – which made me feel quite queasy – to The Twister rollercoaster and Tidal Wave log flume. We were pleasantly surprised how many rides Tin Box Tot could go on. She's just under one meter but was able to try nine rides during the weekend.
Families with pre-teen kids will find plenty to keep them entertained all day. Unfortunately the weather wasn't too great during our second day at the park but we still filled an afternoon in the indoor Animal Kingdom, Atlantis and the Adventure Zone.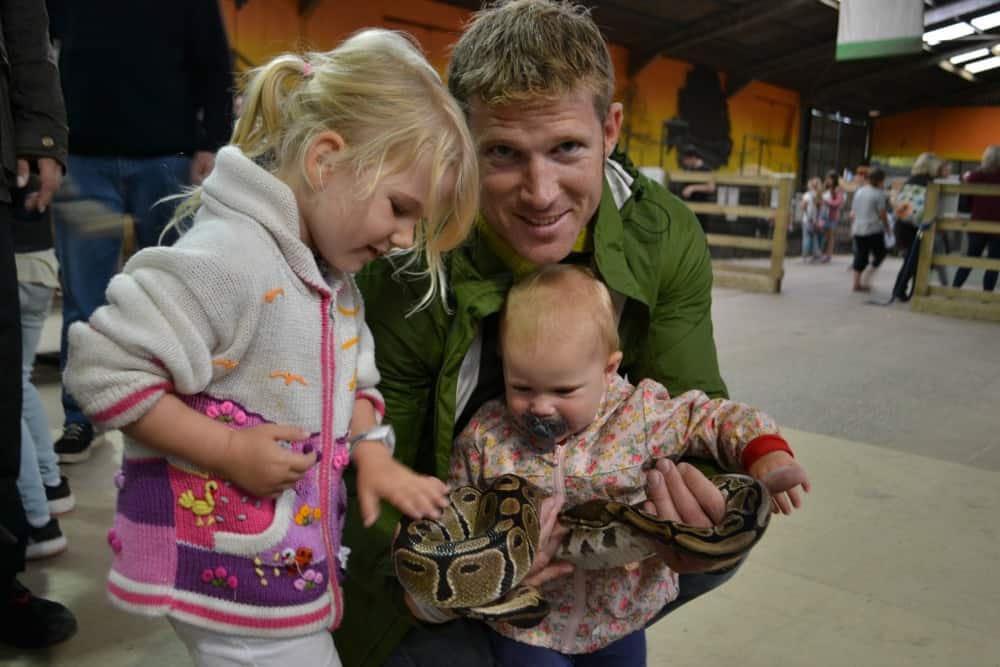 A special mention for Crealy's staff
There must be something in the water at Crealy as everyone is so polite and chirpy.
The staff go out of their way to be helpful and say hello. This makes the whole place feel really bright and friendly, even when it's raining like it did during our stay. The Crealy Meadows team, ride operators, entertainment staff and bar team were very friendly.
Our tips for glamping at Crealy Meadows
Bring a barbecue – we didn't use the wood burning stove after being advised they take a long time to heat up. Instead we brought our own barbecue to cook our dinner. We also took advantage of a family meal deal at the Adventure Zone one evening.
Don't forget a torch – this is essential for trips to the toilet block at night.
Bring a nightlight for the kids – it's very dark in the safari tents at night, so your kids might appreciate a little extra light, especially if they get disorientated at night.
Pack a potty for young children – this is a much better way for them to spend a penny after dark than waking them up completely for a walk over to the toilet block.
Bring an extension lead – there are three plug sockets in the glamping tents but none in the master bedroom so you might want to run a lead there for hair dryers and to charge phones.
Final thoughts
We loved our first luxury camping experience and felt right at home glamping at Crealy Meadows. It's the perfect place for a long weekend or holiday if you have pre-teen kids who enjoy all the fun of a theme park. If you have time to leave the site there's a lot more for families to do in Devon too.
Watch a view about our weekend at Crealy Adventure Park & Resort:
Disclosure: we were guests of Crealy Meadows for the purposes of an honest review. All opinions are my family's and my own.
Pin it