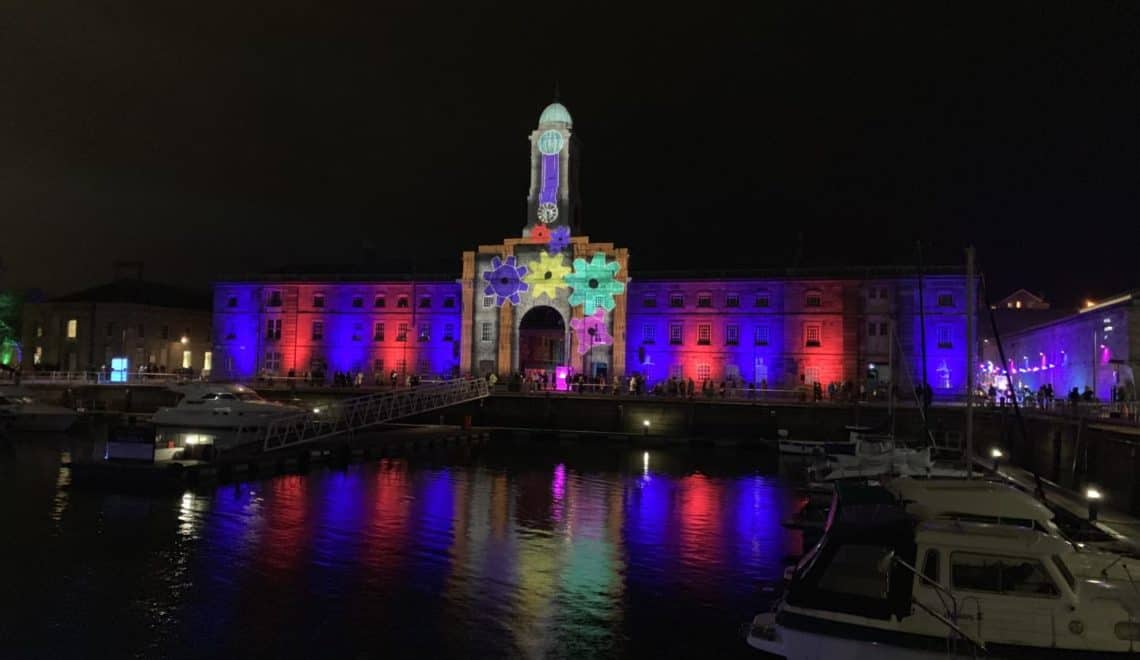 Illuminate Plymouth 2019 – Mayflower 400 light festival
An event firmly on our winter bucket list is Illuminate Plymouth 2019, which is happening at the end of November. This incredible festival of light takes place in Royal William Yard on Plymouth's waterfront and marks the beginning of the international Mayflower 400 commemorations. More on that in a minute.
Here's why you need to go to the Illuminate light festival in Plymouth in 2019 and some handy tips to help you plan your visit.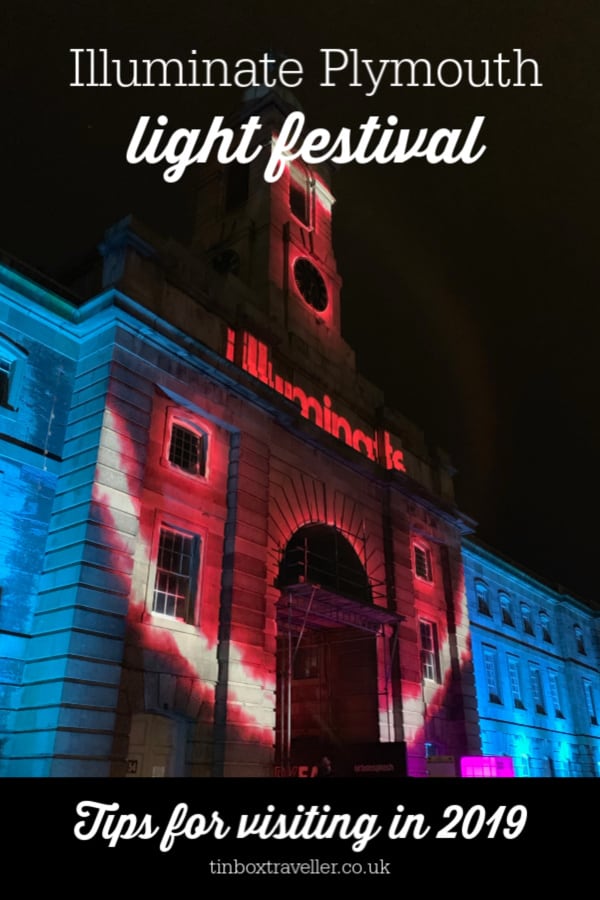 Looking for more winter and festive events in the South West? Check out my Christmas days out in Devon and in neighbouring Cornwall.
Live further afield? Here's 40 UK Christmas days out with kids happening near you.
Illuminate Light Festival in Plymouth 2019
The Illuminate light festival is an uplifting mix of art installations, projections and street performances set in the historic Royal William Yard on Plymouth's waterfront.
This year the Illuminate Light Festival marks the start of the Mayflower 400 anniversary commemorations that will be taking place in 13 destinations across the UK, Holland and in the US. All are linked to the voyage of the Pilgrims nearly four centuries ago.
Pilgrims from Holland and the UK called in Dartmouth and Plymouth in Devon during their remarkable journey in 1620. Today more than 30 million US citizens are descended from these explorers.
Find out more about the Mayflower 400 commemorations happening in Devon, England, in 2019 to 2020.
What's happening at Illuminate Plymouth 2019
We visited Illuminate Plymouth in 2018 and loved it.
The festival's installations used music, imagery and even water to convey stories and experiences.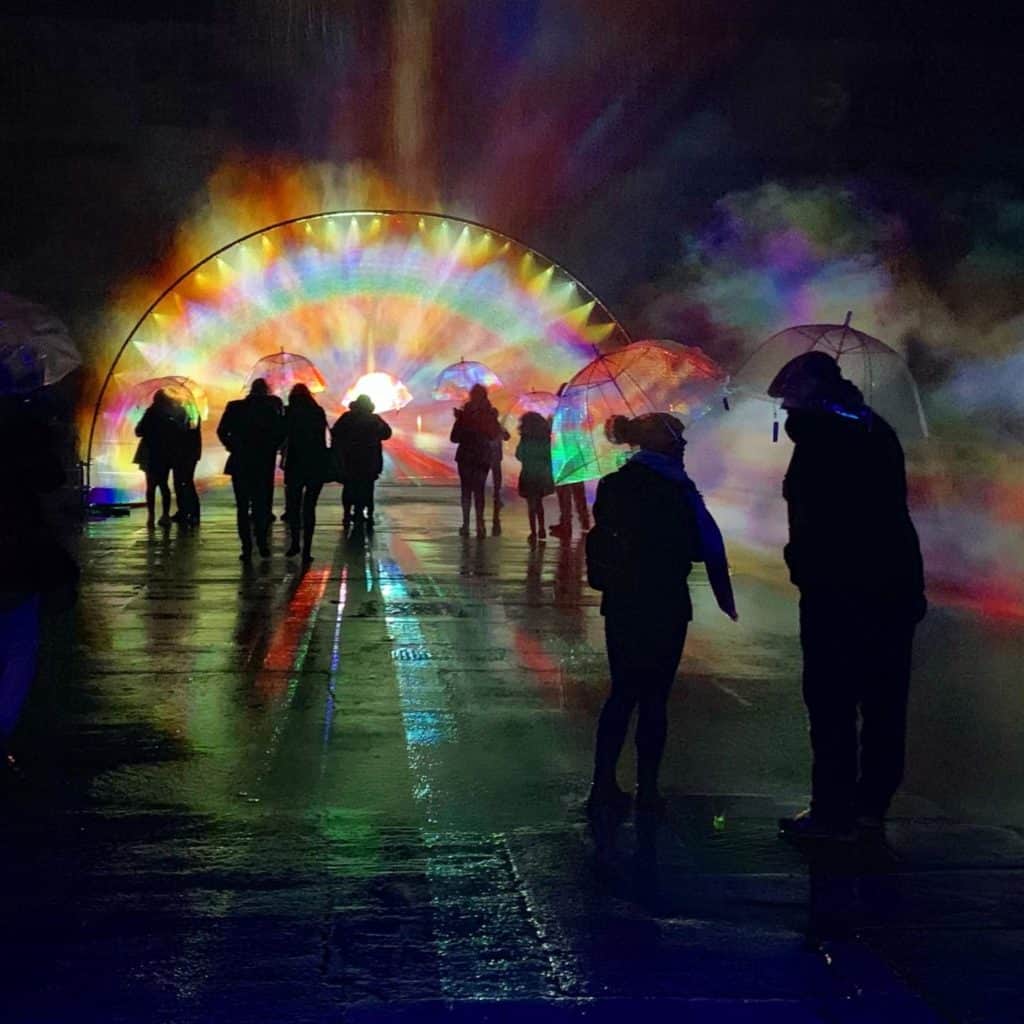 A theme running through several of the displays in 2018 was the forthcoming anniversary of the Mayflower's voyage to America.
In 2019 this theme will be even more prominent as the festival of light has been chosen to mark the start of a year of commemorations and will be replicated across 10 of the Mayflower destinations.
For a taster of what to expect, here's a video of our evening last year:
Tips for visiting Illuminate in Plymouth
If you are planning on going to Illuminate Plymouth then we have the following tips for you:
wrap up warm – the event is predominantly outdoors so you will need coats, hats and gloves.
arrive early if you want to park inside Royal William Yard – parking is limited. You can also arrive by public transport.
there is cobbled paving around the Yard but it is all on the flat.
Royal William Yard has plenty of places to eat. We love Wild Wood as the kids are always happy with pizza and pasta. If you plan to eat, book a table in advance as everywhere will be busy. Alternatively, there will be street food stalls and vans.
dogs are welcome on a lead.
When is Illuminate Plymouth?
Illuminate Plymouth is a free four day event that takes place from Thursday 28 November to Sunday 1 December 2019 in Royal William Yard. Find out more on the festival website.
Check out more about what's on in Devon this autumn and Christmas days out in Devon starting in November 2019.
Thinking about going to Illuminate Plymouth 2019? Save this post for later.