Puy du Fou's best shows for families
'How was your trip to France?'. It's a question I have been asked several times by family and friends since returning from Puy du Fou – France's second largest attraction. This is usually followed by: 'It looked great.' That, it certainly was. But it was SO MUCH MORE. If I honed and perfected my writing and photography skills for there next forty years I don't believe I could convey quite how GREAT this historical theme park is. However, I'm going to try my utmost; starting by telling you about Puy du Fou's best shows for families.
*Advertisement feature*
Puy du Fou is somewhere I first heard about while on a mobile home holiday in The Vendée a few years ago. I remember families returning to the campsite looking misty eyed and singing its praises. At the time I didn't much fancy the idea with a two and four-year-old, so I parked the idea for future reference.
Over the next two years I heard more and more about Puy du Fou. Friends visited during a road trip around France, and then some of my blogging pals went as part of a press trip in 2018. So my interest piqued when I got an invite to see it for myself.
I was invited to Puy du Fou as part of a press trip with four other family travel bloggers.
What is Puy du Fou?
Puy du Fou is billed as a theme park. But it's not your average theme park. There are no rides, no tacky souvenir stalls selling foam hands, and most definitely no unappetising fast food. This is France after all.
Instead it's somewhere to immerse yourself in the most incredible shows set on gigantic stages with casts of thousands. Each theatrical experience has been created to outdo the next with mind-blowing special effects and stunts to wow.
I witnessed some things during my two days at Puy du Fou that I can't even begin to explain – surprise and magic are all part of a 'normal' day here.
The shows have been inspired by legends, like King Arthur, and the heritage of The Vendée region, and have been made accessible to international visitors with an app that provides translations.
There are also walk-through experiences that send you back to relive moments in history and immaculately recreated villages from four time periods. The attention to detail is extraordinary.
After seeing it for myself, I can understand why Puy du Fou has been ranked as the no.1 theme park in France and No.3 theme park in the world on TripAdvisor.
Now, I can't wait to revisit with the kids and Mr Tin Box, who has been bearing the brunt of my excited chatter about this place. He's under no illusion that this is a big deal.
With this in mind, I wanted to share some of my mummy insight about Puy du Fou's best shows. While every show is spectacular, and I loved them all, I believe some are more suited to a young audience than others. 
I've also written about where to stay at Puy du Fou. Accommodation here was just as spectacular as the entertainment!
What's the best age for Puy du Fou?
If you have been wandering what's the best age for visiting Puy du Fou or which Puy du Fou shows are best for kids, then I hope the following information will help. 
I was lucky to see all of the 'Grand Shows' – the six main shows where the audience is seated and you can get fast track 'Emotion' pass to jump the queue.
I also saw the incredible one and a half hour long La Cinéscénie and most of the walk-through immersive shows at Puy du Fou. The girls weren't with me but I always had my mind on them and how they would react to the spectacle of Puy du Fou.
I believe you can adapt your visit to Puy du Fou to allow for kids of all ages. There are more shows suitable for older kids than younger ones, so you may choose to come for one day with tiny tots. However if you have older kids, I'd recommend coming for two days to make the most of everything on offer.
New show for 2020 – Les Noces de Feu
I visited in 2019 but if you are going to Puy du Fou in 2020 or beyond you will have the chance to see 'Les Noces de Feu'. This is a lavish new night-time show, with a spectacular setting on the Puy du Fou lake.
Visitors are transported back to the heart of the 19th century, into an extraordinary night-time fairyland that shimmers with glowing figures, and dazzles with jaw-dropping aerial displays and vast stage sets that emerge from the depths of the water.
If it's anything like the shows I experienced I know it will be incredible.
Which Puy du Fou shows are best for your kids?
Each of the show titles is in French and, depending on your language skills, it's not immediately obvious what each one is about. Below I have tried to explain what to expect and whether I believe each Puy du Fou show would be suitable for my four and six-year-old girls.
I know every kid is different – my two have certainly taught me that. One is fearless, but often takes the lead from her sister about how to react to new situations. The other is more cautious and needs time to digest what's happening around her. So, do moderate my guidance against your own children's characters.
Here's what I think parents of primary school aged children need to know about Puy du Fou's shows, plus which shows I think would go down well with older kids and teens.
Le Bal des Oiseaux Fantômes – the Puy du Fou bird show
This was the first show I saw at Puy du Fou and it was so beautiful that I got a bit emotional. I can't remember more than one bird of prey flying at any one time in the UK shows we have seen. So the combination of a moving story, dramatic music and 330 birds in flight was astounding.
Something for parents to be aware of is that the birds swoop low over the crowd, so you need to sit still during the performance and snacks are a no no. However, I think this is a wonderful show for children of all ages.
Essential information: Emotion pass entry available | 33 minutes long | good for all ages
Mousquetaire De Richelieu – the three musketeers
The first thing that struck me about the The Grande Theatre where this swashbuckling show is staged was the scale. The stage curtain is the largest in the world and the sunken set is huge.
The reason for this becomes clear in the second half of the performance. Expect cleverly choreographed sword fights, horse riding stunts, flamenco dancing and a flood.
That's right. By the end of the show, the stage is a sheet of water. I know my girls would love the horses and dancing in this show. 
Essential information: Emotion pass entry available | 32 minutes long | good for all ages
Le Premier Royaume – the story of the first King of the Franks
Every year Puy du Fou adds to its shows and experiences. In 2019 Le Premier Royaume became its newest masterpiece. It is set in the 5th Century after the fall of the Roman Empire and the rise of Clovis, King of the Franks.
This was my favourite walk-through but not one I'd try with the girls for a year or two. The special effects mixed with live action, moving sets, harrowing noises, and projected dream sequences is a heady mix.
If your kids are afraid of the dark, sinister looking characters or strange noises then give this one a miss.
Or, if you're visiting with other adults, send them off to the playground and wander through by yourself. It would be a shame to miss the incredible special effects.
Essential information: walk-through immersive experience | best for teens
Le Mystère de La Pérouse – the mystery of La Boussole explorer ship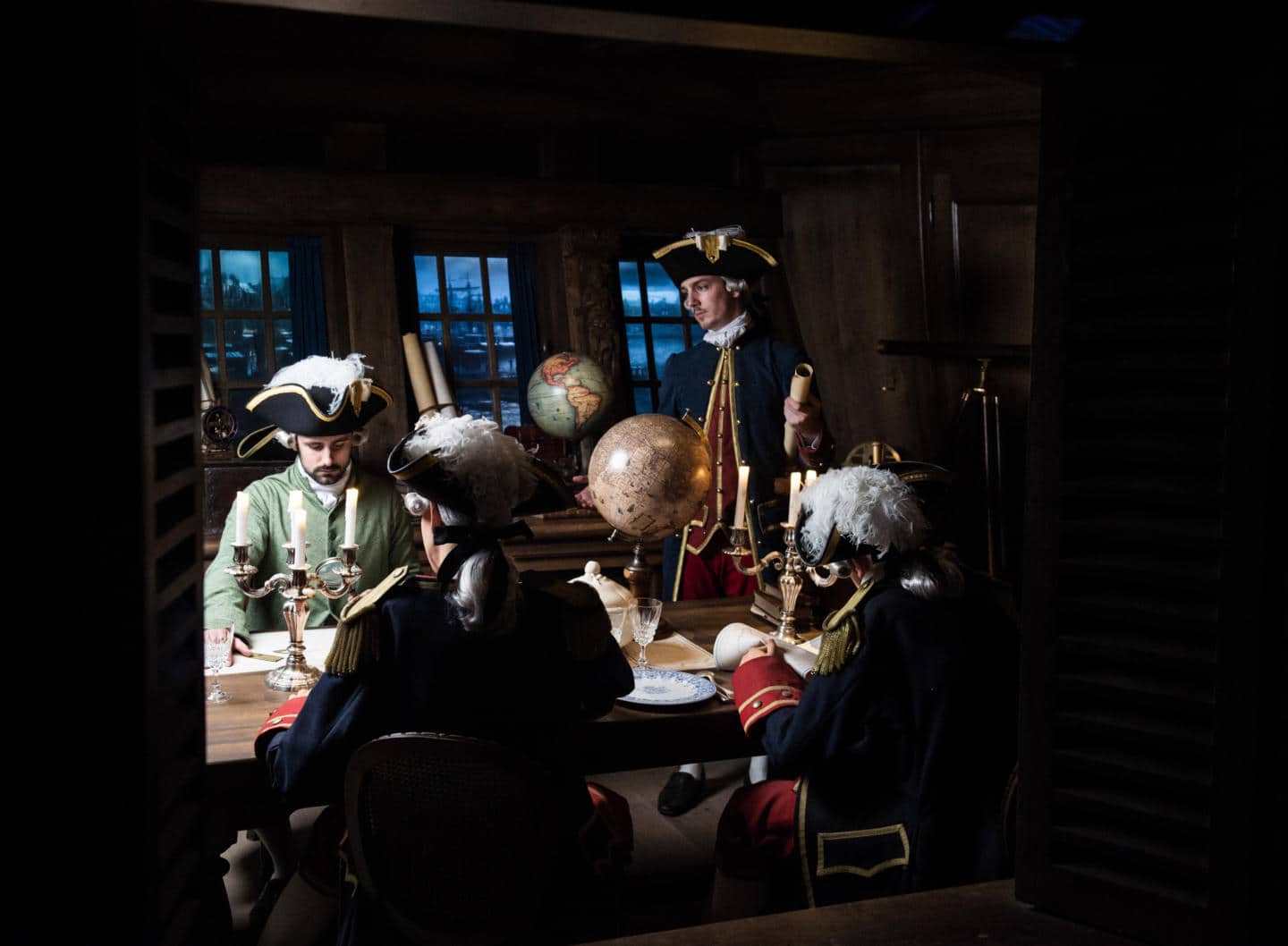 This walk-through show follows the real life mission of an 18th Century French expedition ship, La Boussole. It vanished in 1788 and was later found wreaked in the Solomon Islands.
The experience takes you from the beginning of the voyage to a very watery end. Along the way you feel the roll of the waves and there is a brilliant finale as the ship meets its demise.
While I found this less overwhelming than Le Premier Royaume, is was very realistic in places with water pouring into the ship from overhead and the sound of creaking timber.
When we emerged we saw some children who were visibly upset. Again, I'd recommend this one for older kids.
Essential information: walk-through immersive experience | best for older primary school kids and teens
Le Dernier Panache – the story of The Vendée rebellion
Every single show at Puy du Fou manages to dazzle in its own individual way. Le Dernier Panache does so with the help of a 360 degree stage that cost €19m to create. It is a technological performance masterpiece, during which the audience moves and sets are revealed.
The storyline follows a French Navy officer and hero of the American War of Independence who led a revolt in The Vendée during the French Revolution. As the audience revolves to each new scene, the actors tell the story with music, dance and acrobatics.
From a performance point of view I thought this show was incredibly well done – it was a personal highlight.
Things for parents to be aware of are that there are dramatic battles and an execution scene that I don't think are appropriate for young children. They might also find the storyline hard to follow.
If your children don't enjoy the show, it's not possible to leave the theatre once it has begun because of the rotating seats.
Essential information: Emotion pass entry available | 34 minutes long | best for teens
Les Orgues de Feu – musical fountains and more
If you have a family of night owls then this is a great excuse to stay up late. Les Orgues de Feu is an extraordinary musical fountain show with a twist.
Musicians and ballerinas glide around the lake in costumes festooned with fairy lights, while jets of water and fire explode from a huge organ playing Mozart, Bach and Bizet.
This show starts at dusk and goes on for just over half an hour, so in the summer months you can expect it to finish at about 10pm. It's late for little ones but might be possible with my kids if we allow a bit of chill out time earlier in the afternoon.
Essential information: Emotion pass entry available | 33 minutes long | good for all ages (if they are able to stay up late without a meltdown)
Le Secret de la Lance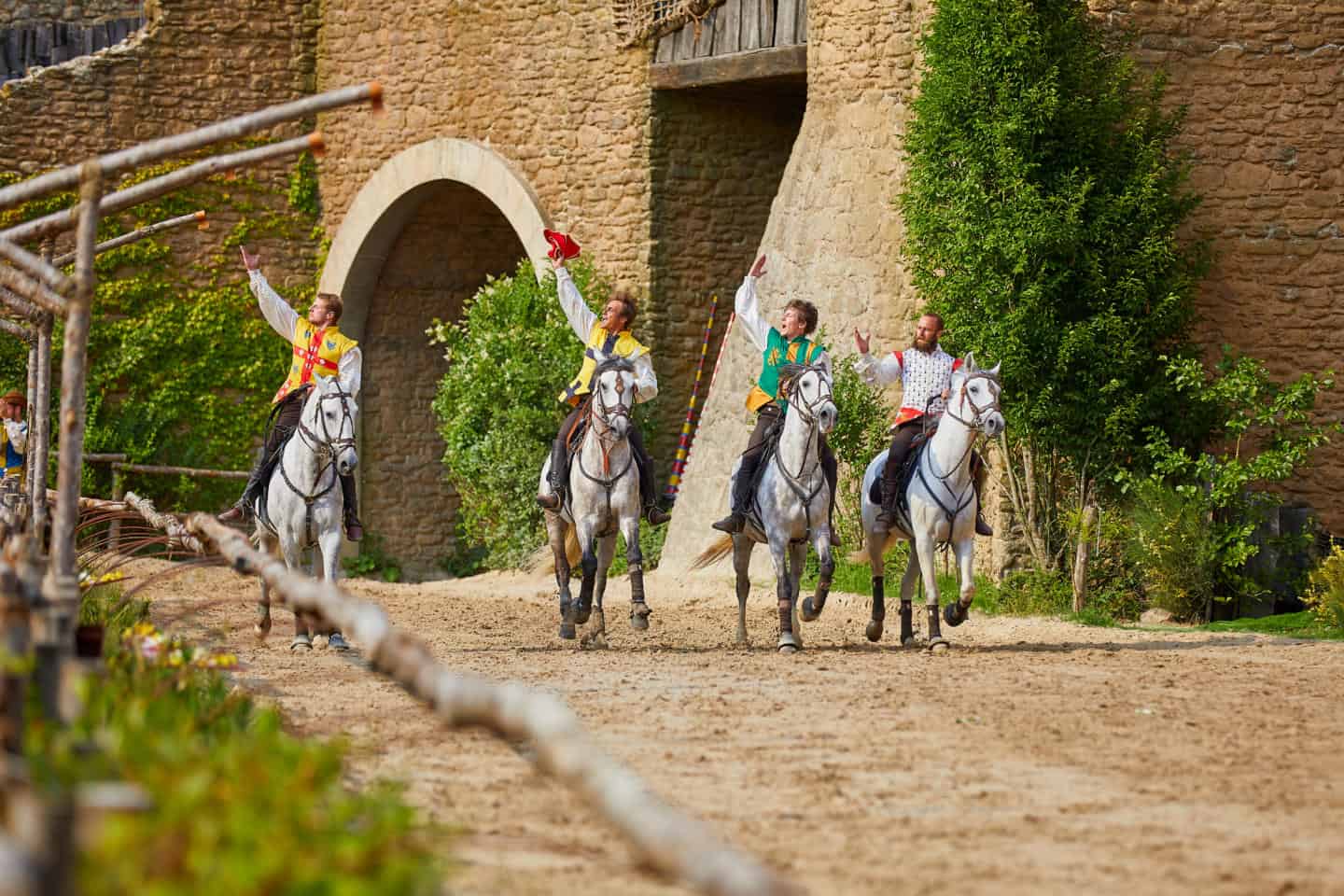 This show gave me chills. I loved the jousting and acrobatics, watching the castle walls melt into the ground, the pyrotechnics, and the aerial stunts. It was astonishing and a great show for kids, with non-stop action and plenty of magical moments.
There's also a generous helping of cute animals at the start. Families with children of all ages will enjoy this show.
Essential information: Emotion pass entry available | 29 minutes | great for all ages
Le Signe du Triomphe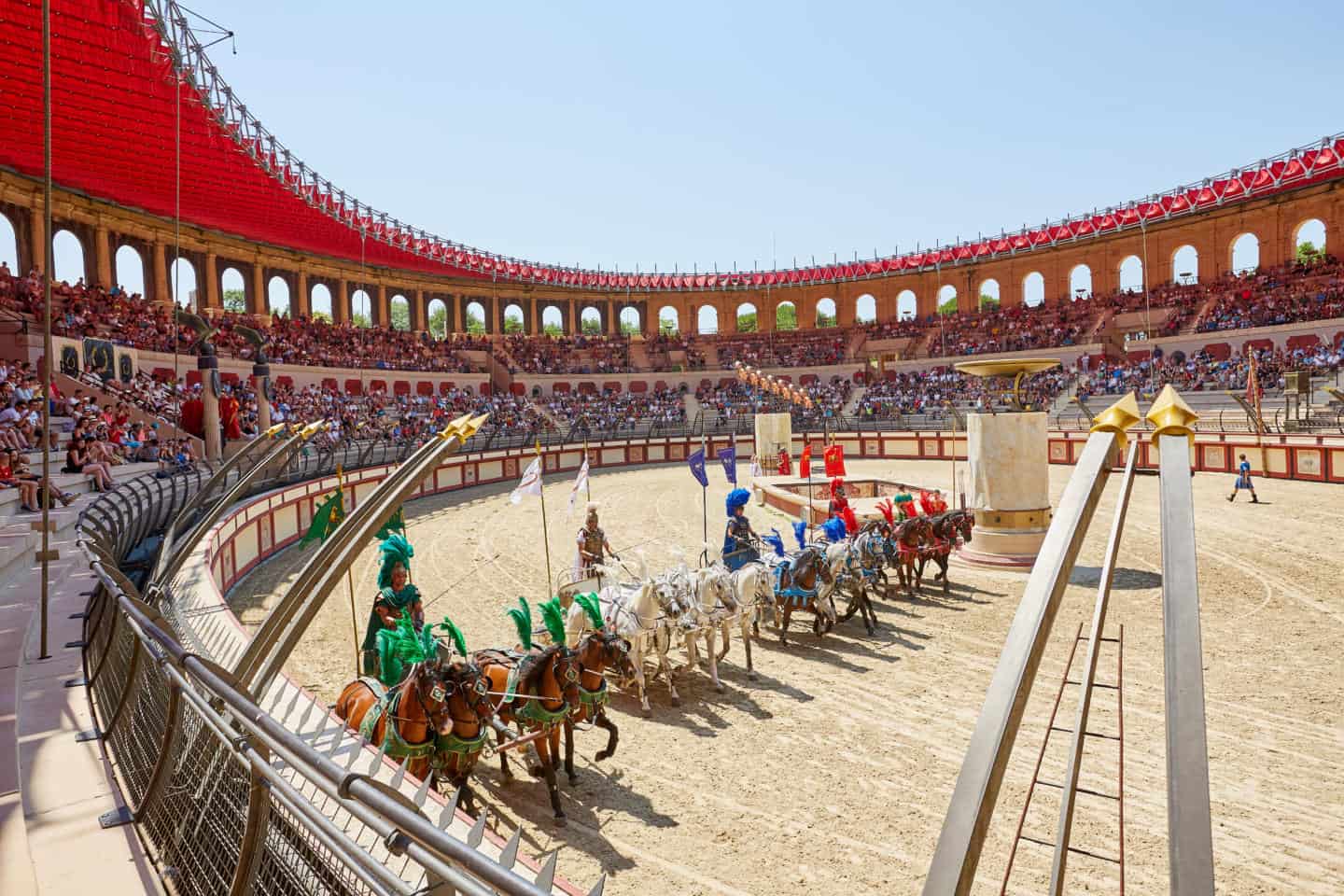 If you've ever wondered what the atmosphere was like inside a Roman coliseum then you have the chance to experience it at Puy du Fou.
Before the gladiator battles and chariot races even begin there are actors in the stands stirring up the crowds. It's impossible not to get caught up in booing the Roman conquerers and cheering for the Christian uprisers. It's a spectacle not to be missed.
A word of caution about this show; it includes big cats. You might want to talk children through this before you visit. I would still take mine to Le Signe du Triomphe but I'd want them to know that, while horses, goats and geese are domesticated animals, lions, tigers and leopards are not.
To be honest, I don't think they added anything to the show. The section when the big cats entered the ring felt rather flat compared to the rest of the performance.
Something else to be aware of is there's a bit of fake blood used during the battles. So make sure young kids know it's all just play acting and no one is really hurt.
Just going back to the matter of the big cats; we were assured that they are well cared for and they certainly looked it. Their handlers have worked on films like Gladiator and The Life of Pi, so Puy du Fou have brought in the very best people to help them create this show.
They also know that the big cats' presence in Le Signe du Triomphe isn't as acceptable as it was in 2001 when they were first introduced. Times are changing and they are looking to the future.
Essential information: Emotion pass entry available | 42 minutes long | good for all ages
Les Chevaliers de la Table Ronde – King Arthur and the Knights of the Round Table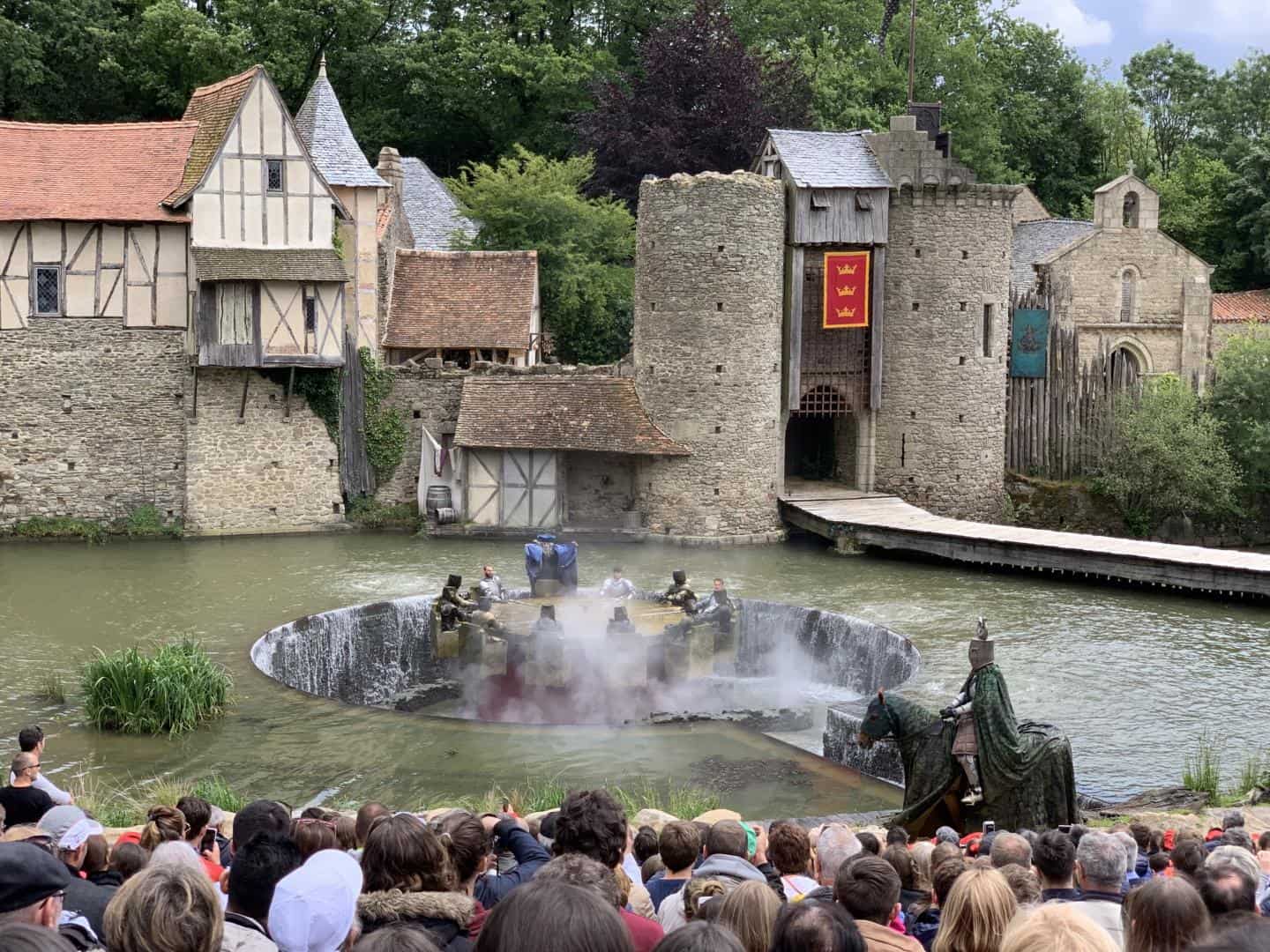 I know my kids would rave about this show for the sole reason that it includes a mermaid. Les Chevaliers is not one of the theme park's 'Grand Shows' but it is still packed with special effects and stunts.
You follow the new King Arthur from drawing Excalibur from the stone to taking his place at the round table, which emerges from the lake. This is a brilliant show with a lot going on in a short space of time.
Essential information: 17 minutes long | good for all ages
Les Vikings
This show takes place on an another enormous outdoor set where you witness a viking raid on a village. There's 180 degrees of action to try to follow with a viking ship careering towards the village, sword fights happening in all directions, and buildings being torched.
One of the most spectacular special effects I witnessed during my whole two days at Puy du Fou was at Les Vikings. A 20m long ship emerges from the lake in front of you with Viking raiders stood on deck like statues.
The next thing you know they have sprung to life and are attacking the village. This trickery will boggle my mind for quite some time. There's also some carefully choreographed animal moments in the show including a 'deer hunt'.
Essential information: Emotion pass entry available | 26 minutes long | good for all ages
Le Grand Carillon
This fun, small show is set in the centre of the recreated 18th Century village. The stage is a giant clock that the actors climb all over to ring bells and play melodies.
I think young kids will find this entertaining for a few minutes and then might want to move on. Stand towards the back and lift them up to see, giving yourself an escape route should their interest wane.
Essential information: 10 minutes long | good for all ages
Le Ballet des Sapeurs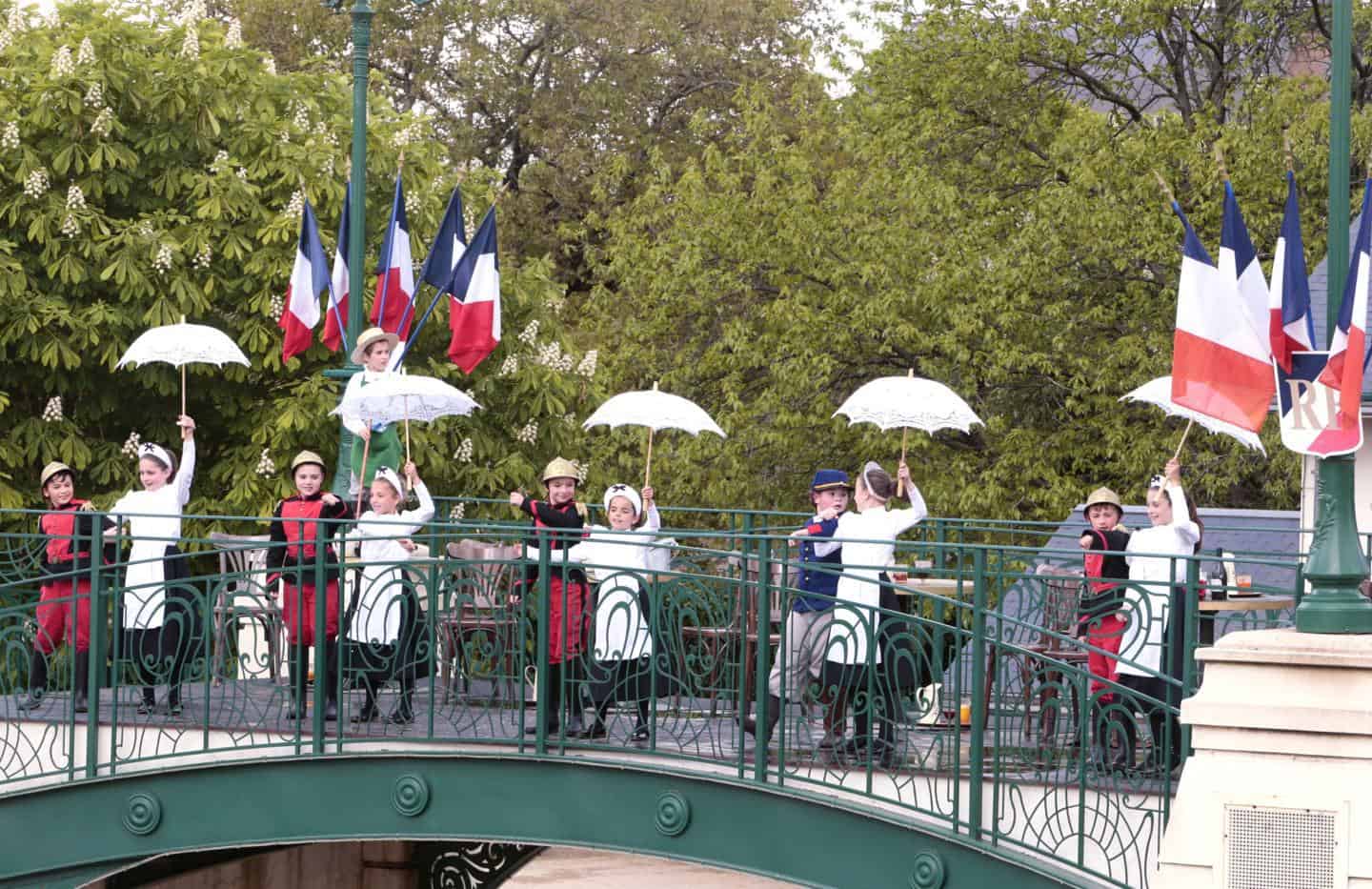 Puy du Fou is a major local employer and it also provides a school and academy onsite. The pupils put on a performance based a silent movie twice each afternoon. This is a charming little show that you can see performed on the bridge in the 'Bourg 1900' 20th Century village.
Grab an ice cream or a delicious hot chocolate from the neighbouring restaurants and enjoy seeing Puy du Fou's stars of the future entertain. Young kids will lap up the slapstick comedy.
Essential information: 9 minutes long | good for all ages
Le Amoureux de Verdun
If your kids are studying the history of World War One then this is an incredible immersive experience for them. Step inside and you'll find yourself in a trench where you can hear, feel and smell some of the shocking conditions that would have been part of the daily routine for soldiers on the front line.
It is very realistic with moving floors and scenery that shakes as shells explode close by. I found the whole experience incredibly sobering.
I'd not recommend this walk-through for young children like mine, but it is a must for older kids to help bring to life the events they have may have studied at school.
Essential information: walk-through immersive experience | best for teens
La Cinéscénie
If you've learnt anything about Puy du Fou's best shows by now it is that they don't disappoint. Every show has to be surprising and unique.
This quest to awe audiences is in the very fabric of the place and always has been. Puy du Fou's first show, La Cinéscénie, was originally performed 40-years-ago and is now regarded as the greatest night show in the world. 
It is based on an epic tale of France's history from the Middle Ages to the Second World War, is one and a half hours long, and has a cast of 4,150 volunteer actors. They fill a performance space that is set across 23 hectares, making it the largest stage in the world.
If you're a fan of facts then let me tell you that the show includes 28,000 costumes, 850 fireworks and 31 drones that create the illusion of flying candles and angels.
There are gondolas and a merry-go-round that vanish into the lake; projectors that transform a ruin into a grand castle; bustling village fetes; and a gothic chapel that appears from nowhere. It's exhilarating and emotionally exhausting to watch. I left the stadium with tears in my eyes.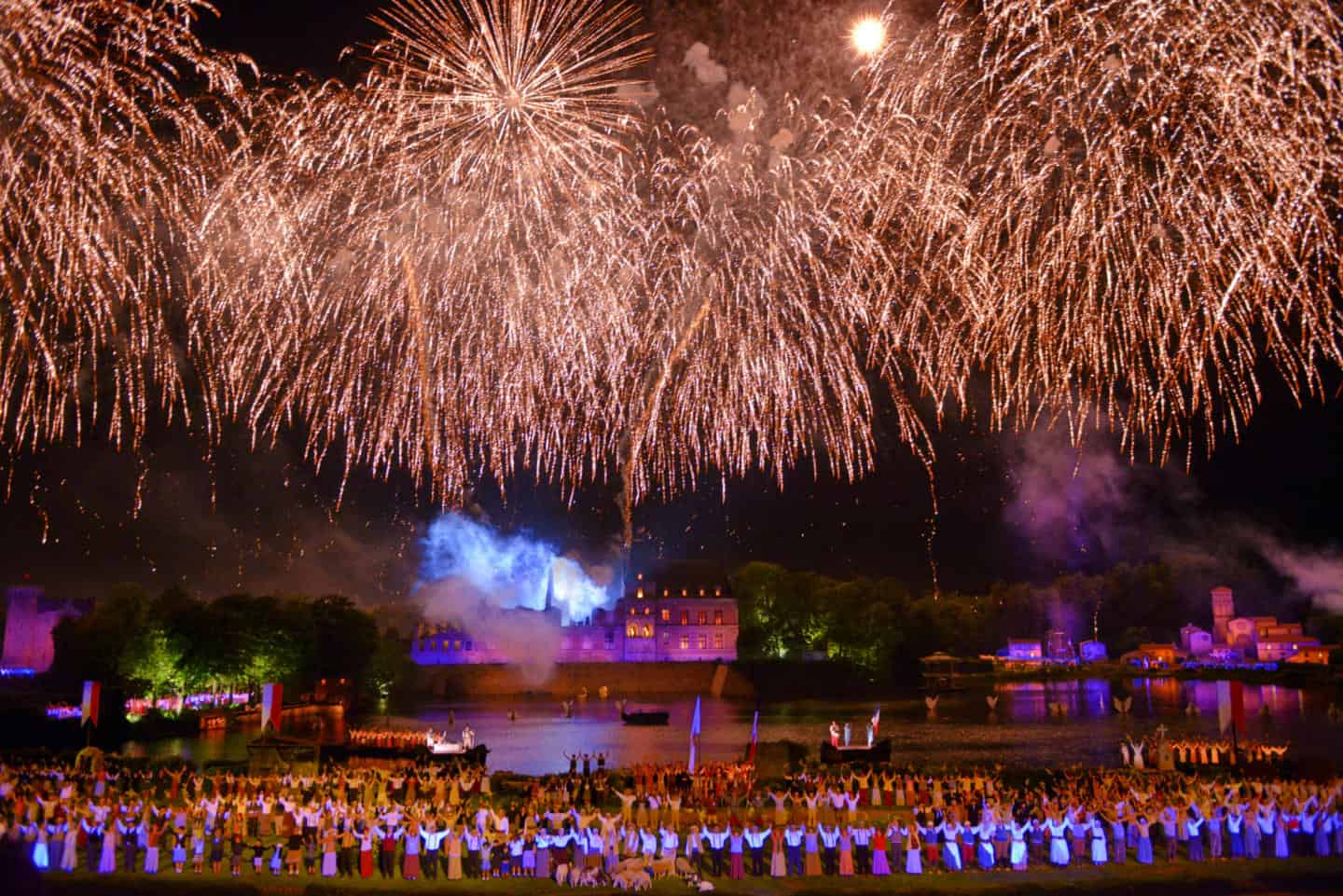 La Cinéscénie is a family-friendly show. Indeed many of the volunteer performers are family groups. The only downside for parents wanting to see this show with young children is how late it starts. This has to be after dark so the projections and pyrotechnics achieve their full impact.
The show I saw at the beginning of June went on until after midnight. At the ages of six and four, it's too late for my girls – I know they'd be tired and ratty the following day, even if we went later in the season as dusk fell earlier. But in a few years I'd love to share the spectacle of La Cinéscénie with them.
Tickets for La Cinéscénie are bought separately from your park tickets, so if you are visiting with young children you don't have to pay for something you can't see.
Essential information: night show | seats are ticketed | good for all ages (if they are able to stay up late without a meltdown)
The verdict: Puy du Fou's best shows for young kids
So, which are Puy du Fou's best shows for young kids? I genuinely loved them all but for kids aged eight and under I'm going to say stick with: Les Vikings, Le Signe du Triomphe, Le Bal des Oiseaux Fantômes, Le Secret de la Lance, Mousquetaire de Richelieu, Les Chevaliers de la Table Ronde, Le Grand Carillion and Le Ballet des Sapeurs.
If your kids can handle a late night then try for Les Orgues de Feu and La Cinéscénie too, as these performances are family-friendly.
The verdict: Puy du Fou best shows for older kids
If you're visiting Puy du Fou with teens then you're going to need plenty of time to see it all.
As well as experiencing the extraordinary night shows and all the shows that are great for younger kids, you have to see Le Dernier Panache, Le Mystère de La Pérouse, Le Premier Royaume and Les Amoureux de Verdun. They are incredible and will stay with me for a long time.
For more insights on visiting with older kids see what Helen from Actually Mummy says about the best things for teens at Puy du Fou.
Puy du Fou España launches
Puy du Fou is now in Spain too. Between August and November 2019,  Puy du Fou España is performing its first show: El Sueño de Toledo.
The show takes you on a journey back in time, to relive the greatest moments in the history of Spain and meet the most illustrious characters such as Al-Mamun, the king of the Taifa of Toledo, Queen Isabella and Charles V.
For 70 minutes, this giant fresco leads the audience across 1,500 years of history, with more than 2,000 characters played by 185 actors, horse riders, dancers and performers on a five-hectare stage packed with extraordinary special effects.
 'El Sueño de Toledo' is the precursor to the park, which opens in 2021, and is already the biggest show in Spain. Fin out more about the first show and what's in store at Puy du Fou España.
More useful information about visiting Puy du Fou with kids
Tickets
In 2022, day passes for Puy du Fou in France start at €39 for adults and €28 for children aged five to 13. Under fives are free.
I'd highly recommend also purchasing 'Emotion' fast track passes for €21 per person, per day. You can use the to jump the queues for the six Grand Shows and the Les Orgues de Feu night fountain show, allowing you to see more in your day.
I was convinced of the value of the Emotion passes when joining the sea of people waiting for Les Chevaliers de la Table Ronde, which is not a Grand Show. It would have been unpleasant to queue like this all day with young children. 
Tickets for the La Cinéscénie night show cost €29 for adults and children over the age of five. Under fives are free.
How to plan your visit
You can plan your day using the Puy du Fou app, which is updated with show times a day in advance. Show times do vary each day, so it is worth setting aside some time before you arrive to plan which performances you really must see.
Puy du Fou's best shows – the Grand Shows – will have the longest queues. We didn't queue at all for these shows with the Emotion passes and could arrive very close to the start times.
Here's some more tips on visiting Puy du Fou with kids by Cathy from Mummytravels.
Food at Puy our Fou
If you want to use the Puy du Fou restaurants then its best to book these in advance online. If you do you'll get a discount and secure a table during peak dining times.
When I visited in 2019, prices for lunch started at €15.50 for adults and €8.90 for children for a three course buffet lunch in the family-friendly La Mijoterie du Roy Henry.
When is Puy du Fou open?
Puy du Fou is open from April to November. Check the website for the most up-to-date information on opening and prices.
Staying at Puy du Fou
You can also stay at Puy du Fou. In 2019, a two night B&B stay for a family of four at one of the five themed on-site hotels started from €590, including two days' entry to the park. Check the Puy du Fou website for the most up to date prices.
Read more about the options in my full accommodation round up on where to stay at Puy du Fou. This includes camping, themed hotels and other hotels nearby.
Ting from My Travel Monkey has also shared tips for visiting Puy du Fou and Carrie from Flying with a Baby is sure you convince you about why you should visit Puy du Fou with kids.
Have you visited Puy du Fou with kids? Which Puy du Fou shows did you think were best for families?
Disclosure: I was invited on a press trip to experience Puy du Fou's best shows and had my travel, accommodation and park entrance covered in exchange for coverage on my blog and social media. All opinions are my own. All park images, with the exception of La Cité Médiévale, Les Vikings, Les Chevaliers de la Table Ronde and Le Premier Royaume, are courtesy of Puy du Fou.
Planning a visit to France's no.1 theme park? Pin this post about Puy du Fou's best shows for later.