Bed & breakfast at Warren Mill Farm in the Vale of Glamorgan
It's not often we go for bed and breakfast breaks. In fact the last time we stayed at a B&B was in 2006 in what is now our hometown of Dartmouth. Mr Tin Box was doing his initial training with the Royal Navy and it was cost effective and homely accommodation for when I visited him.
So, when we were booked into Warren Mill Farm during our #GlamAdventure with Glamorgan Heritage Coast & Countryside, we were intrigued to find out how it would work now we had a family and a dog.
About Warren Mill Farm
The farm was originally a corn mill and parts of the farm house date back to the 17th Century. It sits in 40 acres of land in the Vale of Glamorgan – just a 20 minute drive from Cardiff.
On site there's a park farm where you can meet goats, chickens, rabbits and horses. Next to the park farm is a fishing lake, if you're into your angling.
As well as offering bed and breakfast, Warren Mill Farm has two self-catering cottages and the Bunkhouse – the recently converted 17th Century corn mill.
Our stay at Warren Mill Farm
We visited on a busy weekend when the Welsh rugby team was playing at home in Cardiff. So the farm's two self-catering cottages and the recently converted mill were already booked. However, the owners did have a room left in their B&B.
We don't often stay in B&Bs and haven't done so since having kids for a few reasons. Firstly, it's always nice to have our own space after they have gone to bed and secondly, with a baby we need access to a kitchen and microwave to sterilise bottles. Plus, we have to find one that takes dogs. Self-catering has always seemed the easier option.
Our booking was made last minute so we decided to roll with it and I'm glad we did. The owners Marian and Howard were very helpful, offering to let us use their own kitchen to sort out Tin Box Baby's bottles and rearranging our room so that there was space for our travel cot and an extra air bed for Tin Box Tot. Marian also made a point of learning all our names when we arrived which was a lovely personal touch.
Tin Box Dog was also made to feel very welcome and there was a fenced field away from the farm park were she was able to have a quick functional walk.
Each room comes with a television, hair-dryer, tea and coffee making facilities, and free Wi-Fi. We also had a very modern bathroom with shower.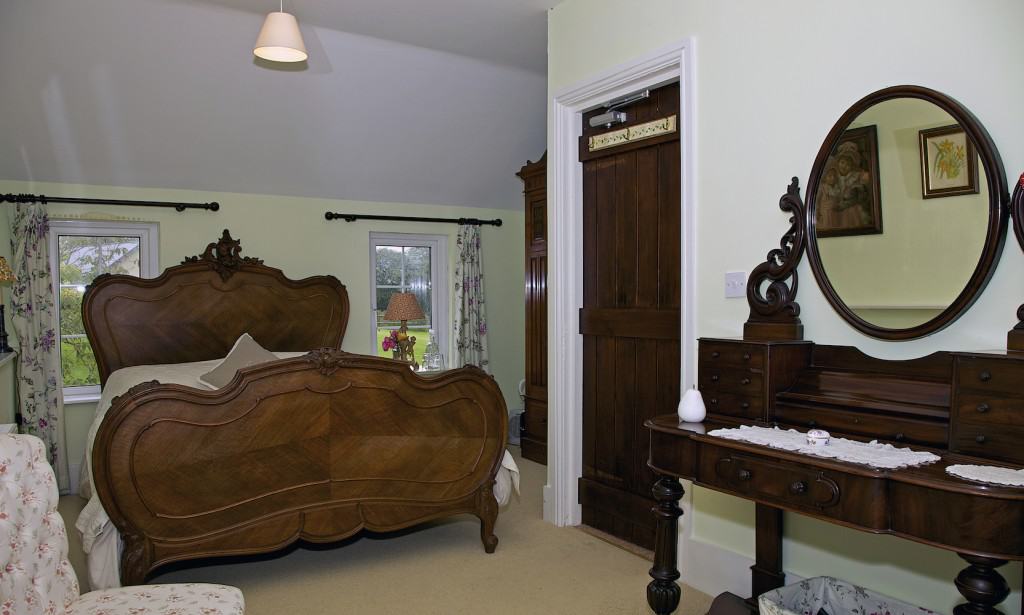 We were staying in a room just off the guests' sitting area, up a half flight of stairs.
This was very convent for us as we were able to put the girls to bed and leave our room door open while we sat in the cosy lounge a few meters away.
We hadn't packed a baby monitor so would have had to go to bed at the same time as the girls if it hadn't been for this lucky arrangement.
The B&B is full of curiosities that Marian informed us have been in the family for decades. I found them fascinating and totally in keeping with the rural, farm house setting.
Tin Box Tot was particularly fascinated with Mr Fox – a stuffed character who stood by the front door. I'm not sure what she found more intriguing: the collection of walking sticks propped up in Mr Fox's arms or the little tray of sweets he was holding.
I'd love to say we had two very peaceful nights at Warren Mill Farm – after all, it is nestled in there middle of the countryside. However, our two little people had other plans.
Tin Box Tot was recovering from a nasty ear infection and was still waking in the night with a bit of pain. Meanwhile, Tin Box Baby was up almost every hour for cuddles.
We now know she was cutting her two front teeth. So, our apologies to everyone else staying at Warren Mill that weekend – it was us disturbing the peace and quiet!
Breakfast
Breakfast is served in a room off the guest lounge, down another small flight of stairs. We could help ourselves to cereals, yogurts and fruit juice while Marian prepared cooked food to order.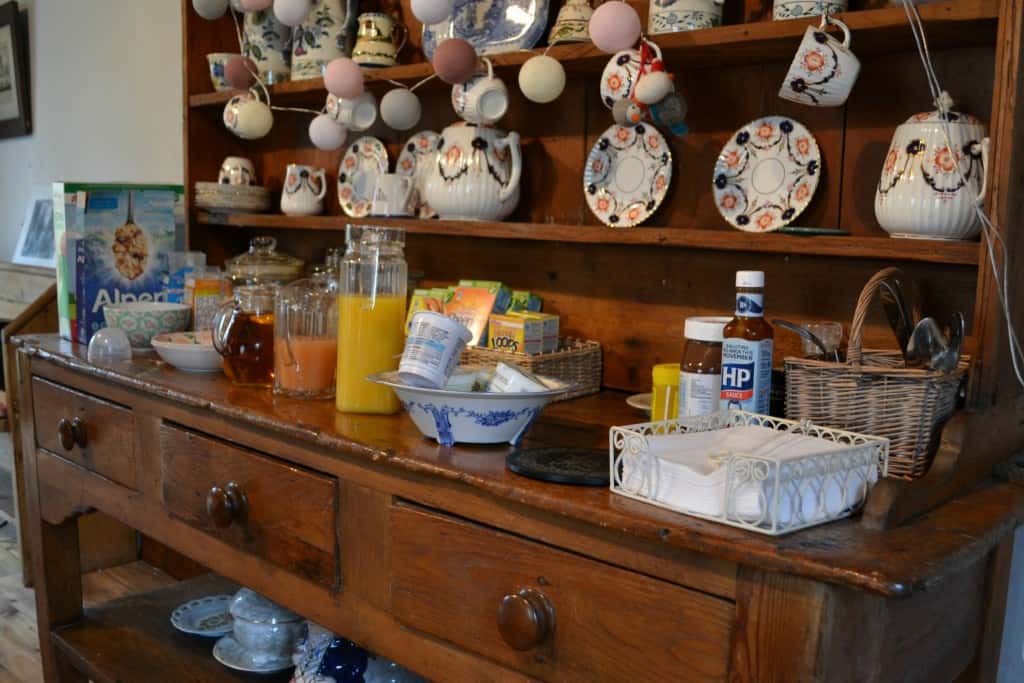 I didn't have room for a full English the first morning but Marian was only too happy to suggest lighter options.
I went for some of the farm's own free range eggs poached on toast. Mr Tin Box couldn't resist a full cooked breakfast both mornings and I have to own up to joining him on the second day because it looked so good. Tin Box Tot also thought so and snaffled one of my sausages.
The park farm
When we arrived at Warren Mill Farm we had an hour or so to kill before dinner at the Pelican in its Piety at Bridgend, so Tin Box Tot and I went to look at the park farm. It's also run by Warren Mill Farm and is open to the public all year round.
Because of the heavy rain over the winter it was very muddy when we visited, but there were still plenty of animals to meet.
Dozens of ducks and chickens of all breeds roam freely around the park. Unfortunately Tin Box Tot was a little frightened by the advances of the hungry birds who are obviously used to visitors feeding them. However she did enjoy a quick play on some of the ride-on toys that are all over the park.
In the local area
There's a lot to do within easy reach of Warren Mill Farm. I've already written about our family and dog-friendly activities during our two day stay, but here's a few more suggestions:
Wiggleys Fun Farm – indoor and outdoor adventure play with farm animals and pets corner
Cardiff International White Water – rafting, kayaking and a climbing wall
Big Pit: National Coal Museum – the story of Wales' mining heritage
Barry Island Pleasure Park – fairground rides and seasonal events
Parc Gwledig Margam Country Park – steam train, parkland, rare breeds farm and events.
Prices for family rooms at Warren Mill Farm start at £90 per night.
Disclosure: we were guests of Warren Mill Farm. All views expressed are my own. Pictures of our room and the Bunkhouse courtesy of Warren Mill Farm.
I love hearing what people think about my blog so feel free to leave a comment below or browse around. You can also find me on Bloglovin', Twitter, Facebook, Instagram, Pinterest and LinkedIn.