PEUGEOT 508 review at CarFest South 2019
When you are headed to one of the UK's most supercharged family festivals it makes sense to arrive in style. This August Bank Holiday weekend we did just that, driving to CarFest South in a sporty PEUGEOT 508 Fastback loaned to us for the event. Here's our PEUGEOT 508 review and a taster of what we got up to at CarFest.
*Advertisement feature*
CarFest South 2019
We've wanted to get to CarFest for ages. Mr Tin Box is a huge fan of anything automotive and a regular Chris Evans listener. So we jumped on an invite from Peugeot to be their guests at CarFest South this year.
CarFest is a music and car festival held in at Laverstoke Park Farm in Hampshire and raises funds for children's charities. The festival also took place at Bolesworth Castle in Cheshire a month earlier.
As well as loads of car action that fills the air with the smell of burning rubber there's live music and plenty of kids entertainment.
It was also super easy to bump into a celebrity or two. On the PEUGEOT stand the girls got to meet rally driver and CBeebies star Catie Munnings who is a brand ambassador.
Here are some more highlights from CarFest South 2019 including fun in the PEUGEOT VIP lounge, Happy's Circus, action on the track and Carter's Steam Fair.
We had a full on day at the festival and will definitely be returning another time. 
Driving the PEUGEOT 508 Fastback
Our 130 mile journey to CarFest South in Hampshire was a good one, aside from the inevitable holiday traffic. 
The festival also coincided with the hottest August Bank Holiday weekend on record, which meant the Peugeot 508's duel zone air conditioning and tinted rear windows were put to good use.
On the road we found the 1.5 litre diesel automatic changed gears smoothly and the steering was sharp.
It was a comfortable ride for a sporty car, with bolstered seats in a combination of leather and fabric. You can extend the base of the driver and passenger seats to give you extra leg support, which was something new to us. It made sense with the more reclined seating position in this coupe.
The front seats are also heated and warm up fast when you tap the touch sensitive buttons under the piano keys on the dashboard. I got a bit of a shock when I accidentally brushed my button while adjusting the volume on the Focal stereo system.
Engaging the sport drive mode gave you a bit more growly engine noise, while the 18 inch alloys looked the part and stuck to the winding country roads in Devon and Hampshire.
When you're parking the PEUGEOT 508 you have the benefit of front and rear sensors and a bird's eye view camera for reversing. I find this feature particularly helpful as you can see what's happening all around the car on the central display.
A stylish, sporty look
The PEUGEOT 508 Fastback is a good looking car with plenty of kerb appeal. From certain angles the 508 even has the look of an American muscle car.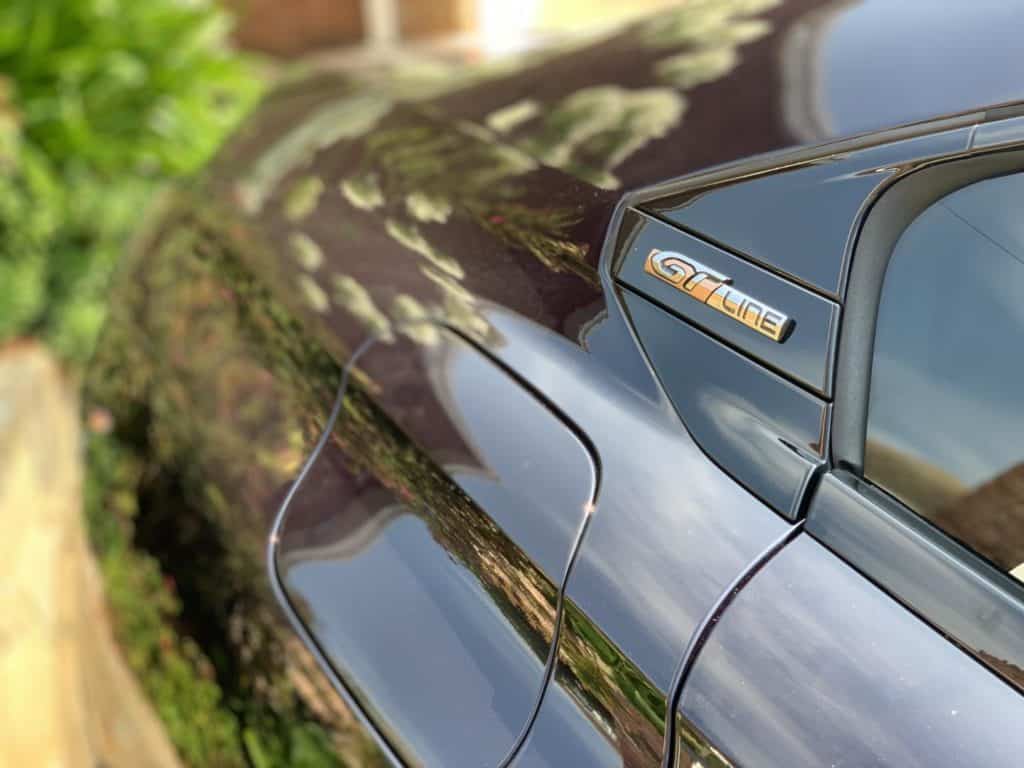 The frameless doors, curvy lines and 18 inch wheels all add to the sports car look. The 508 got plenty of admiring looks in the festival car park.
Inside it has plenty of the features we liked in the PEUGEOT 5008 SUV that we reviewed earlier in the year. 
There's the PEUGEOT iCockpit with a shaped steering wheel – which suited this coupe's sporty feel more than the SUV – a large customisable dashboard display, and silver piano buttons under the central 10 inch display for switching between climate control, navigation and in car entertainment.
The glove box is small but there's two extra storage compartments in the centre console where you also find a pair of cup holders.
Under the centre console there's a wireless charging point for smartphones as well as two USB points. One connects your smartphone to the in-car entertainment system. There's also USB charging points in the back for passengers.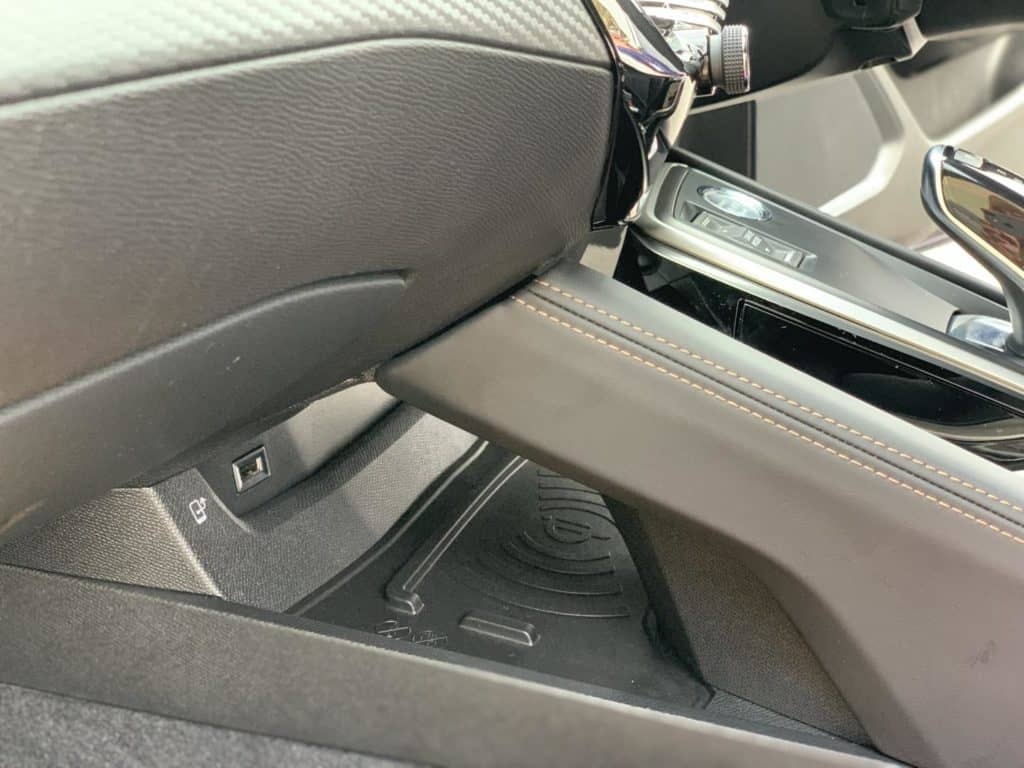 Boot space in the PEUGEOT 508
The hatchback boot has a 470 litre capacity and gave us plenty of room for our bags for a weekend away including space for the girls' scooters.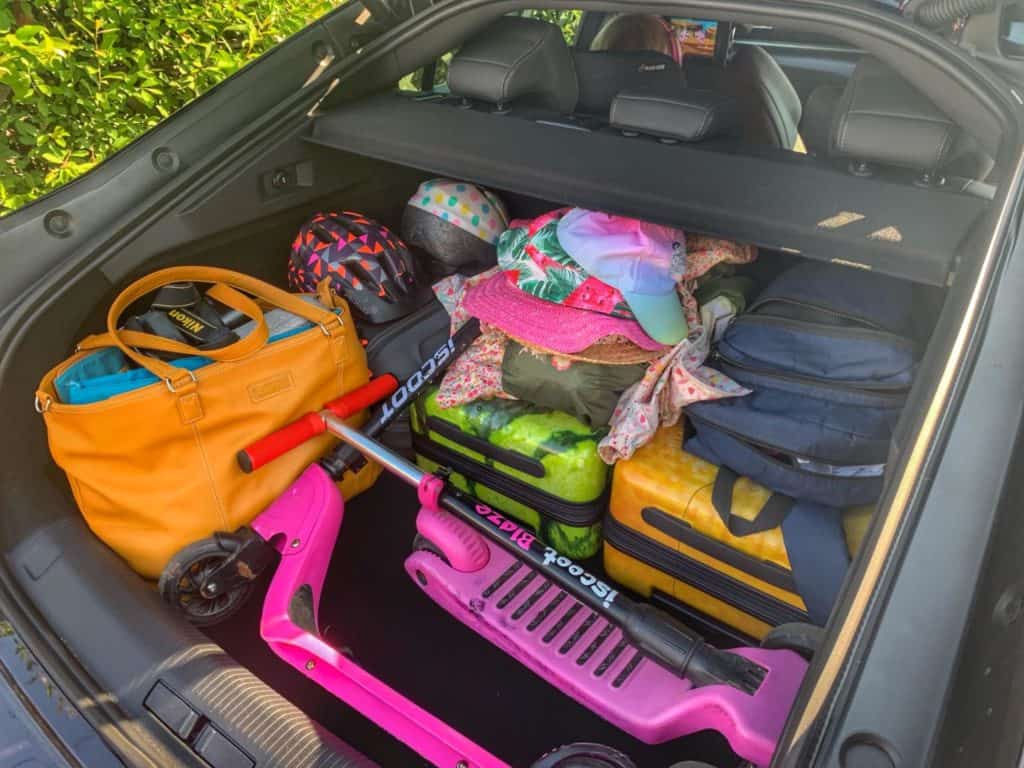 This is also where you'll find the spare wheel and a 12v plug socket.
However, if you have a dog, it's not the best space for them. We'd left Tin Box Dog at home with the Grandparents for this particular trip to avoid her feeling uncomfortable.
Family seats in the 508
There are ISOFIX points in the two outer back seats, which you can access through zips in the upholstery.
There's also ISOFIX in the front passenger area and a button for switching off the air bag.
While there was plenty of room in the back seat for our girls aged six and four, there would be less room for leggy teens or adults. You certainly wouldn't fit a third person in the middle seat with car seats fitted on either side.
Safety
The new PEUGEOT 508 Fastback has safety features like lane assist, emergency braking and distance alert.
As with the 5008 SUV, we preferred to turn off the lane assist on the smaller roads during our road trip to Hampshire as it would kick in too frequently. But it was a helpful feature on motorways and dual carriageways.
Unlike the 5008, in the 508 you can switch lane assist off easily with a button on the dash board to the right of the steering wheel. 
For full assurance, the PEUGEOT scored the full five stars in Euro NCAP crash testing. 
Final thoughts: PEUGEOT 508 review
If you are looking for a car that will turn heads but is still up to family road trips, including all the luggage you need for a long weekend or more, then the Peugeot 508 Fastback should be on your shortlist.
It looks and feels sporty inside and out, yet has all the safety features you'd want from a family car when you have young kids like us. Families with older kids or with pets who need more load space and leg room should check out the PEUGEOT 5008 SUV.
Prices for the new PEUGEOT 508 Fastback start at £25,560.
PEUGEOT 108 Ray-Ban offer
PEUGEOT has recently launched a partnership with Ray-Ban to offer two complimentary pairs of sunglasses to customers ordering a new PEUGEOT 108 or 108 TOP! before 30 September 2019.
You can choose from two frames and four styles: Aviator, Club Master, New Wayfarer and Round Metal.
I felt festival-ready wearing the Clubmasters at CarFest South. Prices for the 108 start from £11,935.
Disclosure: we were loaned the new PEUGEOT 508 Fastback for the weekend of CarFest, and were given CarFest South tickets and entry to the VIP Lounge in exchange for coverage on the blog and social media. All opinions are my own and those of my family.