CarFest South 2019 review – a family-friendly festival
CarFest has to be one of the UK's most supercharged family-friendly festivals with the full spectrum of fun for hardcore petrol heads through to the youngest of festival fans. We visited as guests of PEUGEOT who are sponsors of this event. Here's our CarFest South 2019 review including what we got up to on the Saturday as well as some of the fun stuff we missed. 
*Advertisement feature*
CarFest has been going since 2012 and has always supported charities; raising more than £13.5 million since it began. In 2019 even more charities were benefitting from 25 percent of ticket sales, plus plenty of fundraising during the event. 
Along with the charity side, we found there was such a lovely atmosphere and loads going on to please the whole family. In fact, 2019 was billed as the biggest and best year for CarFest with new 'worlds' and stages being added to the programme.
We haven't been to CarFest before so couldn't verify the 'bigger and better' claims ourselves but friends who are regulars have said there was a lot more going on this year. It certainly felt big to us!
If you're festival newbies then check out these tips for going to festivals with kids.
If you want to find out more about CarFest South 2019 and what you might be able to expect at CarFest South 2021 and beyond, read on.
Here's our CarFest South 2019 review video with highlights from our day:
Where is CarFest South held?
CarFest South has made it's home at Laverstoke Park Farm in Hampshire. It's in Overton near Basingstoke, which is 40 minutes south of Reading and 20 minutes north of Winchester.
PEUGEOT let us borrow the rather swish new PEUGEOT 508 Fastback so could arrive in style.
Read our PEUGEOT 508 review to find out more.
If an SUV is more your style then take a look at our PEUGEOT 5008 review.
CarFest South 2019 entertainment
Where do we start? There was a great line up of live music that you'd expect from any festival with household names like The Jacksons, Kaiser Chiefs and Boy George & Culture Club headlining the Main Stage.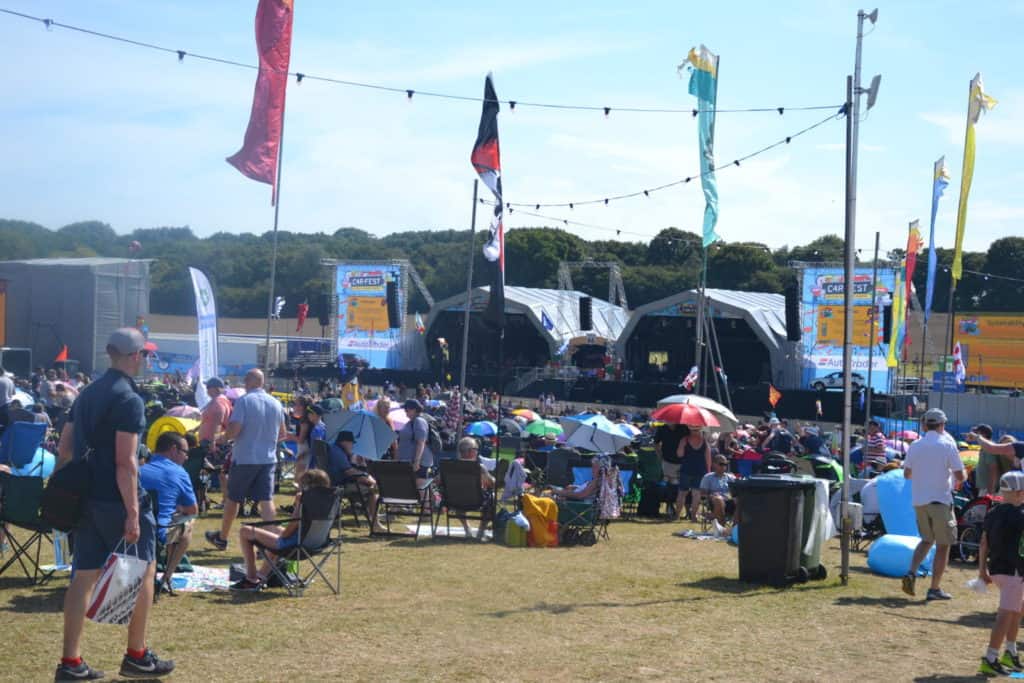 The acts started here from 4.30pm on the Saturday. By this time we were pretty pooped during what was the hottest August Bank Holiday on record. 
I was so pleased we got to see a couple of performances before the girls hit a wall. Their music highlight was listening to some of their Mama Mia favourites sung by the fabulous Bjorn Again. 
View this post on Instagram
Maybe in a few years we'll make it through to the likes of Jools Holland, Judge Jules and Kaiser Chiefs who were on later that night.
If we'd been camping we'd have taken a breather back at the campsite mid-afternoon to push the girls on later. Many families were doing just this and I'd not hesitate to try it ourselves because the atmosphere was so family-friendly early in the evening.
StarFest and ClubFest Stage
New for 2019 was the StarFest stage which doubled up as the ClubFest stage later in the day. We missed out on both but I'd definitely like to see this return another year as the celebrity chats sounded fantastic.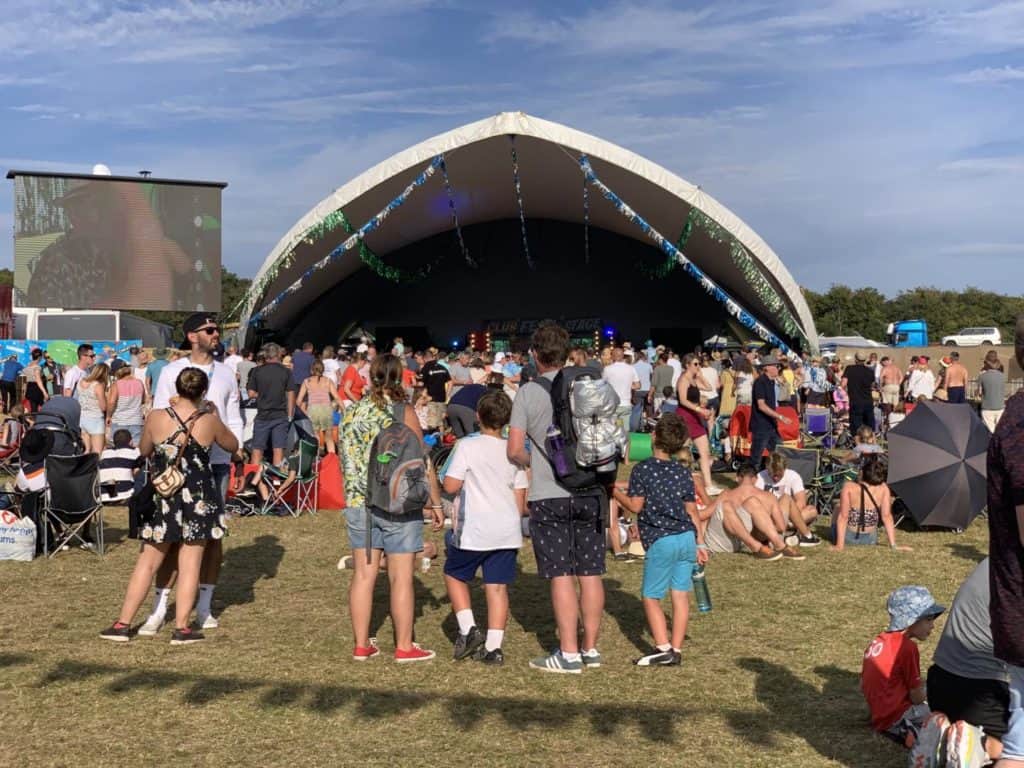 On Saturday Ricky Wilson of Kaiser Chiefs and Rick Astley were the music icons being interviewed on the StarFest stage, followed by a panel of food experts including The Great British Bake Off's Candice Brown and Prue Leith.
ClubFest included sets from Craig Charles, Danny Rampling and Kate Lawler.
View this post on Instagram
Kids entertainment
The girls were very excited to have their own Kids Kingdom – a 'world' dedicated to young festival-goers with its own stage and plenty of space to play.
We could have definitely done with a bit more forward planning around what was on at The Fort Stage here. 
The girls were keen to see CBeebies' Justin Fletcher but when we got to the Kids Kingdom, just as Justin was due on, there it was standing room only. The girls could only see if they got on Mr Tin Box's shoulders. There was a kids area in front of the stage where only under 10s could sit, so my advice for next year would be to get there early for acts that your kids really want to see.
There was a lot more to do in the Kids Kingdom like a soft play bus, roller skating, messy play, zorbs and trampolines. 
This is the first year that all these kid-pleasing activities have been brought together in one place and it seemed to really work.
Elsewhere around the CarFest South site we kept getting distracted (in a good way) by other family-friendly activities. 
In the new Vintage CarFest zone we all loved the aerial stunts performed by the team at Happy's Circus, the big wheel in Carters' Steam Fair and the Maize Maze.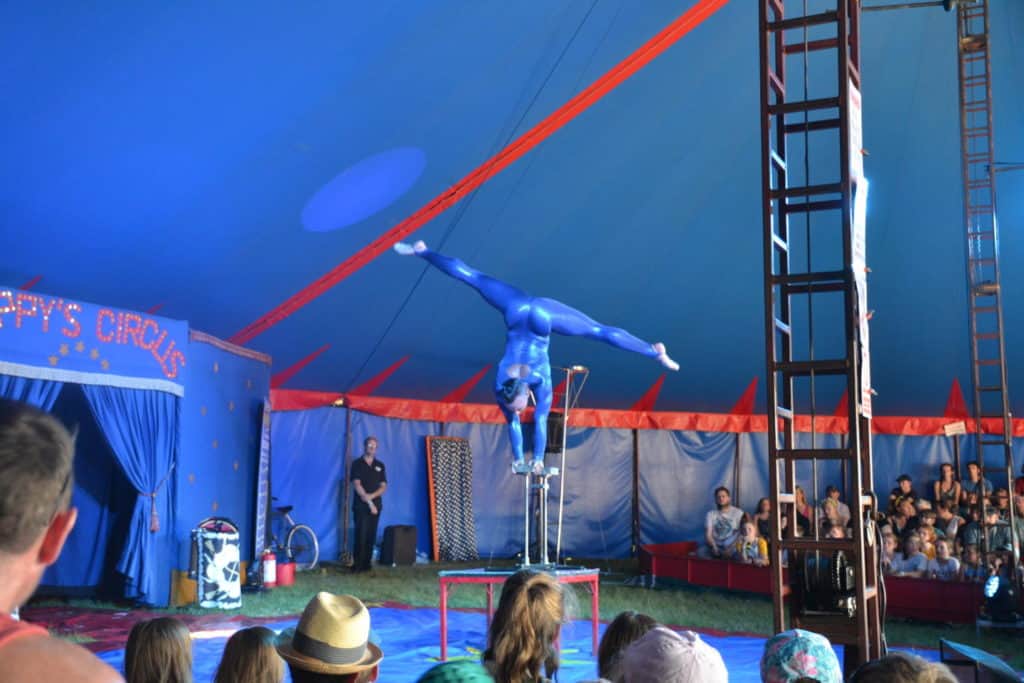 At the heart of Vintage CarFest was the small Pavilion Stage which was home to jazz, swing and big band performances. We wandered past fun looking dance lessons and cabaret shows on a few occasions, as well as lots of vintage icons of the vehicular variety.
An area that we only briefly touched on was Eden which I think the girls would have enjoyed if we'd had more time to explore. This is where a communal sculpture of recycled plastic was being created, plus there was singing lessons, storytelling and the Wigwam Stage surrounded by picnic tables and hammocks.
The stars of the show: the cars
This was what Mr Tin Box – and a lot of other people – came to CarFest South to enjoy. The festival has a race track, hill climb and two paddocks where you can get up close with an incredible collection of cars.
We caught the Grand Prix Through the Ages track show from the Peugeot VIP lounge garden. Mr Tin Box was buzzing to see vintage F1 cars roaring around the course and took dozens of photos.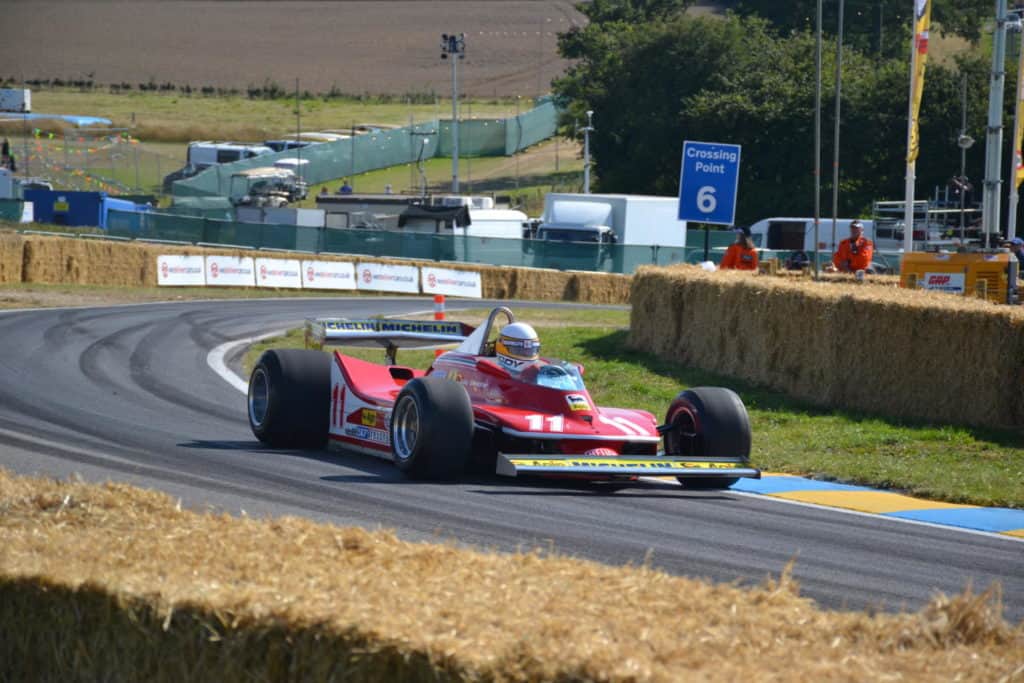 I was gutted that we didn't have a chance to see either of the paddocks – one showcasing the personal collection of F1 Champion Jody Scheckter – or have a go on the monster truck. Definitely next time!
As well as an incredible array of the cars of dreams, all of the top motor manufactures were at the festival with stands showing off their newest models, concept cars and vintage vehicles. They also had plenty of free fun activities for families to try out.
CarFest South VIP lounge
PEUGEOT gave us access to their VIP Lounge which was somewhere quiet to hang out when the kids started to flag in the afternoon. 
There was a play area, bouncy castle and trampoline, plus unlimited squash – essential in the heat! The girls loved bopping along with a children's entertainer while we were there.
Buy a VIP ticket to CarFest and you also get the benefit of two free drinks from the private bar, toilets, indoor and outdoor seating, a cloak room, and a track side viewing area.
On the Saturday of CarFest South 2019, VIP tickets including access to the VIP lounge cost £161 for adults and £32 for children (6-16).
CarFest South – where to stay?
Staying on site is the best way to make the most of this three day festival. Camping in a tent, camper van, motorhome or caravan is available from the Thursday night with a Big Early camping ticket, which cost about £40 extra on a family camping ticket in 2019.
You can buy camping tickets with or without electric hook up. Toilets, showers and some food stalls are available in the campsite.
The camping areas close on the Monday whichever ticket you buy. If you want to bring a camper van, motorhome or caravan you must also purchase a camper van/caravan permit when you buy your weekend camping ticket.
The Caravan and Motorhome Club also had a temporary Club Site for members at CarFest South in 2019.
CarFest South food
There was a huge selection of things to eat in every area of CarFest that we visited. 
The biggest selection was around the Main Stage where we had a dinner featuring sausage and chips, Singapore noddles and a barbecue pork wrap. Vegan and vegetarian options were available all over the place.
You'll find something for even the fussiest kids, plus ice cream, popcorn and sweets for a mid-afternoon sugar fix.
When we had lunch at midday and dinner at 5pm there were no queues.
What to wear to CarFest
CarFest South 2019 was held on one of the hottest weekends of the summer so cool clothes were a must. When people were not walking around the site, by the track or watching performances they were huddled in whatever shade they could find. 
If you are visiting CarFest wear light summer clothes, a hat and plenty of sun cream. Flat shoes (I'd recommend something close toed) are also a must as the site is a farm with uneven ground in places. However it is reasonably flat so the only people who need to worry about hill climbing are the drivers.
Also take a jumper for the evening – by the time we got back to where we were staying near Southampton the temperature had dropped a little.
In 2018 CarFest South had a lot of rain, so had wet weather been forecast for 2019 we could have brought rain coats, waterproof boots and spare clothes for our kids who are mud magnets.
Toilets at CarFest South
We saw lots of toilets around the festival site. While there were queues later in the day they didn't take too long to get through and the loos were in a pretty good shape. There were toilets in the car parks and these still had paper by early evening on Saturday.
There were also accessible toilets and baby changing areas on the main festival site.
How to get to CarFest South
There are different car parks for campers and day visitors so follow the instructions that come with your tickets. There are also signs from the M3. 
We spotted the signs early but lost them on the A34. We picked them up again at Overton and drove through the village to Orange Parking. It wasn't our allocated parking zone but it didn't seem to matter. 
It looked like the furthest parking zone from the festival and was a 20 minute walk to the ticket office, which I didn't think was too bad. There's accessible parking and camping right next to the festival entrance we used.
CarFest 2021 tickets
CarFest 2021 tickets go on sale at 8am on 5 November 2020 including tickets for the new event Retro CarFest. This takes place at Bicester Heritage in Oxfordshire from 18 to 20 June 2021.
North and South are being reworked to be more spaced out with a smaller capacity with viewing pods at each stage, more big screens and entertainment in campsites.
If you have bought CarFest North or CarFest South 2020 tickets then keep hold of them as they will be valid for the events in 2021:
Camp CarFest North will take place at Bolesworth Estate from 23 to 25 July 2021
Camp CarFest South will be held at Laverstoke Park Farm from 27 to 29 August 2021
The best way to find out more and how to get hold of the next round of tickets to be released for CarFest 2021 is to sign up for the CarFest newsletter on the CarFest website.
Just to give you an idea of ball park prices, in 2019 a weekend camping ticket for a family of two adults and two children cost £356 (arriving Friday) or £396 (arriving on Thursday). A camper or caravan permit cost £101 without electric or £165 with electric. 
A day ticket cost £147 for a family with two adults and two children.
CarFest South 2019 review: final thoughts on this family-friendly car festival
The site layout and 'worlds' within the festival were well thought out and easy to navigate after a few hours. And the only time it felt crowded was around the stages and track where people were obviously vying for the best views. It was always easy to step away and I never worried about the girls getting swept off.
The atmosphere was great and the variety of activities going on meant we were torn about what to do next, although ultimately guided by the kids' stamina and the heat. The quality of the entertainment on offer was excellent.
We've already said we'd book the whole weekend at CarFest next time we go. There's so much to do and a little afternoon siesta might help the kids push through to the evening entertainment. 
Thanks to PEUGEOT for allowing us to borrow the PEUGEOT 508 and inviting us to be their guests at CarFest South 2019.
Disclosure: our festival tickets were arranged by PEUGEOT in exchange for coverage of the 508 and CarFest South.
Planning on going to CarFest South 2020? Why not pin this CarFest South 2019 review for future reference.