Family-friendly tour of the Uffizi Gallery in Florence
This summer we revisited an Italian city we first ventured to when the girls were toddlers. We have lots of memories from that trip to Florence with toddlers, but it was great to be able to share the city with them again a few years on. Plus we had the help of a family-friendly tour of the Uffizi Gallery to bring the art and history of Florence to life.
*Advertisement feature*
There's no doubt that the Uffizi was intended adults more than for children, but with the help of Francesca, our guide from Europe 4 Kids Tours, we were all able to appreciate the stories behind masterpieces by Di Vinci, Botticelli, Raffaello and many more.
Here's our review of the Art Detectives: Uffizi Gallery Scavenger Hunt with Europe 4 Kids.
Uffizi treasure hunt for the kids
When Europe 4 Kids contacted me ahead of our family holiday in Italy and asked which tour we'd like to try I knew the scavenger hunt would appeal most to my six and four-year-old girls.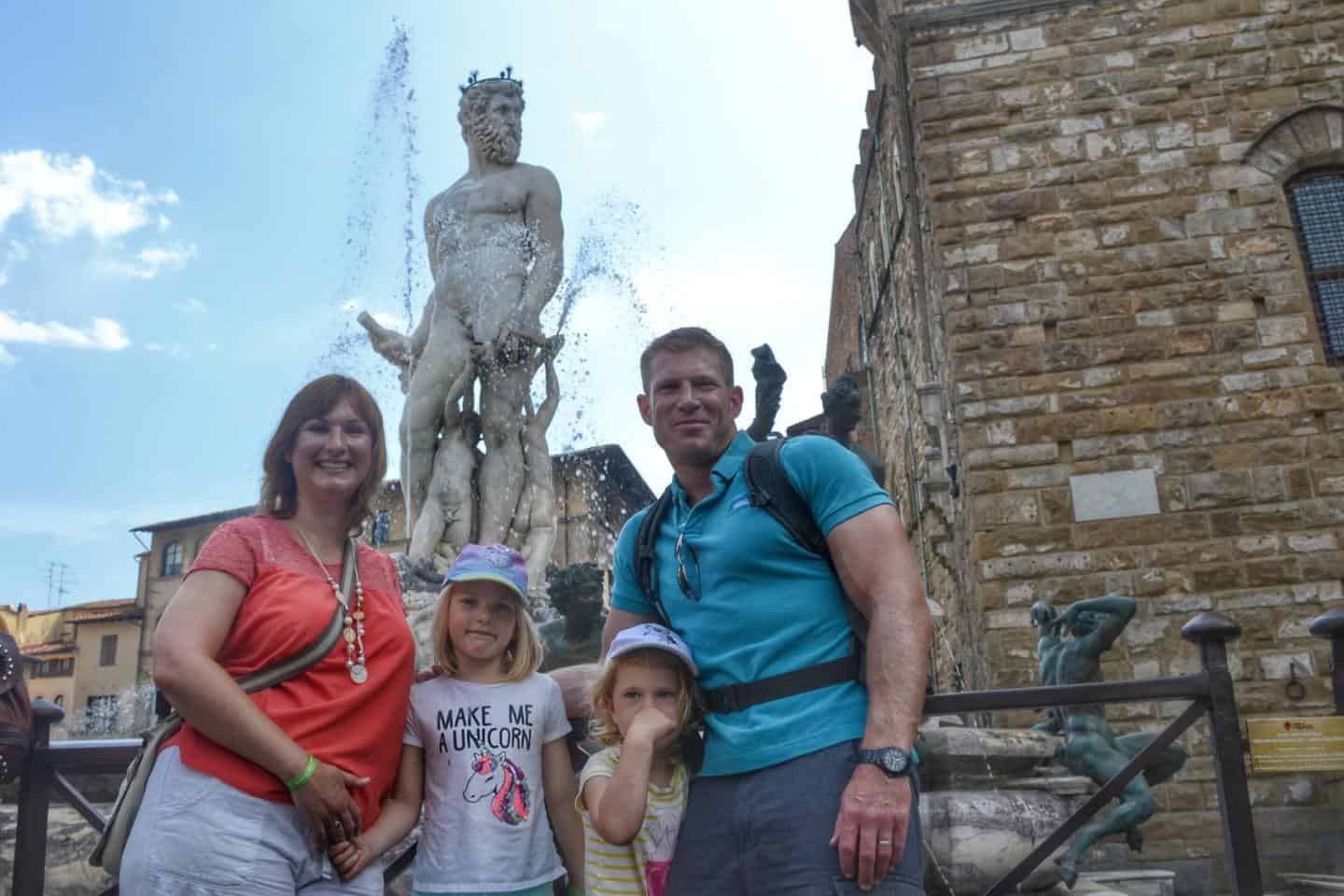 Tot in particular loves a treasure hunt. The Art Detectives tour challenges children to find the missing pieces of some of the world's greatest art masterpieces. It's all about making learning about art, the artists and their techniques, fun. 
And what better venue than the Uffizi – one of the world's most famous galleries and home to collections of ancient sculptures and paintings from the Middle Ages to the Modern period.
See what we got up to last time we visited Florence with kids.
Our English-speaking tour guide
Francesa was super-efficient at helping us pick up our gallery tickets and guiding us through security at the gallery entrance. There are airport style scanners for people and bags. It took us just minutes to pass though not long after 9.15am on a Friday.
Top tip: bring ID for your kids if they are under five. Under fives can visit the Uffizi for free but you may have to prove their age. We hadn't brought our passports but were lucky that Baby passed scrutiny as a four-year-old when we picked up our tickets, otherwise we'd have had to pay for her as well.
Under Francesca's expert direction we'd made a toilet stop in the bowels of the 16th Century building and then headed straight to the top of the two floor gallery to beat the crowds. 
There are lifts at either end of the building, which are handy to use with small children like ours to save their energy, particularly on a hot day.
This is where we began the Art Detectives treasure hunt with each of the girls receiving a trail sheet with snippets of the masterpieces to spot with the help of generous clues from Francesca.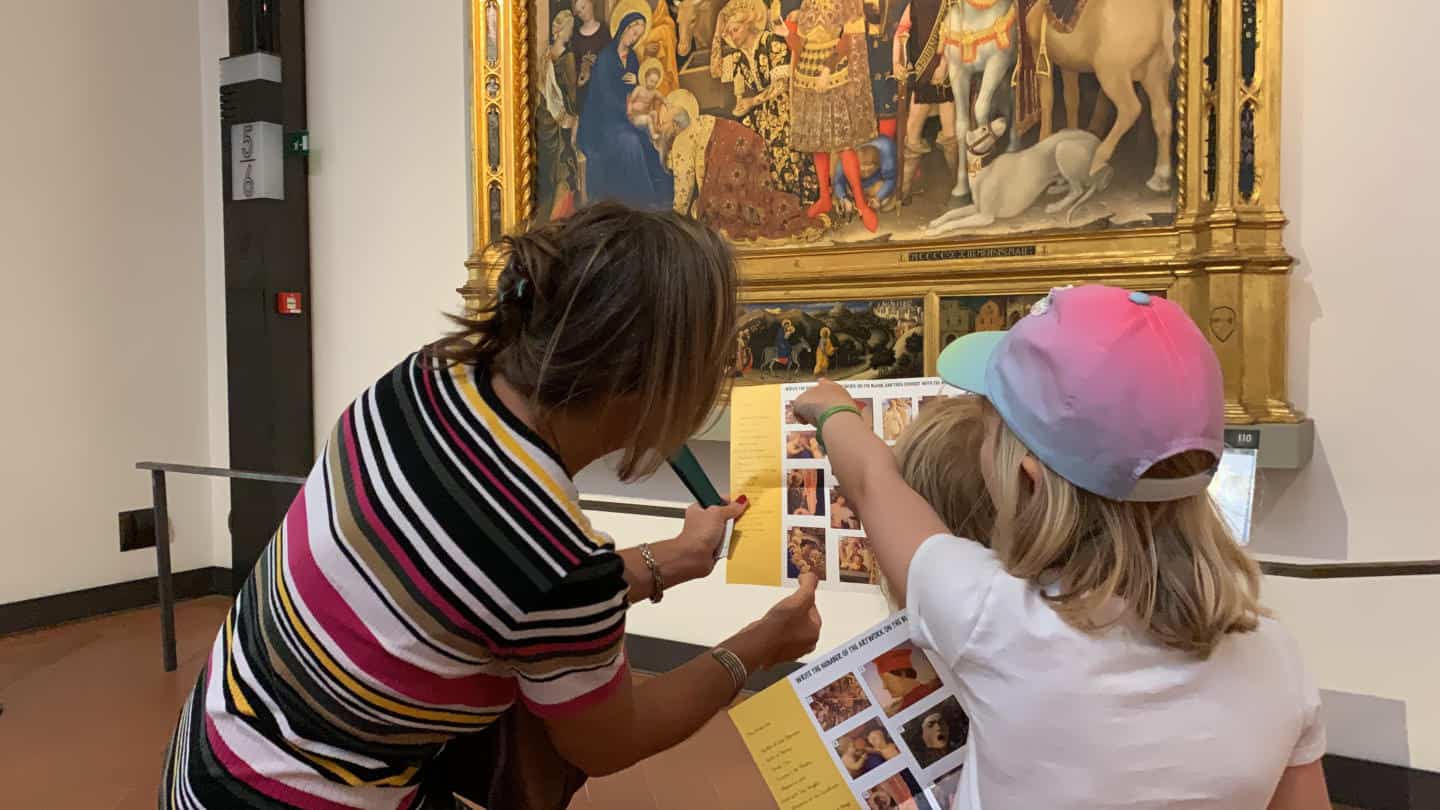 What age is the tour for?
Our girls (aged six and four) were probably at the bottom end of the appropriate age for this particular treasure hunt, but Francesca pitched it really well to them and adapted the tour when they had clearly absorbed all they could.
She pointed out hidden figures, mythical beasts and optical illusions within the artwork to keep them engaged, while giving Mr Tin Box and I plenty of insight into the great masterpieces. It was quite a talent to make sure we were all kept entertained.
When we got to the top of the gallery we split up for a short while. Mr Tin Box headed back to the entrance in search of gelato to revive the flagging girls, while Francesca and I completed the tour.
I could have spent hours looking at portraits of the Medici Family, and unpicking the religious and political meanings behind the art works with Francesca's help.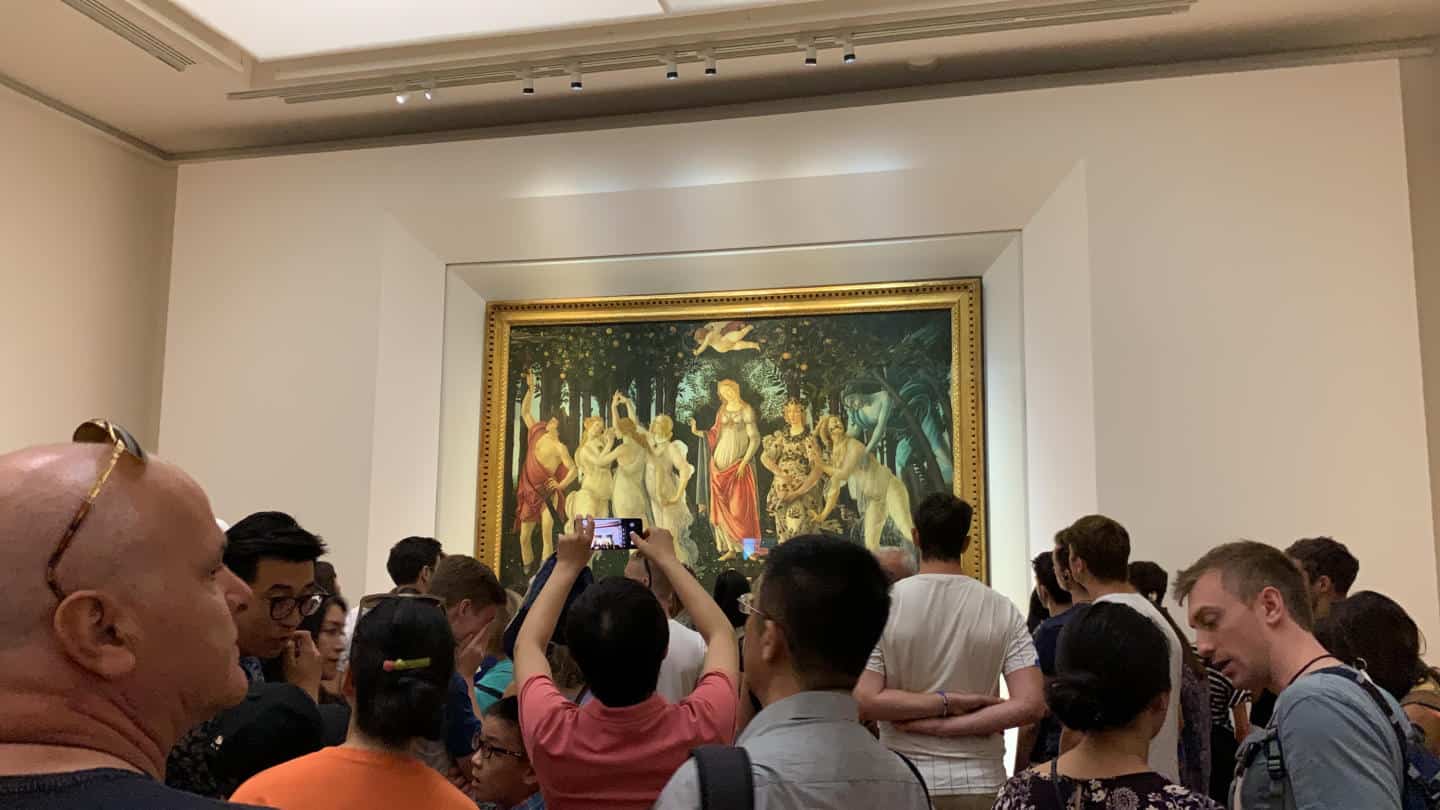 More than a gallery tour
Back at the front of the Uffizi Francesca took us off into the city where we learnt more about the statues and installations in Piazza Signoria, the famous carousel in Piazza Della Replubblica, the bronze boar Porcellino Fountain, and the iconic Gates of Paradise at the Baptistery of Saint John.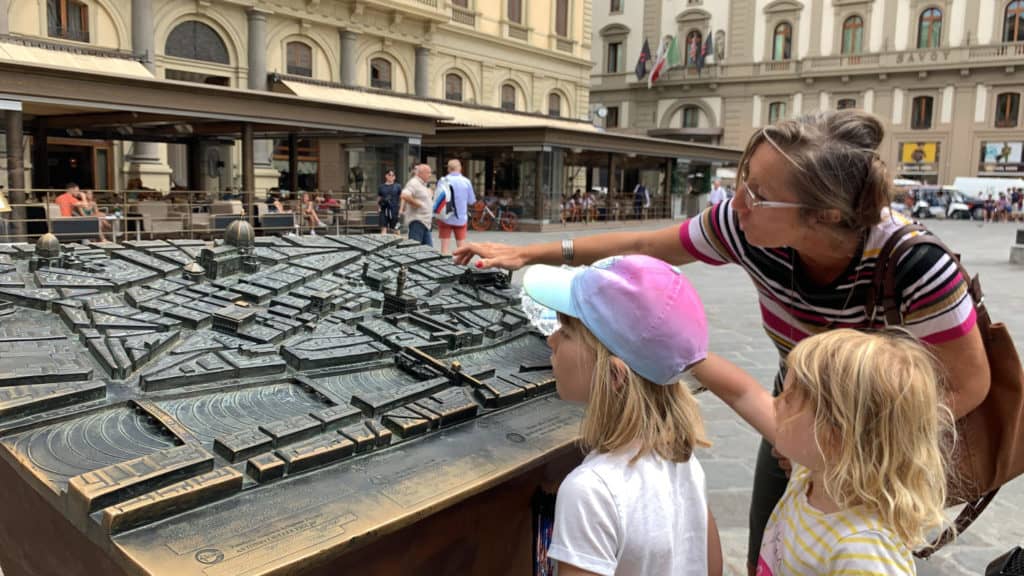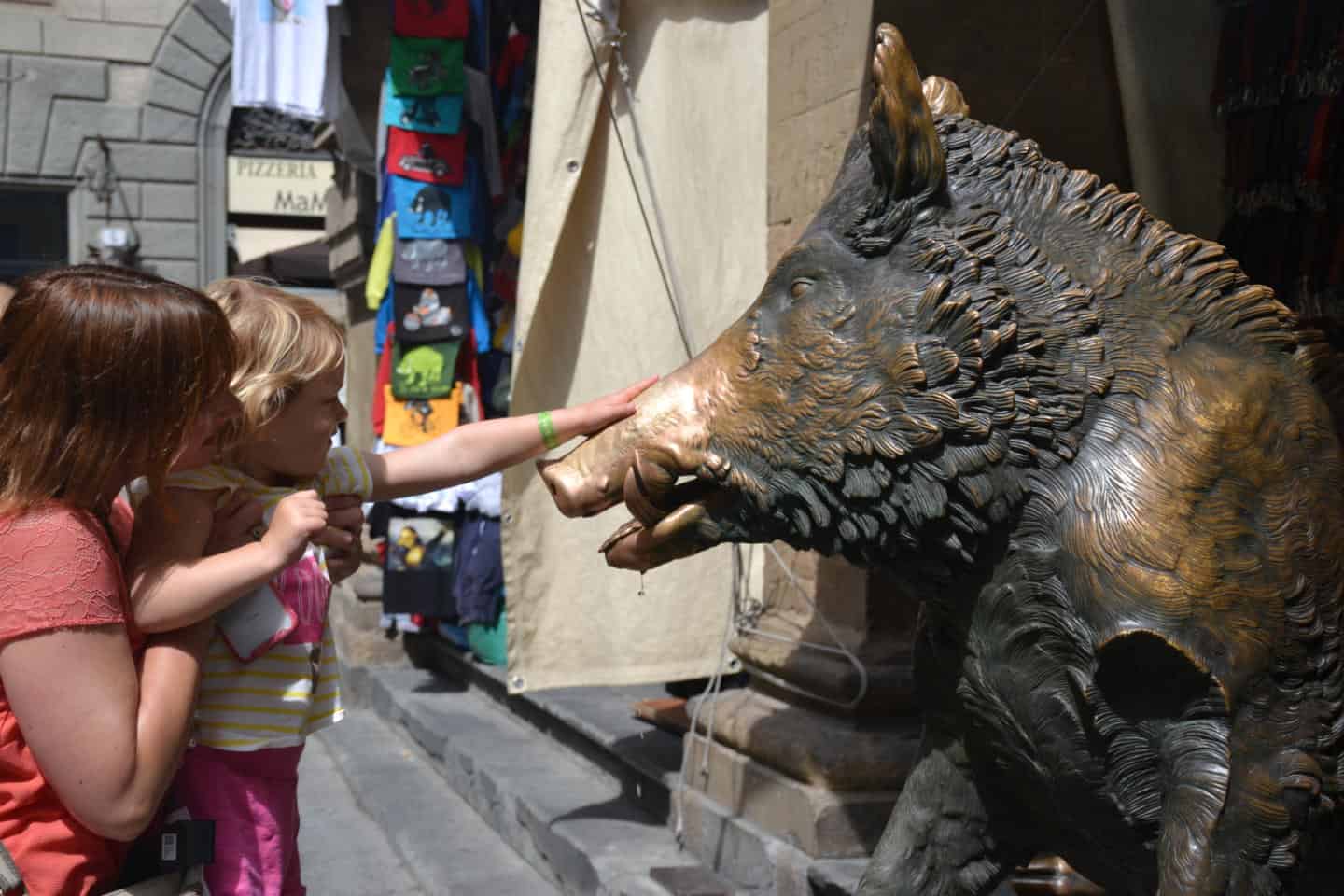 This is where we bid Francesca farewell. The three hour tour had passed in a flash. 
This is a great tour for family groups with plenty of facts to intrigue both children and adults. Francesca had a brilliant rapport with the girls and adapted the tour to suit them every step of the way.
See what else we got up to during this family holiday in Tuscany.
Booking a family-friendly tour of the Uffizi Gallery
You can book the Uffizi Gallery Scavenger Hunt with Europe 4 Kids throughout the year (excluding Mondays).
You pay for your guided tour in advance. This three hour family-friendly tour of the Uffizi Gallery costs from €65 per person in low season. Our private tour with Europe 4 Kids in August would have cost €270 plus entry to Uffizi.
You meet your guide at Gate 3 of the Uffizi Gallery where they will help you collect and pay for your gallery tickets. These have to be paid onsite. The Uffizi tickets cost us €52 for two adults and a child (under fives are free).
More family-friendly tours in Tuscany
Europe 4 Kids also have day trips and shore excursion tours in Pisa, Siena, Lucca, San Gimignano, Pienza, Montepulciano and Cinque Terre.
Find out more about our family-friendly tour of the Uffizi Gallery and other tours in Italy on the Europe 4 Kids website.
Disclosure: our guided tour was courtesy of Europe 4 Tours in exchange for a review.
Planning a trip to Florence with kids? Why not save this post about our family-friendly tour of the Uffizi Gallery for future reference.