Midsummer Dreams Festival highlights
We were invited to attend the Midsummer Dreams Festival at Darlington Hall Estate in Devon last weekend. It's a family theatre event showcasing local and national talent.
We've driven past the Estate many times in the six months we've lived in Devon but have never dropped in. So this alone was a great reason to attend. Add to that the fact we would be able to appreciate a bit of culture alongside lots of kids activities and it was too good an opportunity to miss.
We visited on the first day of the event and spent five hours enjoying what it had to offer before the heat and tiredness got to our pre-school girls. A pretty good effort on their part! Here's some highlights from our Midsummer Dreams Festival experience:
Meeting Puck
The first person we met when we arrived at the festival was the mythical Puck from Shakespeare's A Midsummer Night's Dream. Puck, played by Portia Van de Braam, was our elfish guide, beckoning us to each activity and performance. Tin Box Tot wasn't too sure what to make of playful Puck but began to warm to her as we saw her more throughout the day.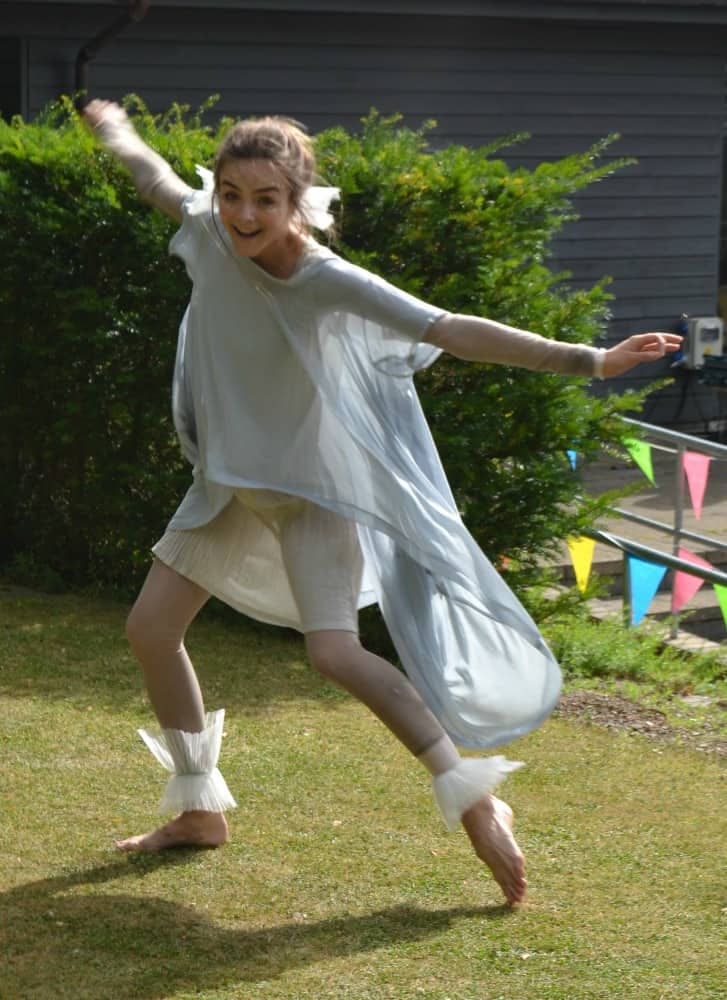 Ballet with Chapel House Studios
We were treated to group, solo and duet performances of classical and modern ballet that had the Tin box girls enthralled. It was only in the final 10 minutes of the performance by the local Chapel House Studios that Tin Box Baby got a wriggle on and wanted to join in herself. I just hope that if my girls do decide they want to become ballerinas they don't take after me. My ballet skills as a little girl were once likened to those of a baby elephant – thanks Dad! Saying that, he had a point!
Tales with the Tintagel Storyteller
Jill Lamede, the Tintagel Storyteller, was a delight. We sat down twice to listen to her wonderful story telling in the Devon sun. Children in the audience were asked to pick a toy from the storyteller's basket to inspire the next tale. When it was Tin Box Tot's turn she chose a small cuddly dragon. From this Jill told the 'true' story of an invisible dragon and a fighter jet that really did crash in the Cornish town of Tintagel in the 1970s.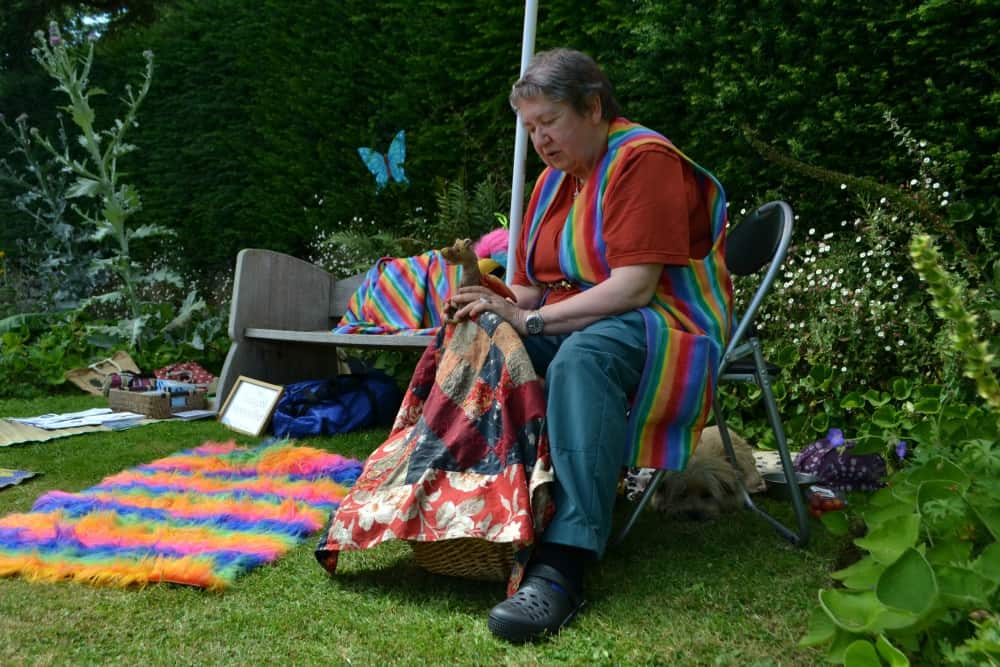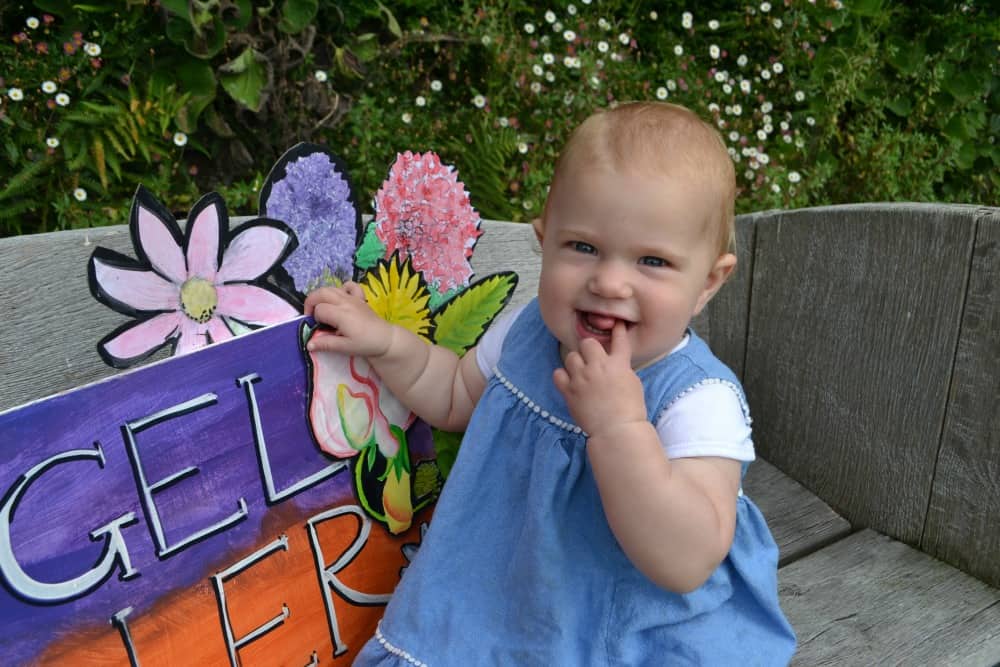 Puppet making with Peafrog Puppetry
Tin Box Tot loves nothing better than the opportunity to use glue and scissors. So she had fun making and performing with her own mythical animal puppet in a workshop run by Peafrog Puppetry. Children and adults were tasked with drawing their own mythical beast and then creating a puppet in its likeness. Tin Box Tot's was half cat, half fish. But that is obvious…
Interactive storytelling with Sandal Sticks Theatre
The weekend was full of family-friendly performances where the audience found themselves participating in many of the storylines. We had tickets to see Little Red Cap and the Wolf by Sandal Sticks Theatre. It was a fun adaptation of the popular fairy tale of a a similar name that had Tin Box Tot leaping from her seat to take part in the interactive scenes.
Family-friendly fun
There was entertainment for families all around the Space Studios where the main performances and workshops took place. Tin Box Tot and Baby enjoyed face painting, playing with hola hoops and tents, chasing bubbles and building towers with giant Jenga blocks.
Our first look a Darlington Hall Estate
We loved the small part of Darlington Hall Estate that we were able to explore between performances at the festival. It's a place that has more than one thousand years of history. By the 1900s the Hall had fallen into ruin. In 1925 was bought by the Elmhirst family who restored it as place of creativity, learning and social enterprise. It now hosts a programme of events, festivals and courses as well as welcoming visitors to its hotel, cinema, restaurant and gardens.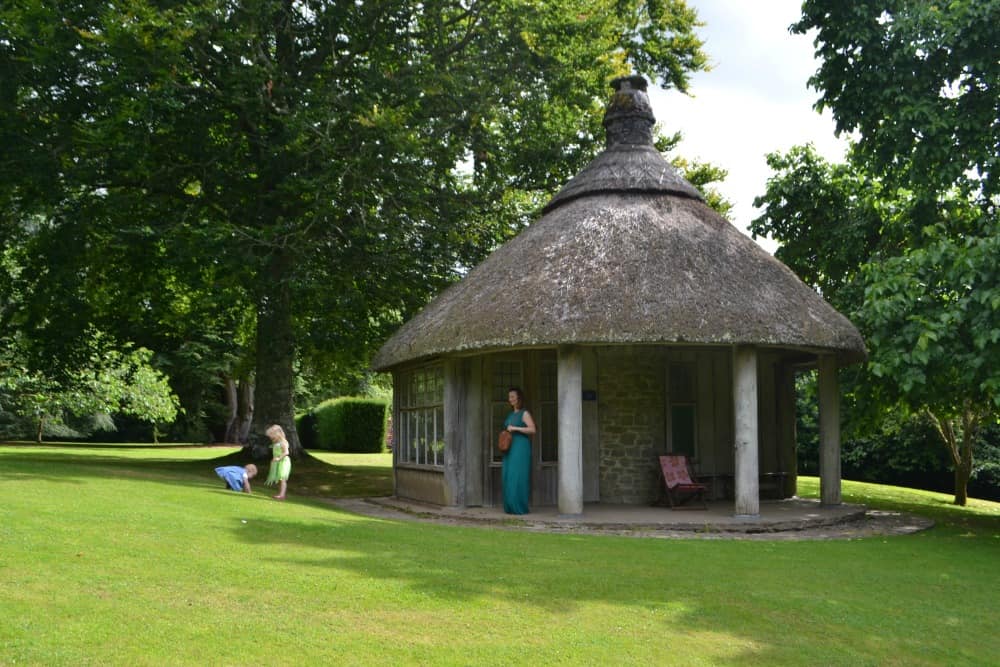 Midsummer Dreams Festival is a volunteer run event in its first year. We had a lovely time soaking up a bit of culture and seeing another beautiful part of Devon.
Disclosure: we were given complimentary tickets to the workshop with Peafrog Puppetry and the performance of Little Red Cap and the Wolf. All opinions are my own.
I love hearing what people think about my blog so feel free to leave a comment below or browse around. You can also find me on Bloglovin', Twitter, Facebook, Instagram, Pinterest, Youtube, Google+ and LinkedIn.