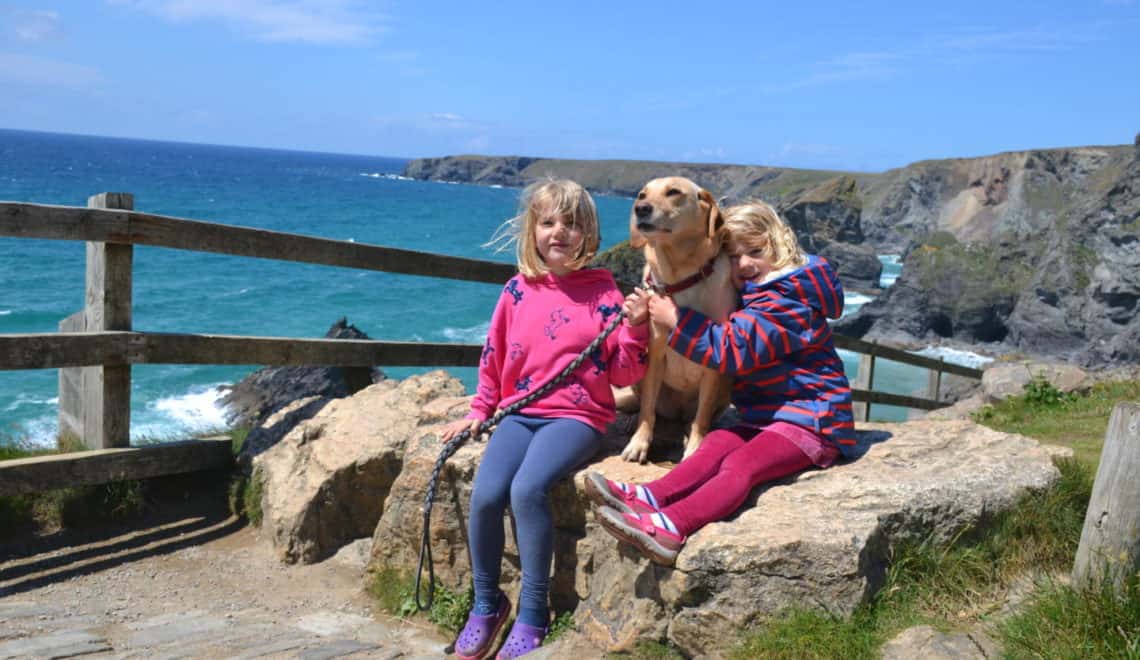 Bedruthan Steps with kids – how easy is it?
One of our favourite coast walks near Newquay in Cornwall is Bedruthan Steps. The views are spectacular and it always feels like an accomplishment to make it down 120 steps to the beach. But how possible is it to visit Bedruthan Steps with kids?
We have been when our girls were two and five-years-old and most recently when they were four and six. Things were definitely easier the second time around as Mr Tin Box didn't have to do quite as much kiddy carrying on the way back up.
Here we are at the bottom of the steps you use to access the beach at Bedruthan Steps the first time we visited.
Was it worth it despite having to act like a pack horses on the way back up? Absolutely.
What are Bedruthan Steps?
Bedruthan Steps are a gathering of rocky sea stacks along Cornwall's Atlantic Coast between Newquay and Wadebridge. However, it's likely that the name originated from the steps carved into the cliff that take you down to the beach, and was only later applied to the whole dramatic scene.
Read more about the myth and legend of Bedruthan Steps on the National Trust website.
Tips for visiting Bedruthan Steps with kids
The cliffs above Bedruthan Steps are sheer, so always stay on the footpath and behind protective fencing. Keep an eye on your dog too.
It is possible to take a sturdy pushchair along the path from the car park down to the view point before the 120 steps down to Bedruthan Steps beach. This is where kids will have to walk or be carried down.
I'd not recommend planning a beach day here. It would be difficult to carry more than a rucksack down the cliff steps.
The steps are steep and big in places, so keep a firm grip on young children. I'd not attempted to take both our girls on my own as you need to hold on to the hand rail in places.
At the bottom of the steps you'll find sandy beach bordered by rocky cliffs and caves. These are great for exploring at low tide but can be submerged or inaccessible at high tide. It's worth checking the tide times if you want it to be worth spending a bit of time at the bottom.
When you are on the beach don't attempt to swim. There are strong currents here, so only paddle if you fancy dipping your toe in the Atlantic.
Find more days out in England, Wales, Scotland and Northern Ireland in my big round up of 101 UK attractions for families.
Where is Bedruthan Steps in Cornwall?
Bedruthan Steps are off the B3276 between Newquay and Padstow on the North Cornwall coast.
Where to park
There is a National Trust car park sign posted off the Atlantic Highway. National Trust members can park for free. Non-members can pay at the pay and display machines.
How many steps down to the beach?
There are 120 steps built into the cliff giving you access to the beach below.
Are dogs allowed on Bedruthan Steps?
Bedruthan Steps beach is a dog-friendly beach.
What are the tide times at Bedruthan Steps?
If you intend to spend any time on Bedruthan Steps beach then it's essential to know the tide times. You'll find the latest ones in this tide timetable.
Is there a cafe?
Yes, in the National Trust car park you'll find a small cafe with a limited amount of indoor seating and plenty of space outside. This serves hot snacks, sandwiches, cakes and cream teas.
Where to stay near Bedruthan Steps
Take a look at Booking.com to find hotels in neighbouring Newquay, Wadebridge and Padstow.
We can also recommend some places to stay in Newquay with kids. Read our reviews of:
Take a look at more of our recommendations for family holidays in Cornwall.
If you're looking for coast walks in Cornwall and fancy visiting Bedruthan Steps with kids then why not pin this post for future reference.